9 Best Fragrance-Free Lotions For Dry Skin To Try Out In 2023
Protect the skin barrier by avoiding products that contain artificial fragrances.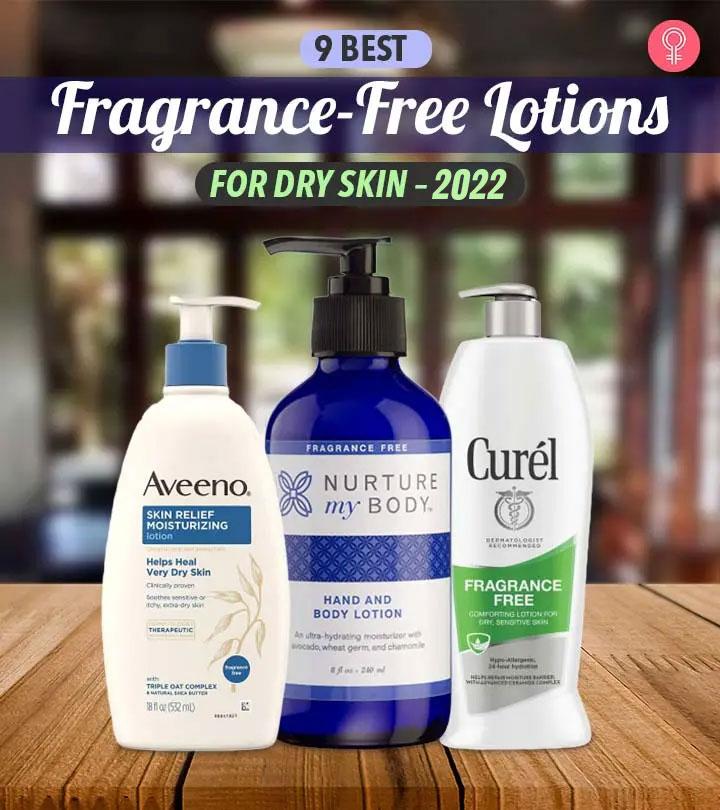 Your skin is the first barrier protecting you from all the environmental stressors. To keep it well-nourished, try getting your hands on the best fragrance-free lotion for dry skin. It helps lock in the moisture and helps balance its natural oils. While there are many beautiful-smelling lotions for dry skin out there, a fragrance-free lotion ensures no added chemicals or alcohol come with artificially scented products. We have shortlisted the 9 best fragrance-free lotions for dry skin to help you pick the right one.
9 Best Fragrance-Free Lotions For Dry Skin
Pros
Recommended by dermatologists
24 hours continuous moisturization
Repairs dry and damaged skin
Hypoallergenic
Non-irritating
Fast-absorbing
Cons
Certain dry skin types need reapplication.
Price at the time of publication: $9.77
Pros
Perfect for all skin types (especially allergy-prone and dry skin)
Contains natural oils
Hypoallergenic
Paraben-free
Silicones-free
No synthetic fragrances or dyes
Phthalate-free
Mineral oil-free
Cruelty-free
Cons
None

Price at the time of publication: $10.97
Pros
Recommended by dermatologists and pediatricians
Paraben-free
Hypoallergenic
Contains vitamin B5 and shea butter
Alcohol-free
Cons
May leave a residue after application.
Price at the time of publication: $7.99
Pros
Can be used as daily skin care ointment
Repairs cracks, burns, and skin dryness
A solution for chapped lips
Preservative-free
Recommended by dermatologists
Cruelty-free
Cons
None

Price at the time of publication: $15.97
Pros
Recommended by dermatologists for over 65 years
Hydrates sensitive as well as dry skin
Fast-absorbing
Hypoallergenic
Cons
None
Price at the time of publication: $19.63
Pros
Provides long-lasting moisture to the skin
Paraben-free
Alcohol-free
No dyes or formaldehyde
Fast-absorbing
Non-irritating
Cons
Price at the time of publication: $13.49
Pros
Contains ceramide- 1, 3 and 6 II
No synthetic fragrance
Oil-free
Gentle on the skin
Non-irritating
Cons
Smells weird after drying.
Price at the time of publication: $12.74
Pros
Cruelty-free
Plant-based formula
Suitable for sensitive skin
Can be used on the whole body
Cons
Price at the time of publication: $14.99
Pros
Moisturizing boost
Calms dryness and irritation
Dermatologist tested
Suitable for eczema-prone skin
Gentle on the skin
Cons
None
Price at the time of publication: $34.1
The market is filled with skincare products that do more harm than good if used on dry and damaged skin. Purchasing an unscented lotion that is free of fragrance and chemicals is a step on the right way for skin care. Before making a purchase, read the tips below for the things to consider.
Things To Look For In A Fragrance-Free Lotion For Dry Skin
Ingredients: Ingredients such as hyaluronic acid and dimethicone assist in keeping skin moisturized. You may also opt for ingredients that hydrate your skin including glycerin and lanolin.
Avoid retinoids, benzoyl peroxide, alcohol, and salicylic acid in lotions for dry skin since they can cause more dryness, irritation, and peeling. While shopping, opt for labels that say GMO-free, organic, sulfate-free, and paraben-free.
Texture: Choose creamy textures with a thick and rich consistency that absorbs quickly and provides long-lasting moisturization. These lotions are high in oil and water content, making them suitable for dry skin.
Reviews: Before purchasing a lotion, always check user reviews. While the manufacturer gives valuable information, reading user reviews will give you a good idea of how the product works. In addition, reviewers will point out any defects in the product or the packaging, allowing you to avoid purchasing a lotion that is not worth the money.
Why Trust StyleCraze?
The author, Sakshi Bahal, is a skin care aficionado. She compiled a comprehensive list of the best fragrance-free lotions for dry skin after reading numerous customer reviews on trusted platforms and brand websites. She also checked the key ingredient to ensure that the listed items were safe for your skin. These products provide your skin with the required nourishment and help balance the natural oils.
Frequently Asked Questions
Are fragrance-free and unscented the same?
No, fragrance-free and unscented are not the same. For instance, if a lotion is termed fragrance-free, it means that the lotion is devoid of artificial fragrances. However, the lotion cannot be termed as unscented if the ingredients in the formula are scented. Scented ingredients can affect the overall scent of the product.
Can you use fragrance-free lotion on your face?
Ideally, body lotion is not suitable for sensitive facial skin.
How do you know if the lotion is unscented?
If the lotion does not have any aroma, it is unscented. You can either know it by smelling the product or by checking the ingredients list.
Should I use fragrance-free skin care products?
Fragrance-free skin care items usually do not contain harmful additives. They keep your skin protected from hyperpigmentation, patches, or spots. They are also great for people with rosacea or eczema.
Does fragrance-free lotion cause aging?
No, fragrance-free lotions do not cause aging. They are safe for sensitive skin, and some formulas even keep potentially irritating elements at bay.