9 Best Fragrance-Free Lotions For Dry Skin To Try Out In 2022
Protect the skin barrier by avoiding products that contain artificial fragrances.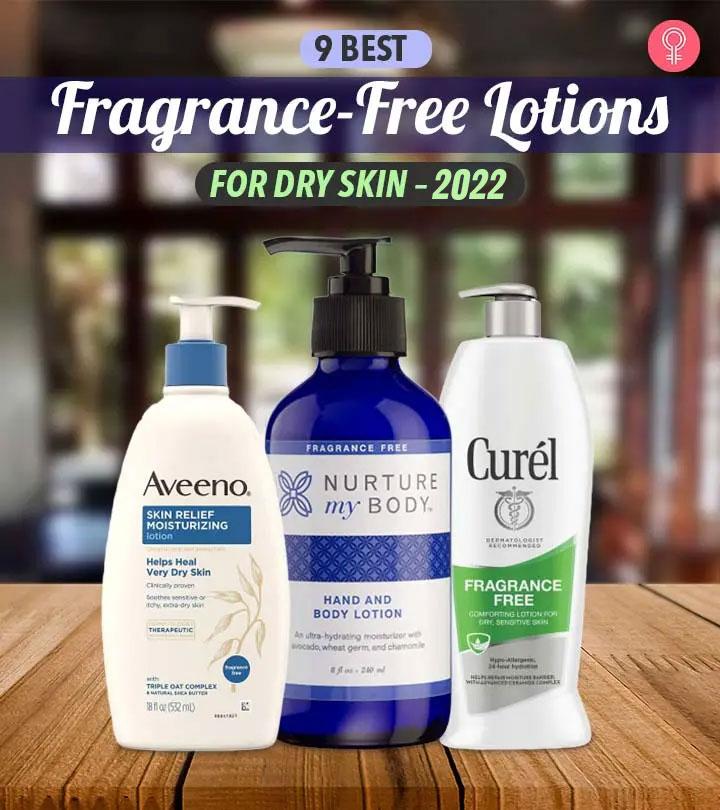 Your skin is the first barrier protecting you from all the environmental stressors. To keep it well-nourished, try getting your hands on the best fragrance-free lotion for dry skin. It helps lock in the moisture and helps balance its natural oils. While there are many beautiful-smelling lotions for dry skin out there, a fragrance-free lotion ensures no added chemicals or alcohol come with artificially scented products. Unscented body lotions tend to be free of parabens, phthalates, and formaldehyde as well. We have shortlisted the 9 best fragrance-free lotions for dry skin to help you pick the right one for your skin type.
9 Best Fragrance-Free Lotions For Dry Skin
The Curél Fragrance-Free Comforting Body Lotion hydrates the skin and provides continuous moisturization for 24 hours. It treats dry and sensitive skin by penetrating deep within and repairing the moisture barriers.
The lotion has a Ceramide complex that helps restore skin ceramide levels. It travels to the source of dryness in the skin to keep your skin healthy and hydrated. It does not leave the skin greasy after application.
Pros
Recommended by dermatologists
24 hours continuous moisturization
Repairs dry and damaged skin
Hypoallergenic
Non-irritating
Fast-absorbing
Cons
Certain dry skin types need reapplication.
The Honest Company Purely Sensitive Face + Body Lotion is formulated with natural ingredients that are specially meant for sensitive skin. Anyone can use it, irrespective of age and gender.
The lotion acts gently on every skin type and provides hydration for a longer time. It can work both on your body and face. The goodness of shea butter and jojoba, olive, and safflower oils in the lotion make it mild and gentle on the skin.
Pros
Perfect for all skin types (especially allergy-prone and dry skin)
Contains natural oils
Hypoallergenic
Paraben-free
Silicones-free
No synthetic fragrances or dyes
Phthalate-free
Mineral oil-free
Cruelty-free
Cons
None
The Eucerin Baby Body Lotion is formulated with natural ingredients like shea butter that makes it suitable for use on baby skin. It is an everyday moisturizing lotion that prevents a baby's tender skin from getting dried or damaged. It contains vitamin B5 that provides hydration and nourishment to the skin.
Pros
Recommended by dermatologists and pediatricians
Paraben-free
Hypoallergenic
Contains vitamin B5 and shea butter
Alcohol-free
Cons
May leave a residue after application.
The Aquaphor Healing Ointment is a solution for chapped lips, minor burns, cracked feet and heels, and dry hands and cuticles. It can be used regularly to fulfill all your skin needs, right from moisturizing to healing of damaged skin.
The ointment builds a protective barrier on the skin that prevents the excess entry of oxygen and fluids. This creates an ideal healing environment for damaged skin.
Pros
Can be used as daily skin care ointment
Repairs cracks, burns, and skin dryness
A solution for chapped lips
Preservative-free
Recommended by dermatologists
Cruelty-free
Cons
Contains chemicals like alcohol, mineral oil, ceresin, etc.
The Aveeno Skin Relief 24-Hour Moisturizing Lotion is a therapeutic, fragrance-free, and steroid-free lotion that helps moisturize dry skin. It keeps the skin hydrated continuously for 24 hours.
The lotion is formulated with natural shea butter, triple oat complex, and dimethicone skin protectant. These ingredients provide nourishment and hydration to your skin. The lotion keeps your skin fresh and soft all day.
Pros
Recommended by dermatologists for over 65 years
Hydrates sensitive as well as dry skin
Fast-absorbing
Hypoallergenic
Cons
None
The gluten-free Vanicream Lite Lotion is rich in ingredients that nourish and hydrate dry, sensitive, and damaged skin. It is free of common skin irritants, like alcohol and parabens. It moisturizes the body and the face
Pros
Provides long-lasting moisture to the skin
Paraben-free
Alcohol-free
No dyes or formaldehyde
Fast-absorbing
Non-irritating
Cons
The CeraVe Daily Moisturizing Lotion provides 24-hour hydration to your skin. It contains three different ceramides that nourish skin. This helps your skin stay soft and hydrated.
The hyaluronic acid in the formula helps the skin retain its natural moisture for a long time. The lotion is oil-free and non-comedogenic. It does not leave greasy patches on the skin and gets absorbed quickly.
Pros
Contains ceramide- 1, 3 and 6 II
No synthetic fragrance
Oil-free
Gentle on the skin
Non-irritating
Cons
Smells weird after drying.
The RaGaNaturals Soo Shea Hand & Body Lotion is a plant-based formula that contains argan oil, shea butter, avocado oil, and vitamin E that moisturize and hydrate the skin, leaving it feeling smooth and baby soft.
This toxin-free formula is designed for all skin types and can be used by all members of the family. It is made of 98% natural ingredients which make it gentle on sensitive skin and safe for the planet as well.
Pros
 Cruelty-free
 Toxin-free
 Plant-based formula
 Suitable for sensitive skin
 Can be used on the whole body
Cons
The Kiss My Face Olive & Aloe Fragrance-Free Body Lotion is enriched with the skin-nourishing qualities of olive oil and aloe vera. It soothes and hydrates your skin, keeping it fresh and healthy. Use the lotion regularly for better results.
Pros
Formulated with natural ingredients like olive oil and aloe vera
No synthetic fragrances
Hypoallergenic
Non-irritant
Paraben-free
Phthalate-free
Cruelty-free
Cons
Why Trust StyleCraze?
The author, Sakshi Bahal, is a skin care aficionado. She compiled a comprehensive list of the best fragrance-free lotions for dry skin after reading numerous customer reviews on trusted platforms and brand websites. She also checked the key ingredient to ensure that the listed items were safe for your skin. These products provide your skin with the required nourishment and help balance the natural oils.
Frequently Asked Questions
Are fragrance-free and unscented the same?
No, fragrance-free and unscented are not the same. For instance, if a lotion is termed fragrance-free, it means that the lotion is devoid of artificial fragrances. However, the lotion cannot be termed as unscented if the ingredients in the formula are scented. Scented ingredients can affect the overall scent of the product.
Can you use fragrance-free lotion on your face?
Ideally, body lotion is not suitable for sensitive facial skin. However, fragrance-free lotions are gentler and can be used on the face occasionally.
How do you know if the lotion is unscented?
If the lotion does not have any aroma, it is unscented. You can either know it by smelling the product or by checking the ingredients list.
Should I use fragrance-free skin care products?
Fragrance-free skin care items usually do not contain harmful additives. They keep your skin protected from hyperpigmentation, patches, or spots. They are also great for people with rosacea or eczema.
Does fragrance-free lotion cause aging?
No, fragrance-free lotions do not cause aging. They are safe for sensitive skin, and some formulas even keep potentially irritating elements at bay.
Recommended Articles