9 Best Fragrance-Free Lotions For Dry Skin – 2021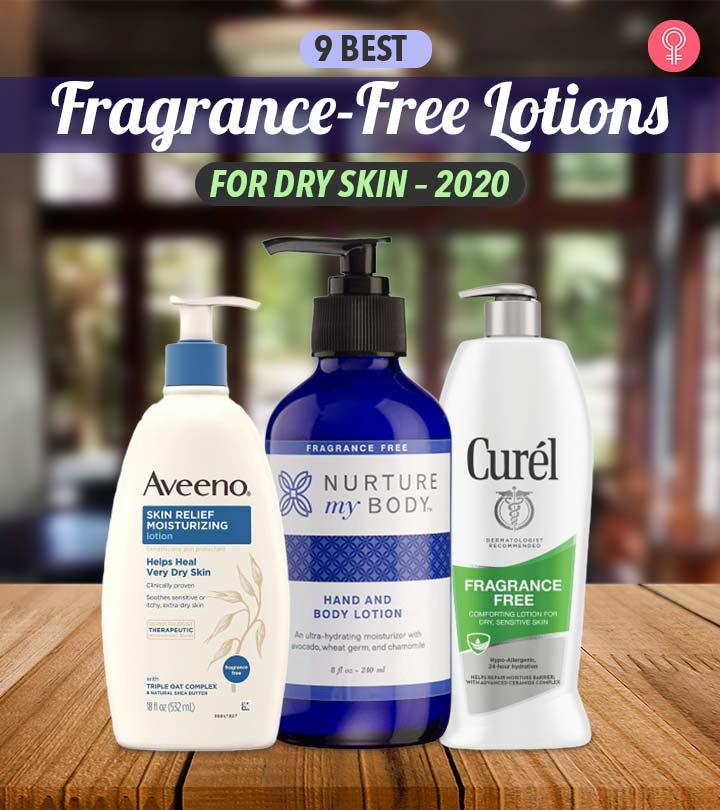 Your skin protects you from dust, microorganisms, and other pollutants. It helps to maintain your health. Hence, it is essential you take care of your skin. One of the important ways of doing this is regular moisturization.
While most body lotions can improve skin moisture, they also come with fragrances that may cause long-term harm. Keeping this in mind, various companies have introduced unscented body lotions.
These are free of synthetic fragrances and chemicals like parabens, alcohol, and formaldehyde.
In this post, we have compiled a list of the top 9 fragrance-free moisturizing body lotions that are specially meant for dry skin. Take a look.
9 Best Fragrance-Free Lotions For Dry Skin
The Curél Fragrance-Free Comforting Body Lotion hydrates the skin and provides continuous moisturization for 24 hours. It treats dry and sensitive skin by penetrating deep within and repairing the moisture barriers.
The lotion has a Ceramide complex that helps restore skin ceramide levels. It travels to the source of dryness in the skin to keep your skin healthy and hydrated. It does not leave the skin greasy after application.
Pros
Recommended by dermatologists
24 hours continuous moisturization
Repairs dry and damaged skin
Hypoallergenic
Non-irritating
Fast-absorbing
Cons
Certain dry skin types need reapplication.
The Honest Company Purely Sensitive Face + Body Lotion is formulated with natural ingredients that are specially meant for sensitive skin. Anyone can use it, irrespective of age and gender.
The lotion acts gently on every skin type and provides hydration for a longer time. It can work both on your body and face. The goodness of shea butter and jojoba, olive, and safflower oils in the lotion make it mild and gentle on the skin.
Pros
Perfect for all skin types (especially allergy-prone and dry skin)
Contains natural oils
Hypoallergenic
Paraben-free
Silicones-free
No synthetic fragrances or dyes
Phthalate-free
Mineral oil-free
Cruelty-free
Cons
None
The Eucerin Baby Body Lotion is formulated with natural ingredients like shea butter that makes it suitable for use on baby skin. It is an everyday moisturizing lotion that prevents a baby's tender skin from getting dried or damaged. It contains vitamin B5 that provides hydration and nourishment to the skin.
Pros
Recommended by dermatologists and pediatricians
Paraben-free
Hypoallergenic
Contains vitamin B5 and shea butter
Alcohol-free
Cons
May leave a residue after application.
The Aquaphor Healing Ointment is a solution for chapped lips, minor burns, cracked feet and heels, and dry hands and cuticles. It can be used regularly to fulfill all your skin needs, right from moisturizing to healing of damaged skin.
The ointment builds a protective barrier on the skin that prevents the excess entry of oxygen and fluids. This creates an ideal healing environment for damaged skin.
Pros
Can be used as daily skin care ointment
Repairs cracks, burns, and skin dryness
A solution for chapped lips
Preservative-free
Recommended by dermatologists
Cruelty-free
Cons
Contains chemicals like alcohol, mineral oil, ceresin, etc.
The Aveeno Skin Relief 24-Hour Moisturizing Lotion is a therapeutic, fragrance-free, and steroid-free lotion that helps moisturize dry skin. It keeps the skin hydrated continuously for 24 hours.
The lotion is formulated with natural shea butter, triple oat complex, and dimethicone skin protectant. These ingredients provide nourishment and hydration to your skin. The lotion keeps your skin fresh and soft all day.
Pros
Recommended by dermatologists for over 65 years
Hydrates sensitive as well as dry skin
Fast-absorbing
Hypoallergenic
Cons
None
The gluten-free Vanicream Lite Lotion is rich in ingredients that nourish and hydrate dry, sensitive, and damaged skin. It is free of common skin irritants, like alcohol and parabens. It moisturizes the body and the face
Pros
Provides long-lasting moisture to the skin
Paraben-free
Alcohol-free
No dyes or formaldehyde
Fast-absorbing
Non-irritating
Cons
The CeraVe Daily Moisturizing Lotion provides 24-hour hydration to your skin. It contains three different ceramides that nourish skin. This helps your skin stay soft and hydrated.
The hyaluronic acid in the formula helps the skin retain its natural moisture for a long time. The lotion is oil-free and non-comedogenic. It does not leave greasy patches on the skin and gets absorbed quickly.
Pros
Contains ceramide- 1, 3 and 6 II
No synthetic fragrance
Oil-free
Gentle on the skin
Non-irritating
Cons
Smells weird after drying.
The Nurture My Body All-Natural Hand & Body Lotion is formulated from the wildcrafted ingredients of North California. It provides 24-hour moisturization to the skin. It is suitable for dry as well as sensitive skin.
The ingredients used in this formulation are 100% organic. They reduce itchiness and skin dryness. The lotion is beneficial for all skin types.
Pros
Paraben-free
No colors
 or artificial fragrances
Completely organic and natural formulation
Ideal lotion for sensitive skin
Cons
Watery consistency (very runny)
The Kiss My Face Olive & Aloe Fragrance-Free Body Lotion is enriched with the skin-nourishing qualities of olive oil and aloe vera. It soothes and hydrates your skin, keeping it fresh and healthy. Use the lotion regularly for better results.
Pros
Formulated with natural ingredients like olive oil and aloe vera
No synthetic fragrances
Hypoallergenic
Non-irritant
Paraben-free
Phthalate-free
Cruelty-free
Cons
All the products mentioned above are rated among the best. These body lotions are cruelty-free and contain only natural ingredients.
The manufacturers of these lotions have avoided the use of common irritants and allergens.
Pick the one you think suits your needs. Include it in your regular skincare routine, and you will soon see the results for yourself.
Recommended Articles
The following two tabs change content below.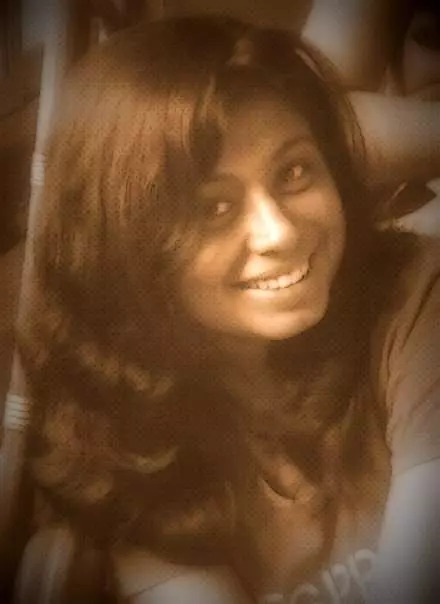 Sakshi Bahal has a Masters degree in English Literature from Calcutta University. She was a part of the editorial team of her school magazine. Her love for writing inspired her to take up literature and follow that up with creative writing after completing her education. She has been writing on beauty and skin care for the past 4 years.Sakshi has also authored a compilation of high school essays. A self-declared bookworm, she enjoys traveling, music, movies, and lots of coffee.