15 Best Fragrance-Free Moisturizers For Healthy, Hydrated Skin In 2023
Protect your sensitive skin and treat its dryness by using only the most gentle formulas!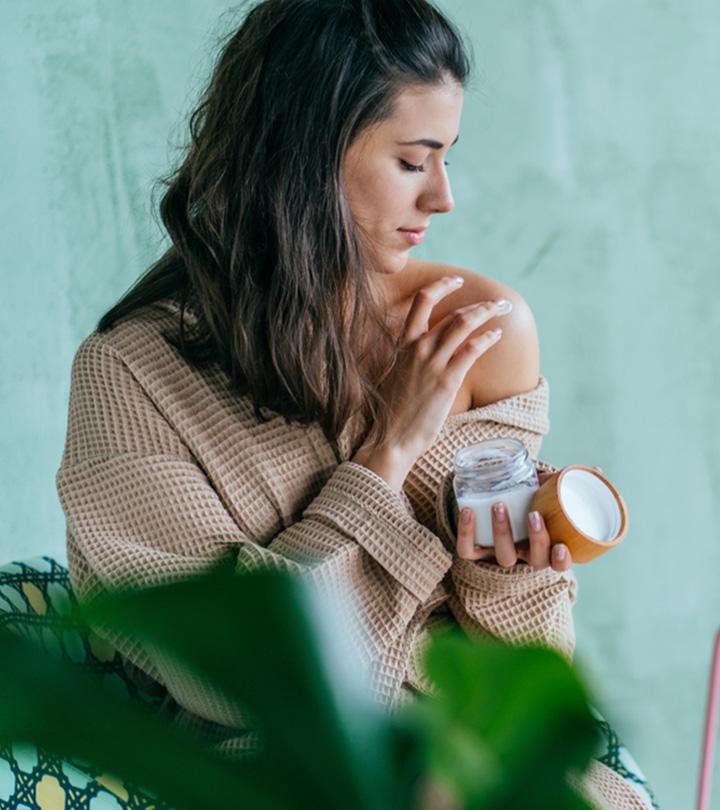 If you have sensitive and acne-prone skin, then it's high time you switch to fragrance-free moisturizer, along with other skin care products. However, finding the right moisturizer for this particular skin type might be tricky. If you don't want your skin to get inflamed or irritated, avoiding artificial fragrances is the best solution. Always look for products free from sulfates, parabens, GMO, PABA, and, last but not least, artificial fragrances. What's more? Since most fragrance-free moisturizers are designed with sensitive skin in mind, they are often free of other common irritants, like dyes and alcohol, too.
While buying moisturizers, we often go for those with a pleasant fragrance. But what one needs to remember is that, though aromatherapy has a lot of benefits, it can be a bad thing. Synthetic and natural fragrances are packed with allergens that might cause inflamed, itchy, and broken skin. So, it is time to give your skin the gentle treatment it deserves. In this article, we have curated a list of some of our top picks on the market. Keep scrolling to find the 15 best fragrance-free moisturizers!
15 Best Fragrance-Free Moisturizers In 2023 To Clean And Healthy Skin
Pros
Non-comedogenic
Gentle, non-irritating formula
Paraben-free
Allergy-tested
Can be used on face, body and hands
Cons
Price at the time of publication: $14.99
Pros
Non-comedogenic
Non-greasy formula
Recommended by dermatologists
Clinically proven anti-dryness formula
Cons
It is specially formulated for dry skin, so may not be best suited for other skin types.
Price at the time of publication: $15.59
Pros
Non-comedogenic
Dermatologist-recommended
Instant-quench formula
For all skin types
Cons
Although it carries a fresh scent, some may find it overpowering.
Price at the time of publication: $19.57
Pros
Dye-free
Lanolin-free
Paraben-free
Formaldehyde-free
Kid-friendly
Cons
Some may find the formula too thick
Price at the time of publication: $13.56
Pros
Non-greasy
Contains vitamin B3
Contains antioxidants
Cons
Price at the time of publication: $42.5
Pros
Paraben-free
Allergy-tested
Non-comedogenic
Dermatologist-tested
Cons
Price at the time of publication: $19.99
Pros
Suitable for post-tattoo skin care
Recommended by dermatologists
Developed by dermatologists
Normal to dry skin
Cons
Price at the time of publication: $9.82
Pros
Paraben-free
Amino acids enriched
Mild and doesn't burn eyes
Hypoallergenic
Cons
Some users found the formula slippery and that it did not absorb easily
Price at the time of publication: $8.99
Pros
Non-greasy
Absorbs quickly
Gentle enough for face
Contains advanced ceramide complex
Cons
Price at the time of publication: $7.59
Pros
Dye-free
Silicone-free
Paraben-free
Phthalate-free
No animal testing
Cons
Price at the time of publication: $10.97
Solimo skin care products are an Amazon brand, which are great at soothing skin with their hydrating effects. This fragrance-free moisturizing cream is made of formulas designed to moisturize and care for your skin, so you can look and feel great. Formulated with sweet almond oil and petrolatum, this cream works wonders for dry and sensitive skin. It keeps your skin healthy by replenishing and rehydrating it, giving it a new lease of life.
Pros
Paraben-free
Phthalate-free
Cost-effective
Dermatologically-tested
Cons
Some may find the texture slightly pasty
Price at the time of publication: $8.12
This fragrance-free facial moisturizing cream not just hydrates the skin, but also smoothes skin texture and evens out skin color and tone. The formula is made without any oil or heavy emollients. But it contains hyaluronic acid, which aids in increasing moisture absorption and retention. This is an ideal daily face lotion, owing to its gentle nature and should be a part of eveyone's anti-aging and dry skin regimen.
Pros
Oil-free
Fragrance-free
Non-comedogenic
Lightweight
Non-greasy formula
Cons
Price at the time of publication: $35.1
Almost as effective as an anti-itch medication, this fragrance-free moisturizer's formula provides intensive relief for eczema and dry skin conditions. It is safe to be applied directly to an area of itch, for targeted relief as well. This cream is specifically designed for sensitive skin and contains no harsh chemicals. It is accepted by the National Eczema Association and is safe for daily use. It helps restore moisture to dry, damaged skin.
Pros
A better alternative to prescription steroid creams
Paraben-free
No harsh chemicals
Can be bought without a prescription
Cons
Some may find the smell quite medicinal
Pros
Nourishing formula
Non-greasy
Quick-absorbing formula
Improves skin's moisture barrier
Cons
None
Price at the time of publication: $9.82
Pros
Non-comedogenic
Gentle on sensitive skin
Silky smooth formula
Non-irritating formula
Cons
May not offer long-lasting hydration
Price at the time of publication: $27.98
One of the benefits of using a fragrance-free moisturizer is that you can avoid any potential allergens. Many ingredients in traditional moisturizers can be irritating and cause skin problems, so it is important to find one that works well for your skin type.Here are things to look for in a fragrance-free moisturizer.
Points To Remember Before Purchasing A Fragrance-Free Moisturizer
Skin Type: If you have dry skin, look for a moisturizer that is specifically designed to soothe your skin. These types of moisturizers are usually thicker and more emollient-rich than those designed for other skin types. They may also contain ingredients that help lock in hydration and moisture, such as hyaluronic acid, glycerin, shea butter, vitamin E, and argan oil.
If you have oily skin, avoid moisturizers that are too thick or greasy. Instead, look for ones that are light and non-comedogenic as meaning they won't clog your pores. These types of moisturizers will help to control shine and keep your skin clear.
Ingredients: Some key ingredients to look for include shea butter, hyaluronic acid, and glycerin. These ingredients help keep the skin hydrated and do not smell too overwhelming. Additionally, many fragrance-free moisturizers also contain antioxidants, which can help protect the skin against damage caused by the sun and other environmental factors. Check the label to make sure that the moisturizer does not contain any synthetic fragrances. This can be tricky, as some labels may contain terms like "unscented" or "fragrance-free" but the products may contain synthetic fragrances!
Consistency: Some moisturizers are thick and creamy, while others are more watery. Finally, think about how you would use the moisturizer. Some people prefer a moisture cream that they can apply straight to their skin, while others pair lightweight moisturizers with other skin care products for better benefits.
Reviews: Make sure to read the reviews from customers in e-commerce websites before purchasing any moisturizer. This will give you a good idea of what others have thought about the product and whether or not it lives up to its claims.
Why Trust StyleCraze?
Vaishnavi Kothuri, the author of this article, has a keen interest in skin care. Her in-depth research and continuous look-through on the emerging products bring out the best for readers. After reading many online consumer reviews and extensive exploration, this list of best fragrance-free moisturizers is compiled by her. She says these moisturizers are a perfect fit for acne and oily skin, and their gentle action can give your skin a soft and supple look.
Frequently Asked Questions
Is fragrance in moisturizer bad?
No, fragrance in a moisturizer isn't inherently bad. But, if your skin barrier is compromised, it is best to use fragrance-free products.
What is the difference between unscented and fragrance-free?
A fragrance-free moisturizer is one that doesn't have any fragrance materials or masking scents. Unscented, on the other hand simply means that the moisturizer may contain chemicals that hide or diminish the scent of other ingredients.
Is Aveeno face moisturizer fragrance-free?
Yes, Aveeno face moisturizer is fragrance-free. It is formulated with colloidal oatmeal and emollients that keep your skin soft and supple.
Do dermatologists recommend fragrance-free moisturizers?
Yes, dermatologists can recommend fragrance-free moisturizers, as they are hypoallergenic and suitable for sensitive skin.
Recommended Articles