10 Best Fragrance-Free Shampoos Available In The Market
No more itchy scalp because some gentle hair care products are here to rescue you.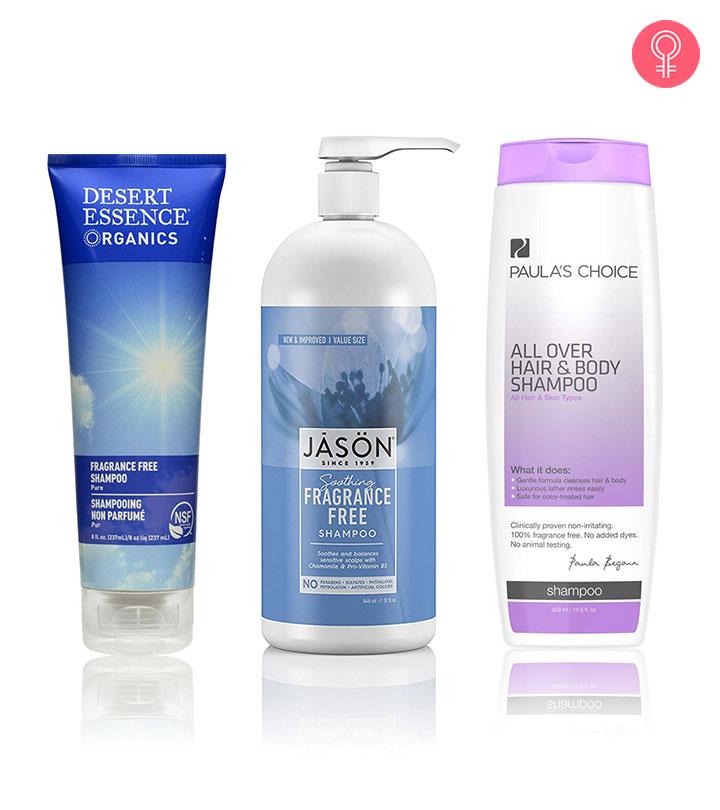 The intoxicating smell of the shampoo is what gives it a place in your bathroom. But as you become more conscious of your hair health, you realize these shampoos leave you with dry hair, an itchy scalp, and worst of all, hair fall! In such a case, picking the right shampoo from our list of best fragrance-free shampoos is the best way to tackle your hair woes. Made of organic ingredients, these shampoos can give you healthy hair and an itch-free scalp. Scroll down to see what they are!
What Is A Fragrance Free Shampoo?
Fragrance-free shampoos are made with natural and organic ingredients and do not contain any artificial perfumes or chemicals. You can check out the ingredients list on the shampoo bottle to check if a shampoo contains perfume.
What's so special about fragrance-free shampoos? Well, they offer a ton of benefits. Check them out below!
What Are The Benefits Of Fragrance-Free Shampoos?
The biggest advantage of using fragrance-free shampoos is that the damage they cause to your hair and scalp is minimal.
They do not contain any scalp irritating chemicals that can damage your scalp.
They reduce dandruff and breakage.
Fragrance-free shampoos are ideal for thin and color-treated hair as they are gentle on the hair and scalp.
Now that you know the amazing benefits that fragrance-free shampoos offer, let's take a look at the best fragrance-free shampoos available in the market right now.
Top 10 Fragrance-Free Shampoos For Sensitive Skin
Jason Scent Free Shampoo is a pure and natural cleanser that gently hydrates and soothes your hair. It contains sunflower seed oil and vitamin B5 that deeply nourish your scalp. It also contains chamomile and sage leaf extracts that rejuvenate and add shine to your hair. This shampoo balances the pH level of your hair, leaving it looking soft, silky, and healthy. You can also check this video out for a brief review of the product.

Pros
Suitable for sensitive scalp
Moisturizes your hair
Adds shine to your hair
Cons
The formula has been changed.
This mild shampoo is ideal for sensitive scalp. It is free of chemical irritants like dyes, fragrance, parabens, formaldehyde, and sulfate. This shampoo removes product build-up and keeps your scalp squeaky clean. It gets rid of flakes and prevents itchy scalp. This shampoo also keeps your hair clean and manageable. It is the best fragrance free shampoo available in the market.

Pros
Tearless shampoo
pH balanced
A little product goes a long way
Cons
Dries out your hair initially
[ Read: 10 Best Hypoallergenic Shampoos For Sensitive Skin ]
This shampoo without fragrance is formulated for sensitive scalp and hair. It contains extracts of wheat germ, chamomile, and jojoba that revitalize and rejuvenate your hair. This shampoo is a coconut-based cleanser containing rich emollients like hydrolyzed wheat proteins that protect your hair's natural oils and promote a healthy scalp. It is 100% unscented and claims to keeps your hair healthy, clean, and manageable.

Pros
Cleanses scalp well
Free of harsh chemicals
Great for adults and kids
Cons
None
Phillip Adam Shampoo is a natural, fragrance-free shampoo that removes all toxins from the scalp, reduces frizz, and adds shine to the hair. It is infused with pea-protein, apple cider vinegar, and plant-based proteins that nourish the hair, prevents dandruff, and balances the pH levels. The sulfate-free shampoo lathers well and leaves the hair hydrated and clean. It is suitable for all hair types, including a sensitive scalp.
Pros
Lathers well
Ideal for sensitive scalp
No parabens
No sulfates
Cruelty-free
Vegan
No silicones
Cons
None
[ Read: 16 Best Shampoos For Dry And Damaged Hair In India ]
This mild shampoo contains rich organic ingredients such as jojoba oil, green tea, kelp, and nettle extracts. These ingredients revitalize your hair and improve its overall health. This gentle cleanser is rich in antioxidants and polyphenols that give a glossy and smooth texture to your hair. By providing calcium, potassium, iron, and other vitamins, this protein-rich shampoo strengthens each strand of hair.

Pros
Soothes your scalp
Promotes healthy hair growth
Repairs damaged hair cuticles
A little product goes a long way
Cons
Dries out your hair initially
This multipurpose perfume free shampoo formula works as a cleanser for every skin and hair type. It contains concentrated panthenol and soy that nourish your hair in one application. It repairs damaged hair cuticles and prevents breakage. It clears product build-up and leaves your scalp feeling clean and healthy. It is perfect for the sensitive scalp as it contains skin moisturizing and hydrating properties.

Pros
Lathers well
Free of harsh chemicals
Strengthens hair follicles
Promotes hair growth
Cons
[ Read: Top 10 SLS-Free Shampoos Available In India ]
This fragrance-free mild shampoo contains natural ingredients like aloe vera, chamomile, and calendula that gently soothe and nourish your scalp. It also contains natural botanicals such as coconut oil, jojoba protein, and quinoa extract that moisturize and soften your hair. This pH balanced shampoo gently cleanses your hair without drying out your scalp. Both adults and kids can use this tear-free formula. If you need more convincing, feel free to take a look at this YouTuber's video on the merits and demerits of the product.

Pros
Lathers well
Deeply nourishes your hair
Hydrates your hair
Cons
Can dry out your hair initially
Stonybrook's Unscented Shampoo contains a blend of herbal extracts that add body and shine to your hair. It contains chamomile extracts, red clover, comfrey, and Canadian balsam that condition your hair and maintains its shine. These ingredients impart proteins to the roots to promote healthy hair growth. This shampoo is free of chemical irritants and specially created for people with a sensitive scalp.

Pros
Improves hair texture
Cleanses scalp well
A little product goes a long way
Cons
This shampoo contains skin-soothing ingredients like argan oil, aloe vera, and chamomile. These ingredients give you smooth, silky, and healthy hair. It claims to clear scalp residues without stripping away natural hair oils. This gentle shampoo contains antibacterial and antifungal properties that keep your scalp free from dandruff and allergies. Besides cleansing, this shampoo adds shine to dull and brittle hair.

Pros
Suitable for all hair types
Free of parabens and sulfate
Lathers well
Cleanses scalp well
Keeps your hair clean and healthy
Cons
[ Read: 10 Best Shampoos Available In India – 2019 Update ]
DHS is a dermatologist-recommended shampoo for hypersensitive skin. This daily hair and scalp cleansing shampoo are free of any harsh chemicals and fragrance. It treats the dry, itchy, and irritated scalp. This coconut-based cleansing agent gently removes impurities without stripping away the natural oils from your hair. Its rich lather leaves your hair feeling soft, silky, and healthy.

Pros
Prevents dandruff and itchy scalp
Treats psoriasis and eczema
Improves hair texture
Long-lasting results
Cons
Highly concentrated formula
Why Trust StyleCraze?
The author of this article, Pooja Karkala, is a hair care enthusiast and loves reviewing various products for her readers. She curated this list of the best fragrance-free shampoo after extensive research and reading many customer reviews on trusted online platforms. The shortlisted products are made with organic ingredients and promote hair health. They are also non-irritating and strengthen the hair.
Frequently Asked Questions
Is fragrance-free the same as unscented shampoo?
No, they are not the same. Fragrance-free means that no fragrances, artificial or natural, have been added to the shampoo. But, unscented shampoos may have added ingredients to mask the overall scent of the shampoo.
Is fragrance-free shampoo better for hair?
Yes, it is better for hair because of multiple benefits like minimal damage and reduced breakage, hairfall, and dandruff.
Can fragrance in shampoo cause dandruff?
Yes, artificial fragrance is known to cause dandruff on the scalp and is best avoided.
Recommended Articles