Top 10 Freeman Masks Of 2023
Calm and soothing skin care products leave your skin feeling hydrated in a few minutes.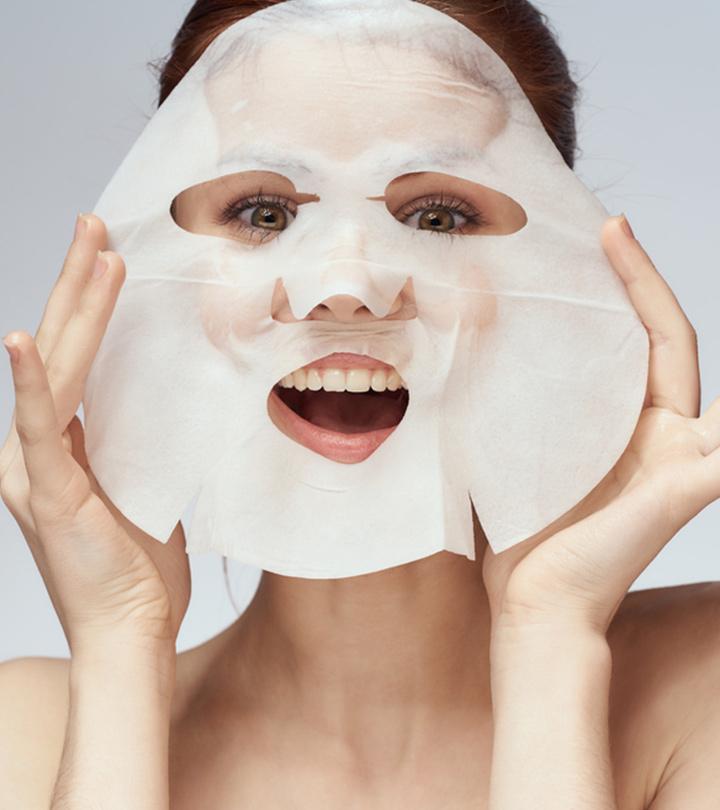 Freeman masks have been here for more than 30 years. They cleanse and nourish your skin and are suitable for all skin types. The best Freeman face masks are prepared from organic ingredients like oils, herbs, and natural fruit extracts. If you wish to restore your skin's natural balance and combat common skin conditions, Freeman face masks are the best bet.
Read on to know the various ingredients used to prepare these masks and pick the one that suits your skin. We have compiled the top 10 Freeman face masks to help you out. So, choose your favorite ingredient and give your skin the pampering it deserves.
Top 10 Freeman Masks Of 2023
Gently nourish your skin with this avocado and oatmeal clay mask by Freeman. This mask blends two superfoods with clay and offers a purifying solution for your clogged pores. It feels great on the skin and is composed of ingredients such as vitamin E oil, avocado, oatmeal, and clay. If you have oily or acne-prone skin, this is a gentle and purifying mask that will clear out all the impurities and leave you with smooth, supple, and beautiful skin. Check out this video for a detailed review and demo of the Freeman Purifying Avocado + Oatmeal Clay Mask.
Pros
The mask has a creamy and smooth texture
Composed of nutrient-rich ingredients
Offers excellent value for money
Suitable for sensitive and acne-prone skin
Leaves the skin smooth and soft
Cons
The mask is a little drying
Comes with a strong fragrance
Price at the time of publication: $6.16
This Freeman mask brings you the goodness of pomegranate that helps you in purging out the excess oil and dirt for redefined and cleaner skin. This mask will not only cleanse your skin, but it will also brighten your skin tone, promote blood flow, and gives anti-aging benefits! This revitalizing face mask is pocket-friendly and is perfect for all skin types. Look at the video for a clear demo of the Freeman Revitalizing Pomegranate Peel-Off Gel Mask with a review.
Pros
Loaded with fruit enzymes and antioxidants
Offers anti-aging benefits
Clears out impurities and excess oil from the skin
Improves blood flow and promotes a natural glow
Works on all skin types
Cons
Not very useful for stubborn blackheads
Price at the time of publication: $4.67
Immerse yourself in the sea of freshness with this refreshing mint and lemon clay mask by Freeman. If you need an energizing face mask to kick start your morning, this vitamin C-rich clay mask will help you do so. The mask is designed to reduce breakouts and to soothe your skin while also reducing inflammation. Especially if you have acne-prone or oily skin, this mask will reduce excess oils while not drying your skin out.
Pros
Reduces the appearance of large pores
Composed of refreshing ingredients like mint and lemon
Removes excess oil and impurities from skin
Has a gentle and pleasing fragrance
Prevents oiliness for up to 24 hours
Cons
Might tingle a bit on sensitive skin
Price at the time of publication: $6.03
This peel-off gel mask gently pulls out all the impurities from your skin, which may cause dull or rough skin. No matter what your skin type is, this gel is enriched with the goodness of cucumber, so whenever you need a fresh start to your day, this is a great mask to use. Especially if you get dark circles, this mask ensures that your face looks bright, and your skin feels super smooth.
Pros
Great for oily, dry, sensitive, and combination skin
Consists of cucumber and aloe extract that nourish the skin from within
Mild and refreshing fragrance
Perfect for removing the dead skin cells
Cons
Slightly sticky consistency
Doesn't clear up easily
Price at the time of publication: $4.28
This is a unique and promising product from Freeman's collection that offers multiple benefits. This is a scrub and mask combo that gently cleanses your skin and also provides moisturization to your skin. The mask is formulated using apple cider vinegar and foaming clay. It is a 4-in-1 mask, scrub, toner, and cleanser. It will scrub off the impurities and promote blood flow to offer a natural and sparkling glow. Check out the detailed review of the Freeman Cleansing Apple Cider Vinegar Clay Mask + Scrub.
Pros
Comes with a mild and refreshing scent
4-in-1 formula to cleanse and nourish the skin
Eliminates blemishes and dead skin
Leaves your skin irritation-free and smooth
Exfoliating mask for all skin types
Cons
May dry out sensitive skin
Price at the time of publication: $8.83
This hydrating gel-cream mask by Freeman offers great value for the price. This nourishing skincare mask makes your skin smooth, calm, and supple within a few minutes. The glacier water replenishes and rejuvenates your dry skin while the lush pink peony soothes your delicate skin. This is a leave-on gel that works miracles on your skin and also protects it from impurities and pollutants.
Pros
A hydrating and soothing anti-pollution gel mask
Light and creamy texture
A leave-on mask that instantly soothes skin
Easily wipes off oil and impurities
Affordable and reasonably priced
Cons
Might cause a tingling sensation on sensitive skin
May cause breakouts
Price at the time of publication: $8.49
Green tea is enriched with antioxidants and is a super ingredient that promotes blood flow and detoxifies the skin. This Freeman gel mask blends the benefits of green tea and orange blossom to reduce the appearance of pores and improve skin tone. If you are craving a good facial or spa, apply this refreshing and multi-benefit peel-off mask on your skin and make your skin look hydrated and clean. Plus, it is suitable for all skin types.
Pros
Peels off impurities and blackheads effectively
Loaded with vitamin C and antioxidants
Soothes the skin and prevents redness
Improves skin tone
Comes with a mild, lingering scent
Cons
Stings a bit
Sticky consistency
Price at the time of publication: $8.0
The great thing about charcoal masks is that they are beneficial in scraping off the impurities from deep within the skin layers. If your skin is screaming for a proper cleansing and detoxifying mask, this one is a great option. This mask gently cleanses pores, removes excess oils without causing any damage to the natural oils, boosts purity, and restores the natural balance of your skin. It is especially advantageous in removing whiteheads and blackheads.
Pros
Cleanses the skin without causing dryness
Removes blackheads and whiteheads effectively
Purifies and detoxifies skin
Clears and prevents small breakouts
Cons
Does not have a pleasant fragrance
Price at the time of publication: $14.29
If you have oily/combination skin, this dual-action cleansing mask formulated using whipped clay will clear out the deepest pores of your skin. Not only is this mask reasonably priced, but it also makes the skin feel smooth and supple only after a few uses. If you are in need of a glow up, this is a mask that will revive your skin and will protect it from environmental pollutants and other skin issues. It has a great scent, is easy to use, and offers excellent value for money.
Pros
Removes toxins and cleanses the skin
Perfect for oily/combination skin
Minimizes and cleanses pores
Skin feels fresh and smooth
Refreshing fruity scent
Cons
Does not work on dry skin
Thick consistency
Price at the time of publication: $5.87
This unisex anti-bacterial mask and cleanser will revive your natural glow! The mask is loaded with clay and the richness of manuka honey. Clay effectively cleanses and tightens pores while manuka honey offers moisturization and nourishment to the skin. Tea tree oil works on the most sensitive and acne-prone parts of your skin and absorbs extra oil from the skin. The mask and cleanser prevent redness and blemishes, leaving you with smooth skin.
Pros
Nourishing mask for moisturization
Absorbs excess oil and hydrates skin
Great for acne-prone and oily skin
Rich, creamy texture
Calms down irritated skin
Cons
May cause a stinging sensation on dry or sensitive skin
Price at the time of publication: $7.3
There is a good reason why everyone is obsessed with Freeman masks. They are great if you want your face to be glowing within minutes! So, if you have been considering getting a mask for those days when you just need some extra pampering, go for Freeman masks! However, before making any purchases, keep the following in mind.
Tips For Choosing The Best Freeman Masks – A Buying Guide
Skin Type
Before purchasing a Freeman mask, you should determine your skin type. Choose a mask that reduces redness and restores a consistent tone if your skin is easily irritated.
Those with acne-prone and oily skin should opt for a mask that absorbs excess oil while hydrating the skin. Gel masks are a great option if you have greasy skin and hate creamy formulations on your face. If you have very sensitive skin, you need to take extra precautions. Opt for soothing masks over ones that promise deep cleansing or pore-cleaning as they may irritate your skin.
A variety of masks are available for those with mature skin types. If your skin is showing signs of aging, such as fine lines and wrinkles, you may want to try a mask that would promote blood flow to the skin and provide anti-aging benefits.
Ingredients
Whenever you can, go for ingredients as unprocessed and natural as possible. Choose ingredients like shea butter, vitamin E, avocado oil, jojoba oil, clay, and apple cider vinegar. Purchase the mask if the formula soothes and hydrates your skin!
Usage
If you work outdoors and expose your skin to dust and pollution on a daily basis, get a mask that promises deep cleaning and is anti-pollution in nature.
If you have enlarged pores, dull skin, dark bags under your eyes, or an uneven skin tone, look for masks that are specifically designed to treat these issues. Look for products that promise to facilitate the renewal of skin cells and transform your skin over time.
Fragrance
Opt for masks with milder scents because they are less likely to affect your skin adversely. It is better to skip masks with added fragrances and chemicals that may not help your skin and trigger sensitive issues.
Why Trust StyleCraze?
Vaishnavi Kothuri, the author of this article, is a skin care enthusiast who writes product articles covering the same. She consulted experts and went through numerous product reviews from different trusted websites to curate this list of the best freeman face masks. Keeping your safety concerns and quality parameters in mind, she has included details about the product's formulation, skin type, and more. In addition, the article also includes a FAQ section to help you clear your common related queries.
Frequently Asked Questions
Is it okay to use a Freeman mask every day?
Face masks can indeed cleanse your skin from within and offer a natural glow. However, these masks are to be used not more than 3-4 times a week. When you use these masks every day, it might strip your skin of the natural oils and leave it dry and irritated. If it is a gentle cleanser, you can use it every day, but if it is a cleansing mask for oily or acne-prone skin, using it daily will leave your skin dry and rough.
Which Freeman mask is suitable for acne?
If you are looking for the right face mask for acne-prone skin, read the list of ingredients thoroughly. You could opt for masks that consist of ingredients like tea tree oil, clay, manuka honey, oatmeal, cucumber, etc. that can clean the pores and reduce oiliness. These masks are great for acne-prone skin as they offer antibacterial properties and can naturally minimize oiliness.
Is Freeman mask good for oily skin?
If you have extremely oily skin, you need to look for face masks that are loaded with refreshing ingredients like mint, cucumber, lemon, orange, aloe vera gel, etc. These ingredients are likely to restore the natural balance of your skin while removing excess oil and offering moisturization. Some of the best options are Sparkling Pear Pore Cleansing Mask, Green Tea and Orange Blossom Peel-off Gel Mask, Purifying Avocado and Oatmeal Clay Mask, Revitalizing Pomegranate Pee-off Gel Mask, etc.
Recommended Articles