15 Best French Beauty Products That You Must Try In 2022
Elevate your skincare game to the standards of French sophistication with these beauty products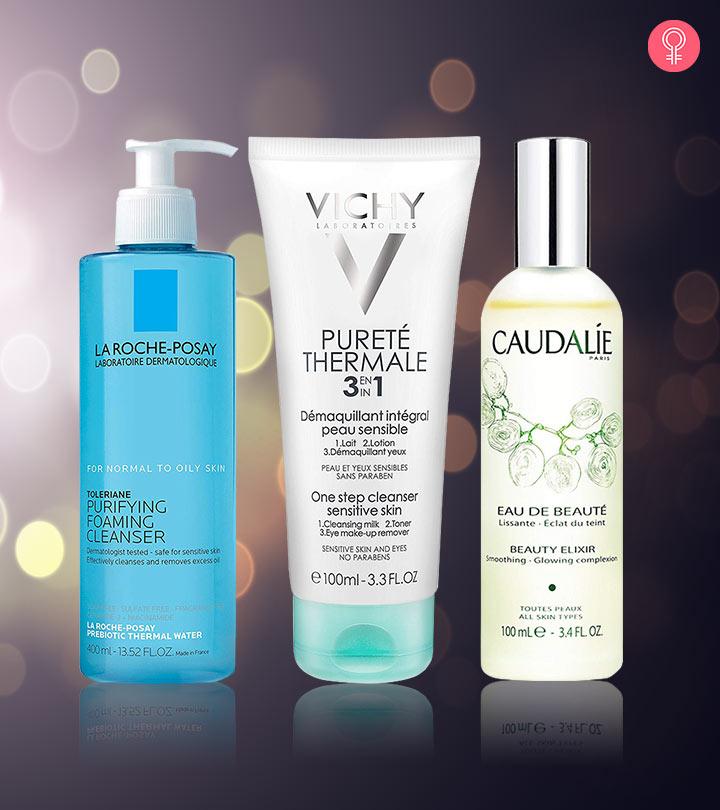 Author Mireille Guiliano once said that French women know one can go far with a great haircut, a bottle of champagne, and a divine perfume.
Most of us tend to have a wishlist of the best French beauty products because, frankly, they are the finest in the world. There is something so superiorly sophisticated about French skin care and beauty products.
The French are not in a craze to achieve flawlessly perfect glass skin. But yes, they want their skin to look and feel fresh and young. They believe in having a good skin care routine to follow every day to keep the skin healthy. If you want to really live your dream of looking like a beautiful French woman, here are some beauty products from France that you should keep an eye on.
Top 15 French Beauty Products of 2022
Best Moisturizers
Product Claims
This multipurpose cream is a cult-favorite among French women and makeup artists. It was formulated by a French dermatologist and is a rich blend of everything natural – beeswax, aloe vera, soy protein, and shea butter. It keeps your skin hydrated and can be used as a makeup remover, day cream, and primer.

Pros
Paraben-free
Dermatologically tested
Ideal for dry skin
Lightweight
Cons
None
2. Nuxe Crème Fraiche de Beauté
Product Claims
This moisturizing cream is especially beneficial for dry, sensitive, and normal skin. It contains milk and algae extracts that provide intense hydration to your skin for 48 hours. It reinforces the moisture reserve of your skin, which helps plump up your skin and reduce fine lines.

Pros
Contains vegetable extracts
95.4% natural ingredients
Can be used as a primer
Cons
None
Best Makeup Removers
Product Claims
If you have sensitive skin and are afraid of using micellar water on it, this is the product for you. Bioderma Sensibio H2O Micellar Water respects the fragility of your skin and cleanses it very gently. It contains ingredients that are similar to the phospholipids of your skin cells. This helps in keeping your skin healthy and maintaining its hydrolipid film.

Pros
Can remove water-resistant makeup
Suitable for all skin types (especially sensitive skin)
Soothes irritated skin
Cons
Best Cleansers
Product Claims
Forget double cleansing when you have this product. This cleanser by La Roche-Posay breaks down every single trace of makeup and dirt and leaves your skin squeaky clean. A few rubs with this cleanser are enough to take off all residue from your skin.

Pros
pH-balanced formula
Maintains skin barrier
Suitable for normal to oily skin
No-foam formula
Fragrance-free
Soap-free
Cons
None
Product Claims
This is a 3-in-1 cleansing solution that not only cleanses your face but also tones it and removes makeup. It makes your skin feel soft and fresh, without causing any dryness or tightness.

Pros
Paraben-free
Suitable for all skin types
Lightweight
Gel-based formula
Dermatologist-tested
Allergy-tested
Sensitive skin-tested
Cons
None
Best Face Serums
Product Claims
If you travel a lot and do not find time to take care of your skin, keep a bottle of this product with you. This is an all-in-one serum and moisturizer that protects your skin from pollution, fatigue, and stress. Just a small amount of this product is enough to nourish your skin and keep it looking fresh.

Pros
Contains hyaluronic acid
Suitable for all skin types
Non-greasy
Non-sticky
Paraben-free
Shine-free
Dermatologist-tested
Fragrance-free
Allergy-tested
Sensitive skin-tested
Cons
None
Product Claims
This hyaluronic acid serum provides instant hydration and makes your skin plump. It restores the natural reserves of your skin and the epidermis to make it look fresh and clear. Use it in the morning and at night to improve the radiance of your skin.

Pros
Gel-based formula
Lightweight
Non-sticky
Cons
Product Claims
This face serum contains stable forms of vitamins E and C. It is loaded with antioxidants that protect your skin from environmental stressors and damage caused by free radicals. It keeps your skin hydrated and comfortable all day long. It also visibly plumps up your skin.

Pros
Lightweight
Gets absorbed quickly
Suitable for all skin types
Hygienic packaging
Paraben-free
Fragrance-free
Alcohol-free
Preservative-free
Dermatologist recommended
Cons
None
Best Face Mists
Product Claims
Natural thermal spring water has powerful skin healing properties, and this product by Avène brings you the mineral-rich goodness of the same. It calms your skin down almost instantly. You can use this face mist any time – in the morning, while traveling, after washing your face, after coming back from outdoors – to calm inflammation or freshen up your makeup.

Pros
Clinically tested
Low mineral content
Does not dry out your skin
Improves skin texture
Softens skin
Contains trace elements to restore skin barrier
Neutral pH (7.5)
Cons
None
Product Claims
Use this beauty elixir on bare skin to tone it or on your makeup to set it. The formula of this mist is inspired by the youth elixir used by the Queen of Hungary in the 16th century. It not only soothes your skin (and senses with its fragrance) and boosts radiance, but it also sets your makeup in place for hours.

Pros
Dermatologically-tested
100% natural ingredients
Contains essential oils
Phthalate-free
Paraben-free
No mineral oils
No animal ingredients
Cons
None
Best Hand Creams
Product Claims
This hand cream is rich in shea butter and provides intense nourishment to your skin. It is best for anyone with extremely dry and dehydrated hands as it protects them from environmental aggression. It contains allantoin that soothes the skin immediately and makes it feel comfortable and soft.

Pros
Ethically-sourced ingredients
Natural ingredients
Environment-friendly
Suitable for all skin types (especially dry and sensitive skin)
Cons
None
CicaBiafine Anti-Irritations Hydratante is specially formulated for extremely dry skin and skin with itching sensation and irritation. This moisturizing cream is suitable for all skin types, including sensitive skin. It is suitable for any person above the age of 6 months. The cream is enriched with fatty acids, avenanthramides, and panthenol that soothes irritation and itching. It has a creamy texture. It aids in reducing redness and roughness.
Pros
Fragrance-free
Minimize allergies
User-friendly
Travel-friendly
High-tolerance
Dye-free
Paraben-free
Cons
Best Day Creams And Face Moisturizers
Product Claims
This product is considered one of the French beauty products, a face moisturizer formulated for sensitive and dry skin designed to provide 24-hours hydration to the skin, protect it from UVA and UVB rays, and keep it feeling fresh throughout the day.

Pros
Oil-free
Repairs skin barrier
Dermatologist tested
Paraben-free
Allergy-tested
Sensitive skin-tested
Cons
None
Product Claims
This is an ultra-rich, nourishing, and skin-restoring moisturizer. It provides antioxidant protection to your skin, prevents moisture loss, and restores the natural barrier of your skin. It can be used both as a day and night cream.

Pros
Lightweight
Dermatologically-tested
Non-comedogenic
Hypoallergenic
Paraben-free
Suitable for all skin types (especially sensitive skin)
Cons
None
Best Night Cream
Product Claims
This is a skin smoothening, firming, and restoring cream. This anti-aging treatment is infused with resveratrol. It softens your wrinkles and fine lines and repairs your skin overnight. It plumps up your skin and keeps it nourished.

Pros
Paraben-free
Phthalate-free
No mineral oils
Non-comedogenic
Dermatologically-tested
Silicone-free
85% natural ingredients
No animal-derived agents
Cons
None
Why Trust StyleCraze?
Shiboli Chakraborti is a certified skin care coach who admires French skin care and beauty products. French skin care products are gentle on the skin and suit almost all skin types. She has gone through thousands of reviews before picking some of the best products for the readers.
Recommended Articles