9 Best French Hand Creams For Women – 2023
Spare some time and pamper your hardworking hands with these creams from France.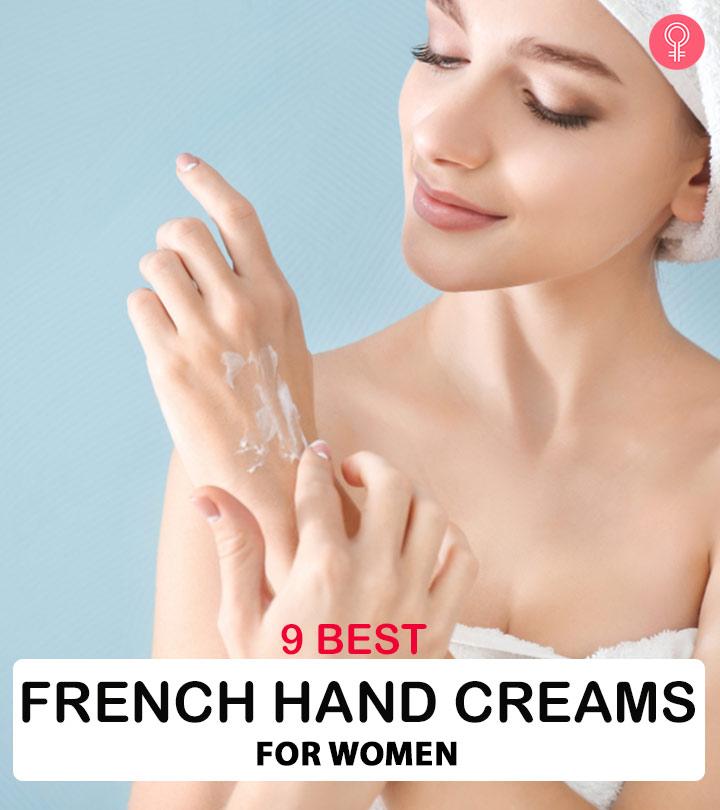 Our hands deserve more care for the amount of work they do, right from dawn to dusk. Applying the best French hand cream can be an amazing tribute to your hands. After all, they endure harsh weather, allergies, and dryness from frequent hand washing and excessive use of sanitizers.
Hand creams also help relieve irritation, repair damage, and boost moisture in your dry hands. Some creams also offer protection against harmful UV rays. However, there are hundreds of products out there in the market, and choosing the best one is, of course, an arduous task. Worry not! We have your back! This article brings you a list of some wonderful French hand creams for women that are worth trying. Check them out!
9 Best French Hand Creams
The Lait-Crème Fluide from Embryolisse contains a restorative botanical formula that moisturizes your hands and keeps them supple. Around 91% of this formula is derived from natural origin ingredients. It contains natural gentian with vitamins C and E to replenish the moisture of the skin and make it soft and smooth. This French hand cream features a rosewater fragrance that leaves the skin delicately scented. It is renowned for its moisturizing properties, making it ideal for nighttime use and those with rough hands. It is ideal for moisturizing the hands, cuticles, and nails.
Pros
Absorbed quickly
Lightweight
Mild fragrance
Non-irritating
Paraben-free
Mineral oil-free
Phthalate-free
Formaldehyde-free
Expert-recommended
Cons
Price at the time of publication: $14.0
The Atoderm Mains & Ongles by Bioderma is a hydrating hand cream suitable for extremely dry and chapped hands. It contains shea butter that nourishes the skin and replenishes lost moisture. Niacinamide protects your skin from environmental aggressors, like UV rays and pollution, while improving its texture. This dermatologist-recommended cream is highly regarded for its hand rejuvenation and barrier protection properties. This ultra-nourishing French hand cream has a glove-like effect – it leaves a protective layer on your hands to keep them moisturized all day. According to the reviews, the creamy and rich texture of the cream gives your skin long-lasting hydration and protection.
Pros
Smells good
Non-greasy
Absorbed well
Suits sensitive skin
Dermatologically tested
Cons
Less quantity for the price
Price at the time of publication: $8.99
The Cicalfate Restorative Hand Cream by Avene is an intensely nourishing cream that repairs skin damage caused due to climatic conditions, cleaning products, and occupational irritations. The sucralfate and copper-zinc sulfate complex in the cream enhances the skin's recovery process. While sucralfate restores damaged skin, the copper-zinc sulfate complex maintains a healthy healing environment to aid optimal skin recovery.
The clinically backed skin care ingredient Avène Thermal Spring Water helps soften, soothe, and calm your skin. This intensely moisturizing French hand cream keeps your hand supple for up to five hand washes by replenishing its cutaneous barrier. The water-in-oil formula is creamy and lightweight and absorbed easily into the skin, making it perfect for daytime use. Check out this video on the reviewer's experience of using the product.
Pros
Hypoallergenic
Non-comedogenic
Non-greasy
Paraben-free
Fragrance-free
Clinically-proven
Cons
Price at the time of publication: $25.0
The Lavande Hand Cream by Panier Des Sens is an aromatherapeutic hand cream enriched with 98% natural ingredients, shea butter, and olive oil. Both olive oil and shea butter replenish the skin's lost moisture and lock it in for long-lasting hydration. This French hand cream protects your hands from environmental aggressors and dryness and keeps them well-nourished. The lavender essential oil relaxes your mind and leaves your hands soft and feeling fresh. It promotes healthy skin elasticity with its anti-inflammatory and antioxidant-rich formulation.
Pros
Vegan
Smells good
Paraben-free
Aluminum-free
Phenoxyethanol-free
Silicone-free
Dye-free
Cons
Price at the time of publication: $16.89
The Bouquet Sauvage Relaxing Hand Cream by Mademoiselle Provence is formulated with natural extracts like shea butter, sunflower oil, lavender, angelica, and glycerin. These ingredients provide intense moisturization, nourishment, and protection to your hands. The formula does not let your skin dry and leaves it soft and supple.
The blend of natural angelica extract and lavender extract helps revive your senses and leaves your hand smelling fresh. One of the best hand cream recommendations, the texture is light and watery and is absorbed quickly into your skin without leaving any residue. This French hand cream is made of 96.4 % natural ingredients and fits perfectly into your purse for moisturization on the go.
Pros
Lightweight
Non-greasy
Absorbed well
Cruelty-free and not tested on animals
Paraben-free
Phthalate-free
Phenoxyethanol-free
Silicone-free
Sulfate-free
Paraffin-free
Dye-free
Cons
Price at the time of publication: $9.99
The L'Occitane Shea Butter Hand Cream is a nourishing solution for extremely dry hands. It is enriched with 20% shea butter that hydrates your hands deeply while protecting and nourishing them. This quick-absorbing hand cream is further infused with honey, almond extracts, and coconut oil which smoothens the skin's texture, leaving your hands softer for a longer duration. This lightweight cream has a rich texture; you only need a little bit of the cream to moisturize both hands. It also has an almond and coconut scent that soothes your senses. This hand cream benefits aging hands, especially those with cracked hands. According to a consumer test conducted for a year, the product shows visible results in 7 days.
Pros
Nourishing
Lightweight
Fast-absorbing
Non-greasy
Natural ingredients
Long-lasting hydration
Rich texture
Cons
Price at the time of publication: $12.5
The Hand Cream Trio by La Chatelaine consists of three delicately scented hand creams. The coconut milk hand cream has French vanilla scents and nourishes your skin, while the lychee bilberry has a sweet and exotic fruity scent. The amber cashmere has a mix of vanilla, sandalwood, and musk scents that uplifts your senses.
These anti-aging hand creams are formulated with 20% shea butter, argan oil, and vitamin E, which deeply moisturize, protect, and repair dry and chapped skin. The rich, creamy texture is absorbed easily into your skin, leaving it soft, rejuvenated, and smooth. It may help soothe irritated skin and conditions like eczema. These hand creams are made with pure organic natural ingredients and are free from harmful chemicals.
Pros
Absorbed well
Smells good
Travel-friendly
Contains natural ingredients
Cruelty-free
Paraben-free
Phthalate-free
Phenoxyethanol-free
DEA-free
Cons
Price at the time of publication: $27.0
The Longue Vie Mains Multi-Action Vital Hand Care by Guinot is enriched with pro-vitamin B5, vitamin C, vitamin E, and 21 amino acids. These ingredients help replenish the lost moisture in your skin and keep it supple all day. The pro-vitamin B5 helps strengthen your nails and heal chapped and dry skin. Vitamin E protects your skin from environmental damages and improves cell turnover. This repairing hand cream enhances skin texture and prevents wrinkles and spots. According to reviews, its proven efficacy in moisturizing and softening the skin makes it a great buy.
Pros
Non-greasy
Non-sticky
Suits sensitive skin
Smells good
Absorbed well
Cons
Price at the time of publication: $29.0
The NUXE PARIS reve di miel hand cream is infused with the goodness of Chilean rose, sweet almond, and avocado oil, which fortify the damaged tissues and nourish them. The honey and vitamin E extracts to repair and nourish damaged and dry hands. This French hand cream replenishes the moisture deep into the skin's surface and improves the skin's elasticity. It also prevents premature aging of the skin, strengthens the nails, and softens the cuticles. This non-greasy formula is suitable for dry and damaged skin.
Pros
Paraben-free
90.6 % naturally derived
Non-sticky
Smells good
Absorbed quickly
Cons
None
Price at the time of publication: $9.2
Why Trust StyleCraze?
Shiboli Chakraborti is a certified skin care coach with a passion for recommending the right self-care products that offer a healthy and practical way of dealing with skin problems. Here, she highlights the best French hand creams that can help you endure harsh weather, allergies, and dryness while keeping your hands soft and hydrated. She researched every product in-depth and ensured their features and benefits were plenty.
Frequently Asked Questions
How do you use hand cream properly?
Conduct a patch test before using any product to avoid any allergic reactions.
• Cleanse your hands with mild soap and rinse them under clean, running water.
• Pat the hands dry using a clean towel.
• Squeeze some hand cream on your hands.
• Rub the product on the back of your hands, palms, and between your fingers.
• Let it sink in for around 15 minutes.
How often should you put on hand cream?
Use a hand cream whenever your hands feel dehydrated or at least once a day before bed.
What is the shelf-life of a hand cream?
The shelf life of hand creams ranges somewhere between 12 to 24 months.
How long does hand cream take to absorb?
Hand creams take five to 20 minutes to get absorbed completely into your skin. The back side of your hands absorbs faster than your palms which contain more oil glands.
Do you wash off hand cream?
No. Do not wash your hands immediately after using hand cream to prevent the cream from wearing off and losing potency. Instead, wait 20 minutes for the cream to seep into your hands.
Recommended Articles