8 Best French Manicure Kits – 2023
Give your nails that salon-styled look French manicure in the comfort of your home.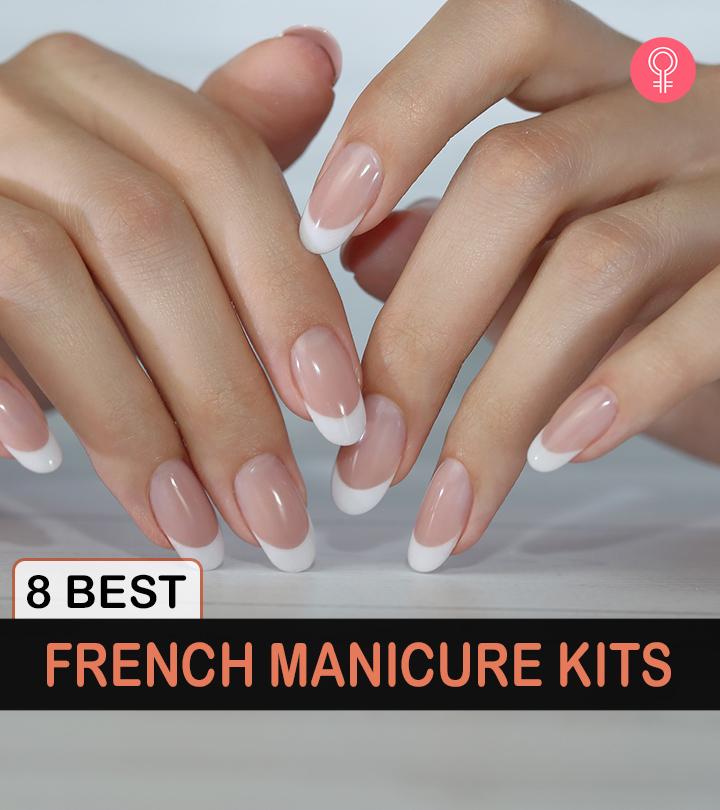 Owning the best French manicure kit is one of the best ways to make sure your nails look the best without having to rush to a salon every now and then. There is something about manicured nails that make you look classy no matter what you wear. As trendy as nail art is, the only drawback is that no one wants to rush to a parlor quite frequently. Wish there was some way you could do a hassle-free manicure at home? Well, now you can! These French manicure kits are water-resistant and can last up to 21 days. They include all the tools you need to create the perfect art and are created in a cruelty-free and non-toxic way, so you don't have to worry about the ingestion problems concerning the fume from the colors. Go through these 8 highest-rated manicure kits to make your nails the prettiest!
8 Best French Manicure Kits
Kiss Everlasting French Nail Kit contains white-ended fake nails that form "a string of pearls." These patented nails last for a week (7 days) without breaking or chipping. They are made with Flexi-Fit technology that ensures comfort. The comes with 28 nails, glue, a mini nail file, and a manicure stick. It is easy to apply and gives a classic salon-style finish. The nails are easy to remove.
Pros
Durable wear
Do not break or chip
Easy to apply
Comfortable
Natural fit
Contains 28 nails, a pink gel glue, a mini nail file, and a manicure stick
Cons
Quick Tip
Opt for a non-acetone nail polish remover to remove old polish, as acetone can dry up and harm your nails.
Price at the time of publication: $6.49
Beetles French White Glitter Gel Nail Polish Starter Kit helps you do your nails at home with ease. This Rose et Blanc classic French manicure gel nail polish set is an all-in-one kit! It comes with gel nail polish, a 48 W LED UV nail lamp, a no-wipe clear top coat,  a base coat, cuticle oil, a nail file, a nail buffer, a nail brush for hands, a nail brush for toes, a cuticle fork, a cuticle pusher, a nail clipper, and a nail separator. It is low in odor and made with 9 toxin-free gels. The kit includes 6 beautiful colors. The lamp is portable and easy to carry since it does not have a heavy bottom or a lamp belt. A paper towel can be used to clean it easily. It is safe to use as it is made without using any harsh ingredients or adhesives that could damage the nails.
Pros
High-power UV lamp
6 gorgeous colors
No harsh ingredients or adhesives
Affordable
Low odor
Cons
Pro Tip
Mix a few drops of cuticle oil in a bowl of warm water. Soak your nails in it for about 10 mins to soften them, and gently push back the cuticles. This makes your nails appear longer.
Price at the time of publication: $37.99
Latorice Dipping Powder Starter Kit is made with a safe, non-toxic, and natural formula. It contains vitamins and minerals such as calcium and vitamin E that make your nails strong and healthy. The formula is light and thin on the nails, giving you a natural finish. This kit is free from harsh chemicals and odor. It does not have a UV/LED nail lamp for nail curing and relies on air-drying, making it safe for the nails. This also ensures that the nail bed is not damaged. French manicures done with this high-quality, water-resistant dipping kit last long and do not chip or crack easily. This dipping system is suitable for all kinds of nails and gives a smooth, professional finish. This quick and easy-to-apply dip powder kit comes with a bottle of base coat, an activator, a top coat, 5 color series powders, and a user manual.
Pros
Natural formula
Non-toxic and safe
Low odor
Long-lasting manicure
Chip-resistant
Does not crack easily
High quality
Easy to apply
Cons
Does not provide a high-gloss shine
Clavuz Gel Nail Polish Art Manicure Set includes pink gel polish, white gel polish, a top coat, a base coat, and French nail tip guide stickers. It provides a smooth finish. It does not have a strong odor as it is made with high-quality, non-toxic resin. The manicures done with this kit are durable and last long without chipping. It is a perfect gift for nail art enthusiasts and nail artists.
Pros
Smooth finish
Long-lasting manicure
Non-toxic
Made with resin
High quality
Low odor
Good tenacity
Cons
The pink color is notsuitable for a French manicure
Price at the time of publication: $12.99
Azure Beauty Nude Gray Dip Powder Kit is easy to use and has a high-gloss shine that lasts up to 2 weeks. It makes your nails look natural and gorgeous. It does not require UV light to cure. The kit comes with 4 dipping powder liquids, 8 color powders, 1 nail brush, 1 nail file, and 3 dip powder gel brush replacements. Dipped manicures are healthier compared to nail enhancements. The dipping powder system is odor-free, resistant to chipping and cracking, breathable, and water-resistant with no harm to the nails beds as it is made with healthy, natural ingredients. This is the best dip powder nail kit currently available!
Pros
Easy-to-use
Long-lasting manicure
Lightweight
Non-toxic
Odor-free
Vegan
Chip-resistant
Breathable
Water-resistant
Cons
None
Price at the time of publication: $25.99
Sally Hansen's Diamond Strength French Manicure Pen Kit is made with a micro-diamond formula that gives you a long-lasting manicure. It comes with an easy-to-use precision white tip pen, sticker guides, and nail art stickers. You can do your own salon-like manicure without any external help with this kit. The Pink-a-boo nail kit has a subtle beautiful shade of pink to give you those pretty, natural nails.
Pros
Durable
Comes with a precision-tip pen
Easy to apply
Travel-friendly
Cons
The white tip of the pen frays quickly
Price at the time of publication: $6.75
Vishine Gel Polish French Manicure Kit contains a French white polish, a clear pink polish, a base coat, a top coat, and nail guide sticker tips. The manicures done with this kit last for 2-3 weeks and do not require any filing, grinding, or drying time after application. It is safe to use as it is certified by the MSDS, FDA, SGS, and CE. You get a salon-quality gel manicure without the need for curing with a UV light or the effort of redoing everything from scratch.
Pros
Manicure lasts for 2-3 weeks
No grinding
No filing
No drying time after application
Salon quality
Cons
Price at the time of publication: $13.99
Orly The Original French Manicure Kit gives a smooth, stylish look to your nails. It comes with tip nail stickers that help guide your manicure lines. This helps in getting a neat and clean manicure with perfect smile lines. The grips on the caps of the nail polishes ensure easy, mess-free application. The manicure lasts up to 10 days without breakage and peeling. The formula of the polish nourishes and protects your nails.
Pros
Smooth finish
Comfortable grip
Easy to apply
Mess-free application
Nourishing formula
Comes with decorative stickers
Cons
Price at the time of publication: $11.95
Whether you want to cut costs on your beauty routine or are someone who likes the art of painting your nails, you do not have to go to the salon and spend a bomb on a French manicure. You can get the best French manicure kits and use them in the comfort of your home. Manicured nails look classy no matter what you wear them with. These French manicure kits are water-resistant and long-lasting. Some of these kits come with decorative stickers to give you a fun manicure experience.
Why Trust StyleCraze?
The author, Shiboli Chakraborti, is a certified skin care coach. She compiled a comprehensive list of the best French manicure kits after extensive research about their quality and checked the user feedback on brand websites. These items are cruelty-free, non-toxic, and easy to use.
Frequently Asked Questions
How do you use a French manicure kit?
Here's how to use a French manicure easily from the comfort of your home.
• Soak your cuticles in warm water.
• Buff off the tops of your nails to smooth and prepare them for nail paint.
• Apply the base coat and wait a few minutes for it to dry.
• Place the nail guides on your nail and apply white nail polish.
• Apply a top layer of polish after removing the nail guides.
How do you take care of a French manicure?
Follow these quick tips to maintain your French manicure.
• Polish your nails with a no-chip top coat to keep them bright and intact.
• Since acrylic nails react to bleach, wear gloves if you come into contact with bleach.
• Stay away from constant texting to protect your manicured nails.
• File your nails regularly.
How long does a French manicure last?
If done the right way, a French manicure may last up to two to three weeks.
How long does it take for a French manicure to dry?
Setting your nail polish might take up one to two hours.
Why does my nail polish smudge hours later?
When we apply nail polish in thick layers, the polish takes significantly longer to dry, and the longer the polish takes to dry, the more likely the manicure will smudge. Therefore, use fast-drying top coats and drops to speed up the process and save your nail polish from unwanted marks and dents.
Recommended Articles
Best Nail Dip Powder Kits For Long-Lasting Manicure
Best Acrylic Nail Kit Reviews With Complete Buying Guide
The Ultimate Guide To Choosing The Best Artificial Nails
Best Peel-Off Nail Polishes For Pretty, Perfect Nails
The following two tabs change content below.