14 Best French Pharmacy Products You Must Try Right Now
Effortlessly cure every skin problem with the goodness of organically enriched formulas.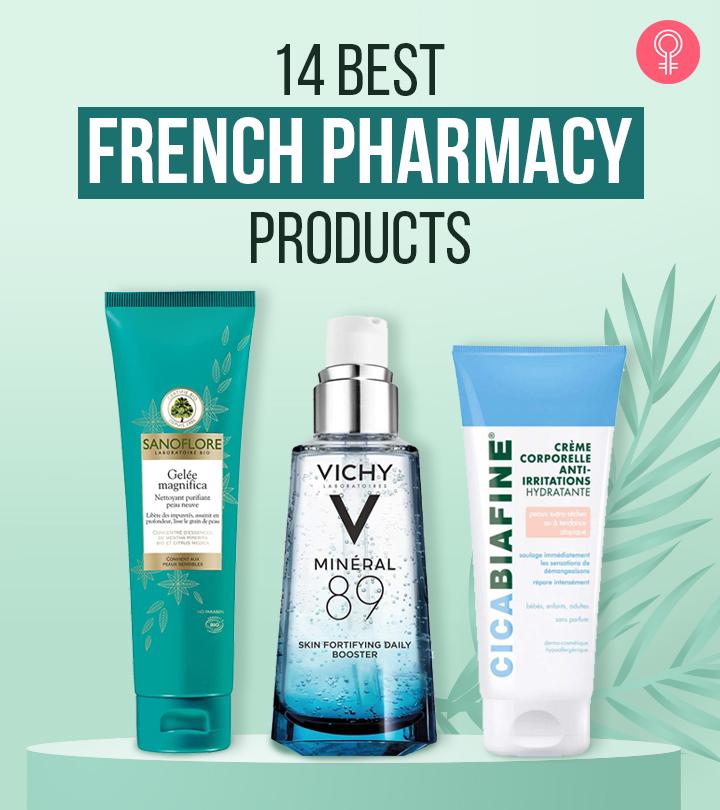 French Pharmacy beauty products always transcend time to be any skin care fiend or expert's go-to recommendation and choice. Peruse some of the best French pharmacy skin care products to find the solution to your skin troubles.
Their products are entirely devoted to providing the best skin care solutions to your skin needs. Their formulations are gentle, skin-friendly, and well-known for their high-quality ingredients. Most of their products are cult-favorites with beauty and makeup fiends worldwide. If you are new to this brand and wonder where to start, here are some of their best skin care products. Keep reading to understand why these French Pharmacy products are considered so highly.
The Top 14 French Pharmacy Products Of 2023
The Bioderma Sensibio H2O Make-up Removing Micelle Solution is dermatological micellar water loaded with fatty acid esters and small micelles. These ingredients are similar to the phospholipids in our skin cells that help rebuild the skin's hydrolipid film.
The product contains DAF (Dermatological Advanced Formulation) that improves skin tolerance, hydrates it, and reduces inflammation risk. It is gentle on the skin and deeply cleanses traces of dirt, pollution, and stubborn eye makeup without harming the skin. The cucumber extracts in the micellar water prevent allergic reactions, and vitamin E enhances the glow. This anti-pollution formula soothes the skin without dryness or irritation and is suitable for all skin types. The micellar water's proven efficacy in effortlessly removing makeup has made it a must-have in many skincare routines. You can check out this YouTuber's review of the product if you require more convincing.
Key Ingredients:
Vitamin E
Cucumber extract
Fatty acid esters
Pros
Non-sticky
Sensitive skin-friendly
Paraben-free
Alcohol-free
Cons
None
Price at the time of publication: $10.99
The Vichy Mineral 89 Daily Booster is a daily facial moisturizer for all skin types. It contains a powerful blend of 15 mineral-rich Vichy Volcanic Water and natural hyaluronic acid that strengthens and repairs the skin barrier. This skin-plumping and hydrating moisturizer was clinically tested on 1600 women and was found to be effective on all skin types.
It revitalizes the skin and helps the skin retain moisture, giving it a vibrant natural glow. This is a non-sticky, lightweight, quick-absorbing formula that does not contain any artificial ingredients. This clinically-tested product is accepted by the National Eczema Association and is suitable for dry, dehydrated skin, and dull skin. If you want to find out more about this product and its usage, make sure to check out this review on YouTube.
Key Ingredients:
Vichy Volcanic Water
Hyaluronic acid
Pros
Alcohol-free
Oil-free
Paraben-free
Suits sensitive skin
Fragrance-free
Hypoallergenic
Allergy-tested
Dermatologist-tested
Cons
None
Price at the time of publication: $29.99
The Lait-Crème Concentre by Embryolisse is a multi-functional face and body cream. It is rich in ingredients like soy protein, aloe vera, beeswax, and shea butter that help retain moisture, strengthen the skin's natural barrier, and improve elasticity.
Soy protein helps improve the signs of aging and evens out the skin, while aloe vera soothes skin issues like sunburn, eczema, and acne. This nourishing cream also contains beeswax that hydrates and plumps your skin. It can be used as a primer, aftershave care cream, makeup remover, face mask, and face cream and is ideal for sensitive skin. If you need further convincing, check this YouTuber's review out.
Key Ingredients:
Beeswax
Shea butter
Soy proteins
Aloe vera
Pros
Easy to apply
Pleasant fragrance
No irritation
Sensitive skin-friendly
Sulfate-free
Paraben-free
No harmful chemicals
Dermatologically tested
Cons
Price at the time of publication: $16.0
The La Roche-Posay Toleriane Ultra Moisturizer is a repairing and soothing moisturizer. This cream contains rich ingredients like La Roche-Posay thermal spring water, neurosensine, and shea butter. These ingredients hydrate the skin, keep it moisturized, restore the protective barrier, and calm it. This product is tested for allergens and is apt for sensitive skin that is prone to redness, inflammation, and irritation. The package comes with an anti-contamination valve, which keeps the product fresh and clean.
Key Ingredients:
Thermal Spring Water
Neurosensine
Shea butter
Pros
Allergy tested
Paraben-free
Fragrance-free
Suits sensitive skin
No allergens
Preservative-free
Alcohol-free
Dermatologist-tested
Cons
Price at the time of publication: $30.99
The Filorga Time-Filler Absolute Wrinkle Correction Cream is a highly concentrated anti-wrinkle treatment. It has a creamy gel-like, light texture that immediately makes the skin appear fuller. The clinically-proven formula is infused with the unique New Cellular Encapsulated Factors, a complex of 50 ingredients, and hyaluronic acid.
This unique formula targets deep, surface, and dry wrinkles to promote skin regeneration. The tripeptides in the cream contract the wrinkles, the sea fennel exfoliates it for a smoother appearance, and the Salicornia extract moisturizes the skin to reduce micro-cracks. This product is ideal for normal to dry skin and reviewers suggest that this cream reduces puffiness, delivering visible results in no time.
Key Ingredients:
NCEF
Tripeptide
Sea fennel
Salicornia
Pros
No dye
Alcohol-free
Paraben-free
Fast results
Cons
Price at the time of publication: $71.2
Homeoplasmine is a multipurpose ointment by Boiron. This ointment can be a perfect base for makeup and smooths rough, dry patches. It also calms irritation, redness, and inflammation, and heals sunburn, cracks, and chapped lips. It contains calendula extract that soothes the skin, and its antiseptic properties help alleviate skin issues. You can also apply it on cuts and bruises for fast healing.
Key Ingredients:
Pros
Soothes eczema
Hydrating
Multipurpose
Paraben-free
Fast-absorbing
Cons
Price at the time of publication: $24.36
The Ialuset Crème is a hyaluronic acid skin repair cream. This clinically-tested cream hydrates the skin and keeps it plump. This reduces the appearance of wrinkles and fine lines to keep the skin looking youthful and healthy. This hyaluronic acid-infused product has proven efficacy and is best suited for dry and irritated skin as it facilitates healing. It has a mild medicinal smell and is suitable for all skin types.
Key Ingredients:
Pros
Hydrating
Pharmacy-grade HA
Non-irritating
No harmful chemicals
Cons
Price at the time of publication: $20.99
The Tetyana Dark Spot Corrector Brightening Serum removes signs of aging, acne scars, sunspots, dark spots, freckles, and uneven skin tone. It contains kojic acid, salicylic acid, lactic acid, 4-butylresorcinol, and Morinda Citrifolia extract, which reduce excess melanin production, nourish dry skin, and heal damaged skin. The all-natural anti-blemish solution provides essential nutrients to your skin and helps delay the appearance of wrinkles. This soothing serum can be used on the face and other body parts like the arms, legs, knees, thighs, and elbows.
Key Ingredients: Kojic acid, Salicylic acid, Lactic acid, 4-Butylresorcinol, and Morinda Citrifolia extract
Pros
All-natural
Pleasant scent
Long-lasting
Safe for sensitive skin types
Cons
None
Price at the time of publication: $9.99
The Sisley Black Rose Cream Mask is formulated to deliver an instant youthful appearance.
It contains black rose, padina pavonica, vitamin E, and alkekengi calyx extracts. All these ingredients diminish the signs of aging and uplift tired and fatigued skin to make it look energized and youthful. It has an instant skin-plumping effect and also hydrates and softens the skin. The provitamin B5 and shea butter in the formula soothe the skin and improve its texture. This mask should not be used more than twice or thrice a week and reviewers suggest doing a patch test to avoid any reaction, especially for those with sensitive skin.
Key Ingredients:
Black rose
Padina pavonica
Alkekengi Calyx
Pros
Moisturizing
No harmful chemicals
Suitable for all skin types
Organic ingredients
Cons
Price at the time of publication: $86.19
The CicaBiafine anti-Irritation Moisturizing Cream by Biafine is a hyaluronic acid-based cream to prevent skin irritation and inflammation. Hyaluronic acid preserves moisture and keeps the skin calm by soothing inflammation, redness, and itching caused by dryness or any other skin condition.
It also contains glycerin, fatty acids, and vegetable oils that repair dry and damaged skin, improves skin texture, and makes it smooth. This clinically-tested, lightweight cream gets absorbed easily. This cream is not suitable for infants.
Key Ingredients:
Pros
Dermatologist-recommended
Hypoallergenic
Fragrance-free
Paraben-free
Dye-free
Cons
None
Price at the time of publication: $23.99
The Avene Eau Thermale Tolerance Extreme Cleansing Lotion is a hydrating cleanser for sensitive skin. The no-rinse formula has proven efficacy and it cleanses, nourishes, and refreshes sensitive skin without irritating it. Its patented and 100% sterile formula combines thermal spring water, glycerin, and parcerine that restore the skin's natural moisture barrier, and soothe irritation, dryness, and itching to help the skin heal. The clinically-proven formula is preservative-free and does not contain any skin-irritating chemicals. It is suitable for all skin types.
Key Ingredients:
Thermal Spring Water
Glycerin
Parcerine
Pros
Preservative-free
Paraben-free
No allergens
Fragrance-free
Recommended for sensitive skin
Cons
None
Price at the time of publication: $32.0
The Sanoflore Gelee Magnifica Purifying Cleanser is a soap-free, gel-based cleanser. It contains organic ingredients like citrus medica and mentha piperita essential oils that thoroughly cleanse and soothe the skin. Mentha piperita oil is also said to facilitate the penetration of other ingredients. The botanical glycerin in this cleanser hydrates and moisturizes the skin, keeping it plump and healthy. Multiple reviews on Amazon suggest that this cleaner refreshes your skin, delivering visible results. Note: Avoid the product if you are allergic to essential oils.
Key Ingredients:
Glycerin
Citrus Medica
Mentha Piperita Essential Oils
Pros
Certified organic
Soap-free
Improves skin texture
Paraben-free
Gluten-free
Cons
None
Price at the time of publication: $24.0
The Lait VIP O2 by Biologique Recherche is an anti-pollution cleanser with oxygenating properties. It thoroughly cleanses the impurities and traces of makeup from the skin without drying it. The cleanser contains natural ingredients like cucumber fruit extract, mimosa bark extract, yeast extract, vitamin E, lactic acid, and silk extract.
Cucumber fruit extract moisturizes the skin and reduces puffiness, while silk extract protects the skin from sun damage. Lactic acid provides mild exfoliation and brightens the skin, and vitamin E further nourishes and strengthens the stressed skin. This gentle exfoliator is suitable for dry and distressed skin.
Key Ingredients:
Mimosa bark
Cucumber fruit
Silk extracts
Pros
Contains natural ingredients
No allergens
Paraben-free
Dermatologically tested
Cons
Price at the time of publication: $117.99
The A-Derma Dermalibour Cream is a skin soothing and repairing cream. It is enriched with rhealba oat plant extract, zinc oxide, copper, and zinc salts. Rhealba oat promotes skin regeneration, healing scars and improving overall skin health. Zinc oxide helps reduce bacterial infection, and copper and zinc salts reduce inflammatory acne. This cream hydrates your skin and strengthens the natural moisture barrier, preventing dryness and irritation. The cream's proven efficacy in calming contact irritations has made it a favorite amongst many reviewers.
Key Ingredients:
Rhealba oat
Zinc oxide
Copper and Zinc salts
Pros
Safe for infants
Paraben-free
Fragrance-free
Hypoallergenic
Prevents rashes
Cons
Price at the time of publication: $12.72
French pharmacy products are known to offer extraordinary results for your skin. There are huge options available in the brands and products in French pharmacies. To select the best product for your skincare, here is a detailed buying guide for your help.
Things To Consider Before Buying French Pharmacy Products
It is very important to check the ingredients of the product before buying. The good ingredients to look out for in French pharmacy products are vitamins A, C, and E, cucumber extract, fatty acid esters, hyaluronic acid, beeswax, shea butter, soy protein, aloe vera, thermal spring water, peptides, calendula extract, lactic acid, kojic acid, salicylic acid, etc. Additionally, you should prefer lightweight, 100% natural, dermatologist-tested, and non-comedogenic products. Also, avoid products containing harsh chemicals such as fragrance, paraben, dye, allergens, preservatives, gluten, etc.
You must choose French Pharmacy products according to your skin type and concerns. If you have sensitive skin, go for products with soothing ingredients and non-sticky formulas. Use serums that target specific concerns for sunburn, eczema, and acne-prone skin. Make sure to opt for oil-free options if you have oily or combination skin. Also, never forget your sunscreen.
If you have dry skin, incorporate hydrating-rich formulas that can offer enough moisture to your skin. For mature skin, you must select anti-aging treatments like a vitamin C brightening solution with a retinol treatment. Opt for creams and serums that reduce fine lines, wrinkles, and dark spots. For oily skin, look for a deep cleansing face wash and lightweight moisturizers.
Brands from French pharmacies are well known for their simple approach to beauty. These companies provide products with potent formulas supported by years of research to address various skin issues, such as eczema, aging, dryness, itching, and redness. There are various brands available to buy French pharmacy products. However, you must buy the products from any reputable brand that offers trustworthy and quality products with no harmful chemicals.
French pharmacy companies offer a variety of products that provide different skin solutions and benefits. You must choose the products according to your skincare routine. First, analyze your skin's needs and choose the products that can fulfill your skin's needs. If you don't have any skin concerns and like a minimal routine, go for a basic cleanser, moisturizer, and sunscreen. If you have skin concerns, include toners, serums, exfoliants, etc., in your routine.
Why Trust StyleCraze?
Shiboli Chakraborti, the author of this article, is a certified skin care coach who loves experimenting with new products. Her deep knowledge about skin and its needs helps her pick the best for her readers. She has browsed through several forums and product details to prepare this list of the best French pharmacy products. These products are effective, skin-friendly, and easy to apply.
Recommended Articles