11 Best Refreshing Fruit Face Washes Available In India That Make Skin Care Fun
Unlock the secrets of healthy and radiant skin with the power of nature.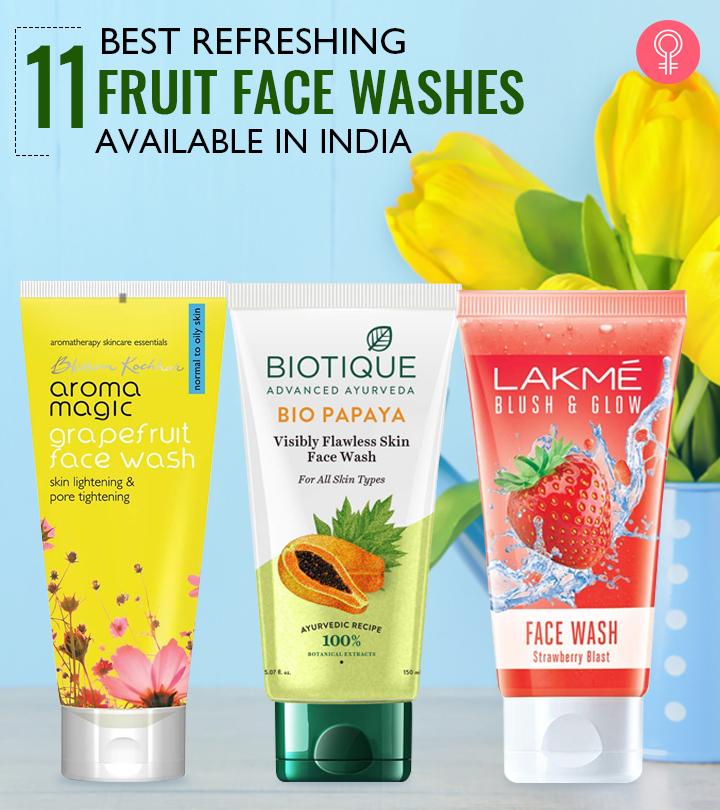 "Every woman should learn how to be her own skincare expert."
Bobbi Brown
Experts say that the secret behind glowing, gorgeous skin is healthy food and fresh fruits. Fresh fruits not only satisfy your taste buds but are also good for your skin. That is one reason fruit face washes have become the latest trend in the beauty industry. Do you want to know what's so special about these face washes? They are enriched with alpha-hydroxy acids (AHA) that act as a mild exfoliator and help combat skin blemishes. They even add glow to your skin by reducing dark spots and marks, and cleanse and hydrate your skin. These fruit-infused face washes help you deal with several skin issues.
Multiple brands have come up with their versions of fruit face washes that claim to offer impeccable results. But which of those is ideal? We have made your search easy by compiling a list of the 11 best fruit face washes available in India. Check them out!
11 Best Fruit Face Wash Available In India
Are you tired of clogged pores and dull skin? Add the Aroma Magic face wash to your daily skin care regimen as it does more than simply expelling dirt from your skin. It is enriched with grapefruit extract that cleanses your skin and offers lasting moisture. This chemical-free face wash is infused with lemon and aloe vera extract along with vitamins A and C, beta carotene, and other vital minerals that make your skin soft, supple, and smooth. The face wash also helps brighten skin, tightens pores, repairs damaged areas, and treats dark spots, wrinkles, and pigmentation. Moreover, it also revitalizes your skin and adds a mattifying effect thanks to its powerful blend of neroli and palmarosa essential oils.
Key Ingredients: Grapefruit extract, Aloe vera, and Lemon
Pros
Mattifies skin
Fades dark spots
Reduces wrinkles
Cruelty-free
Paraben-free
Alcohol-free
Soap-free
Artificial color-free
Fragrance-free
Cons
This strawberry face wash from the house of Lakmé offers one a magical fruity freshness. It is crafted by salon experts and is enriched with the goodness of delicious fruit. It gives you a gorgeous strawberry-kissed glow every morning. This antioxidant-rich formula contains microbeads for a gentle scrubbing effect. Cleaning your face with this daily cleanser keeps your pores clean and makes your skin oil-free. Incorporate this product into your skin care routine to enjoy enhanced skin glow and radiance every day.
Key Ingredients: Strawberry
Pros
Antioxidant-rich
Mild scrubbing effect
Suitable for daily use
Cons
Microbeads may cause microtears
This bio papaya face wash from the house of Biotique incorporates an ayurvedic recipe to keep skin flawless and glowing. This luscious tropical fruit enriches this face wash with vitamins, minerals, and phytochemicals that exfoliate dead skin cells and unclog pores. The healing and rejuvenating properties of papaya soothe skin inflammation and activate your skin's natural brightness. Moreover, the chemical-free formulation of this foaming gel makes it suitable for all skin types.
Key Ingredients: Papaya 
Pros
De-tans
Mildly exfoliating
Dermatologist-tested
Preservative-free
Alcohol-free
Paraben-free
Cruelty-free
Suits all skin types
Cons
None
Experience glowing, well-nourished, and hydrated skin with this papaya face wash from Good Vibes. Its antioxidant-rich formula is enriched with vitamins A, C, E and K that combat dryness, dark spots, dullness, and other dry skin issues. Papaya is a gentle exfoliating agent that washes away dead skin cells and dirt from the skin. It does not cause microtears.
The anti-inflammatory and anti-acne properties of this face wash can be attributed to the papain and chymopapain present in papaya. These compounds soothe skin and unclog pores. Additionally, the beta carotene in the product helps reduce pigmentation, age spots, and suntan. The face wash is also infused with other natural ingredients like licorice, grapeseed oil, orange, and mulberry that cleanse and smoothen skin and boost skin elasticity.
Key Ingredients: Papaya extract, Licorice, Grapeseed oil, Orange, and Mulberry extract
Pros
De-tans
Detoxifies
Cruelty-free
Paraben-free
Mineral oil-free
Natural ingredients
Cons
May trigger allergies in some
Start your day with a refreshing wave of freshness with the kiwi gel face wash from Lakmé Blush & Glow. This amazing skin care product is crafted with 100% real kiwi and comes with gentle scrubbing beads that cleanse dirt and impurities. The high concentration of vitamin C in kiwis strengthens the skin's lipid barrier and prevents water loss. This highly succulent, juicy fruit keeps your face fresh for long. Besides, its deliciously fruity fragrance refreshes your senses.
Key Ingredients: Kiwi
Pros
Preserves skin moisture
Improves skin texture
Great for dry skin
Cons
Repair dull skin with this fruit AHA face wash from Re'Equil. AHA are gentle exfoliators that remove dead skin cells and excess oil from the skin. They also help maintain skin moisture levels and brighten up the face. This product's chemical-free formulation regulates pH balance, reduces pigmentation and dark spots, and improves skin texture.
This low foaming face wash is soap-free and crafted from skin-friendly ingredients, including blueberry, sugarcane, and lemon extract. Its mild astringent properties fight wrinkles and fine lines and promote even skin tone.
Key Ingredients: Blueberry, Sugarcane, and Lemon extract
Pros
Dermatologically-tested
Non-comedogenic
Sulfate-free
Paraben-free
Soap-free
Balances skin pH
Cons
May cause breakouts in some
Kick start your day with this refreshing Himalaya face wash enriched with the goodness of strawberry. The skin-conditioning properties of this fruit face wash, along with the natural beads, cleanse your skin and remove grime and grease. The face wash helps restore skin suppleness and boosts skin appearance by making it soft, healthy, and fresh. Moreover, the mild astringent properties of the face wash help expel excess oiliness and minimize pores.
Key Ingredients: Strawberry and Indian gooseberry
Pros
Conditions skin
Gently exfoliates
Value for money
Cons
None
Get a spotless, tan-free glow with this papaya face wash from Joy. The real papaya extract and active fruit boosters protect your skin from UV damage and help combat dry skin issues. The skin lightening properties of papaya, beta-carotene, and enzymes like papain and phytochemicals battle skin blemishes, pigmentation, fade scars, and lighten the skin tone. This moisturizing face wash is rich in antioxidants that may also help one deal with the signs of aging. The face wash is also enriched with AHA and enzymes like chymopapain that exfoliate the skin, remove dead skin cells, soothe inflammation, and unclog pores. Get rid of suntan and flaky skin and rejuvenate your skin with this hydrating face wash.
Key Ingredients: Papaya
Pros
De-tans
Antioxidant-rich
Hydrates
Exfoliates
Cons
None
Energize your skin cells and get rid of oiliness with this powerful blueberry face wash from Himalaya. This special formulation is enriched with vital nutrients and antioxidants that help expel excess oil from the skin. Moreover, the natural beads in this face wash exfoliate your skin and remove dirt and grime. The blueberry in this face wash conditions skin, fights inflammation, and reduces acne.
Key Ingredients: Blueberry
Pros
Removes excess oil
Exfoliates
Fruity fragrance
Hydrates
Value for money
Cons
None
This oil-clear face wash from Himalaya is enriched with natural peach extract that improves skin's natural ability to retain moisture. Its hydrating formula adds peppy freshness to your skin and makes it soft and supple. It conditions skin and deep cleanses the pores to remove impurities and excess oils. It also improves overall skin texture.
Key Ingredients: Peach
Pros
Clears excess oil
Affordable
Antioxidant-rich
Cons
None
The antioxidant-rich lemon and soft cleansing beads in this gel face wash from Lakme Blush & Glow work best to freshen up your skin. The face wash gently cleanses your skin. Its lemon extracts nourish your skin and remove dead skin cells and excess sebum. The natural astringent properties of lemon reduce inflammation, balance pH, and reduce skin damage.
Key Ingredients: Lemon extract
Pros
Clears excess oil
Value for money
Cons
Are wondering as to what makes these fruit face washes so special for your skin? Check out the underneath section for answers!
What Are The Benefits Of Using A Fruit Face Wash?
Fruit face washes are rich in AHA that unclog and tighten pores and reduce acne risk.
They gently exfoliate the skin without stripping off its natural oils.
They hydrate skin and keep it supple.
They contain natural sources of antioxidants that improve skin texture and health, and even out the skin tone.
These face washes contain natural ingredients that are safe for most skin types.
Fruit facewashes can pep up your skin care routine, making it an oddly satisfying and refreshing experience. Here are few pointers to keep in mind, while buying the facewash.
What To Consider When Buying A Fruit Face Wash
Check the ingredient labels. Always go for one with more natural ingredients.
Opt for hydrating fruit face washes that do not make your skin dry after every wash.
Look for fragrance-free face washes or those with a mild fragrance.
Fatigue after a hard, long day is obvious. But you can get rid of the puffiness and enjoy a fresher appearance every morning by incorporating fruit face washes into your daily skin care routine. Ditch your chemically loaded skin care products and switch to any of the face washes listed in this post.
Our recommendation would be the Lakmé Blush & Glow Strawberry Blast Face Wash. This berrilicious face wash cleanses your face while its soft microbeads gently exfoliate your skin. You can also pick the Joy Skin Fruits Spots & Tan Clear Face Wash to clear tan and pigmentation marks from your skin.
Frequently Asked Questions
Are there any potential side effects or allergic reactions associated with using fruit face washes?
Although fruit face washes are generally considered safe and suitable for most skin types, people with skin sensitivities may experience potential side effects. This may include skin irritation, redness, itching, or allergic reactions to specific fruit extracts or ingredients in the product. Therefore, a patch test is always advisable.
How often should one use a fruit face wash in their skincare routine?
The frequency of using a fruit face wash in your skincare routine depends on your skin type so always check the product label. Generally, you can use a fruit face wash once or twice daily (in the morning and evening) to cleanse the skin and remove impurities effectively.
Can fruit face washes effectively remove makeup and dirt from the skin?
Yes, fruit face washes are packed with AHAs and antioxidants that can effectively remove light makeup and dirt from the skin.
Is it safe to use a fruit face wash around the eye area?
It is generally not recommended to use a fruit face wash around the delicate eye area, as it may cause irritation or stinging. You can opt for a gentle eye cleanser to be on the safer side.
What is the typical shelf life of a fruit face wash product?
The typical shelf life of a fruit face wash product is usually around 1 to 2 years. Do check the product label for the manufacturer's recommended expiration date and storage instructions to ensure its effectiveness and safety throughout its intended use.
Recommended Articles