8 Best Fruit Facial Kits Available In India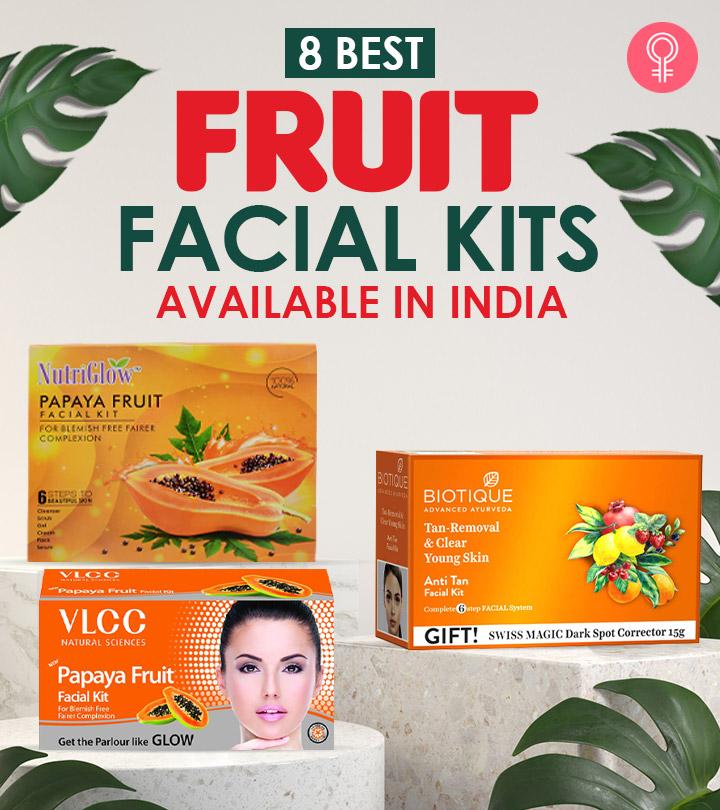 Facial kits give a complete parlor treatment to your skin from the comfort of your home. Fruits don't just have amazing health benefits, they are equally beneficial to your skin topically as well. A fruit facial regime can offer complete skin nourishment like fighting the signs of aging, reducing pigmentation, and revive the skin's natural glow. Here are the 8 best fruit facial kits in India that promise complete treatment of the skin!
8 Best Fruit Facial Kits Available in India
This facial kit is a six-step solution for a parlor-like glow at home. The first step is to apply a cleanser to clean the face.  Next, apply the papaya face scrub to exfoliate skin and unclog pores for an even skin tone. Follow up with the cucumber gel for a cooling effect on the skin; it also makes the skin visibly radiant and fresh. The massage cream in the kit is enriched with peach to improve the elasticity of the skin and reduce wrinkles and age spots. The face pack is infused with orange that removes tan for clearer-looking skin. Finally, the skin-guard lotion made of green apple fades blemishes and pimples to reveal smooth skin.
 Pros
Tube packaging
Easy instructions
Reasonably priced
Cons
Price at the time of publication: $204.0
This Biotique facial kit eliminates the dullness caused due to pollution and stress. It has a six-step formula to reduce stubborn tanning for clearer-looking skin. The honey gel cleanser deeply cleanses the skin, while the papaya-enriched scrub is a rich source of Vitamin A that removes dead skin cells. The morning nectar lotion is applied to moisturize the skin and impart hydration. The fruit pack locks in moisture and tightens the skin to improve elasticity. The dandelion serum in the facial kit comes with a magic dark spot corrector to fade blemishes and pimples.
Pros
Dermatologist-tested
Cruelty-free
No preservatives
Ayurvedic formula
Cons
Application steps not clearly marked in the instructions
Nutriglow Papaya Fruit Facial Kit prevents acne for a radiant-looking skin. It is a six-step formula that includes a deep cleanser, exfoliating scrub, nourishing gel, whitening cream, face mask pack, and a serum. The nourishing formula is enriched with papaya extracts that are rich in vitamin A to remove all impurities from the skin. It also contains orange oil that is a rich source of Vitamin C to protect the skin from free radical damage. The goodness of peppermint oil improves collagen production and balances the pH levels of the skin. The wild turmeric face wash in the kit adds a glow to the skin.
Pros
Paraben-free
Sulfate-free
No mineral oil
Anti-inflammatory
Cruelty-free, vegan
Organic
Cons
Nature's Essence Fruit facial kit is a five-step solution to promote youthful and radiant skin. This facial kit is made with a special blend of vitamin-rich fruits to enhance the brightness of the skin. The almond-infused cleansing lotion removes deep-rooted pollutants from the skin, whereas the orange fruit scrub protects the skin against free radical damage and removes blackheads and other impurities. The massage cream contains saffron that has anti-aging properties to keep the skin firm. The apple face pack is rich in Vitamin A and enhances the elasticity of your skin. Finally, a gentle massage with the coconut cream helps moisturizes the skin to give an instant glow.
Pros
Non-irritant
Enough content for 2 uses
Easy to use
Pleasing fragrance
 Cons
This Vaadi Herbal fruit facial kit is designed to provide deep nourishment to the skin. The nourishing formula is a four-step solution to achieve an even skin tone. The fruit cleansing cream contains orange, turmeric, and coconut milk that removes tan from the skin. The fruit massage cream is a gentle formula enriched with pineapple, almond oil, and avocado enzyme that improves skin texture. The orange and lemon peel scrub gently exfoliates the skin to remove all the dead skin cells. The face pack is a luxurious blend of saffron, milk, papaya, and mandarin extract that makes the skin soft and supple.
Pros
No harmful chemicals
Instant results
100% organic
Not tested on animals
Paraben-free
Cons
Aryanveda Fruit facial kit is a five-step solution to give the skin instant radiance and shine. The kit includes a cleanser, scrub, massage gel, massage cream, and a fruit pack to give you a complete makeover. It contains nutrient-rich ingredients like papaya and watermelon, both of which have hydrating properties. They remove free radicals to add radiance to the skin. It also contains cucumber, the cooling effect of which reduces inflammation. The goodness of orange and carrot slows down the process of aging to promote youthful skin.
Pros
Ayurvedic ingredients
Suitable for all skin types
Ideal for both men and women
Cons
None
Jovees Fruit facial kit nourishes and revitalizes the skin for a radiant complexion. This kit is a six-step formula to treat all types of skin problems. The cleanser is made with blackberry and citrus fruits that rejuvenate the skin. The antioxidant-rich facial scrub contains honey and almond to exfoliate the skin and remove impurities. The massage cream is infused with papaya and pineapple to remove dead skin, while the skin toning gel is rich in witch hazel and basil that heal the skin with their anti-inflammatory properties. The face pack also contains apple and avocado that binds to the skin and improves its elasticity. Finally, the witch hazel face cream moisturizes the skin for a radiant glow.
Pros
Paraben-free
Alcohol-free
Cruelty-free
Cons
None
This mix fruit facial kit is formulated to resolve your skin-care concerns. It is a five-step formula that contains a cleanser, scrub, massage cream, facial cream, and a face pack. Enriched with botanical ingredients, it smoothens the skin and restores its natural health. It also contains neem, tulsi, and almond oil to enhance your complexion. The gentle combination of this formula purifies the skin and removes all impurities from it.
Pros
Paraben-free
Suits all skin types
Unisex
Made in India
Cons
How To Choose The Best Fruit Facial Kit
Refer to these simple tips before you buy a fruit facial kit.
Skin Type: Consider your skin type before buying a facial kit. For dry skin, choose facial kits with fruits that are rich in Vitamin B12 and H for good hydration. For oily skin, choose facial kits with fruits rich in Vitamin A and C to unclog the pores.
Ingredients: Avoid buying skin products that contain paraben, phthalates, and harmful chemicals. They can cause skin irritation and allergies.
Moisturiser: For oily skin choose a moisturizing base that absorbs sebum and stimulates collagen production. Oil-free options like niacinamide and hyaluronic acid are good for oily skin. Glycerine and ceramide-based moisturizers are good for dry skin.
Brand: Skin is the most sensitive part of our body. A good brand may be expensive but you are assured of its good quality. Remember to choose quality over quantity.
To save yourself from the expense of beauty parlors, include facial kits in your beauty regime to preserve the health and glow of your skin. And in this regard, what could be better than a professional formula made with natural fruity ingredients?  Browse our carefully curated list of the best fruit facial kits available in India to give your skin the care it deserves!

Recommended Articles
The following two tabs change content below.