9 Best Fruit Juicers Available In India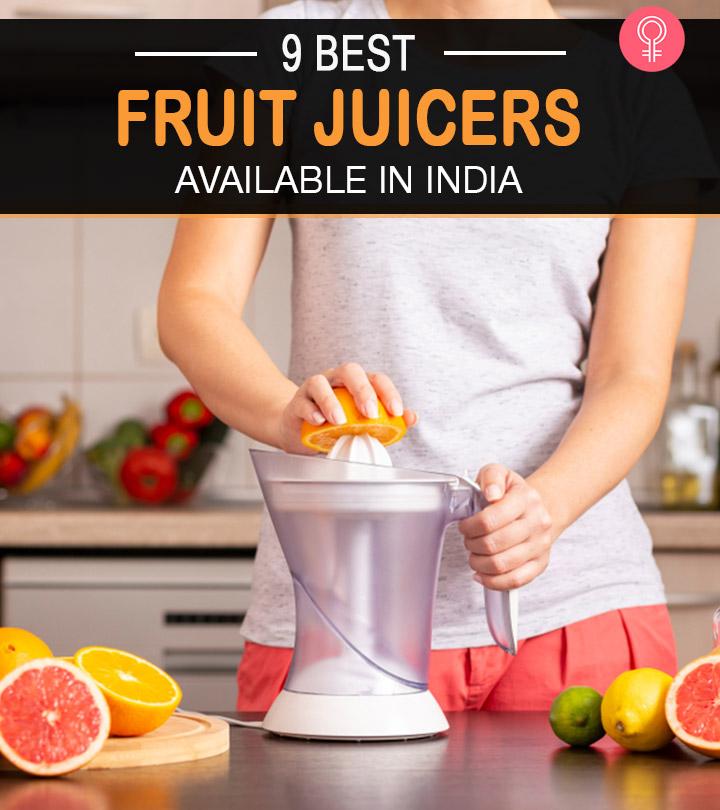 If you want to get your daily dose of essential nutrients, fruit juices are a convenient option. They work great for people who are on the go and want a nutritious start to their mornings. This is where fruit juicers can help. They not only extract the juice from fruits while keeping the vitamins and minerals intact but are also fast and less messy. Juicers are available in a variety of shapes and sizes and different functional features.
To help you pick the best one for your kitchen needs, we have compiled a list of the 9 best fruit juicers available in India. Scroll down to check them out!
9 Best Fruit Juicers Available In India
This fruit and vegetable juicer is manufactured with high-quality plastic and stainless steel and does not require any electricity to operate. The compactly designed blender has detachable parts that are easy to wash. This juicer retains the freshness and taste of all the fruits and vegetables. The extra-large mesh helps in extracting the juice effortlessly without getting blocked. The anti-drip system inside the juicer is designed with high quality plastic, which helps in extracting maximum juice with minimum waste.
Pros
Anti-skid base
Durable handle
Portable
Easy to install
Cons
This electrically operated cold-pressed juicer from Kuvings has a powerful 240 W motor. It helps in preserving the nutrients in fruits and vegetables and retains their natural taste. The feeding tube is wide enough to accommodate large quantities of fruits in one go to produce maximum juice. The fruit juicer is equipped with a smart drip-free cap that helps in blending two or more ingredients at one time. It comes with a patented cleaning tool that helps in cleaning the strainer.
Pros
Elegant design
Safety lock mechanism
10-year warranty
Durable
Easy to install
Low noise
Cons
This juicer from BTC India uses hand-press technology to extract juices. The durable body is designed with high-quality aluminum and lead-free powder coating with electroplated steel parts. The handle is made of high-quality aluminum with a firm plastic grip to extract maximum juice with ease. You can use this juicer to extract juice from succulent fruits like lemons, sweet limes, and oranges.
Pros
Low maintenance
Portable
Easy to use
Easy to clean
20-year warranty
Cons
Flimsy plastic handle
The powder coating comes off easily.
This hand press manual juicer from Sarvadeshihelps in maximum extraction of juice from fruits with minimum wastage. The multipurpose juicer is designed with durable food-grade plastic. The netted strainer squeezes out the pulp and takes out juice when pressure is applied.
Pros
Portable
Easy to use
Dishwater-safe
Inbuilt glass to drink juice
Cons
Difficult to clean.
Mesh gets jammed easily.
The Philips Citrus Press Juicer helps in extracting nutrients from fruits to produce a healthy drink. It runs on a powerful 25 W motor, and the jar is designed to hold upto 1liter of juice. The unique juicer comes with an option of pulp selector to allow you to make the juice with or without the pulp. The drip-stop feature in the jug prevents the residual juice from dripping. This helps to keep the place mess-free once the process is over.
Pros
Easy-grip handle
Built-in cord storage
Durable
Easy serving jug
Cons
The SOLIMO FruitJuicer is manually operated and designed with high quality polystyrene food-grade plastic. The unique stainless steel blades of the unit help in cutting fruits and vegetables efficiently to extract high quality juice. The firm grip of the metal handle allows you to extract juice manually with ease. Since it is manually run, it can easily be carried anywhere you want.
Pros
Vacuum surface lock system
Easy to clean
Scratch-proof
Cons
Assembled parts may loosen with time.
The Kenwood juicer is designed for electrical operation and uses scroll juicing technology that presses the fruits slowly to extract the maximum juice without losing any of the nutrients. The 1.3-liter pulp container is big enough to hold large quantities of fruits and produce at least 1 liter of juice at a time. The juicer is made of  high-quality plastic and has a powerful 140 W motor for smooth functioning.
Pros
Anti-drip stopper
Rinse clean function
Easy to use
Slim design
Includes cleaning brush
Cons
None
This sleek and modern juicer blender has a simple electric plug-in design. The juicer cup is equipped with a built-in rechargeable battery, which can be charged with any USB source. The smart grade ABS bottom can be separated easily for ease of cleaning. This juicer features heavy-duty stainless steel blades that ensure fine blending. It can prepare nutritious juices and smoothies in an easy-to-use jar.
Pros
Magnetic sensing switch
Easy to use
Easy to clean
Travel-friendly
Cons
The Voltonix manual juicer is made of high-end aluminium alloy that is durable. This is an ideal juicer to squeeze lemons by pressing them between the firmly gripped handles. The foot design allows it to stand easily on the countertop or table. The triangular nozzle helps in pouring the juice easily without dripping.
Pros
Easy-grip handle
Portable
Durable construction
Easy to use
Cons
None
Looking forward to buying a new juicer? Keep the factors listed below in mind before you get one for yourself.
How To Choose The Best Fruit Juicers
Motor Capacity: Generally, the motor power ranges between 120 Wto 1000 W in juicers. Check for adequate motor capacity, depending on whether you would like to have pulp-free juices or smoothies.
Cleaning: Ensure that the juicer has BPA-free plastic cups and lids. The parts should be detachable and dishwasher-safe.
Design: The juicer should be compact so that it can fit in any corner of your kitchen. The parts should be simple to assemble and the unit easy to install.
Juicing Yield: The juicer cup should be big enough to produce enough juice in one go. The machine should be powerful to squeeze out all the juice without leaving the pulp wet.
Feeding Tube: Look for juicers with a large feeding tube to accommodate enough fruits and vegetables and produce the maximum juice.
Non-dripping Pout: This feature prevents the leftover juice from dripping out and keeps your kitchen mess-free.
Let's now look at the types of fruit juicers available on the market.
What Are The Types Of Fruit Juicers?
Reamers: In this type, the juice is extracted by grinding a halved citrus fruit along the juicer's ridged conical center. Some reamers are stationary and require the fruit to be hand-pressed, while others are electrical and twist the ridge automatically.
Centrifugal Juicers: This type cuts the fruit with sharp cutting blades. It spins at a high speed to separate the pulp from the juice
Masticating Juicers: They are also known as cold-pressed or slow juicers. They use a single auger to crush the fruit into smaller sections and then squeeze out juice while discarding the pulp through a separate section.
Triturating Juicers: This type has twin augers to crush the fruit before producing juice.
Juicing Press: It is a large-scale press that is used in industrial production. These presses are both stationary and mobile.
Steam Juice Extractor: This is a stovetop pot to generate steam that is used to heat fruits on a perforated pot that is stacked on top of a juice collecting container, kept above the steam pot. This is a non-mechanical way of collecting the juice.
Here's the right way to use a fruit juicer.
How To Use Fruit Juicers
Cut the fruits into pieces.
Put them in the feeding tube.
Manual fruit juicers can be used by applying hand pressure.
Battery or electrically operated juicers blend the fruit automatically according to their given speed.
Once you have extracted the juice, it is important to keep the juicer clean to ensure hygiene.
How To Clean Juicers
If your juicer is dishwasher-safe, load it in the dishwasher for easy cleaning. Else, clean the mesh as the pulp often gets entangled in it.
You can clean the strainer with the following tools:
Toothbrush
Spatula
Non-abrasive sponge
Microfiber cloth
Soft-bristled brush
You can clean the juicer using the following ingredients:
Detergent
Baking soda
Distilled white vinegar 
Juicers are effective tools to prepare healthy drinks effortlessly. We hope our list of the best fruit juicers available in India will help you decide on your favorite appliance. Click on the link of your choice to get one for yourself today! 
Frequently Asked Questions
How long does a juicer last?
A juicer can last for years depending on your usage and the quality of the juicer.
How often should you clean the juicer?
Every juicer should be cleaned immediately after use otherwise shreds of pulp will get stuck in the strainer and block the mesh.
Juicer or Blender – Which one is better?
The juicer extracts juice from fruits and vegetables by removing fibre and pulp to produce a thin concentrated liquid that is usually low in fibre, blenders are good for making smoothie from fruits and vegetables and they retain the fibre content. Hence, health-wise blenders produce a healthier drink than juicers.
Recommended Articles
The following two tabs change content below.