13 Irresistibly Fruity Perfumes Of 2021 For Women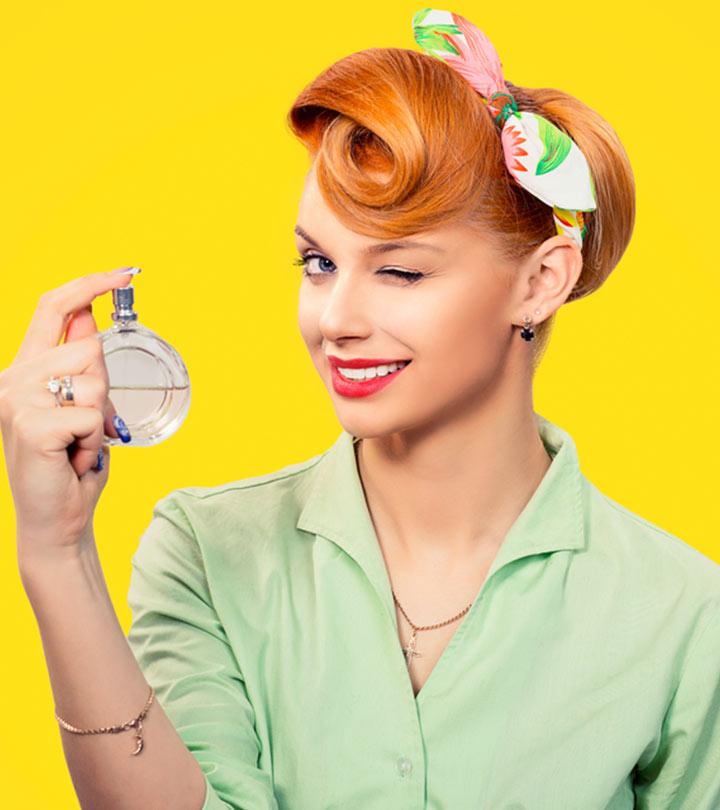 It's no secret that we all have obsessed over fruity perfumes at some point during our teen years. Be it apples, strawberries, mangoes, or irresistible citrus-based fragrances, there were potentially more fruits on our vanities than in our diet back then! However, these fruit-inspired scents are not a just a rite of passage for teenagers anymore. Making a dramatic comeback are fruity perfume and women of all ages, all over the world are crushing over these sweet-smelling scents and adding one to their daily grooming kits right immediately.
We're taking you down a nostalgic trip and perhaps it's safe to say that fruity fragrances are quickly becoming a trend that is here to stay. Now, whether you are looking for your first perfume or upgrading to a new one, we have some delicious-smelling fragrances waiting for you to flaunt this season. Go on, feel fruity and fabulous with the best! Check out our list of the 13 best fruity perfumes for women in 2021.
Smell Good Always With The 13 Best Fruity Perfumes For Women
Oops, she's done it again! Adding a hint of mystery, mischief, and fantasy in an ethereal bottle, this perfume by Britney Spears will transform your vibes instantly. With top notes of plum, raspberry, and sour cherry, the middle notes are iris, freesia, and orchid, and the base notes are musk, amber, and vanilla. More like a forbidden fruit that tempts the mystery and mischief in you with every mist, this fruity floral perfume is all you need to make those dates or occasions special. Try it if you can handle all the compliments!
Pros:
Warm scent
Subtle and sweet fragrance
Suitable for day and night wear
Long-lasting fragrance
Cons:
May not be suitable for sensitive skin
Like summer trapped in a bottle, this one has floral, fruity, and woody notes to keep you upbeat and fresh all day long. One of the best floral fruity perfumes out there, this one also claims to last up to 6 hours! Moreover, its top notes are fruity and floral, middle notes are powdery and chypre, and base notes are oriental and woody. Made in England and exuding the aroma of a European summer, you can give it a try if you are a fan of the season.
Pros:
Concentrated formula
Infused with premium oils
Herbal notes
Value for money
Cons:
Not ideal if you need light-scented perfumes
Let the packaging of this perfume not deceive you as it looks purple yet smells like a watermelon! Go on, flaunt your love for the fruit with this deliciously sweet-smelling scent that has notes of jasmine, bergamot, rose, patchouli, oakmoss, violet, cedar, and watermelon blended in one. Just what you need to refresh your mood instantly, be it early morning or after a long tiring day, this nice-smelling perfume is no less than a mood-booster. Its top notes are floral and watery, middle notes are jasmine, fruity, and rose, and base notes are vanilla and woody.
Pros:
High-quality perfume
Blended with premium oils
Long-lasting up to 6 hours
Beautiful packaging
Cons:
Maybe overpowering for some
She made you dance like nobody's watching, now she's ready to make your personality dance too! Here's a sensual, sparkling, and fruity fragrance by Shakira that'll lift your spirits up instantly. With Italian citrus blended with pear in the top note for a fruity feel, the middle notes are intensely floral with lily, orange bloom, and peony. And as for the base notes, it has vanilla and musk blended with woody aromas for a smooth and final touch. Go on, give yourself a delightful spin with this one!
Pros:
Ideal for gifting
Travel-friendly bottle
Subtle and feminine
Suitable for daily wear
Cons:
Some may find the woody notes slightly overpowering
With this concentrated and intense perfume oil, all eyes (and noses!) will be on you always! Not your regular fruity and floral fragrance, this one is out-and-out feminine, modern, seductive, and irresistible enough to make those around you ask — "what scent are you wearing?". Opening with fruity notes, it builds on the aroma of mimosa, jasmine, rose, saffron, marigold, and berries. And as far as the ending notes are concerned, it turns spicy and bold with vanilla, sandal, and vetiver notes.
Pros:
All-natural formula
Long-lasting fragrance
Vegan
Alcohol-free
Ensures easy application with a dipstick
Ideal for daily wear and summers
Cons:
Not ideal if you prefer light fragrances
Flirty, feminine, and flawless! Uplift your spirits with this fruity bliss infused with fragrances of apples, peaches, and raspberries. A must-try for fruit fans, this blend has floral notes and creamy sandalwood to balance the fruitiness and keep you smelling good always. Yep, with this perfume in your kitty, you need no words to flaunt your confidence as it'll keep your energies fresh and uplifted all day. Try it!
Pros:
Subtle fragrance
Travel-friendly
Ideal for wearing during the day or evening
Long-wearing
Cons:
Some may find the sandalwood scent overpowering
One word — scandalous! Watch all eyes follow your scent the moment you enter the room as The Ghost Eclipse is an intoxicating yet inviting blend of fruity and floral fragrances. If you wish to steal the spotlight, this one claims to be warm and charismatic at the same time! Just the accessory you need to pair with your LBDs, the perfume features top notes of fresh and zesty mandarin, marigold, and blackcurrant, whereas the middle notes are lotus flower and golden freesia. The base notes are earthy musk and amber resin.
Pros:
Earthy musk
Unique crescent-moon bottle
Ensures to uplift mood and ambiance
Ideal for evening and occasion wear
Cons:
Do you have a date coming up, or are you planning to charm your partner? Adidas is making romance easy with its fruity and rhythm body fragrance. Infused with notes of raspberry and freesia, the blend also connects modernity and sensuality with the base notes of musk and sandalwood. Moreover, this body fragrance can be a great giveaway gift too. Yep, let romance be in the air and around you with this one!
Pros:
Pure, light, and sweet scent
Ideal for daily wear or after workouts
Affordable
Chic packaging
Cons:
May not be the best fit for formal occasions
How about adding a little mystery and fantasy to your persona? Rasasi's Romance will engulf you in its fruity and floral scent that is too irresistible to ignore. Empowering you with confidence to take charge and be stunning and flawless wherever you go while leaving hints of your mystery behind, it's a must-try for evening outings and date nights. It boasts of top notes of jasmine and rose, middle notes of woody and fruits, and base notes of powdery to create the ideal fantasy around you.
Pros:
Premium fragrance
Beautiful packaging
Infused with concentrated oils
Ideal for everyday wear
Cons:
Slightly expensive for the quantity provided
Sometimes all you need is the right perfume to feel glamorous. The Lace Eau de Parfum is an epitome of sophistication that'll upscale your outfit effortlessly. Infused with notes of citrus, florals, femininity, vanilla, and woods, it's a blend that screams high-end without burning a hole in your pockets. Yep, add a chic touch to your daily avatar with this classy fragrance. And if you're a collector of vintage-style perfume bottles, this one will not disappoint you.
Pros:
Subtle yet sweet fragrance
Lightweight
Ideal for daily wear or for special occasions
Immaculate packaging
Cons:
Leave trails of your elegance, beauty, and sophistication with this irresistible fragrance that will change your perception of fruity scents. Spell-binding, tempting, and seductive, it's a must-try for a woman who finds comfort in being chic, classy, and confident in her daily life. The perfume has top notes of strawberry, blackcurrant, and green lemon, middle notes of ylang-ylang, jasmine, and lily, and base notes of mossy woods and opoponax. And would take a look at the packaging? Is there anything that's not to love about this perfume?
Pros:
Ultra-feminine
Fruity and floral
Long-lasting fragrance
Unique packaging
Cons:
Here's a perfume that'll make you feel dreamy yet fresh at the same time! Ultra-fruity without making you feel like a teen or a high schooler, this one will tempt the fruit lover in you and make you want to binge on it. With top notes of grapefruit, starfruit, apple blossom, middle notes of magnolia, rose, and water lily, this fruity and floral mixture finishes off harmoniously with base notes of amber, sandalwood, and blonde woods. Try it if you haven't already!
Pros:
Long-lasting scent
Feminine fragrance
Ideal for daily wear
Compact and travel-friendly
Cons:
May not suitable for winter
This mist of glamour will make head turns with its intoxicating aroma! Yep, give your OOTDs for the evening the perfect match to boost your glam quotient instantly. Entering the room before you do and oozing sophistication as you walk by, this citrusy and floral fragrance is blended to be feminine, striking, and sensual, all at the same time. It contains top notes of plum and orange, middle notes of florals and spices, and base notes of amber, sandalwood, and patchouli.
Pros:
Powerful and irresistible
Concentrated and long-lasting
Ideal for evening and nightwear
All day sillage
Cons:
Some may find the musky scent slightly intense
Yep, get ready to be fruity and flawless all over again! There you go, those are the 13 best fruity perfumes of 2021 that you must not ignore. Do you still need assistance with choosing the right one? If yes, check out our buying guide below.
How To Choose The Best Fruity Perfume
It's easy! Look out for the following features in the perfume before buying one
Perfumes are a blend of multiple scents that build or rather evolve after being sprayed on. The top notes or the first whiff that hits you immediately after spraying are the fruity scents. They may not last long (10-15 minutes) but are essential as they make the first impression. The middle notes or the heart notes are floral-inspired and build gradually after the top notes have evaporated. They last longer (2-4 hours) and make up most of the perfume, which is why you must pick the ones that best suit your energies. The end or base notes last for 4-6 hours after the middle notes have evaporated. These notes will linger with you all day and are mostly woody or musk-infused to create a lasting impression.
If you are wondering how to pick a season-based perfume, the trick is to scan the ingredients list! Those with plum, berries, or concentrated formulas are great for winters or early summers because of the warmth they exude. And as for the summers, citrusy scents are ideal for boosting your mood instantly.
Not all fruity fragrances are light and fresh; some can be intense, heavy, and may trigger headaches for those who are sensitive to smell. So, before buying, check the intensity of the perfume to be safe.
Some fragrances may not last long or all day, but then again, not everyone requires an all-day lasting perfume. If you are to step out only for a few hours or for a quick errand, a fragrance that lasts an hour or two should suffice. However, if you are outdoors all day, inspect if the perfume is long-lasting before buying.
With that, we bet you'll end up with the best fruity fragrance of 2021 this season! Take a break from your usual perfume artillery and add some refreshing fruit-inspired scents to your vanity for a change. Boosting your mood and of those around you, they are stress-busters you never knew you needed. Also, gone are the days when fruity fragrances were all sweet and honeyed, as these fruit and floral blends on our list are offering sweetness with a dash of sophistication, sensuality, and chicness! Yep, being fruity and fancy now looks easy! Still, thinking? Go, pick your fruity perfume today!