13 Best Fruity Perfumes Of 2023 That Have The Sweetest Aromas
Top selection of fruit-scented perfumes to suit every occasion, mood, and fancy.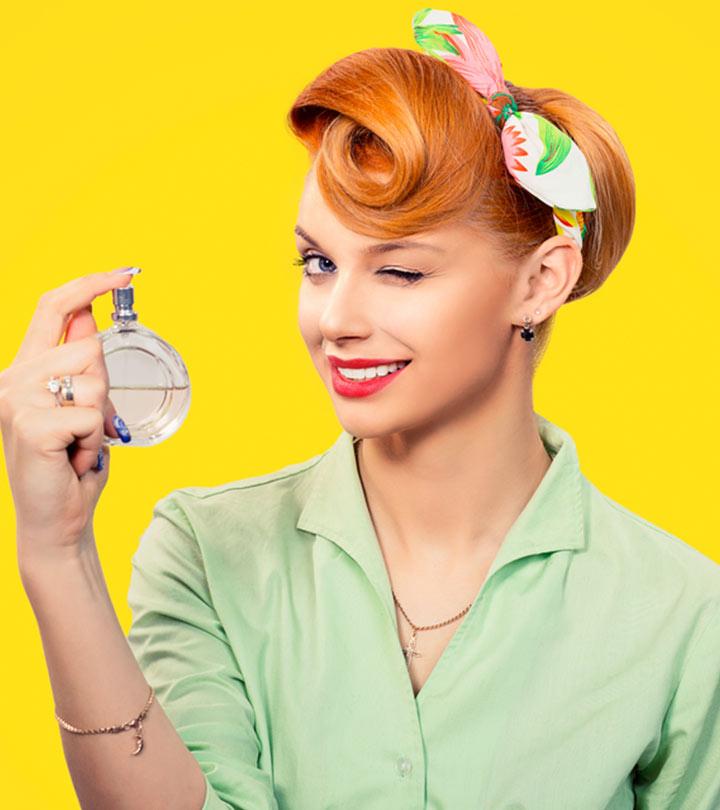 Once upon a time, your teenage perfume collection had more fruity scents than your pantry! Christian Dior also rightly said that a woman's perfume says more about her than her handwriting. What better way to convey how flirty and vivacious you are than with the best fruity perfume? Mango, watermelon, orange, grapes – each fragrance is suitable for different occasions. Be it a glamorous cocktail party, a trip to the beach, or a regular day at the office – there is a fruity perfume appropriate for every event. With these perfumes making a massive comeback, brands have come up with fragrances that are perfect for every woman of every age.
Fruity fragrances can be just right for a breezy summer evening or perfect for a cold winter night. They can make you feel happy and powerful. As they say, life is too short, and why waste money on the wrong perfume? Check out our list of the best fruity perfumes to add to your collection. Scroll down to check them out!
Smell Good Always With The 13 Best Fruity Perfumes For Women
The Lattafa Fakhar Eau de Parfum Spray is a sweet and sensual fragrance that smells like fruity florals but is light enough for daily use. This long-lasting fragrance has a delightful blend of bergamot, lily, and pomegranate for its top notes, along with middle notes of rose, jasmine, peony, gardenia, and base notes of vanilla, sandalwood, and white musk. The perfume spray belongs to the oriental fragrance family. It has a seductive and engaging smell that will give you an aura of luxury and freshness all day long.
Pros
Light smell
Long-lasting
Luxurious packaging
Perfect for daily wear
Cons
Some may find the smell powdery
Price at the time of publication: $27.5
Like summer trapped in a bottle, this one has floral, fruity, and woody notes to keep you upbeat and fresh all day long. One of the best floral fruity perfumes out there, this one also claims to last up to 6 hours! Moreover, its top notes are fruity and floral, middle notes are powdery and chypre, and base notes are oriental and woody. Made in England and exuding the aroma of a European summer, you can give it a try if you are a fan of the season.
Pros
Concentrated formula
Infused with premium oils
Herbal notes
Value for money
Cons
Not ideal if you need light-scented perfumes
If you love fresh, citrusy scents, get your hands on the Pacifica Hawaiian Ruby Guava Parfum Spray. It flaunts a refreshingly sweet scent with notes of utterly juicy guava and citrus pomelo. With a base of coconut, the perfume is rich in the freshness of the South Pacific. It is crafted with natural essential oils, is soothing to your soul, and is perfect for daily use.
Pros
Vegan
Created in micro-batches
Hydrating formula
Cruelty-free
Paraben-free
Phthalate-free
Environment-friendly packaging
Contains no toxins
Cons
Price at the time of publication: $21.99
She made you dance like nobody's watching, now she's ready to make your personality dance too! Here's a sensual, sparkling, and fruity fragrance by Shakira that'll lift your spirits up instantly. With Italian citrus blended with pear in the top note for a fruity feel, the middle notes are intensely floral with lily, orange bloom, and peony. And as for the base notes, it has vanilla and musk blended with woody aromas for a smooth and final touch. Go on, give yourself a delightful spin with this one! Click here to check out a detailed personal review of this product.
Pros
Ideal for gifting
Travel-friendly bottle
Subtle and feminine
Suitable for daily wear
Cons
Some may find the woody notes slightly overpowering
Price at the time of publication: $21
With this concentrated and intense perfume oil, all eyes (and noses!) will be on you always! Not your regular fruity and floral fragrance, this one is out-and-out feminine, modern, seductive, and irresistible enough to make those around you ask — "what scent are you wearing?". Opening with fruity notes, it builds on the aroma of mimosa, jasmine, rose, saffron, marigold, and berries. And as far as the ending notes are concerned, it turns spicy and bold with vanilla, sandal, and vetiver notes.
Pros
All-natural formula
Long-lasting fragrance
Vegan
Alcohol-free
Ensures easy application with a dipstick
Ideal for daily wear and summers
Cons
Not ideal if you prefer light fragrances
Price at the time of publication: $22.68
Flirty, feminine, and flawless! Uplift your spirits with this fruity bliss infused with fragrances of apples, peaches, and raspberries. A must-try for fruit fans, this blend has floral notes and creamy sandalwood to balance the fruitiness and keep you smelling good always. Yep, with this perfume in your kitty, you need no words to flaunt your confidence as it'll keep your energies fresh and uplifted all day. Try it!
Pros
Subtle fragrance
Travel-friendly
Ideal for wearing during the day or evening
Long-wearing
Cons
Some may find the sandalwood scent overpowering
Price at the time of publication: $22.99
One word — scandalous! Watch all eyes follow your scent the moment you enter the room as The Ghost Eclipse is an intoxicating yet inviting blend of fruity and floral fragrances. If you wish to steal the spotlight, this one claims to be warm and charismatic at the same time! Just the accessory you need to pair with your LBDs, the perfume features top notes of fresh and zesty mandarin, marigold, and blackcurrant, whereas the middle notes are lotus flower and golden freesia. The base notes are earthy musk and amber resin.
Pros
Earthy musk
Unique crescent-moon bottle
Ensures to uplift mood and ambiance
Ideal for evening and occasion wear
Cons
Price at the time of publication: $32.89
Do you have a date coming up, or are you planning to charm your partner? Adidas is making romance easy with its fruity and rhythm body fragrance. Infused with notes of raspberry and freesia, the blend also connects modernity and sensuality with the base notes of musk and sandalwood. Moreover, this body fragrance can be a great giveaway gift too. Yep, let romance be in the air and around you with this one!
Pros
Pure, light, and sweet scent
Ideal for daily wear or after workouts
Affordable
Chic packaging
Cons
May not be the best fit for formal occasions
Price at the time of publication: $7.98
How about adding a little mystery and fantasy to your persona? Rasasi's Romance will engulf you in its fruity and floral scent that is too irresistible to ignore. Empowering you with confidence to take charge and be stunning and flawless wherever you go while leaving hints of your mystery behind, it's a must-try for evening outings and date nights. It boasts of effervescent top notes of jasmine and rose, middle notes of woody and fruits, and base notes of powdery to create the ideal fantasy around you.
Pros
Premium fragrance
Beautiful packaging
Infused with concentrated oils
Ideal for everyday wear
Cons
Slightly expensive for the quantity provided
Price at the time of publication: $49.99
Sometimes all you need is the right perfume to feel glamorous. The Lace Eau de Parfum is an epitome of sophistication that'll upscale your outfit effortlessly. Infused with captivating notes of citrus, florals, femininity, vanilla, and woods, it's a blend that screams high-end without burning a hole in your pockets. Yep, add a whimsical chic touch to your daily avatar with this classy fragrance. And if you're a collector of vintage-style perfume bottles, this one will not disappoint you.
Pros
Subtle yet sweet fragrance
Lightweight
Ideal for daily wear or for special occasions
Immaculate packaging
Cons
Price at the time of publication: $40.4
Leave trails of your elegance, beauty, and sophistication with this irresistible fragrance that will change your perception of fruity scents. Spell-binding, playful, tempting, and seductive, it's a must-try for a woman who finds comfort in being chic, classy, and confident in her daily life. The perfume has enchanting top notes of strawberry, blackcurrant, and green lemon, middle notes of ylang-ylang, jasmine, and lily, and base notes of mossy woods and opoponax. And would you take a look at the packaging! Is there anything that's not to love about this perfume?
Pros
Ultra-feminine
Fruity-floral
Long-lasting summery fragrance
Unique packaging
Cons
Price at the time of publication: $35.52
Here's a mouthwatering perfume that'll make you feel dreamy yet fresh at the same time! Ultra-fruity without making you feel like a teen or a high schooler, this one will tempt the fruit lover in you and make you want to binge on it. With tangy top notes of freshly picked grapefruit, starfruit, apple blossom, middle notes of magnolia, rose, and water lily, this fruity and floral mixture finishes off harmoniously with base notes of amber, sandalwood, and blonde woods. Try this tropical paradise if you haven't already!
Pros
Long-lasting aromatic scent
Bright feminine fragrance
Ideal for daily wear
Compact and travel-friendly
Cons
May not suitable for winter
Price at the time of publication: $7.99
This mist of glamor will make head turns with its intoxicating aroma! Yep, give your OOTDs for the evening the perfect match to boost your glam quotient instantly. Entering the room before you do and oozing sophistication as you walk by, this succulent citrusy and floral fragrance is blended to be feminine, striking, and sensual, all at the same time. It contains exquisite top notes of plum and orange, middle notes of florals and spices, and base notes of amber, sandalwood, and patchouli.
Pros
Powerful and irresistible
Concentrated and long-lasting
Ideal for evening and nightwear
All day sillage
Cons
Some may find the musky scent slightly intense
Price at the time of publication: $46
Yep, get ready to be fruity and flawless all over again! There you go, those are the 13 best fruity perfumes of 2023 that you must not ignore. Do you still need assistance with choosing the right one? If yes, check out our buying guide below.
How To Choose The Best Fruity Perfume
It's easy! Look out for the following features in the perfume before buying one
Perfumes are a blend of multiple scents that build or rather evolve after being sprayed on. The top notes or the first whiff that hits you immediately after spraying are the fruity scents. They may not last long (10-15 minutes) but are essential as they make the first impression. The middle notes or the heart notes are floral-inspired and build gradually after the top notes have evaporated. They last longer (2-4 hours) and make up most of the perfume, which is why you must pick the ones that best suit your energies. The end or base notes last for 4-6 hours after the middle notes have evaporated. These notes will linger with you all day and are mostly woody or musk-infused to create a lasting impression.
If you are wondering how to pick a season-based perfume, the trick is to scan the ingredients list! Those with plum, berries, or concentrated formulas are great for winters or early summers because of the warmth they exude. And as for the summers, citrusy scents are ideal for boosting your mood instantly.
Not all fruity fragrances are light and fresh; some can be intense, heavy, and may trigger headaches for those who are sensitive to smell. So, before buying, check the intensity of the perfume to be safe.
Some fragrances may not last long or all day, but then again, not everyone requires an all-day lasting perfume. If you are to step out only for a few hours or for a quick errand, a fragrance that lasts an hour or two should suffice. However, if you are outdoors all day, inspect if the perfume is long-lasting before buying.
Why Trust StyleCraze?
The author of this article, Srijani Roy Chowdhury, is an avid makeup enthusiast who loves reviewing different makeup products. She has curated a list of fruity perfumes after researching and checking reviews online and trying some of the products out herself. Her list is perfect if you are keen on experimenting with different perfumes that are warm scented, long-lasting, and uplift your senses.
Frequently Asked Questions
Are fruity perfumes attractive?
Yes. Fruity scents are known to develop a cheerful effect on a person. The fruity notes are vibrant yet light. Thus, you may like and enjoy smelling fruity fragrances.
What is the most popular female perfume?
The Tru Fragrance And Beauty Refuge Perfume is the most popular fruity female fragrance. It has the perfect balance of fruity smell and intense aroma that offers an uplifting effect on your senses.
What is the most popular smell in the world?
Vanilla is the most popular smell in the world. The sweet, tropical, and nutty fragrance of vanilla has rejuvenating powers and is commonly chosen as a go-to fragrance by many.
What does fruity perfume mean?
Fruity fragrances usually consist of fresh, ripe, and edible notes of fruits other than citrus. These fragrances burst into a super rich and clear aroma that instantly energizes your mood.
Do people like fruity scents?
Yes. Fruity smells are lighthearted and attractive. The sudden burst of alluring fruity aromas is disarming but intriguing. These scents surround the wearer with a jolt of energy and are liked by many.
What does a fruity scent smell like?
Fruity fragrances fill your nostrils with the familiar fragrances of apple, berry, mango, and peaches. The fruit essences mentioned in the notes of the packaging are what you will smell when you are using the perfume.
Recommended Articles