11 Best Full Body Shapewear Of 2023
All body shapes are beautiful but these products enhance and add charm to the structure.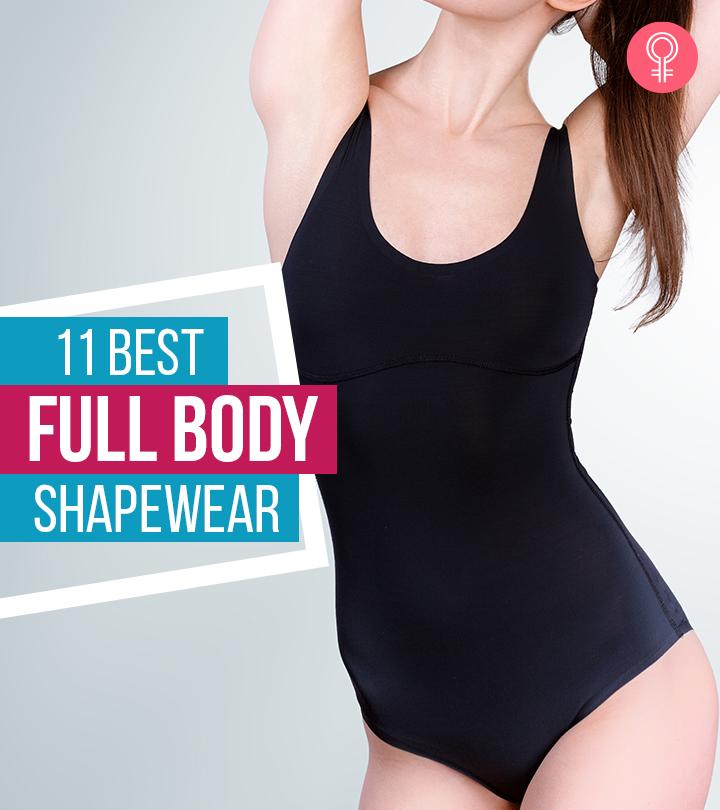 Even though we recommend an honest fitness regime, not everyone is dedicated to hitting the gym every day! While a workout regime is one way to get yourself fit, another alternative is to get yourself body shapewear that conceals you in the right places to look gorgeous. The best full-body shapewear fills you with utmost confidence while giving you the compression your body needs. With these ingenious inventions, you don't have to give up on your bodycon dresses just for the sake of your belly or thighs. To get your hands on the perfect one, check our list of the top 11 shapewear that helps you flaunt curves at all times.
Why Should You Wear A Shapewear?
The perfect shapewear makes your butt and breasts look more prominent while toning the shape of your thighs and the stomach area. It also reduces the appearance of love handles and the bulges around your bra lines. It makes you look more feminine and curvy.
If you are still not convinced about getting a shapewear for yourself, here's a health fact for you – wearing shapewear even improves blood circulation and may enhance muscle strength. So, check out the 11 best full body shapewear and bring out your feminine self.
11 Best Full Body Shapewear That Will Make You Look Fit And Gorgeous
The Brabic Waist Trainer Bodysuit shapewear provides support to the waist, thighs, and belly. It lifts up your butt as well. The lightweight, soft, and high-elastic fabric make it breathable for long-day wear. The slimming body shaper has 4 rows of hook-n-eye to provide ample compression to the belly. The wide shoulder straps come with 3 rows of hook-n-eye that offer the perfect fit. It also comes with a removable breast band that helps push your breasts together in shape. You can pair this with a strapless bra for a comfortable experience.
Pros
Neat cutting
Lightweight
Breathable
Removable chest strip
Adjustable wide shoulder strap
Open crotch
Easy to put on and remove
Seamless
Cons
Price at the time of publication: $29.99
The Eesim Plus Size Full Body Shaper is designed to provide a slimmer look by supporting the breasts and lifting the butt. It is made of 82% nylon and 18% spandex material. The hyperelastic fabric gives room to breathe, thereby making it ideal for everyday use. The U-shape anti-sag design near the bust makes your chest look perky. The unlined full-slip 5-hook shoulder straps and the front zipper closure provide additional control and effectively reduce the waistline.
Pros
Zipper closure
Elastic
Breathable
Open crotch
Long-leg design
Non-slip
Adjustable design
Cons
The clasps may not be durable.
Price at the time of publication: $37.97
The FeelinGirl Shapewear comes with double-layered fabric that provides high compression on the stomach area and also enhances the shape of the butt. The 360-degree compression tightens the midriff and helps reduce the waistline. It also helps accentuate your natural curves. The front bra design further helps in gathering the breasts and providing a firmer look. This sculpting shapewear can also be used as a postpartum and post-c-section undergarment as the highly elastic material targets to reform the loose muscles around the tummy area.
Pros
Open crotch design
Breathable fabric
4-way stretch
Zip-closure
Moisture-wicking
Double-control waistline
Wide strap hooks
Cons
Might be difficult to put on
Price at the time of publication: $41.99
The Gotoly Shapewear is made of high-quality polyamide/spandex material that is soft, smooth, skin-friendly, lightweight, and breathable. The training vest smooths out back fat and improves back posture as it sits snugly on the back area. The two wide, elastic straps relieve shoulder pressure and make the jumpsuit ideal for everyday wear. You can wear a bra under this posture-correcting shapewear as it does not come with any added padding in the chest area.
Pros
Highly elastic
Breathable
Full chest design
Open crotch
Lightweight
Skin-friendly
Cons
Price at the time of publication: $20.99
The Lover-Beauty Shapewear is made of 100% latex fabric that makes it perfect for tummy control. The vest has 3 layers of material near the abdomen. The middle layer rubber design instantly sucks the tummy in and delivers a smooth finish. The shapewear has 3 rows of hook closure design that ensure a tight and comfortable fit. The heart shape hip design with a resistance band provides no-stress lift to the butt and tightens it. The U-shaped design near the chest gives your breasts a push-up that makes them appear fuller. The flexible high-waisted design and 2 plastic bones keep the shapewear high without letting it roll down.
Pros
Zipper closure
Highly elastic
Butt lifter design
Breathable fabric
Invisible under the clothes
Cons
May not go well with a sleeveless dress
Price at the time of publication: $55.99
The Shymay Waist Cincher is made of double-layer high elastic nylon and spandex material that lets the skin breathe while offering excellent support. It provides firm support to the back and snugs the body to sculpt an hourglass figure almost immediately. The anti-droop underbust design makes the chest appear more perky and attractive. It comes with hook-n-eye closure that ensures a comfortable fit.
Pros
Butt lifter
360-degree firm control
Highly elastic
Breathable fabric
Ideal for thigh control
Cons
Price at the time of publication: $29.88
The body shaper from Sparshine comes with full girdles that control the abdomen and waistline with ease. The girdles also make it ideal for post-partum use. The front double-layer fabric offers the required compression to the abdominal area. The highly elastic and breathable material is comfortable even during hot summers. It provides optimum support without any steel wires or bones. It is ideal for daily use.
Pros
360-degree compression
Soft and breathable
Lightweight
Invisible under clothes
Highly resilient
Cons
Price at the time of publication: $37.99
The Wonderience Full Body Shaper is made with 62% nylon and 38% spandex fabric that is super lightweight. It provides 360-degree firm control that trims down the waistline effectively. The front and bottom double-layer fabric flattens the abdomen and helps in lifting the hips that give you an hourglass figure instantly. The open bust U-shape design and the wide adjustable, removable straps are great for easing tension off the shoulders. You can wear it over a bra of your choice to keep your breasts comfortable.
Pros
Wide, removable straps
Comfortable
Open crotch
Lightweight
Moisture-wicking
Cons
Price at the time of publication: $24.99
The Shaperx Tummy Control Shapewear is designed with shaping panels to provide a slim and slender look, improving one's overall body posture. It is a seamless one-piece undergarment that is aesthetically designed to fit perfectly underneath your dresses. The no-zip or no hook-n-eye closure makes it ideal for overnight wear as well. The U-shaped open bust design allows you to wear your favorite bra underneath your dress. The butt lifter and thigh compression panty give a nice, smooth shape.
Pros
Double gusset design
Elastic closure
Butt-lifting panty shorts
Adjustable shoulder straps
Soft and lightweight
Seamless
Cons
Price at the time of publication: $41.99
The Rdsiane Body Shaper is engineered with high-quality nylon and spandex fabric that snugly fits on your body. It effectively works as a waist cincher corset and enhances compression on the abdominal area. The side of the waist is concealed with the 2-layer fabric design. The thigh-slimming shorts slim down legs by compressing the bumps and bulges. This shapewear has a seamless sewing mechanism that prevents the hem from rolling up and rubbing against the skin. The adjustable shoulder straps relieve pressure from the shoulders. The classic U-shape open bust design provides support to the breasts and gives firm control over the armpits and back fat.
Pros
Open crotch
Adjustable shoulder straps
No steel bones/wires
Skin-friendly
Breathable fabric
Moisture-wicking
Anti-roll design
Cons
None
Price at the time of publication: $25.99
The FeelinGIrl Bodysuit is made with 77% nylon and 23% spandex that makes it lightweight and breathable. The double-layer fabric near the thighs offers a better and slimmer curve. It provides high compression in the abdomen area that reduces the belly size instantly and provides firm control to unsightly and redundant fat near the waistline. It is ideal for everyday use and can be worn with low-cut blouses, skirts, shorts, bodycon dresses, and knee-length dresses.
Pros
Seamless design
Stretchable
Breathable mesh material
No compression bra design
Butt lifter design
Cons
Price at the time of publication: $57.99
Would you like to know what makes these shapewear the best of the lot? Well, there are a few essential factors that you must consider to determine the quality of your shapewear. Let's read about those features in the following section.
How To Choose The Best Full Body Shapewear
1. Fabric: The fabric of your shapewear must be soft and breathable. It should not chafe or irritate your skin. At the same time, it should be elastic and supportive. The best fabric types are nylon and spandex. However, if you are looking for an everyday shapewear, a more comfortable cotton blend may be right for you.
2. Open Crotch Design: You shouldn't have to take off all your clothes every time you have to use the washroom. This is especially true if you are pregnant or post-partum or need to use the facilities often, you should consider an open crotch design.
3. Size: Go for a size that is neither too snug nor too baggy. A shapewear that is too small can make you uncomfortable and even cause difficulty in breathing. Shapewear too baggy can be ineffective and show through your clothes.
Why Trust StyleCraze?
Baishali Bhattacharya, the author of this article, is a certified image consultant who understands what works best for which body shape and size. She is passionate about finding the best products available in the fashion industry and reviewing them. For this article, she has painstakingly gone through product details and numerous reviews before shortlisting the best full-body shapewear. These products are made with breathable and lightweight fabric and give excellent compression for a sleek look.
Frequently Asked Questions
How long should you wear a full body shapewear?
full body shapewear can be worn for the entire day or for a particular occasion, depending on your requirement. However, they are usually not ideal for daily use.
Is it safe to wear a full body shapewear every day?
Only those full body shapewear that are specifically engineered for daily use can be used daily. However, the regular ones are not suitable for daily use.
Do you wear panties under shapewear?
Whether or not you wear panties under shapewear is a personal choice. Sometimes, parties can become too tight under the shapewear and make you uncomfortable. On the other hand, if you ditch your panties, the acidic nature of your crotch area can stain your shapewear.
Do body shapers really shape your body?
Yes, body shapers give a nice shape to your body but only as long as you wear them. Once you remove the shapewear your body goes back to its original shape.
Recommended Articles