11 Best Full-Coverage Foundations For Dry Skin – 2023
Blend these hydrating formulas onto your dry skin and get a lasting clean coverage.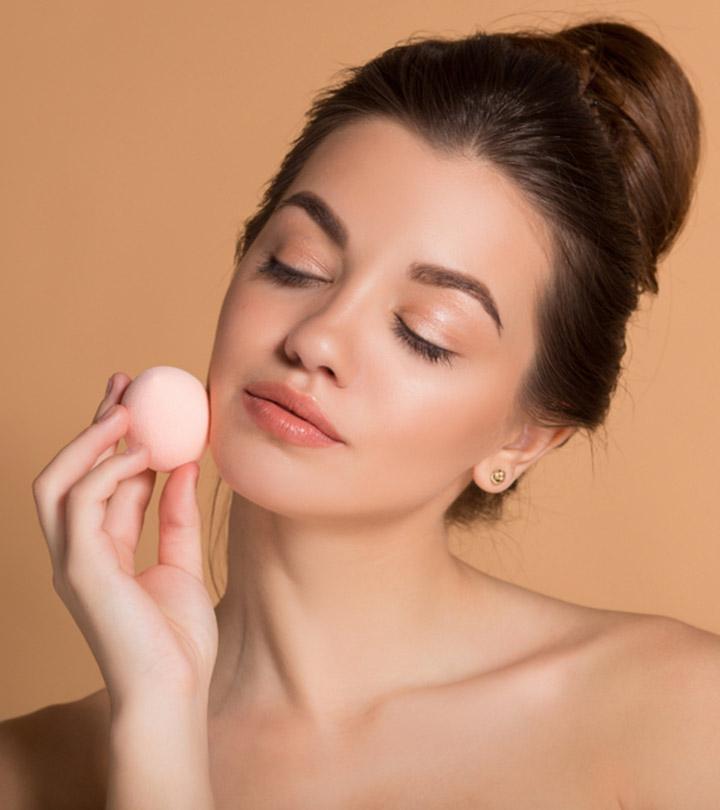 Investing in the best full-coverage foundation for dry skin is more of a necessity than a luxury for those with dry skin. Dry skin can be highly challenging to manage and keep healthy, given it gets flaky and pulls at every given opportunity. And likewise, finding makeup products that work to prevent dryness from aggravating can be equally difficult. This is why you need a foundation that is exclusively formulated with hydrating and moisture-retaining ingredients.
On winter days when you plan to go full-makeup, it is imperative that you choose the right foundation that works to give your skin an even tone while also ensuring that it stays hydrated for hours on end. Making this possible are various brands with their exclusive formulations for dry skin types. And we have curated a list of the 11 impressive full-coverage foundations for dry skin to save you the trouble of researching. So, choose your fav out of the 11 products and get ready to say hello to healthy skin!
Dry Skin Only Edition – 11 Full-Coverage Foundations Best Suited For Dry Skin
Pros
Creamy and hydrating
Lightweight but high coverage
Infused with anti-aging serum and hyaluronic acid
Sun protection with SPF50+
Cons
Could settle in fine lines
Price at the time of publication: $27.0
Pros
Smooth and dewy finish
Does not crease
Anti-aging properties
Packed with hyaluronic complex and vitamin C
Cons
May give a cakey look if attempted to build up
May not be suitable for oily and sensitive skin types
Price at the time of publication: $13.97
Pros
Organic
Vegan
Fragrance-free
Gluten-free
Allergen-free
Preservative-free
Cons
None

Price at the time of publication: $9.99
Pros
SPF 20
Creaseless
Luminous and skin-like finish
Doesn't settle into fine lines
Long-lasting
Easily blendable
Cons
Contains parabens and EDTA
Price at the time of publication: $7.71
Pros
Comes in 40 shades
Boosted with glycerin to hydrate skin
Semi-matte finish
Blends into skin
Medium to high coverage
Buildable
Cons
Consistency could seem thick to some
Some may find the odor overpowering
Price at the time of publication: $6
Pros
Natural finish
Buildable
Doe-foot applicator
Evens out skin tone
Does not settle in fine lines
Cons
Blemishes could poke through
Price at the time of publication: $9.72
Pros
High coverage
Comes in a portable bullet stick
Easy to blend
Dermatologist-approved
Contains no parabens or SLS
Cons
Some may find the consistency thick
Price at the time of publication: $30
Pros
High coverage
Transfer and sweat resistant
Natural matte finish
Comes in 40 shades
Cons
Needs to be set with powder to avoid cakey effect
Price at the time of publication: $32.69
Pros
Lightweight on the face
Long-lasting coverage
Does not settle in fine lines
Offers sun protection
Leaves a natural glow
Cons
Price at the time of publication: $38.36
Pros
Natural formula
Cruelty-free
Vegan
Gluten-free
Toxin-free
Cons
Price at the time of publication: $48
Pros
Extremely hydrating
Infused with skincare ingredients
Cruelty free
Vegan
Talc-free
Paraben-free
Cons
Price at the time of publication: $25.23
We know that as the beauty industry grows, so do their products list with new informed formulae. We also recommended some of the foundations which have been in the beauty community since long, and because they still make up quite the rave, we chose to revisit the past. All of these foundations stand at their best while being different in their own ways, and buying just the one foundation may not be the most easy thing to do, thus, we now provide you a few steps to remember when buying a foundation suitable for dry skin, one that is hydrating and smooth.
How To Choose The Best Full Coverage Foundation For Dry Skin
As you would know most matte finish foundations are suitable for those with oily skin. Therefore, researching on demi-matte finish foundations or hydrating foundations should be something you must look out for.
Foundations with "C" refers to those with "cool" or bluish undertones, while those with "W" and "N" are referred to those with "warm" or yellowish-olive and "neutral" or creamy-peach undertones.
Many times, the thicker the product, the higher the coverage. However, that isn't the case for a few other foundations. A highly hydrating foundation could easily be of a watery consistency while providing a medium to high coverage.So, pay close attention to the consistency, coverage, and opt for one that offers an impressive coverage without caking up.
Look for hydrating and moisture proofing elements like hyaluronic acid, glycerin, vitamin E, or emollients like squalane. Humectants and emollients are elements which provide excess hydrating features – you would also find them used extensively in skin care products.
Invest in a hydrating setting spray or mist
No matter the high amount of hydration you get from your foundation, always try to set your base makeup with an optimal amount of setting spray to not only set the look but also lock the dewy effect.
Now that we are sort of well versed with the kind of foundation to be on the lookout for, the obvious curiosity now turns to the method of applying a high-coverage foundation.
How To Apply A Full Coverage Hydrating Foundation
Step 1: Make sure to prep your freshly washed face with either a moisturizer or a hydrating primer.
Step 2: Since full coverage foundations have the tendency to appear cakey or shift when applied on the skin surface, a primer would help provide a firm finish look.
Step 3: Wait till the moisture is absorbed into the skin, if you apply the foundation before, chances of it not being able to blend properly are possible.
Step 4: Now,pump out a bit of the foundation and dot or stroke the pigment all over your face.
Step 5: Use either a foundation brush– preferably a flat top brush or a beauty sponge. You could also use your fingertips.
Step 6: With gentle pressure, dab or pat the tint on to your skin and softly brush out the edges to remove the look of harsh effects.
Why Trust StyleCraze?
The author of this article, Chaitra Krishnan, is a makeup enthusiast. She loves to explore and review makeup products and spends hours grabbing the information on the latest trends. After extensive research, she compiled the list of best full coverage foundations for dry skin. The products included in the list contain ingredients with moisture-retaining effects and provide you with a flawless makeup look.
Frequently Asked Questions
What type of foundation is best for dry skin?
Any full-coverage foundation with hydrating ingredients is suitable for dry skin. The foundation must moisturize the skin, impart a lovely dewy finish, and prevent the skin from looking cakey.
How do you prep dry skin for makeup wear?
Here is how you can prep your dry skin to wear makeup that does not look cakey.
•  Gently cleanse your skin.
•  Use a hydrating toner/mist.
•  Apply a hydrating antioxidant serum.
•  Slather on your moisturizer.
•  Apply a hydrating primer.
What ingredients to avoid in a foundation for dry skin?
If you have dry skin, avoid using drying ingredients, such as alcohol, artificial fragrances, and exfoliating acids in your foundation.
What are the benefits of using full-coverage foundation for dry skin?
•  It offers long-lasting coverage that hides your blemishes effectively.
•  It does not dry out the skin.
•  It does not settle on the skin or create cracks.
•  It leaves a dewy finish on the skin that looks natural.
How do I get full coverage on dry skin without looking cakey?
•  Prep your skin well before using a foundation.
•  Exfoliate your skin and moisturize it.
•  Use a hydrating primer to set the base.
•  Use a hydrating, full-coverage foundation suitable for dry skin type.
•  Apply foundation with a damp sponge.
•  Set only your oily areas with a powder.
•  Use a setting spray to mesh the makeup.
•  Use cream based-products like blush, bronzer, or concealer.