11 Best Full-Coverage Foundations For Dry Skin – 2023
Blend these hydrating formulas onto your dry skin and get a lasting clean coverage.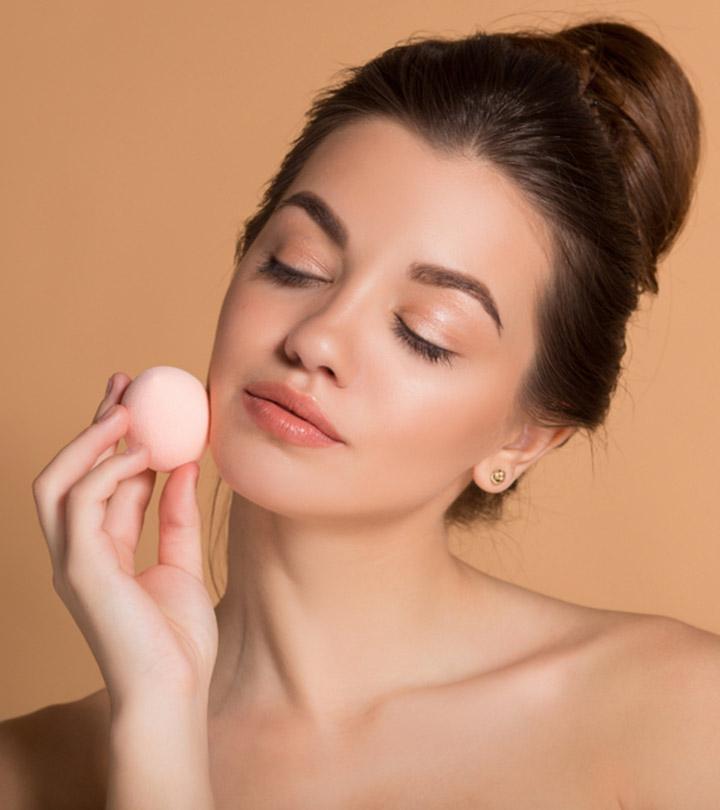 Investing in the best full-coverage foundation for dry skin is more of a necessity than a luxury for those with dry skin. Dry skin can be highly challenging to manage and keep healthy, given it gets flaky and pulls at every given opportunity. And likewise, finding makeup products that work to prevent dryness from aggravating can be equally difficult. This is why you need a foundation that is exclusively formulated with hydrating and moisture-retaining ingredients.
On winter days when you plan to go full-makeup, it is imperative that you choose the right foundation that works to give your skin an even tone while also ensuring that it stays hydrated for hours on end. Making this possible are various brands with their exclusive formulations for dry skin types. And we have curated a list of the 11 impressive full-coverage foundations for dry skin to save you the trouble of researching. So, choose your fav out of the 11 products and get ready to say hello to healthy skin!
Dry Skin Only Edition – 11 Full-Coverage Foundations Best Suited For Dry Skin
To name a duo better than a high coverage foundation hand-in-hand with an SPF50+ might seem like a task unless you're aware of this magic product. What's better than to have a dermatologist tested tinted cream which not only covers your blemishes but is also boosted with humectants? The IT Cosmetics CC+ Cream works miraculously in prepping your skin for a fully-covered, no-crease look. In addition to that, your skin will be thanking you as this product is formulated with an anti-aging serum and hyaluronic acid, both which strive to provide you a dewy, youthful skin. And, to top it all, this CC cream comes with a pump dispenser, meaning, 32ml of product and no wastage! The cream glides on easily without any hassle, but the finish is what takes away the prize as it gives a full-glam look with just enough layer for your skin to breathe. Learn more about this product in this video.
Pros
Creamy and hydrating
Lightweight but high coverage
Infused with anti-aging serum and hyaluronic acid
Sun protection with SPF50+
Cons
Could settle in fine lines
Price at the time of publication: $27.0
Want to go back in time and use the classic compact foundation? Well, you're just in luck. Known to be a favorite amongst those with dry skin, the cruelty-free makeup brand Covergirl's collab with drugstore's favourite skincare line Olay sure is everything nourishing and hydrating, and more. Just a gentle swirl with a brush is going to help cover any unwanted spots and blemishes. As clichéd as it sounds, a little sure goes a long way. Indulged with the power elements like hyaluronic complex and Vitamin C, your face will not only look dewy but also feel fresh and uplifted. Enriched with anti-aging properties and an SPF 28 to secure you from sunburns, this foundation is a vanity must-have. This video will provide you with added insights about the product.
Pros
Smooth and dewy finish
Does not crease
Anti-aging properties
Packed with hyaluronic complex and vitamin C
Cons
May give a cakey look if attempted to build up
May not be suitable for oily and sensitive skin types
Price at the time of publication: $13.97
The Phoera Foundation is a delicate, non-transferable, matte liquid foundation. The 103 Warm Peach Foundation provides long-lasting full coverage to your skin. The foundation is made up of 100% natural ingredients like pineapple fruit extracts, Brazilian cocoa seed extract, sorbic acid, etc. The foundation provides a soft and smooth glow to your skin and gives you a flawless complexion. The foundation has an oil-controlling formula that leaves your skin non-greasy and matte. It also helps to correct skin tones and hide blemishes. The lightweight texture of the foundation spreads on your skin easily and does not adhere to the compact.
Pros
Organic
Vegan
Fragrance-free
Gluten-free
Allergen-free
Preservative-free
Cons
None
Price at the time of publication: $9.99
If you grew up watching tons of beauty YouTubers and eventually buying your first drugstore foundation, you'd know that Revlon has always been in the air among popular foundation brands. With its resilience to formulate and re-formulate their products, the ColorStay range sure is not a new name in the market. Except, it does the job of coming in 2 variants to satisfy those with either dry to normal or oily to combination skin types. Backed up with a lightweight formula to provide a medium to full coverage, the formula of this foundation almost feels that of a mousse when applied. If you're on the look for a natural but radiant finish, do bring your attention to this marvel of a product.
Pros
SPF 20
Creaseless
Luminous and skin-like finish
Doesn't settle into fine lines
Long-lasting
Easily blendable
Cons
Contains parabens and EDTA
Price at the time of publication: $7.71
If your moisturizer could cover up blemishes and other marks while hydrating your skin, this product would be it. Let us introduce you to this wonder foundation which, as a matter of fact, boasts in pride to come in 40 different shades! Not only is its quick blend formula something to get wooed by, the coverage it provides is to die for. Promising to be fit for all skin types, this foundation is a beloved item from the dry skin community as it is packed with glycerin – a popularly known humectant. It is one of the full coverage foundations in the market.
Pros
Comes in 40 shades
Boosted with glycerin to hydrate skin
Semi-matte finish
Blends into skin
Medium to high coverage
Buildable
Cons
Consistency could seem thick to some
Some may find the odor overpowering
Price at the time of publication: $6
You've heard of #MLBB, now's your time to learn about #MSBB – My Skin But Better; and the Neutrogena Hydro Boost Tint exactly aspires to provide that to your skin. The product itself could seem like a miss-out for those who do not fall under the shades that are provided. Regardless, this foundation does more than just add tint to your skin as it lifts and brightens the skin tone while maintaining a fresh and healthy look. It is easy to blend and you have a lot of control on the coverage since it is easily buildable.
Pros
Natural finish
Buildable
Doe-foot applicator
Evens out skin tone
Does not settle in fine lines
Cons
Blemishes could poke through
Price at the time of publication: $9.72
Ever found yourself wondering if you could take your average foundation to the extreme? Well, this tiny bullet serves as a holy grail product for a high coverage not just on the face but anywhere on the body! With its extremely creamy consistency, this foundation provides up to a maximum coverage of a smudge-proof and water resistant look for 16 hours straight. The foundation not only covers up any marks be it – scars, blemishes, birthmarks, or even tattoos – but it also sets into the skin leaving the effect of a well-done base.
Pros
High coverage
Comes in a portable bullet stick
Easy to blend
Dermatologist-approved
Contains no parabens or SLS
Cons
Some may find the consistency thick
Price at the time of publication: $30
Here's another cruelty-free foundation that promises to last for 24 hours without budging from the surface. Of course, we don't recommend wearing a foundation or any kind of makeup for an entire span of the day but it sure feels convincing when a brand assures you of its longevity. Smashbox foundations have always been in the rave of hype and admiration, and their Studio Skin Hydrating Foundation too is one that is adored by most. With an immense spectrum of their shade range that accounts to 40 shades, this product aims to provide the perfect full-coverage finish with a hydrating glow.
Pros
High coverage
Transfer and sweat resistant
Natural matte finish
Comes in 40 shades
Cons
Needs to be set with powder to avoid cakey effect
Price at the time of publication: $32.69
We know that this article is directed for our dry skin beauties and mineral powder foundation is something they need to stray away from– but hear us out. The Bellaterra foundation, regardless of being a powder base, suits those even with dry skin! The simple trick is to either mix a bit of your moisturizer or hydrating primer with the powder foundation and then swirl it all over your face. With its barely-there feel and ability to last for a long time, you would need to use just a swipe or 2 to let it sit on your skin completely without moving.
Pros
Lightweight on the face
Long-lasting coverage
Does not settle in fine lines
Offers sun protection
Leaves a natural glow
Cons
Price at the time of publication: $38.36
From the brand of a highly acclaimed makeup artist, Kevyn Aucoin brings you a tiny pot of miracles. On first look, you would think you paid too much for the product amount, but wait till we tell you that a little goes a long way. Dot it all over on a well moisturized face, then blend the pigment using either a brush or sponge, you would not believe the coverage it leaves you with. This is by far one of the best dewy high coverage foundations out there, and if you do decide to try this product out, you would not regret it.
Pros
Little product goes a long way
Can be used as both foundation and concealer
Covers up blemishes and dark spots
Full coverage
Lasts all day
Cons
Price at the time of publication: $48
We saved the best for the last; this high-end foundation comes from the land of Australia. Infused with a hydrating complex which is deemed beneficial for its antibacterial properties, this foundation easily becomes the must-have product for those with dry skin. The product is also highly enriched with skincare agents like squalane, green tea leaf extract, willow bark extract, etcetera.The ingredients of the product serve to provide maximum hydration, and soothe the skin.
Pros
Extremely hydrating
Infused with skincare ingredients
Cruelty free
Vegan
Talc-free
Paraben-free
Cons
Price at the time of publication: $25.23
We know that as the beauty industry grows, so do their products list with new informed formulae. We also recommended some of the foundations which have been in the beauty community since long, and because they still make up quite the rave, we chose to revisit the past. All of these foundations stand at their best while being different in their own ways, and buying just the one foundation may not be the most easy thing to do, thus, we now provide you a few steps to remember when buying a foundation suitable for dry skin, one that is hydrating and smooth.
How To Choose The Best Full Coverage Foundation For Dry Skin
As you would know most matte finish foundations are suitable for those with oily skin. Therefore, researching on demi-matte finish foundations or hydrating foundations should be something you must look out for.
Foundations with "C" refers to those with "cool" or bluish undertones, while those with "W" and "N" are referred to those with "warm" or yellowish-olive and "neutral" or creamy-peach undertones.
Many times, the thicker the product, the higher the coverage. However, that isn't the case for a few other foundations. A highly hydrating foundation could easily be of a watery consistency while providing a medium to high coverage.So, pay close attention to the consistency, coverage, and opt for one that offers an impressive coverage without caking up.
Look for hydrating and moisture proofing elements like hyaluronic acid, glycerin, vitamin E, or emollients like squalane. Humectants and emollients are elements which provide excess hydrating features – you would also find them used extensively in skin care products.
Invest in a hydrating setting spray or mist
No matter the high amount of hydration you get from your foundation, always try to set your base makeup with an optimal amount of setting spray to not only set the look but also lock the dewy effect.
Now that we are sort of well versed with the kind of foundation to be on the lookout for, the obvious curiosity now turns to the method of applying a high-coverage foundation.
How To Apply A Full Coverage Hydrating Foundation
Step 1: Make sure to prep your freshly washed face with either a moisturizer or a hydrating primer.
Step 2: Since full coverage foundations have the tendency to appear cakey or shift when applied on the skin surface, a primer would help provide a firm finish look.
Step 3: Wait till the moisture is absorbed into the skin, if you apply the foundation before, chances of it not being able to blend properly are possible.
Step 4: Now,pump out a bit of the foundation and dot or stroke the pigment all over your face.
Step 5: Use either a foundation brush– preferably a flat top brush or a beauty sponge. You could also use your fingertips.
Step 6: With gentle pressure, dab or pat the tint on to your skin and softly brush out the edges to remove the look of harsh effects.
Why Trust StyleCraze?
The author of this article, Chaitra Krishnan, is a makeup enthusiast. She loves to explore and review makeup products and spends hours grabbing the information on the latest trends. After extensive research, she compiled the list of best full coverage foundations for dry skin. The products included in the list contain ingredients with moisture-retaining effects and provide you with a flawless makeup look.
Frequently Asked Questions
What type of foundation is best for dry skin?
Any full-coverage foundation with hydrating ingredients is suitable for dry skin. The foundation must moisturize the skin, impart a lovely dewy finish, and prevent the skin from looking cakey.
How do you prep dry skin for makeup wear?
Here is how you can prep your dry skin to wear makeup that does not look cakey.
•  Gently cleanse your skin.
•  Use a hydrating toner/mist.
•  Apply a hydrating antioxidant serum.
•  Slather on your moisturizer.
•  Apply a hydrating primer.
What ingredients to avoid in a foundation for dry skin?
If you have dry skin, avoid using drying ingredients, such as alcohol, artificial fragrances, and exfoliating acids in your foundation.
What are the benefits of using full-coverage foundation for dry skin?
•  It offers long-lasting coverage that hides your blemishes effectively.
•  It does not dry out the skin.
•  It does not settle on the skin or create cracks.
•  It leaves a dewy finish on the skin that looks natural.
How do I get full coverage on dry skin without looking cakey?
•  Prep your skin well before using a foundation.
•  Exfoliate your skin and moisturize it.
•  Use a hydrating primer to set the base.
•  Use a hydrating, full-coverage foundation suitable for dry skin type.
•  Apply foundation with a damp sponge.
•  Set only your oily areas with a powder.
•  Use a setting spray to mesh the makeup.
•  Use cream based-products like blush, bronzer, or concealer.
Recommended Articles: