14 Best Full-Coverage Foundations, Recommended By A Makeup Artist – 2023
Ditch those products that make you look cakey for the right makeup essentials.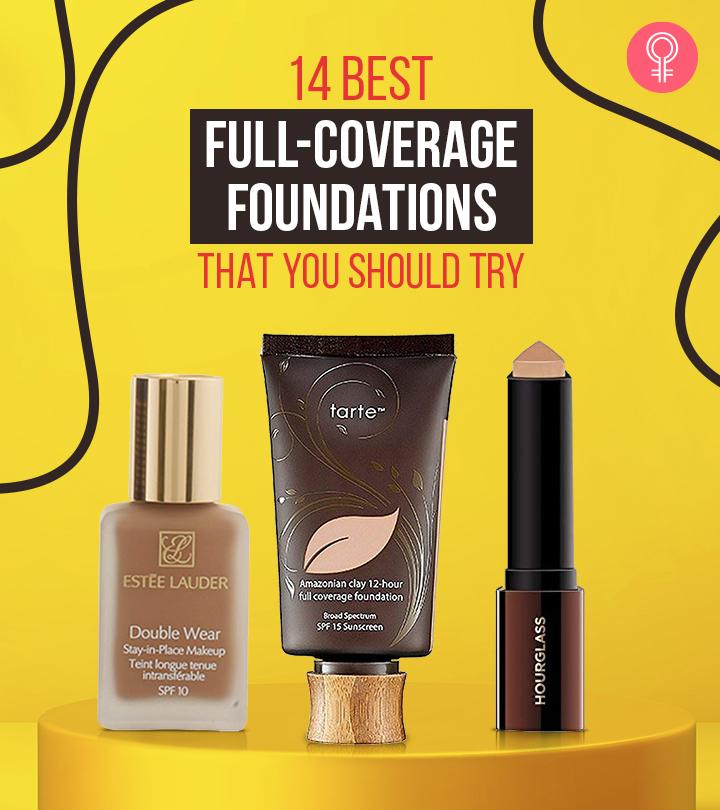 To achieve smooth and flawless, airbrushed skin like celebrities, you must use the best full coverage foundations. Blemishes, pigmentation, acne scars, pores, uneven skin tone – whatever you have, a full coverage foundation will mask it all. It blends well while lasting long hours without feeling cakey or heavy on the skin. It helps you achieve your most desired look effortlessly as it works like magic on your skin. With so many options out there, we have listed the 14 best full coverage foundations for you to try.
14 Best Full-Coverage Foundations Suitable For All Skin Types – 2023
The Estee Lauder Double Wear Stay-in-Place Makeup has a matte finish and provides SPF protection. This skin-perfecting liquid foundation has a lightweight and waterproof formula that feels comfortable on the skin and provides a flawless and natural finish without any need for touch-ups. Its oil-free formula corrects uneven skin tone and conceals imperfections. The buildable formula of the product stays true to its color without oxidizing. It is transfer-resistant and makes an excellent choice for humid weather. The foundation in the shade 3C2 Pebble with cool/rosy undertone is suitable for all skin types.
Pros
Buildable
Oil-free
Transfer resistant
Dermatologist-tested
Waterproof
SPF 10
Lasting stay
Lightweight
Matte finish
Cons
Urban Decay's All Nighter Liquid Foundation has a comfortable and long-wearing formula that provides full-coverage by diffusing light to hide imperfections, decolorization, and scars to give flawless skin. Its revolutionary formula is perfect for nighttime makeup and is loaded with rich pigments to achieve the desired finish in a single application. This waterproof and transfer-resistant foundation of shade 2.5 absorbs oil and offers a matte finish while preventing shine. It suits oily and combination skin.
Pros
Matte finish
Shine-free
Lasting stay
Waterproof
Transfer-resistant
Highly pigmented
A little goes a long way
Comfortable, all-day wear
Paraben-free
Cruelty-free
Vegan
Cons
This Double Wear Maximum Cover from the renowned celebrity-endorsed brand Estee Lauder is a full-coverage foundation that seamlessly hides skin's imperfections. It leaves a natural-looking and satin-soft finish and provides a physical barrier to keep the skin safe from sun rays and pollutants. The soothing and long-lasting formula with creamy tan shade camouflages dark spots and does not feel heavy on application.
Pros
SPF 15
Natural finish
Lasting stay
Creamy texture
Cons
The bareMinerals Barepro Performance Wear Powder Foundation has a clinically proven formula to control shine, shrink pore size, and enhance skin's clarity. This pressed mineral powder foundation is blended with 90% skin-loving minerals and vitamins to offer a flawless and matte finish. It consists of stay-true pigments that provide full-coverage and lasting stay up to 12-hours. This best full coverage foundation powder of warm natural color is suitable for all skin tones.
Pros
Clinically proven
For all skin tones
Matte finish
Shine-free
Shrinks pores
Lasting stay
Highly pigmented
Cons
Tarte's Amazonian Clay 12-Hour Full Coverage Foundation is a lightweight and highly buildable product that offers 12-hours of lasting stay. Its multitasking formula features Amazonian clay to match the skin tone and texture while effortlessly concealing imperfections, blemishes, and uneven skin tone. The presence of vitamin E in the formula smoothes and nourishes the skin while combating free radicals that cause early aging signs. It also contains micronized zinc and titanium that offer protection from environmental damage. This full-coverage foundation of medium color is suitable for acne-prone and fair skin tones with yellow undertones.
Pros
Lasting stay
Lightweight
Buildable
Anti-aging
SPF15
Cruelty-free
Cons
The Lock-It Tattoo Foundation Light 48 from Kat Von D is a full-coverage liquid foundation that offers a flawless matte finish to medium skin tone with just a drop of the product. Its transfer-resistant formula is infused with rich pigments to provide intense color payoff and blend well into the skin. This foundation comes packed with skin-loving ingredients like glycerin, calcium, and conditioners to reveal a smooth, soft, natural, and radiant finish.
Pros
For medium skin tones
Transfer-resistant
Lasting stay
Matte finish
Cruelty-free
Vegan
Cons
The Cover Creme Full Coverage Foundation with SPF 30 from Dermablend provides maximum coverage due to its highly bendable formula. This hydrating foundation is equipped with SPF30 broad-spectrum mineral sunscreen to protect the skin from sun damage. Its high-performing pigments reveal a natural and flawless finish without looking cakey. It repairs and strengthens the skin barrier and is suitable for all skin types. Its 50C Honey Beige shade is perfect for tan skin with cool undertones.
Pros
Allergy-tested
Dermatologist-tested
Lasting stay
Highly buildable
Natural finish
SPF30
Rich pigments
Hypoallergenic
Non-comedogenic
Fragrance-free
Phthalates-free
For all skin types
Cons
The Cover FX Total Cover Cream Foundation has an oil-free formula suitable for all skin types. It offers full-coverage with the benefits and protection of powerful antioxidants. This silky-textured cream foundation blends easily and camouflages imperfections like redness, acne marks, under-eye circles, etc. to reveal flawless and smooth skin. It features a blend of vitamins E, C, and F to combat free radical damage. The presence of squalane in the formula, a natural antioxidant, locks moisture, while phytosphingosine soothes redness and restores skin's natural barriers. Its G+40 color is suitable For medium olive skin with golden undertones. Ethically conscious consumers love this product, as it is completely devoid of any animal testing.
Pros
Buildable
Gluten-free
Phthalates-free
Paraben-free
Alkyl sulfate-free
Talc-free
Mineral oil-free
Cruelty-free
Vegan
Cons
This Vanish Seamless Finish Foundation Stick from Hourglass has a revolutionary formula to cover imperfections to reveal flawless and even-toned skin. Its weightless and waterproof formula offers a liquid-like fluidity and lasting stay up to 12 long hours while adjusting to your body temperature to effortlessly blend into the skin. The stick packaging enables easy application and reveals an airbrush finish. It comes in 32 different shades which you can blend multiple shades for a contour and highlight. This one is a favorite among reviewers who absolutely love its smooth formulation and its ability to not become cakey!
Pros
Lightweight
Waterproof
Blends easily
Lasting stay
Satin finish
Fragrance-free
Paraben-free
Synthetic dye-free
Nanoparticles-free
Sulfate-free
Vegan
Cruelty-free
Cons
The Becca Ultimate Coverage 24 Hour Foundation offers full yet breathable coverage. Its lightweight creamy formula is enriched with high levels of pigments and water to provide a hydrated and intense finish. This foundation combines the goodness of 21% pure pigments and 22% water to effectively conceal imperfections like uneven skin tone, dark spots, and redness to reveal velvety smooth, and gorgeous skin. It works well on all types of skin and gives exceptional results.
Pros
Breathable formula
Matte finish
For all skin types
Lasting stay
Paraben-free
Sulfate-free
Phthalates free
Alcohol-free
Fragrance-free
Cons
The Dermablend's Flawless Creator Liquid Foundation is a lightweight full-coverage liquid product with an oil-free and water-free formula. It is enriched with only 10 ingredients and highly concentrated pigments to offer rich color payoff and flawless complexion. This non-comedogenic foundation makes an excellent choice for acne-prone, oily, and sensitive skin. Its 20W shade is perfect for fair to light skin with warm undertones.
Pros
Dermatologically recommended
Non-comedogenic
Hypoallergenic
Lightweight
Oil-free
Water-free
Fragrance-free
Paraben-free
Vegan
Cons
This Camera Stick Foundation by True + Luscious gives maximum coverage by hiding imperfections to reveal a flawless airbrush-like finish. Its creamy formula is influenced by the expertise of well-renowned Hollywood makeup artists and blends easily into the skin. The foundation conceals blemishes, tattoos, acne spots, etc., with its photo filter pigments and its dermatologically tested formula that works for normal, dry, oily, and combination skin types. It uses advanced flex technology to offer natural and lasting results. It is available in 8 different shades to suit every skin tone.
Pros
Dermatologically tested
Blends easily
Airbrush-like finish
Creamy texture
Non-comedogenic
Lasting stay
Paraben-free
Vegan
Cons
The Dermablend Quick-Fix Body is a high-coverage makeup foundation stick that has a silky-smooth formula that glides over the skin to cover imperfections like blemishes, birthmarks, scars, bruises, dark spots, etc to give you a statement-making look. This dermatologist-tested foundation stick provides a natural and non-cakey finish without drying or transferring for up to 16 long hours. This SPF25 foundation stick has concentrated pigments that offer a rich color payoff and suits sensitive skin. It is available in 11 shades to compliment every skin tone.
Pros
Dermatologically tested
Non-comedogenic
Non-cakey
Natural finish
Intense pigments
Easy application
Hypoallergenic
Non-drying
Water-resistant
Lasting stay
Fragrance-free
Paraben-free
Cons
COVERGIRL's Outlast Extreme Wear 3-in-1 Foundation evens out skin tone by hiding imperfections without looking cakey. Its light and comfortable formula works as a primer, concealer, and foundation to meet all your makeup needs while revealing naturally flawless results. This breathable foundation of creamy natural shade features SPF18 and is transfer, humidity, and sweat-resistant. Its smooth texture makes blending easy and offers exceptional results as it stays for up to 24 hours. This foundation is the best full-coverage foundation for mature skin. Reviews on online forums assert that the product offers maximum moisturization and a dewy finish!
Pros
Lightweight
Breathable
Transfer resistant
Humidity resistant
Sweat-resistant
Comes in 21 different shades
Lasting stay
Sun protection
Cruelty-free
Cons
Not every foundation can work well on your skin; therefore, you need to focus on a few points before buying any foundation. Keep scrolling to read ahead.
How To Choose The Best Full Coverage Foundation?
Skin Type: Foundations come for different skin types. Before buying, ensure to check whether it is formulated according to your skin texture or not.
Staying Power: The longer the stay, the better it is for you as you won't have to do frequent touch-ups. Therefore, look for an expertly crafted foundation that offers lasting or extended stay.
Formula: Always look for a product that is water-resistant, sweat-resistant, and transfer-resistant. Moreover, check if the formula is tried and tested to be skin-safe and hypoallergenic.
Finish: Full-coverage foundations oxidize and may look cakey. Therefore, check out the user reviews before investing in any foundation to prevent your face from looking cakey.
Now that you know the considerations before buying a foundation, here are the steps to apply it and get a flawless, photo-ready finish.
How To Apply Full-Coverage Foundations?
Step 1: Cleanse your face with a mild cleanser and then apply toner to minimize the appearance of pores. Follow up with a hydrating moisturizer to prevent dryness.
Step 2: Apply a pore minimizer and primer to create a smooth base so that the foundation blends seamlessly.
Step 3: Apply your full coverage foundation all over the face and blend it using a kabuki brush or beauty blender. Make sure to blend well so that it does not appear patchy.
Why Trust StyleCraze?
Baishali Bhattacharya has a certification in makeup artistry. She understands the importance of using a good full coverage foundation to achieve smooth and flawless, airbrushed skin like celebrities. She has conducted thorough research and gone through reliable user reviews on multiple online forums to recommend the best products to her readers. The foundations included in the list can cover blemishes, pigmentation, dark spots, and acne scars.
Frequently Asked Questions
Do you need concealer with a full-coverage foundation?
Yes, You can apply concealer after foundation to hide any flaws that are still visible.
Which foundation has more coverage?
Generally, liquid foundations offer more coverage than powder or cream foundations.
How many layers of foundation do you need for full coverage?
The amount of layers is determined by the quantity of coverage desired. In general, 1 to 2 layers are sufficient to conceal blemishes and provide a flawless finish to your skin.
Should the full-coverage foundation be lighter or darker than your skin?
Use 1-2 shades lighter foundation as the bronzer or contour in the next steps will balance it all together and give your face a perfect look.
Do you put a full-coverage foundation under the eyes?
Yes, you may use a full coverage foundation under the eyes for a flawless look, but if you have stubborn dark circles, use a concealer or a color corrector.
Recommended Articles