10 Best Futon Mattresses – Reviews And Buying Guide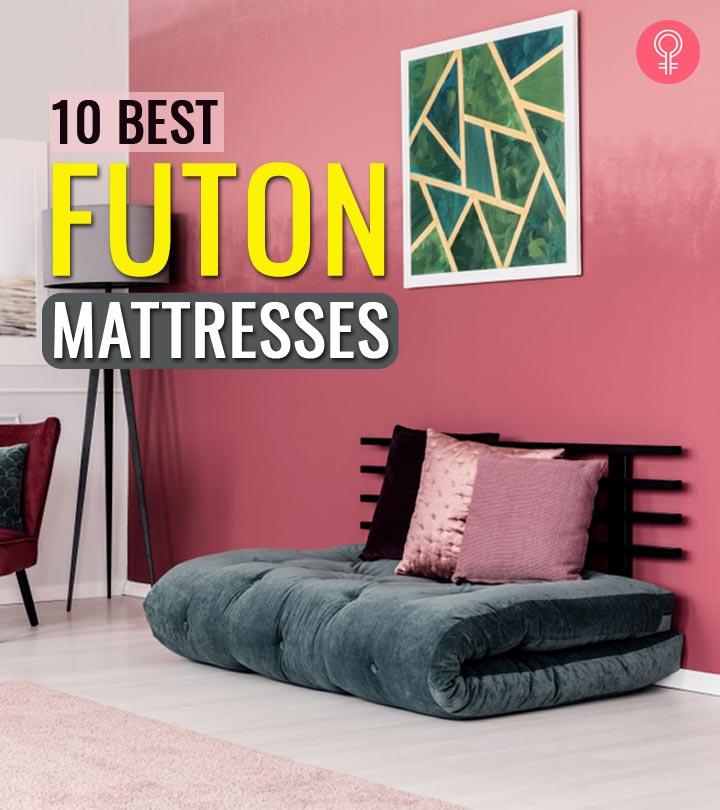 If you are looking for a stylish and practical bedroom or living room accessory, you are on the right page. Futon mattresses offer a perfect balance of elegance and function. These traditional Japanese mattresses are designed to provide a comfortable sleeping experience and serve as a seating spot and a bed. They are conveniently padded and can be a supportive, balanced, and flexible sleeping solution.
Apart from being highly comfortable, futon mattresses are lightweight, portable, and multipurpose. You can use them for bedding and as sofa cushions. If you are looking for an inexpensive and affordable mattress, look no further. Here are the 10 best futon mattresses available online, along with a buying guide. Check them out!
10 Best Futon Mattresses
If you have a tight budget and need a mattress that can be accommodated in narrow spaces, the DHP Encased Coil Futon Mattress is a great pick. It features a base of encased coils that provides equal weight distribution and relieves pressure points to offer maximum comfort while sleeping. The mattress is stuffed with a tufted microfiber cover that looks luxurious and feels smooth. It has a foam and polyester layering between the cover and coils. This offers comfort and support to the user. The foam is free of lead, mercury, PBDEs, and phthalates. It is also low in VOC emissions and meets flammability standards 16 CFR.
Features
Size:75″ x 54″ x 18.5″
Weight: 57 lbs
Thickness: 8"
Firmness: Plush
Construction: Innerspring
Color: Black
Pros
Durable
Lead-free
Mercury-free
Phthalate-free
Low VOC emissions
Reduced motion transfer
Affordable
Space-saving
Cons
Not very portable due to its weight.
The MAXYOYO Tatami Floor Mattress is highly versatile – you can use it for camping or fold it into a sofa. If you are looking for an authentic Japanese futon mattress, this one is an excellent choice. The mattress comes with a soft cotton cover and is filled with cotton and memory foam for better back support and comfort. It is lightweight and easy to carry, so you can use it as a kids' play mat, a floor pillow bed, or a sofa cushion. The middle layer is filled with 5cm thick memory foam that does not collapse and offers excellent support for years.
Features
Size: 75″ x 54″ x 8″, twin size
Weight:9.28 lbs
Thickness: 8 cm
Firmness: Plush
Construction: Foam, Cotton
Color: Moon and Star
Pros
Easy to fold
High-density foam
Excellent quilting
Dust proof cover
Comes with free accessories
Cons
This Shiki futon mattress is comfortable and convenient despite being thin-layered. The mattress is foldable and can be used as a yoga mat and a floor mat. It is lightweight, compact, and portable. The mattress is completely airtight, so it may take 2-3 days to expand fully. It is made of 100% natural and organic cotton that feels smooth on the skin.
Features
Size: 55″ x 83″
Weight: 13.32 pounds
Thickness: 1.5″
Firmness: Firm
Construction: Cotton
Color: White
Pros
Easy to fold
Multipurpose
Easytoclean
Odor-free
Durable
Cons
Whether you want to prepare a spare bed for guests or want a mattress for daytime napping, you can go for the EMOOR Futon Mattress. It is featherweight and easy to carry. You can spread it over a bed and can also use it on your sofas and day beds. The mattress's outer fabric is made of 100% hygroscopic cotton that feels smooth on the skin. It is specially designed for use with under-mattress or a bed mattress to avoid back pain and improve posture.
Features
Size:39″ x 83″, twin size
Weight:4.4 lbs
Thickness:4-5 cm
Firmness: Firm
Construction:Polyester
Color: White
Pros
Easy to carry
Comes with a convenient storage bag
Folds in 6
Lightweight
Cons
The FULI Traditional Japanese Futon Floor Mattress is designed for small living spaces. It is made by Japanese craftsmen and has three layers.The outer fabric is made using 100% hygroscopic cotton to provide extra comfort.The mattress soaks up sweat and dries quickly as its inner layers are made using 100% pure polyester and cotton.
Features
Size: 39″ x 83″ x 3″, Twin XL
Weight: 10 lbs
Thickness: 3″
Firmness: Firm
Construction: Polyester
Color: White
Pros
Easy to fold
Soft fabric
Anti-ticked
Antibacterial
Lightweight
Cons
Doesn't provide proper cushioning.
The lightweight feature of the D&D Futon Mattress makes it easy to store and carry along anywhere. The mattress is filled with comforting fiber, resilient foam, and white cotton that provide a soft and cushioned base for sleeping. You can easily roll up the mattress when not in use. If you have a compact living room, you can save space and use the area efficiently with this portable and compact soft mattress.
Features
Size:54″ x 75″, Full size
Weight: 21 lbs
Thickness: 3″
Firmness: Firm
Construction: Foam, Cotton
Color:Gray
Pros
Excellent quilting
Comfortable
Odorless
Long-lasting
Cons
If you are looking for a mattress that offers the perfect balance of firmness and support, consider buying the MozaicFuton Mattress. This high-quality mattress features dual-sided memory foam that is made using polyurethane gel foam and is covered with a durable cotton twill cover. You can use the reversible mattress on the sofa, couch, or the bed.
Features
Size:75″ x 54″ x 8″
Weight: 51.9 pounds
Thickness: 8″
Firmness: Medium firm
Construction: Foam
Color: Navy
Pros
Handmade
Durable
Versatile
Comfortable
Storage-friendly
Cons
The Serta Chestnut Double-Sided Futon Mattress is comfortable and features a 2″ foam core and a 2″ storm core with wolf's bonded pad. It is surrounded by cotton batting and a 100% cotton cover and is highly durable. The foam used in the mattress is free of heavy metals, flame retardants, mercury, lead, and ozone depleters. The mattress softens up and expands within 48 hours of use.
Features
Size:75″ x 53″ x 8″
Weight: 51.9 lbs
Thickness: 8″
Firmness: Firm
Construction: Foam, Cotton
Color: Black
Pros
Odorless
Low VOC
Formaldehyde-free
Phthalate-free
Durable
Cons
This Japanese tatami mattress prevents sink spots and ensures optimal weight distribution. You can also roll up the mattress quickly or use it as a floor bed for napping. The solid, modern mattress is tufted with 100% microfiber.The outer cover is made of 100% polyester fiber that remains cool and is soft to touch. The puffed design makes it comfortable and cushiony for extended comfort.
Features
Size: 39.4″ x 78.7″
Weight: 9 lbs
Thickness: 3"
Firmness: Firm
Construction: Polyester
Color: Blue
Pros
Cons
The Mainstay Tufted Futon Mattress features a 100% polyester cover and 100% polyester fiber pad filling to ensure convenience while sleeping. The cover can be wiped easily with a damp cloth. The mattress features a tufted design to maintain its shape and provide stability while sleeping. It also improves posture and keeps back pain at bay. This mattress has achieved the Green guard Gold certification for low chemical emissions.
Features
Size: 75″ x 54″ x 6″
Weight: 18 lbs
Thickness: 6"
Firmness: Firm
Construction: Polyester
Color: Black
Pros
Hypoallergenic
Lightweight
Easy to clean
Low VOC
Cons
These are the 10 best futon mattresses available online. If you have decided to invest in one, go throug hour informative buying guide to choose the most functional and comforting mattress available in your budget.
Key Things To Check Before Buying A Futon Mattress – Buying Guide
Futon mattresses are multipurpose and highly versatile. You can create a spare bed for your guests, use it on a sofa as a cushion, a kids' play or yoga mat, sleeping mattress, etc. If you intend to use it as a spare mat, go for thinner and softer mattresses that are cheaper than the thick foam-filled quilted mattresses. However, if you are going to use it regularly, go for a high-quality futon. Invest in a mattress based on its purpose.
Measure the frame size and pick a mattress that fits easily in it. You can buy large mattresses even if you have a small living space as they are storage-friendly.You can fold them when not in use. These mattresses make efficient use of your compact space, and hence, size is not an issue.
If you want a mattress that can be easily moved from one place to another, pick a lightweight mattress. Generally, a thick mattress weighs up to 50 pounds, and thinner mattresses are as light as 3 pounds. If you want to use a mattress on your bed permanently, go for a thick and weighty mattress.But if you want to use it as a sofa cushion, mat, or spare floor bed, go for a comparatively thinner one.
Buy a regular mattress with a thickness of 6″-8″ if you are using it on a bed. You need a mattress with a thickness of 3″-4″ for using on a sofa, floor, or mat. The thickness of a mattress can also be determined based on the user's weight. The heavier the person, the thicker the mattress. This is to ensure comfort and stability while sleeping. Thicker mattresses also prevent sink spots and remain stable for years.
The color is an important factor to consider if you are highly concerned about the ease of cleaning. If you will use a mattress for multiple purposes and on the floor, avoid light colors like white and cream as they can get dirty easily. Choose colors like black, navy, blue, etc. Make sure it complements the furniture and aesthetics of your home.
Comfort is one of the major factors to consider while buying a mattress. After all, the purpose of a mattress is to offer quality sleep and comfort. Coil mattresses are great if you are dealing with back pain. These mattresses provide equal weight distribution and improve posture. Most futon mattresses are soft and cushiony and offer comfort while sleeping and sitting.
When you invest in a mattress for multiple uses, you have to pay attention to how the mattress looks. If you want to use it as a sofa cushion, go for quilted and box caged mattresses. Use coil mattresses for bedding as they offer excellent comfort.
The number of folds of a mattress determines its portability and softness. The folds are dependent on the frame of the mattress. A bi-fold mattress folds in one to two pieces while a tri-fold mattress folds into three pieces. A mattress with more folds is storage-friendly and can be accommodated in small spaces.
You don't want a mattress to last few months, especially if you invest a hefty sum in buying one. Although futon mattresses are economical, it is important to consider durability. A mattress made of high-quality foam, coils, and interior material is long-lasting. Look for a tear-proof and sturdy outer cover as it is more prone to wear and tear.
Coil-based mattresses allow airflow through the bed, which keeps them cool and helps you relax. Extremely thick memory foam mattresses may trap heat and cause disturbance while sleeping. Hence, if you want a mattress for your bed, pick a coil mattress for a relaxing sleeping experience.
Some mattresses can leave/emit a foul odor due to sweat and other chemicals. Hence, always look for a mattress made of high-quality, odor-resistant, and quick-drying material.
Most futon mattresses offer limited manufacturer's warranty. This gives you the flexibility to try and use one. If it does not match your quality standards, you can return it within a limited time and get your money back.
Let's now look at the types of futon mattresses.
What Are The Types Of Futon Mattresses?
Traditional Japanese Futons
The Shiki futon mattresses are traditional Japanese mattresses made using 100% cotton and are commonly used for bedding. These mattresses are organic and are not treated with flame retardants or harmful chemicals. A futon is generally easy to roll, store, and lift. They are specially designed to offer comfort and support and are known to ease back pain. The traditional Shiki futon mattresses are 3-4 inches thick and are used on the floor for a firmer sleeping surface.
The western-style futon mattresses are generally used with a bed and are thicker than the traditional Japanese mattresses. These mattresses are 6″-12″ thick and may have foam or coils. A western-style mattress can be used with a quilt and a quilt cover. The outer cover of these mattresses can be of polyester or cotton. These mattresses are firmer and generally heavier than the traditional Japanese futons.
Here are a few tips to make a futon mattress more comfortable.
How Do You Make A Futon Mattress More Comfortable?
Use a mattress topper for more comfort. If you sleep on the floor, a mattress topper will offer better stability and prevent back pain.
Add a feather bed to your mattress to create a soft and cozy layer between you and the mattress. It prevents slipping and offers a better grip.
Add wooden slats under the bed to offer better support to the mattress, so it will remain firm and not sag from around the edges.
You can use comforters to pile up your futon mattresses. Whether you like an airy sleeping base or want allergy-free bedding, comforters are very useful. You can also add extra padding as per your requirement.
Use the futon mattress with an air mattress, especially if you are preparing spare bedding for your guests. Air mattresses inflate and deflate easily and are storage-friendly.
Conclusion
When buying a mattress, people often go for the first one they like. However, choosing a mattress is all about exploring the other features like durability, value, storage, comfort, ease of transport, etc. If you are dealing with the struggles of living in a tiny living space, buy any of the futon mattresses listed above.
Expert's Answers For Readers' Questions
What is the thickest futon mattress?
The thickness of a futon mattress varies from 3″ to 12″. You can pick the mattress based on how you want to use it. Generally, for sleeping comfortably, an adult needs a mattress of minimum 6″ thickness. You can pick a mattress with more thickness according to your weight. A tatami mattress with lesser thickness is, however, easy to roll and store.
How long do futon mattresses last?
A high-quality futon mattress generally lasts for 5-10 years when used occasionally and maintained regularly.
Is a futon mattress good for your back?
A firm and thick futon mattress with high-quality inner filling are good for the back. However, if you have back pain, avoid the thin ones.
How to dry a futon mattress?
There are different ways to dry a futon mattress. You can vacuum your futon, use baking soda, or place it under the sun for drying. Placing it under the sun will remove moisture and odor from the mattress while vacuuming it will remove dirt and dust from the mattress.
Recommended Articles
The following two tabs change content below.

Latest posts by Harini Natarajan (see all)

Harini Natarajan
As Chief Editor, Harini sets the tone and editorial direction for StyleCraze to deliver engaging, interesting, and authentic content revolving around women's health, wellness, and beauty. She has over 14 years of experience in content writing and editing for online media. She specializes in the areas of Beauty, Lifestyle, and Health & Wellness and is proficient in Medical Sciences (Biology, Human Anatomy and Physiology, and Biochemistry). Her background in Biomedical Engineering helps her decode and interpret the finer nuances of scientific research for her team. Harini is a certified bibliophile and a closet poet. She also loves dancing and traveling to offbeat destinations.