10 Best Ganesh Rangoli Designs That You Should Try In 2019
Rangoli, is an age old art which is used to decorate homes on special occasions. With time, Rangoli making has evolved from simple designs to the present day designs that have so many variations. Ganpati festival is a good occasion to see these different variations in action.
Ganpati festival is the most celebrated festival in Mumbai and Rangolis done on this festive occasion feature Ganpati himself in different styles. We present to you some of the best Ganpati/Ganesha Rangoli designs inspired from this festival:
10 Inspiring Ganesh Rangoli Designs To Try In 2019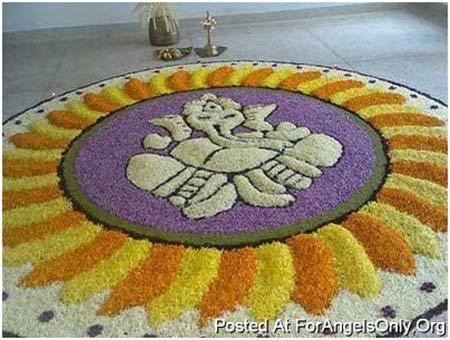 1. This awesome design is an example of how you can do a Ganesh Rangoli using flower petals. Flower rangolis have become quite popular nowadays and look great on any occasion. Usage of the contrasting colours – yellow, orange and purple and white is amazing here. The design of Ganpati is done in the middle with white flower petals over purple flower background.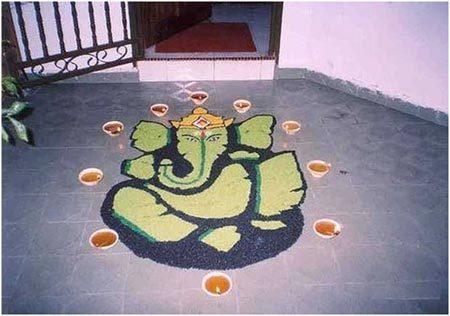 2. This choice from the Ganesh Rangoli designs is a great way to decorate the home. It is done with regular colours. The contrasting colours used are green and blue. The diyas used to decorate the Rangoli make it even more attractive.
[ Read: How to Make Rangoli Designs ]
3. This bright Rangoli of ganesha features contrasting colours – green and orange, with small amounts of blue and red as well. The orange coloured Ganpati is done on a green background. The small floral designs outside the Rangoli look very unique.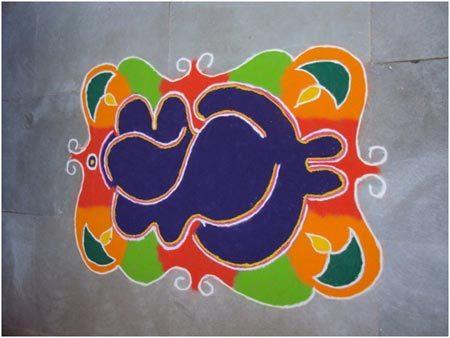 4. The Rangoli here is a very colourful one. There are many bright colours used here – green, blue, orange and yellow. There is one diya drawn at each of the corners. The main Ganesha design is done with dark blue colour in the middle.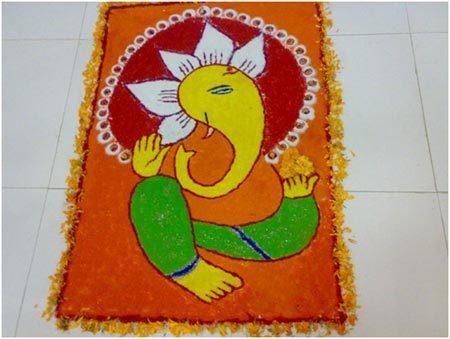 5. This unique design features a vibrant depiction of Lord Ganesha with one hand giving blessings and the other hand holding his favourite laddoo (A kind of sweet dish). The bright green and orange combination is lovely.
[ Read: Rangoli designs with Dots For Festivals ]
6. This beautiful rangoli design shows the Ganesha design with a 3D feel. The bright orange Ganesha figure in the middle contrasts with the green and yellow backdrop of the design. The white and blue designs also add more beauty to the design.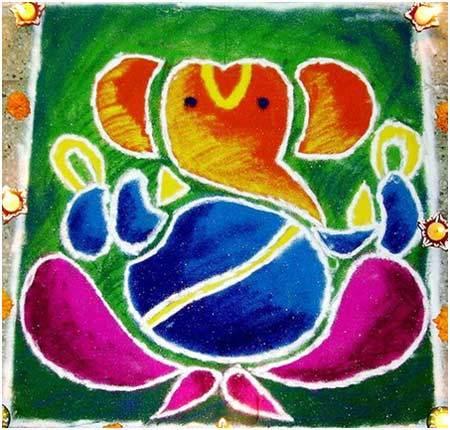 7. This Ganesh Rangoli design has a lot of shading. The use of shading makes it a tough choice for beginners. One needs good amount of skills to achieve a design like this. The colours used here vary from blues to purples and greens to yellows.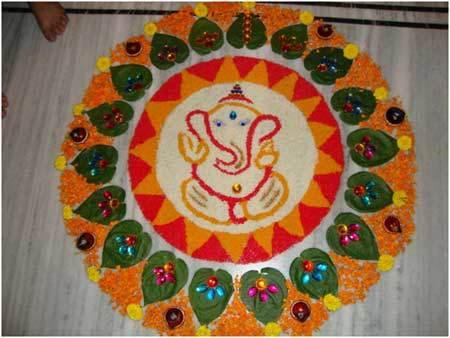 8. This beautiful floral Ganesh design looks pretty with marigold flower leaves and white flower petals. Colourful beads, leaves and stones are used to decorate the Rangoli.
[ Read: Colourful Rangoli Designs With Flowers ]
9. This flower Rangoli design features Ganesha with marigold petals. The background here is the floor itself. This design is huge but can be manipulated into the desired size as needed.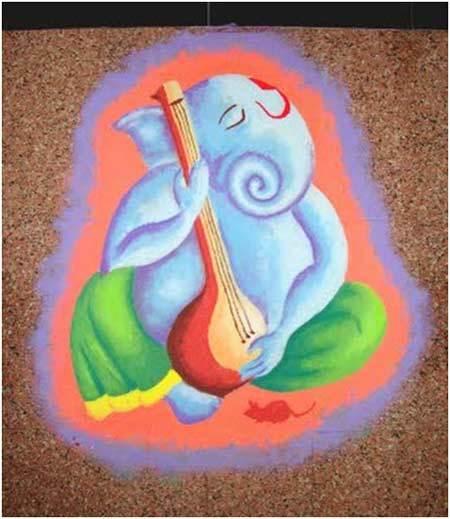 10. This beautiful design features Lord Ganesha playing Veena. Veena is a traditional musical instrument which Lord Ganesha uses to play music. 'Vaahan' of Lord Ganesha, the 'Mouse' is also present in the design. The excellent shading and the usage of colours in the design are lovely. To achieve an outcome like this really needs good amount of skills.
[ Read: Rangoli Designs For Corner ]
So which is your favourite Ganesha rangoli? Let us know in the comments below.

The following two tabs change content below.