10 Ganesh Tattoo Design Ideas That Everyone Can Try
This is the perfect tattoo for the spiritually enlightened and anyone who wants to tell a story.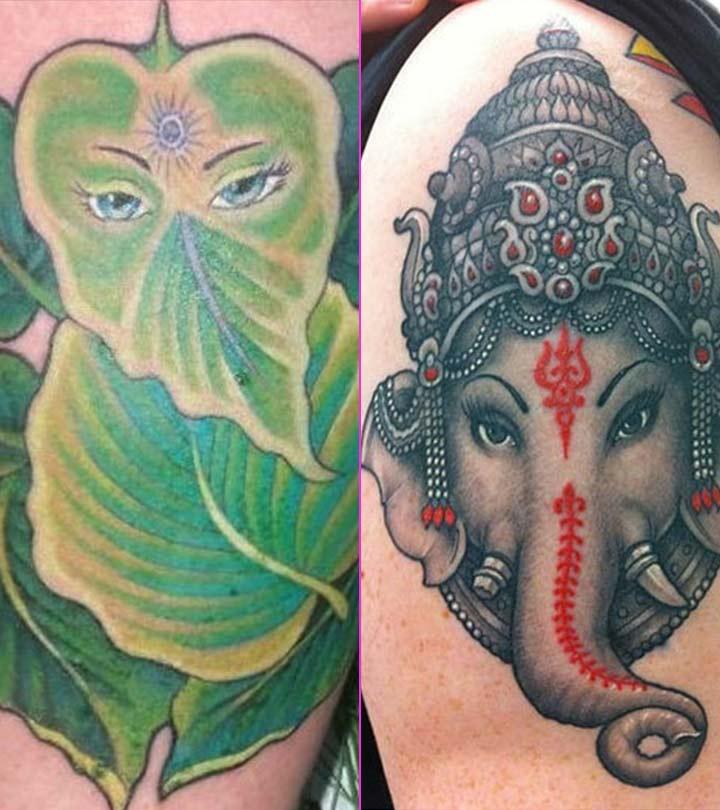 It is usual to see a Ganesh tattoo on those who practice Hinduism or are spiritually enlightened. Lord Ganesh, son of Lord Shiva and Parvati, is the god of success in Hinduism. He has a human figure with an elephant head. There are many legends as to how he got his elephant head. However, all those stories have one thing in common – Lord Ganesh ended up being a highly respected deity. So, while looking for a tattoo idea, Lord Ganesh is definitely a good option. Irrespective of your religion and belief system, having the god of success inked on your body would definitely bring nothing but good luck. Scroll down to check a few tattoo ideas.
The Best Ganesh Tattoos
1. Ganesh Tattoo In Paintbrush Strokes
A Ganesha tattoo with paintbrush strokes would be a very artistic tattoo to ink. It could be inked in a small scale and on any part of the body. The color scheme could be just black of colors of varying shades.
[ Read: Arabic Tattoos ]
2. A Colorful Lord Ganesh
Lord Ganesh is depicted with a lot of colour. To capture him in his entirety, you could ink him in full colour on your body. The varying colour of his ornaments and clothes would make the tattoo very lively.
[ Read: Ankle Tattoo Designs ]
3. Ganesh Head In Black And Red
Red is a very auspicious colour in Hinduism. This is because red is a powerful and expanding colour that can give out divine energy. A Ganesh head with touches of red would be a very auspicious tattoo to ink.
[ Read: Few Tattoo Designs ]
4. Lord Ganesh's Head
Legend goes goddess Parvati wanted to bathe and thus made a guardian being from the dirt and asked him to guard the door. When her husband Shiva came, he was much stunned to see an unknown being at his home restricting him entry. Enraged he cut of his head. Since Ganesh was Parvati's own creation, she bemoaned his death tremendously. Shiva to make it up ordered his guards to bring the head of the first living being they encountered. Thus Ganesh acquired his elephant head. This head is a symbol of immense celestial power, and indeed a great tattoo to have.
[ Read: Tattoo Design ]
5. A Ganesh Tattoo Outline In Black
Just a Ganesh outline in black would be a simple tattoo to ink. Many a time's, however, simple tattoos convey a lot. A Ganesh tattoo, though simple would convey a host of meanings, symbolisms and legends all of which would be great conversation topics.
6. A Floral Ganesh Tattoo
Tattoos should have an innovative element to them. They are after all permanent body art and thus should be chosen with a lot of care. Lord Ganesh's figure could be created out of leaves to make the tattoo look different and unique.
7. Lord Ganesh Across Your Back
Ganesh Chaturti is a day when Hindus celebrate Lord Ganesh's birthday by establishing a statue of him at their house and conducting prayer ceremonies. Lord Ganesh tattooed across your back would be a wonderful place to tattoo this very powerful deity. The tattoo could be done in color to make it look vibrant.
8. Lord Ganesh's Head With A Palm Showing 'Om'
'Om' is a very powerful word in the Hindu tradition as the word forms a divine connection. A word this powerful inked together with a God even more powerful would be a wonderful tattoo to have on your body. This On Ganesh tattoo is believed to bring great luck!
9. Black Ganesha Tattoo
Tattoos look best when inked in black. A Ganesh tattoo inked in black would thus look perfect.
10. An 'Om' With A Ganesh Trunk
An 'om' sign can be modified to look like lord Ganesh by extending the upper part of the letter to form a curved trunk. This tattoo would have a creative element to it.
One of the most commonly found tattoo designs in India is the image of deities. One such favorite tattoo design is that of Lord Ganesh. It is believed that getting a tattoo of Ganesh will bring luck and prosperity as he is considered the God of success. There are several varieties of Ganesh designs, like the colorful tattoos, Ganesh inked with paintbrush strokes, Ganesh's head with black and red color, etc. The list mentioned above will help you choose the best Ganesh tattoo that suits your preferences.
Image source:
1
,
2
,
3
,
4
,
5
,
6
,
7
,
8
,
9
,
10
The following two tabs change content below.