The 10 Best Garage Heaters And Buying Guide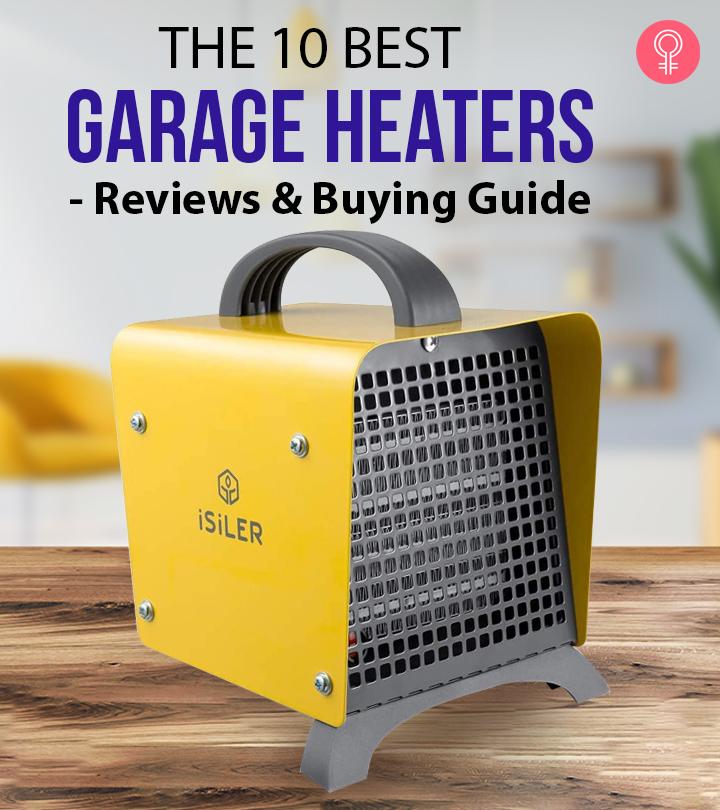 Are you looking for ways to keep the garage warm while you fix your car or work on some DIY projects? You need a garage heater.  During winter or whenever the air is cold, it is tough to work in the garage. A good quality garage heater keeps your workstation warm and comfortable. Garage heaters are available in A styles and models. To help you pick, we have compiled a list of the best garage heaters and included a buying guide. Take a look.
10 Best Garage Heaters
The Dr. Infrared Heater is certified by the Underwriters Laboratories (UL) in the US and Canada. This heater is child and pet-friendly and comes with a dual heating system.  This is an Auto Energy Saving model with tip-over and overheat protection. You can manually adjust the temperature. This heater has a high-pressure low noise blower and comes with an IR remote control.  It is a 1500W portable heater and has a low noise level (39 db).
Specifications
Type Of Fuel: Electricity
Output: 5200 BTUs
Weight: 24 lbs
Power: 1500 W
Pros
Auto-shutoff timer
50% lower energy consumption
Quiet operation
Caster wheels
Lifetime filter
Safe to touch
Cons
Complicated remote setting
The Fahrenheit FUH electric heater is best for large rooms and garages. This heavy-duty heater has a single-pole thermostat that produces heat up to 135 °F.  You can easily adjust the temperature to quickly heat any space. It is easy to use and operate and can be regulated through remote control. It has an automatic shutoff system to prevent overheating.
Specifications
Type Of Fuel: Electricity
Output: 8533-17065 BTUs
Weight: 24 lbs
Power: 2500-5000 W 
Pros
Suitable for large spaces
Remote control operation
Durable
Ceiling mount bracket
Cons
The ISILER Space Heater is a 1500W compact and portable indoor heater. It is suitable for small garages and rooms. This heater is made from fire retardant materials and has PTC ceramic heating elements that do not produce flames. This device is self-regulated and has overheating protection.  It has an auto-shutoff feature to prevent any accidents. Though this is a smaller device, it warms up the room within seconds. The temperature is adjustable and ranges between 41 °F and 95 °F. It is lightweight and portable.
Specifications
Type Of Fuel: Electricity
Output: 5100 BTUs
Weight:42 lbs
Power: 1500 W
Pros
User-friendly
Compact
Energy-efficient
Auto-shutoff
Portable
ETL certified
Cons
Noisy
Non-adjustable fan speed
This electric garage heater is perfect for 500 sq. ft. space. The NewAir G73 Hardwired Heater has a stainless steel body and is compatible for wall mounting. The product is durable, has overheating protection, and is ETL and UL certified for safety. It has a single pole thermostat with six custom settings to let you control the temperature.
Specifications
Type Of Fuel: Electricity
Output: 17060 BTUs
Weight: 15 lbs
Power: 5000 W
Pros
ETL and UL certified
Adjustable thermostat
Auto heat control system
Cons
Thermostat may malfunction
This garage heater is designed with a patented Smart Limit safety technology and has a dual NiChrome coil. This coil ensures rapid heat transfer ideal for indoor spaces. It has a flow-through design that can also warm up large rooms and garages easily. This heater has a built-in adjustable thermostat and can be mounted on walls or ceilings. It is durable and UL-certified for safety.
Specifications
Type Of Fuel: Electricity
Output: 17060 BTUs
Weight: 14 lbs
Power: 5000 W
Pros
Durable
Affordable
Ceiling bracket included
UL-certified
1-year warranty
Cons
This indoor heating system is Wi-Fi enabled, so you can control it with your smartphone.  The 1500 W Heat Storm HS-1500-PHX-WiFi is available both as portable and mountable variants. It has safe-to-touch grills, meaning the body of the heater stays cool. This feature makes the heater safe for pets and kids. The Infrared (IR) heating heats objects as well and not just the air. This device can keep you warm in any room.
Specifications
Type Of Fuel: Electricity
Output: 5200 BTUs
Weight: 9 lbs
Power: 1500 W
Pros
IR heating
Energy-efficient
Wi-Fi enabled
Cool to touch
Cons
This infrared garage heater is a plug and play device and is suitable for outdoor heating, such as a garages and patios. The heater is tripod mounted with adjustable height. It is weatherproof, so you do not need to worry even if it is raining outside. This heater is easy to set up, and you can carry it anywhere with you. The tripod has rubber feet on the bottom, ensuring a firm grip. The stand is rust-free and sturdy.
Specifications
Type Of Fuel: Electricity
Output: 5200 BTUs
Weight: 81 lbs
Power: 1500 W
Pros
Portable
Affordable
Non-slip tripod
Silent operation
Weatherproof
No harmful fumes
Tipover shutoff
Cons
This is a 1500 W portable ceramic heater with a large air outlet. This rapid heating device is best suited for living rooms, garage, and small spaces. It is made of VO flame-resistant material and conforms to the ETL and UL guidelines for safety.  It has an automatic shutoff feature to prevent overheating. This garage heater is encased in a fire-retardant metal shell and is durable and safe for residential use.  It has angled legs and elevated design for better heat circulation and a built-in thermostat with a fail-safe shutoff.
Specifications
Type Of Fuel: Electricity
Output: 5118 BTUs
Weight:42 lbs
Power: 1500 W
Pros
Quiet operation
Overheat protection
Flame-resistant housing
ETL and UL- certified
Wide-angle heat distribution
Ergonomic handle
Cons
This fan-forced heater is designed for ceiling mounting to save floor space in your packed garage. It has a heavy-duty stainless steel body that works well to cover any temperature fluctuation in a poorly insulated garage. This garage heater is durable and has a variable mounting angle to direct the airflow properly throughout the space. The dual-knob thermostat helps adjust the temperature. The heater also has an inbuilt sensor that switches the device off if it overheats.
Specifications
Type Of Fuel: Electricity
Output: 34000 BTUs
Weight:4 lbs
Power: 1500W
Pros
Affordable
Built-in sensor
Durable
Power light indicator
Cons
This propane heater is compact and portable. It is best suited for small garages (225 sq. ft. area). This portable heater has a fold-down handle that maximizes output with minimal fuel use.  The body is made of durable plastic, steel, and nickel. The garage heater has auto-shutoff to prevent overheating. It is easy to use – you have to rotate the knob to pilot and push to start the heater. It also has an accidental tip-over safety shutoff feature. In case the heater tips off, it shuts down immediately to prevent any accidents.
Specifications
Type Of Fuel: Propane gas
Output: 4000 to 9000 BTUs
Weight: 28 lbs
Power: N/A
Pros
Long-lasting
Compact
Portable
Easy operation
Single control start knob
Swivel regulator
Auto-shutoff
Cons
These are the best electric heaters that you can buy to warm up your garage. However, there are a few things to keep in mind before choosing one.
What To Consider While Buying A Garage Heater?
Size And Weight: These are essential parameters to consider. Choose a size depending on the space in your garage. Also, check the weight. A lightweight heater is easy to carry.
Power: The output of a garage heater is measured in BTUs or British Thermal Units. You need 20-40 BTUs per square foot of the area. If you have a 400 square feet garage, you will need a heater with an output of at least 16,000 BTUs to keep it warm. Calculate before choosing one. 
Type Of Heater: There are two types of heaters – electric and gas heaters. Electric heaters are popular as they are easy to install, safe, and cheap. On the other hand, gas heaters get hot fast and also work well outdoors. Compared to electric heaters, gas heaters have a high maintenance cost. Choose as per your convenience. 
Safety Features: Electric heater is safer than gas heaters. Gas heaters have fire risk as they run on combustible fuel. Moreover, there is a risk of fume build-up. Gas heaters need additional venting to avoid all these issues. So, select one considering the safety options.
Mounting: Whether you need a mounted heater or not depends on the availability of space in your garage. Portable heaters can be moved while mounted heaters are fixed. Portable heaters will take up floor space while mounted heaters will not. 
Ease Of Installation: Choose a heater that is easy to install and comes with detailed instructions. 
Certification And Warranty: Check the safety certification of the heater. See whether it is ESL or UL certified or not. Also, check the warranty period. A good electric garage heater will have both safety certification and warranty to ensure you can return the product in case of any issues.
Generally, garages are poorly insulated. An electric garage heater is the best way to add warmth to that space. These heaters are versatile and rugged, and most of them come with additional safety features. If you liked any of the products in the above list, go ahead and buy it today.
Expert's Answers for Readers Questions
What are the different types of garage heaters?
There are two types of garage heaters – gas and electric heaters.
How many BTU does it take to heat a 2-car garage?
You need a heater with 45,000 BTUs for heating a 2-car garage.
What is a good temperature for a garage?
A temperature of 40°F is suitable for a garage.  However, it depends on the area you live in. For instance, people living in the coastal area need to maintain at least 65°F in their garage.
How do I keep my garage warm in the winter?
Get a good quality electric garage heater to keep it warm.
Which is better gas or electric garage heater?
In terms of safety, an electric heater is better than a gas heater.
Can a patio heater be used in a garage?
Yes, but ensure proper ventilation and keep the flammable objects away.
What is the best garage heater for woodworking?
You may check out Fahrenheit 5000 W Electric Heater and Mr. Heater Big Maxx Natural Gas Garage Heater.
Recommended Articles
The following two tabs change content below.

Latest posts by Harini Natarajan (see all)

Harini Natarajan
As Chief Editor, Harini sets the tone and editorial direction for StyleCraze to deliver engaging, interesting, and authentic content revolving around women's health, wellness, and beauty. She has over 14 years of experience in content writing and editing for online media. She specializes in the areas of Beauty, Lifestyle, and Health & Wellness and is proficient in Medical Sciences (Biology, Human Anatomy and Physiology, and Biochemistry). Her background in Biomedical Engineering helps her decode and interpret the finer nuances of scientific research for her team. Harini is a certified bibliophile and a closet poet. She also loves dancing and traveling to offbeat destinations.