13 Best Gardenia Perfumes To Mesmerize Your Senses – 2023
Smell fresh and irresistible throughout the day with reasonably-priced perfumes.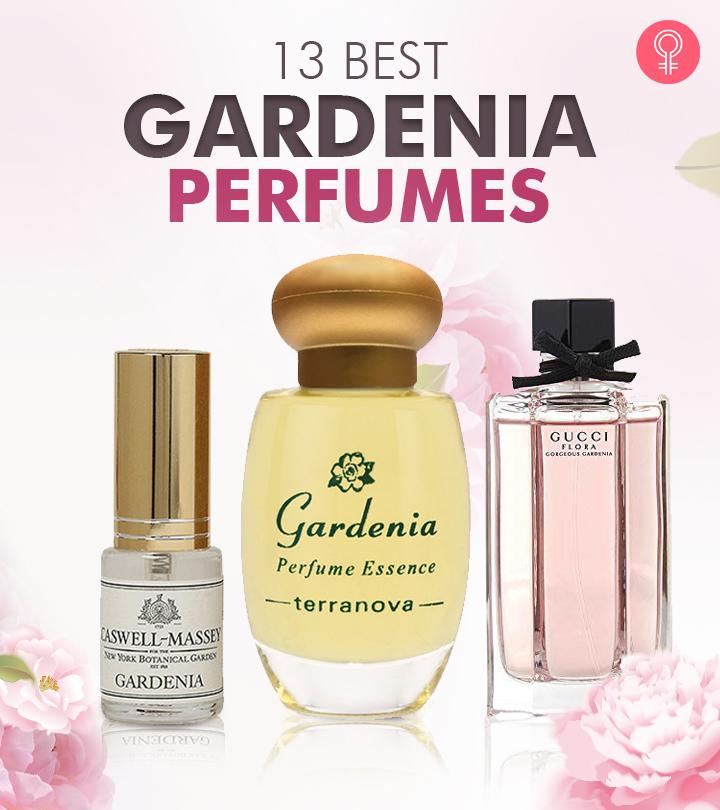 Gardenia fragrance is categorized under floral perfumes. The seducing floral scent is sweet, breezy, creamy, and mesmerizing. The best Gardenia perfume is exotic, warm, downright, and has earthy notes. The fragrances of the Gardenia perfume are intoxicating and thrilling. They are ideal for wearing in the day and at night. These floral fragrances are ideally blended with orchids, berries, and other ingredients to give a sweet to spicy feel.
A perfume is an extension of your personality. So, narrowing down on one is not an easy task. So, to make it easy for you, we have curated a list of the 13 best gardenia perfumes. Scroll down and grab the one that vibes with your personality.
The 13 Best Gardenia Fragrances That Everyone Will Enjoy
The Gardenia By Elizabeth Taylor was launched in 2003. It was specifically formulated for women. It has a subtle and sophisticated aroma that gives a fresh feeling. This perfume starts with green notes and notes of lily-of-the-valley, and smoothly moves into its hearts of notes of gardenias, peonies, and orchids. All these are finally propped up by the notes of white musk and carnations. All the notes, together, create an alluring fragrance that you will enjoy wearing. To understand the nuances of the product in detail, you can check out this review.
Pros
Lighter on the senses
Can be used both day and night
Elegant fragrance
Reasonable price
Long-lasting fragrance
Cons
None
Price at the time of publication: $18.36
The Kai Perfume Oil is a light perfume with an intoxicating blend of gardenia wrapped in white exotics. It is specifically designed to be applied gently to the wearer's wrist, behind the ears, or at their pulse points to enjoy the elegant and subtle aroma all day. This intoxicating Gardenia scent blended with essential oils is convenient and easy to use. If you want to wrap yourself in a beautiful blanket of floral scents, the Kai Perfume Oil is the right pick. Check out this YouTuber's review of this product.
Pros
Floral and feminine aroma
Uplifts mood
Youthful fragrance
Convenient
Easy to use as a roll-on vial
Paraben-free
Sulfate-free
Phthalate-free
Phosphate-free
Light essence
No chemical or irritants
Value for money
Cons
May not smell like Kai
Fragrance fades away too fast
Price at the time of publication: $52.0
The Italian fashion house of Gucci had launched this gorgeous floral perfume in 2012. It is mixed with different floral ingredients to uplift the mood and wrap you in the blanket of a fascinating spray. It has about five notes, Gardenia being one of them. It starts with the notes of pears and red berries, moves smoothly to the heart notes of gardenia and frangipani, and leaves in a mesmerizing patchouli note. All the notes blend and work together to provide a light, airy, and seducing fragrance.
Pros
Light fragrance
Blended with five notes
Subtle smell
100% authentic
Cons
May contain the smell of alcohol
Price at the time of publication: $159.99
The Jovan Island Gardenia Perfume is a cologne spray that has been on the market since the early 1980s. It delivers a refreshing fragrance to revive your mood. The blend of neroli, gardenia, and sandalwood shows off the beauty and simplicity of this perfume. The concoction of different floral scents is pretty inspiring and can be enjoyed even after 40 years.
Pros
Refreshing floral smell
Simple and light
Suitable for the elderly too
Cons
None
Price at the time of publication: $13.74
The Estee Lauder Gardenia perfume contains two magnificent white flowers captured in a luxurious, elegantly designed bouquet. The perfume is designed to make the wearer feel like the most beautiful woman in the room. The top notes are reminiscent of blooming fresh-cut flowers like neroli, lilac, and rosewood. The middle notes combine the rich essence of tuberose, gardenia flower, orange flower, jasmine, and white lily. Carnation and vanilla bourbon, as base notes, add warmth and sensuality and make an unforgettable fragrance. The cap on this Eau de Parfum Spray is a work of art with a hammered gold texture, inspired by a necklace Aerin Lauder inherited from her grandmother.
Pros
Infused with five notes of floral aroma
Long-lasting
Cons
Price at the time of publication: $64.98
Terranova is infused with gardenia, the queen of the tropical flowers for a seductive aroma. It is infused with 100% essential oils and a rich floral gardenia fragrance that leaves you feeling fresh throughout the day. The fragrance of concentrated and highly aromatic perfume oils wraps you in a floral blanket. Its travel-friendly size easily fits into your purse, and you can dab it anytime to feel refreshed.
Pros
Long-lasting
Cruelty-free
Paraben-free
Phthalate-free
Infused with 100% essential oils
Alcohol-free
Travel-friendly
Easy to dab
Cons
None
Price at the time of publication: $19.0
Forever Florals is made of sweet gardenia, an exotic blossom of Hawaii. This perfume was launched during the 2000s to provide a sensual, distinct, tempting, and seductive fragrance. This heavenly fragrance with added sweetness keeps a little piece of paradise alive in your heart. It gives you a fragrance that is fresh, floral, and a spritz is enough to uplift your mood.
Pros
Sweet fragrance
Light aroma
Refreshing and rejuvenating
Long-lasting
Cons
None
Price at the time of publication: $10.25
The Ladybug Soap Company Solid Gardenia Perfume is made with organic and natural ingredients with the fragrance oil aroma. The long-lasting fragrance alarms your senses and leaves a fresh, rejuvenating feel. It is easy to apply and travel-friendly. It has no added chemicals that may irritate the skin.
Pros
Paraben-free
Sulfate-free
Alcohol-free
Natural ingredients
Long-lasting
Travel-friendly
No added chemicals
Cons
May smell like baby powder
Price at the time of publication: $8.99
Lace Noir is a light, soft, and seductive scent blended with peach nectar, wild berries, gardenia blossom, and caramel toffee leaves. These are ideal for date nights or special occasions. The floral nature of the perfume is sensual and seductive. This is perfectly suitable for a sophisticated lady.
Pros
Hypoallergenic
Infused with floral fragrances
Light and soft
Ideal for evening wear
Cons
Price at the time of publication: $40.4
The Caswell-Massey New York Botanical Garden Gardenia perfume combines the thick aroma of blooming flowers with smooth green notes for a reviving effect. The intoxicating and seductive floral notes and botanicals are designed to leave a refreshing and relaxing feel. The perfume blends perfectly with the skin for a long-lasting effect. The travel-friendly is suitable for everyday wear.
Pros
Inviting floral scent
Travel-friendly
All-natural fragrance
Paraben-free
Sulfate-free
Free from harmful chemicals
Suitable for everyday wear
Cons
Price at the time of publication: $25.0
The floral, velvety, refreshing aroma of Jafra Gardenia Blossom Perfume is perfect for women with a sophisticated personality. The blend of rose, jasmine, violet, freesia, and magnolia scent celebrates the charismatic and confident woman with a magnetic personality that will be the center of attention in any room.
Pros
Nice blend of floral aroma
Uplifts mood
Enhances the personality
Cons
None
Price at the time of publication: $26.99
The KKW Crystal Gardenia Perfume provides a contouring effect to a signature finish. It helps boost your mood with the voluptuous, lush, and feminine fragrance. The long-lasting fragrance opens with top floral notes of pink grapefruit, Anjou pear, and water lily. At the heart, the timeless gardenia petals, Tiare flower, and velvet tuberose will not let you down. The sexy scent is beautifully rounded out by sensual sandalwood, solar amber, and skin musk. The floral blends make the perfume a perfect pick for keeping you refreshed all day long.
Pros
Blended with a floral aroma
Relaxing and rejuvenating aroma
Long-lasting
Cons
Price at the time of publication: $165.0
Gypsy Kiss is the feminine and flirtatious scent that boosts confidence. The updated scent glows with the top notes of bright fruits. Its heart notes release bright florals of gardenia and jasmine. The perfume ends in a lasting finish of soft vanilla and sandalwood that leaves you mesmerized. To enjoy the refreshing scent, apply it to the wrists, chest, and behind the ears.
Pros
Soft aroma
Blended with fruit, florals, and vanilla notes
Long-lasting wear
Cons
None
Floral fragrances can be quite overwhelming at times and choosing such a scent in perfumes may be a tricky job. The fragrance of gardenia flowers is mild and subtle. It blends well with many scents and is a favorite among perfume connoisseurs. We understand that a perfume is a very personal statement, but here are some common factors that will help you choose the best ones.
Things to consider while buying the best Gardenia perfumes to mesmerize your senses
Notes
A perfume usually consists of three notes, top note, middle or heart notes, and base notes.
Top notes: These are the scents you first get on spraying the perfume. They are strong and stay for about 15-20 minutes. Some common top notes to look for in Gardenia perfumes are lilac, lavender, rosewood and citrus scents like orange, lemon or bergamot.
Middle notes: These make up the heart of the perfume and last for 20 minutes to about an hour. Pick middle notes which blend well with the top notes and are light but attractive. Some fragrances that blend well with gardenia as middle notes are orange, tuberose and some florals like white lily and jasmine.
Base notes: Base notes linger for over 6 hours in a high-quality perfume. Carnation and vanilla bourbon make excellent base notes of a gardenia perfume. These offer a warm, sensual fragrance.
Time Of The Day
Perfumes are crafted specifically for day or night use.
Day perfumes are subtle and long-lasting. They should be light on the senses. Look for scents which are floral or fruity and give an aura of freshness. Fresh water, sea shores or forest and green essences add a touch of freshness to the day fragrances.
Night perfumes are more woody, musky, and scintillating. These scents are stronger but not overwhelming. Blends like amber, cinnamon, ginger, pepper or mint may be added to balance the sweet smells. These emit an aura of confidence and sensuality.
Signature Scent
Perfumes become a signature scent and therefore you need to choose one that is just right for you. Gardenia itself has a seductive floral fragrance which is exotic yet breezy. The same perfume reacts differently on different people's skin. So, spray a whiff on your wrist and pulse points and wait it out. Give time for the perfume to play through all its notes before finalizing on one.
Why Trust StyleCraze?
The author, Baishali Bhattacharya, is a certified image consultant and makeup expert. She is passionate about gardenia perfumes and understands their making and rich fragrance. She has thoroughly researched gardenia perfumes and also skimmed through numerous user reviews shared online to narrow down on the best products. These perfumes are exotic, warm, and have intoxicating and thrilling fragrances that uplift your mood. Moreover, these can be used during both day and night, and are value for money.
Frequently Asked Questions
What do gardenia perfumes smell like?
Gardenia perfumes have a spicy and zesty smell. They smell even more appealing when paired with vanilla and coffee.
What scent is similar to gardenia?
Magnolia, jasmine, and ylang ylang scents are similar to gardenia.
What smells better, jasmine or gardenia?
Both jasmine and gardenia produce distinctively sweet scents. However, gardenia smells more feminine than jasmine, while the latter is more long-lasting than gardenia.
Is gardenia a good smell?
Yes, gardenia comes with a fresh floral smell that is sweet and alluring.
Which Michael Kors perfume smells like gardenia?
The 'Very Hollywood' fragrance from Michael Kors has a floral scent which comprises gardenia, jasmine, raspberry, and amber.
Are gardenia perfumes unisex?
Yes, gardenia perfumes are unisex. The rich and vibrant fragrance makes anyone who wears it feel confident and assertive.
Recommended Articles