12 Best Gardening Hats To Protect Your Face From The Sun – 2022
Protect your scalp from direct sun to keep your skin cool and healthy.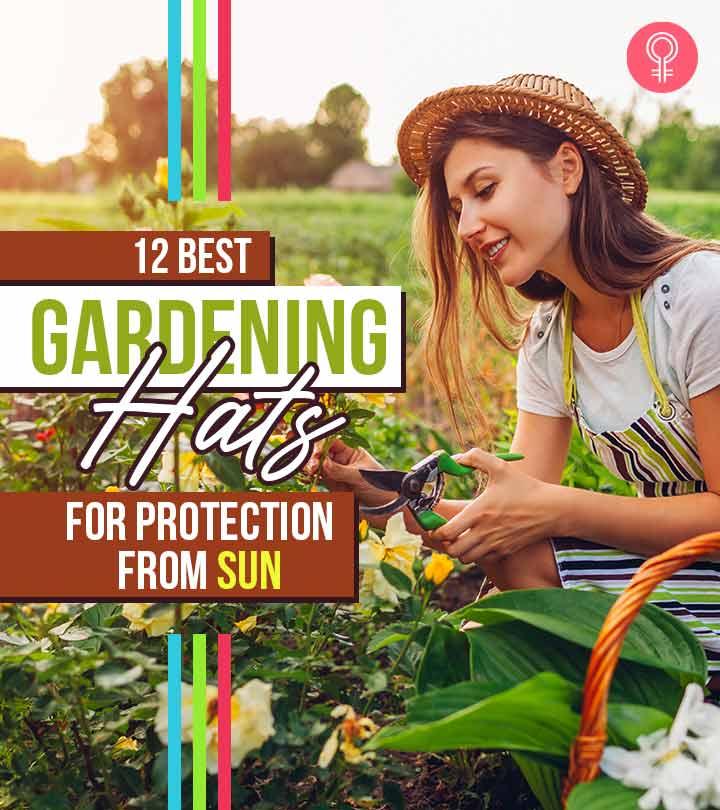 Gardening out in the Sun is a lovely experience. But, the same Sun that makes your plants grow will also burn your skin. Well, for that, we have the best gardening hats and lots and lots of SPF! A good-quality gardening hat must have a wide brim to keep the Sun off your eyes and face. It should also be constructed with a breathable material that does not let the heat accumulate and keeps your head cool.
Gardening is more than just a hobby to some people. While you take care of your garden, it is also important that you take care of yourself. To keep you shielded from the Sun, here are the best gardening hats available in the market right now. So, go ahead and check them out!

Top 12 Gardening Hats To Beat The Heat
The Women's Ponytail Sun Hat by Muryobao provides good ventilation and is suitable for any outdoor activity. Its 3.35 inches wide brim covers your forehead, while the inner hat has a breathable mesh layer that provides cooling, comfort, and airflow. It has two side buttons for a 2-in-1 casual and cowboy style. The adjustable elastic drawstring closure holds the cap in windy conditions. It has a ponytail hole that keeps the hair away from the neck. It can be easily rolled up and is convenient to carry, which saves a lot of space.
Specifications
Material: Mesh
Circumference: 21-23 inches
Color: Purple
Pros
Ponytail hole
 Elastic buckle
Wide brim
Waterproof
Durable
Convenient to carry
Cons
The Simplicity Women's Sun Hat is trendy and attractive. This sun visor is made of 100% straw material which is breathable and durable. Its open-top design and exquisite bowknot design with hidden velcro underneath offer an adjustable closure. This hat offers heat dissipation with ventilation. It is also suitable to wear with various hairstyles. Its wide 5.12-inches brim protects you from effective UV rays, making it summer essential. It also has a built-in sweatband that helps absorb moisture and sweat. Its foldable design makes it non-breakable and easy to carry.
Specifications
Material: 100% Straw
Circumference: 22 – 23.2 inches
Color: Beige brown
Pros
Foldable
Wide brim
Hook and loop closure
Adjustable
Fade-resistant
Long-lasting
Breathable
Flexible
Built-in sweatband
Lightweight
UPF 50+
Cons
Price at the time of publication: $15.29
The Jane Shine Outdoor Sun Hat is highly-rated and perfect for gardening. Its internal adjustable drawstring is designed to ensure a perfect fit. It comes with a UPF 50+ rating and a 3-inches wide brim. This hat offers excellent protection from the sun's UV rays. The top cover of this hat is made of a breathable nylon mesh for easy and quick-dry functionality, whereas an inner cotton sweatband keeps you cool for long hours. You can even keep this hat in your pocket, and it will consistently maintain its original shape.
Specifications
Material: 100% Polyester
Circumference: 24 inches
Color: Summer army green
Pros
Adjustable drawstring
Quick-drying
Sweat absorbing
Foldable
High-quality stitch
Breathable mesh hole
Inner sweatband
Removable buckle
Cons
Price at the time of publication: $15.99
The unique Comhats Ladies' Sun Hat is lightweight and made of paper straw. It has a detachable and adjustable chin strap which provides a snug fit and prevents it from getting blown away in windy conditions. It has a 3.7 inches wider brim, which looks elegant and stylish. It is highly ventilated and allows air to circulate. The UPF 50+ feature makes it perfect for long hours spent in your garden.
Specifications
Material: 100% Paper straw braided
Circumference: 21.6-22 inches
Color: 89015_coffee1
Pros
Adjustable tape
Sweatband
Detachable chin strap
Ventilated
Snug fit
Foldable
Cons
The elegant-looking Mifulgoo Women's Mesh Sun Hat is double-layered with a vented opening that allows air to circulate and gives proper breathability. The asymmetrical shape and flowery pattern inside give this hat a stylish look. This bucket hat comes with a detachable strap that can be used both ways to prevent the hat from flying in the wind. It is easy to adjust the look or the coverage due to its shapeable wired 4.5 inches wide brim at the edges. In addition, the hat is easily foldable, making it travel-friendly.
Specifications
Material: Mesh
Circumference: 21.3-22.8 inches
Color: Gray
Pros
Pull-on closure
Detachable strap
Wide brim
Foldable
Easy to clean
Breathable
Cons
Price at the time of publication: $17.57
The Furtalk Wide Brim Sun Hat comes to mind for a long day in the yard. It features a hook and loop closure and is made of eco-friendly recycled paper. It has a 3.2-inch brim and is rated UPF 50+ for protection from intense UV rays. Additionally, it's cotton inner headband gives a perfect fit. This hat is tightly woven for durability. Its lightweight material is foldable, so you can carry it along wherever you go.
Specifications
Material: Straw and Eco-friendly recycled paper
Circumference: 22.1-22.6 inches
Color: A-khaki
Pros
Tightly woven
Durable
Adjustable chin strap
Sweat absorbent inner band
Foldable
Lightweight
Soft material
Cons
None
Price at the time of publication: $24.62
The Sowift Women's Floppy Hat offers top-notch sun protection due to its floppy design covering most of the face and neck. It is constructed from skin-friendly straw material and provides a durable, lightweight, waterproof barrier against the sun while remaining breathable. It has a wide brim big bowknot on the cap that adds style and comfort. It goes well with your clothes and is considered perfect for gardening.
Specifications
Material: Paper straw woven
Circumference: One size
Color: Beige, Khaki, and White
Pros
Lightweight
Breathable design
Wide brim
Foldable
Easy to carry
Sweat absorbant
UPF 50+ protection
Cons
Hard to remove the creases
Price at the time of publication: $9.99
The Palmyth Net Hat is made from nylon fabric which is water repellent and can be used during the rains. This hat features a net fabric covering the face that can also be rolled up when not needed. In addition, it offers a removable neck flap and 3.2 inches wide brim that covers the face and neck area. It ensures optimal protection against sunlight. The adjustable chin strap makes it easy to stay put in rainy or windy situations. This hat has a wicking sweatband and two-side riser vent, which keep your head comfortable.
Specifications
Material: Net and Nylon fabric
Circumference: 22-24 inches
Color: Khaki
Pros
Snap closure
Removable neck flap
Waterproof
Adjustable chin strap
Sweatband
Two side riser vent
Cons
Not stiff enough to support the net
Price at the time of publication: $19.98
Geartop Wide Brim Sun Hat keeps you cool, ensuring that your head stays ventilated and comfortable. The adjustable drawstring helps to keep the hat in place throughout the day. This hat is designed for outdoor activities like gardening to protect you from sun and heat. It is lightweight and can be easily folded to fit into any purse. In addition, it offers quick-drying properties and also absorbs sweat.
Specifications
Material: Mesh
Circumference: 22 – 23.5 inches
Color: Khaki
Pros
Adjustable drawstring
Quick-drying
Windproof
Lightweight
Breathable
UPF 50+ protection
Cons
Price at the time of publication: $18.99
The Hapee Women's Garden Hat is made from 100% cotton fabric. It is reversible and has an elegant printed pattern. Its wide brim helps in blocking 97.5% or more of sun UV rays. Its cotton fabric acts as a great ventilated hat that keeps you cool and comfortable in summer. It is easy to clean, and steam ironing can fix the lines or creases on it. It also features a detachable button that can be pinned to both sides of the hat. It is suitable for all seasons and is perfect for gardening.
Specifications
Material: 100% Cotton
Circumference: 21.6-22.8 inches
Color: Gray
Pros
Removable button bow
Detachable chin strap
Skin-friendly
Breathable
Wide brim
Easy to clean
Cons
Price at the time of publication: $12.8
The Sunday Afternoon Sundancer Hat is ponytail-friendly with a PFC-free durable water-repellent finish. Its 4.5 inches wide sun-protective brim hat is ideal for long days in the garden. Its brim keeps the entire face shaded with UPF 50+ protection. This hat is made from 100% polyester and features a 7.5 inches pleated neck crepe that adds style and protects the back of your neck. In addition, its moisture-wicking sweatband absorbs sweat and is perfect for outdoor activity.
Specifications
Material: 100% Polyester
Circumference: 23.7 inches
Color: Amethyst
Pros
UPF 50+ protection
Moisture-wicking sweatband
Floatable
Water-repellent
Stain resistance
Ponytail-friendly
Adjustable chinstrap
Cons
Not ideal for rainy weather
Price at the time of publication: $28.02
The Solaris Wide Brim Sun Hat is designed for stability. This hat has a 5-inches wide brim, which gives good coverage while protecting your face from sun rays. It offers plenty of room for a comfortable fit. Its large brim has windproof hard material that is suitable for outdoor usage. It also has an adjustable chin drawstring that holds the hat in place for an extended duration. It can be folded and carried easily. It also features a breathable mesh on both sides and a built-in sweatband to keep your head dry and cool.
Specifications
Material: 100% Polyester
Circumference: 23.7 inches
Color: Olive
Pros
Windproof
Breathable
Quick-drying
Lightweight
Adjustable back toggle
Cons
None
Price at the time of publication: $11.99
Picking a perfect garden hat that protects you from the sun while being comfortable and lightweight at the same time can be challenging. Therefore, we have mentioned a few key parameters you must consider while buying a gardening hat.
Points To Consider While Buying Gardening Hats
Sun Protection: The primary objective of garden hats is to protect you from harmful UV rays. For people with sensitive skin or thin hair, increase sun protection on your head by looking at a UPF hat. But any wide-brimmed hat will provide enough shade to protect from the sun for most people. Most people prefer a 2-to-4-inch hem.
Comfort: You want your hat to fit comfortably for many hours in the garden. This means not wearing a very small hat or a very large one. Instead, we recommend that you try to find an adjustable hat or choose the right size for your head among the multiple sizes available.
Breathable: When buying a sun hat, people's biggest mistake is putting it in a cool, air-conditioned store without checking its breathability. Of course, you will get the best breathable material from natural, lightweight materials like cotton or straw. But you will find some hats made of synthetic fabric (such as polyester) with holes on the sides that can help in sweat absorption.
Easy to Clean: Choose a fabric or material which is easy to clean either by putting it in the washing machine or wiping it with a wet towel.
Why Trust StyleCraze?
The author, Baishali Bhattacharya, is a fashion enthusiast and enjoys trying out and reviewing new styles. She has extensively researched various gardening hats that protect you from the sun. Moreover, the products listed in this article are endorsed by numerous users through their reviews on trusted online platforms. These gardening hats are made of breathable material, have a wide brim, and look trendy.
Frequently Asked Questions
Why should I wear a gardening hat?
A wide-brimmed garden hat will not only protect your face, chest, and shoulders from sun damage but will also help keep you cool and protect you from the occasional rain shower.
What is the difference between a gardening hat and a regular hat?
A regular hat does not have many specifications except protecting you from the sun. At the same time, a garden hat has several other requirements which need to be fulfilled. For example, a garden should protect you from the sun, be lightweight, and sturdy.
Is wearing a hat better than sunscreen?
No. Hats simply cover some parts of your face from the sun's rays. Sunscreens block the rays from penetrating your skin and damaging it. So, use both while you are out in the sun for complete protection.
Can you get sunburned through a hat?
No. A hat provides sun protection to your eyes, head, neck, and ears and prevents sunburns. But the sun's rays may hit other parts of your body and cause sunburn. Therefore, apply sunscreen for complete sun protection.
Do sun hats actually work?
Yes. Sun hats like the broad-brimmed and bucket-style hats reduce the amount of UV rays hitting your face by 50%. So, they are effective in providing sun protection.
What color hat is the best for sun protection?
Dark blue is the best color hat for sun protection. It absorbs the UV rays and blocks them from penetrating the skin.
What color keeps you cool in the sun?
Colors like white, gray, and yellow reflect the sun's rays and keep you cool in the sun.
Do black clothes make you hotter?
Yes. Black clothes absorb the heat both from the sun and your body. So, wearing them in the sun makes you feel warmer.
Recommended Articles