15 Best Gels For Curly Hair To Try In 2023
Flaunt your curls and be a head-turner with these God-sent and must-have hair gels.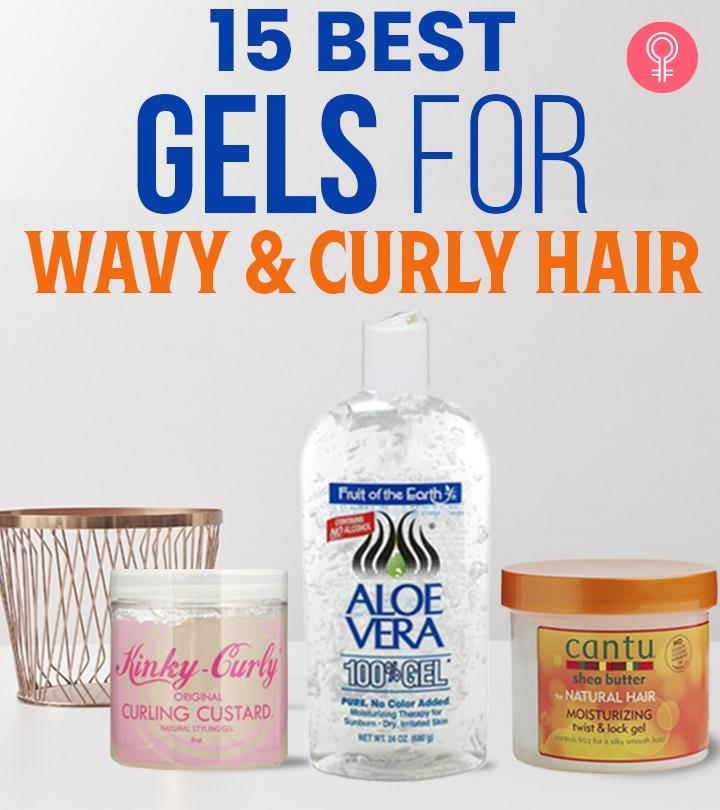 Curly hairs often tend to get messy if not treated well. They need some additional care to stay neat and defined. This is where the best gel for curly hair comes in handy. It manages the flyaways and your hairstyle. In addition, these gels help to keep your hair grease-free and moisturized. This article contains a list of the 15 best hair gels that you can use on your curly hair to add shine, strength, and grace. Check them out below!
15 Best Gels For Curly Hair In 2023
The Aunt Jackie's Flaxseed Elongating Curling Gel gives your curls, waves, and coils the right texture to look fabulous. It accelerates hair growth, improves scalp health, and prevents hair thinning. This paraben-free gel contains flaxseed, which is enriched with omega fatty acids that prevent scalp drying, flaking, and promote hair growth. This wash-n-go curling gel helps you get tight curls in no time and nourishes the hair. If you need further convincing, check out this YouTuber's review.
Pros
Promotes hair growth
Prevents thinning
Improves scalp health
Nourishes the hair
Paraben-free
Cons
Not suitable for sensitive hair
Price at the time of publication: $9.69
The Fruit of the Earth Aloe Vera Gel is non-oily and helps relieve dry and itchy scalp. It forms a protective barrier, helping retain moisture in the hair. It contains 100% pure aloe vera and no preservatives, artificial colors, fragrances, or alcohol. This cooling and soothing gel can be used as a shaving gel, hair styling gel, or to heal blemishes. It is certified by the International Aloe Science Council for purity and is cruelty-free.
Pros
No artificial colors
Preservative-free
Fragrance-free
Alcohol-free
Cruelty-free
International Aloe Science Council certified
Cons
Price at the time of publication: $23.08
The Cantu Shea Butter Natural Hair Moisturizing Twist & Lock Gel controls frizz and smoothens your curls. It rejuvenates the hair and makes it more manageable. This gel is best for twists and braid outs. It does not contain sulfates, parabens, and silicones. You can check this video out if you need to know more about the product.
Pros
Controls frizz
Smoothens the hair
Paraben-free
Sulfate-free
Silicone-free
Cons
None
Price at the time of publication: $5.38
The Kinky-Curly Curling Custard gives your natural, curly hair a perfect texture and pattern. It redefines your curls, eliminates frizz, and gives long-lasting hold. This gel imparts a sheer shine to your hair without drying or any greasiness. It is made with 100% organic ingredients like horsetail, botanical infusion of water, nettle, marshmallow, chamomile, agave nectar extract, aloe vera juice, pectin, and tocopheryl acetate. These ingredients moisturize and nourish the hair and scalp. This styling gel reduces bulk and elongates curls. To find out more about this product, check this video review out.
Pros
Elongates curls
Eliminates frizz
Long-lasting hold
Non-greasy
Cons
Price at the time of publication: $18.49
The Garnier Fructis Style Curl Treat with coconut oil shapes, refreshes, and redefines your curls with extra care. It is made with naturally extracted ingredients and has a 98% biodegradable hair strengthening formula that provides 24-hour frizz resistance. This curly hair gel does not contain sulfates, artificial colorants, mineral oil, parabens, or silicone.
Pros
Hydrates the curls
Reduces frizz
Paraben-free
Silicone-free
Sulfate-free
No artificial colorants
Mineral oil-free
Cons
Might feel greasy
Thick consistency
Price at the time of publication: $6.99
The Quidad Advanced Climate Control Heat & Humidity Gel makes your curls, waves, and coils manageable. The anti-frizz nanotechnology locks humidity, defines your curls, and tightens the curls throughout the day. It contains wheat protein and pliable styling polymers that form a layer of light weight, flexible lattice, which widens as the humidity level rises and holds the curls firmly. The proteins seal the cuticles and lock in essential moisture. This gel also protects your curls from heat and harmful UV rays and adds shine. It does not contain sulfates or parabens.
Pros
Controls frizz
Prevents flyaways
Non-sticky
Light weight
Sulfate-free
Paraben-free
Cons
Not suitable for all weathers
Price at the time of publication: $26.0
The Mop Top Curly Hair Custard fights frizz, improves natural waves, and adds shine to curly hair. It hydrates the scalp deep from the roots, imparting sheen to the hair. This hair styling gel is made with aloe vera, honey, and sea botanicals that provide maximum hold and moisture to the hair. It also contains silk amino acids, nettle, and honey that act as natural curl activators. This light weight curly hair custard is free of parabens, dyes, phthalates, and sulfates.
Pros
Light weight
Paraben-free
Dye-free
Phthalate-free
Sulfate-free
Cons
Price at the time of publication: $34.99
The As I Am Curling Jelly is an anti-shrinkage, anti-frizz, and flake-free formula. It gives you tight curls with vibrancy and buoyancy. This organic gel improves stretch to make your curly hair manageable. It is formulated with Nature's best moisturizers and curl boosters – aloe vera, pectin, vitamin E, and sugar beet root.
Pros
Minimizes frizz
Detangles the hair
Flake-free
Prevents shrinkage
Cons
None
Price at the time of publication: $22.95
The Curly Hair Solutions Curl Keeper has a water-based texture and helps control frizz and tighten the curls. This gel holds and reactivates the curls with water. The premium quality ingredients redefine the curls without any sticky residue. This light weight product is cruelty-free, vegan, and suitable for all weather conditions. It can be used regularly and does not contain silicones or harmful preservatives.
Pros
Light weight
Long-lasting
No harmful preservatives
Silicone-free
Controls frizz
Vegan
Cruelty-free
Can be used daily
Cons
Price at the time of publication: $19.0
The Miss Jessie's Quick Curls smoothens your curls without any fuss. The freshly scented conditioning formula is blended with ginger flower essence and lime fruit. This light weight gel tames frizz, plumps your curly hair, and adds shine.
Pros
Adds shine
Smoothens the curls
Tames frizz
Pleasant smell
Light weight
Cons
Not suitable for thick hair
Price at the time of publication: $15.99
The Curls Goddess Curl Botanical Gelle gives you frizz-free curls. It moistures and revitalizes damaged hair. This gel contains certified organic plumeria alba flower extract, shea butter, mango seed butter, and jojoba that refresh and redefine your curls.
Pros
Redefines curls
100% organic
Rejuvenates damaged hair
Cons
Price at the time of publication: $6.35
The Herbal Essences Totally Twisted Curl Scrunching Gel is color-safe and pH-balanced. It contains the essence of mixed berries for frizz-free hair. This gel has a Level 3 strong-hold formula to protect the curls from damage and provide long-lasting  hold. It can be used daily and does not contain mineral oil and colorants.
Pros
Controls frizz
Long-lasting hold
Mineral oil-free
No colorants
Color-safe
Cons
Price at the time of publication: $7.49
The Taliah Waajid Curly Curl "Gello" gives your curls long-lasting and strong hold. It is great for two-strand twists and chemically relaxed hair. This alcohol-free gel smoothens, moisturizes, and conditions the hair. It adds shine to the hair without making it crunchy or flaky.
Pros
Smoothens the curls
Alcohol-free
Controls frizz
Adds shine
Cons
Price at the time of publication: $9.99
The Alikay Naturals Aloe Berry Styling Gel prevents hair damage caused by traditional styling. It contains berry extract, essential oils, aloe vera gel, and botanicals that hydrate your hair. This alcohol-free gel provides medium hold for natural curls. The avocado oil enhances hair elasticity without dryness.
Pros
Alcohol-free
Prevents hair damage
Provides medium hold
Cons
Price at the time of publication: $11.97
The Curlis to Control II Gel contains antioxidants that protect your hair against extreme humidity, dryness, and heat. It tightens the curls, promotes hair growth, provides a strong curl hold, and improves scalp circulation. This alcohol-free gel contains soy protein that controls frizz and refines the hair.
Pros
Adds shine
Rejuvenates the scalp
Alcohol-free
Controls frizz
Cons
None
Price at the time of publication: $19.0
Women with curly hair must look out for products that are specifically made for curly hair as it needs a little extra care. Hair gels are a big part of maintaining curly hairstyles, and when it comes to choosing the right hair gels, one must invest in a good-quality product. Here are some important factors to consider while getting the best hair gels for your curly hair.
Things To Keep In Mind While Buying hair Gels For Curly Hair
When you look out for hair gels for curly hair, go for products that are rich in moisturizing ingredients. Look out for ingredients such as glycerin, shea butter, natural oils, aloe vera, silicone, protein, coconut, etc. Generally, curly hair is more likely to dry out faster than straight hair therefore, you must pick moisture-rich formulas in hair gels. You must avoid using hair gels that include ingredients that can dry out your hair such as alcohol, paraben, sulfate, mineral oil, artificial colors, dye, phthalates, and other harmful ingredients.
Hair gels come with different holding and lasting power. You can choose the hair gels according to your schedule as well, such as if you want to set your hair with hair gels just for 2 or 3 hours and classic light hold gels are the best choice for your hair. However, for all-day set hair, go for long-lasting formulas with strong hold.
Even with the curls, you must choose the hair gels according to your hair type. For dry hair, choose hair gels that contain aloe vera and other essential oils that can moisturize your hair and provide deep nourishment. For oily hair, select the hair gels that offer maximum hold and include jojoba oil, and other lightweight essential oils.
Hair gel consistency defines their holding powers. Thin-consistency hair gels are generally not strong enough to hold your hair for a long period of time. To effectively maintain your hairstyle, pick a gel with a thick consistency. Also, look for lightweight, non-greasy consistencies if you have oily scalp and hair.
The hold and moisture content of gels developed for waves and curls are typically incredibly high, giving curls a stiffer, stronger, more defined appearance. For curly hair, you must prefer spray and wax formula hair gels. Spray gels are easy to use and distribute the products evenly. Wax gels on the other hand offer more hydration but application can be uneven if not applied carefully. .
Why Trust StyleCraze?
The author, Shiboli Chakraborti, is a hair care enthusiast and loves to write reviews about hair care products. She has carefully listed these hair gels for curly hair, selected based on user reviews and feedback available on multiple forums and brand websites. The products listed in this post accelerate hair growth, improve scalp health, and prevent hair thinning.
Frequently Asked Questions
What does gel do for curly hair?
A gel for curly hair gives it a crunchy, noodle-like-finish, and moisturizes it from the roots.
How do you apply hair gel?
Always apply curly hair gel on damp or wet hair, scrunch, or spread with your fingers to cover every strand. Let it dry naturally or blow-dry to get your desired hair style.
Is gel or cream better for curly hair?
Both curl gel and cream have their pros and cons. Based on your hair needs, like moisturization, anti-frizz, definition, and shine, make a choice.
How much gel should I use for curls?
It depends on your hair volume and length. Mostly, a dollop (quarter size) of curling gel is enough.
Is aloe vera gel good for curly hair?
Yes. Aloe vera is light weight and contains healthy fatty acids that nurture your curls, tighten them, and impart shine.
Can conditioners be used as hair gels?
No.Using conditioners as an alternative to hair gels are not recommended as they leave a greasy residue on your scalp and hair.
Recommended Articles