7 Best Gel Nail Polish Removers, According to Reviews
This is all you need to take off your gel polishes and keep changing your nail style.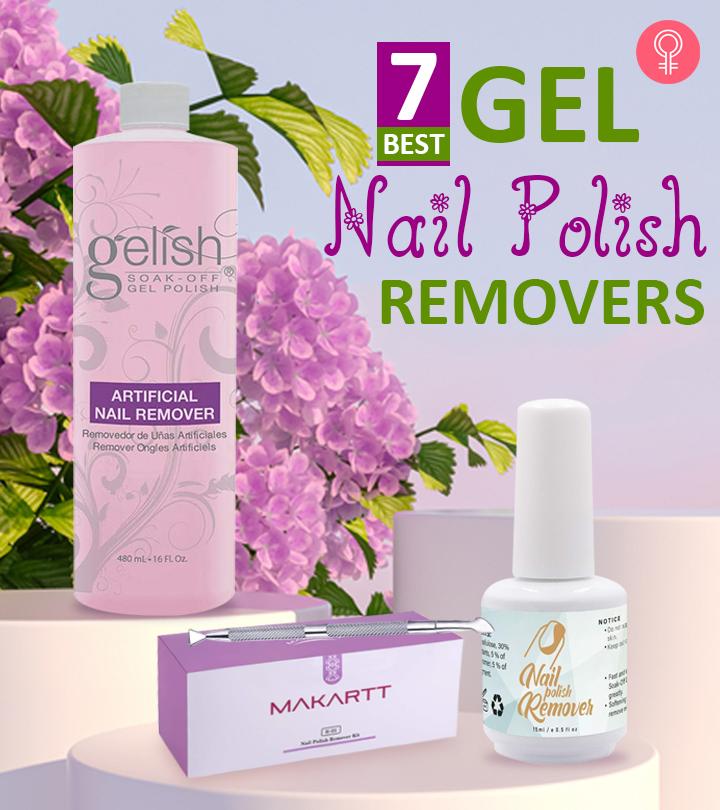 Gel nail polish tends to stay on for weeks, unlike regular ones. So, if you want to keep changing the style and design frequently, you need to get your hands on the best gel nail polish remover. While you can also visit a nail salon for the same, it might not always be feasible as and when you want. That's when a gel nail polish remover comes in handy. To get you started, we have shortlisted the 7 best gel nail polish removers for you to choose from.
What's The Difference Between Nail Polish Remover And Gel Nail Polish Remover?
Most regular nail polish removers are effective at removing gel polishes. But, the process is long and can damage your skin and nails. Gel nail polish removers contain hydrating ingredients and moisturizers that protect your skin, nails, and cuticles. They also remove gel polish with ease and are not harsh on your nails.
Now, let's check out the nest gel nail polish removers available right now.
7 Best Gel Nail Polish Removers
This convenient steam gel nail polish remover by Eurobuy is ergonomically designed and easy to use. The compact machine uses a combination of water vapour and heat to soften the gel polish. You can work on five fingers at a time, and the steam removal technique ensures safety and convenience. You do not have to prep your nails prior to using this machine. Just have to pour about 5 to 10 ml of the general solution into the machine, and the polish slides off in just 15 minutes. The device automatically turns off at a fixed time. This steamer is suitable for all kinds of gel nails – acrylic nails, shellac, etc. It reaches a maximum temperature of 52°C degrees and has an LED power indicator for added convenience. The body is made of high-quality ABS material.
Pros
Easy to use
Lightweight
Offers clean removal
Does not dry out your fingertips
Cons
None
Price at the time of publication: $39.99
Tired of following lengthy procedures to remove your gel polish? This instant polish remover by Americanails is the perfect choice for you! This versatile remover comes as foil wrapped over a thick cotton pad that is soaked in pure acetone. It does not contain any additives, fragrances, or water, and is also gentle on your skin. It effectively removes gel nail polish, acrylic nails, dip powders, and fabric wraps. You simply need to tear the foil, insert your finger, wrap it, and pull out your polish.
Pros
Easy to use
Compact
Less time-consuming
Cons
Price at the time of publication: $9.99
This gel polish remover by Gelish removes your gel polish with ease in just 10 minutes. It is enriched with conditioning additives that keep your skin and nails healthy and prevent them from drying. This saturated nail polish remover can be used for the gel as well as acrylic nails.
Pros
Does not damage your cuticles
Hydrating formula
Good fragrance
Non-drying formula
Cons
Price at the time of publication: $27.99
This versatile nail polish remover kit by Makartt is the perfect choice for on-the-go polish removal. It comes along with a pre-cut foil and cotton pad that is super long and fits all your fingers perfectly. The double scraper in this kit is sturdy and helps slide off your polish with ease. This easy-to-use kit comes with 200 pieces of foil wraps and is ideal for personal as well as salon use.
Pros
Durable foils
Mess-free
Convenient to use
Reasonably priced
Cons
Price at the time of publication: $9.99
This clip-on gel polish remover wrap by HiMo is easy to use and holds your cotton pads in place. It is designed with flexible springs that allow you to open and close them efficiently. They are made with heavy-duty plastic and a reusable dash that does not burn a hole in your pocket. The sleek design makes it compact and convenient to store. It comes in a pack of 10 and also acts as a scraper to easily push down the gel polish.
Pros
Clips stay intact
Easy to use
Sturdy material
Less messy
Cons
Clips may be slightly tight
Price at the time of publication: $4.98
This unique nail polish remover by Reazeal is super effective and easy to use. It comes in a value-added set of two. The solution has a very gentle scent and is made with natural ingredients that do not irritate your nail beds. You just have to apply the remover onto your nails, wait, and peel them off. It does not leave any residue and gets the job done without being messy. This product can be used to remove the matte top coat, top coat, base coat, 3D nail decorations, etc.
Pros
Easy to use
Safe formula
Mild scent
Natural ingredients
Cons
None
Price at the time of publication: $9.98
These convenient polish remover wipes by PinPai are a must-have in your vanity. They work wonders on cat eye, lazer, and platinum gel polishes. The pads come in a set of 200, which makes them ideal for professional use too. The outer foils are super thick and wrap perfectly around your fingers for easy removal. It takes just about 5 minutes to get the job done. This polish remover is non-toxic and does not contain any alcohol or acetone. Therefore, it does not cause any irritation to your nail beds or skin.
Pros
Mild scent
Toxin-free
Cruelty-free
Easy to use
Cons
Does not work on shellac polish
Price at the time of publication: $9.99
That was a round-up of the best gel nail polish removers. Confused about which one to invest in? Here's a comprehensive guide of features to consider before investing in a gel nail polish remover.
Features To Consider Before Buying A Gel Nail Polish Remover
1. Acetone vs. Acetone-free
Acetone: Acetone is a flammable solvent that is used to remove nail polish. It has a very strong scent and can be harsh on your skin and nails. If your nail polish remover has a higher percentage of acetone, it is more likely to get the job done in a jiffy. However, it can cause your cuticles to split and dry out, thus leaving your nail beds at risk of infection.
Acetone-free: Acetone-free or alcohol-free gel polish removers are weaker compared to acetone-infused ones. These removers contain natural oils that help hydrate your skin and nails. They may also contain scented essential oils for a luxurious feel.
2. Liquid, Pad, or Brush
Liquid: Most gel nail polish removers come in a liquid form. They are less expensive and all you have to do is soak a cotton ball in the solution and work it on the nail.
Pad: Pad nail polish removers often come in sets and are saturated with solvents. You need to place the pad on your nails and let it soak for a while to remove it. They are convenient to use but more expensive than liquid removers.
Brush: This kind of gel nail polish removers come in a little tub along with a brush and sponge. The sponge is placed on the opening of the tub, and you place your finger in the solution through the hole given in the sponge. Then you gently scrub the nail polish with the brush. Although this method is a lot more convenient and less messy, it finishes off quickly and is also expensive.
3. Hydration
Using a gel polish remover that contains moisturizers and essential oils can prevent permanent damage to your skin and nails. Keep in mind that polish removers that include hydrating ingredients can be quite oily, but these ingredients – when rubbed into your skin – can be super moisturizing.
Want to do your nails with gel nail polish but don't know how to remove it correctly once the time comes? Here's a quick guide on how to get rid of that gel nail polish once you're done.
How To Remove Gel Nail Polish
Gel nail polish is more long-lasting than your regular nail polish. Its durability can make it very hard to remove. Here are a few steps to follow for easy and effective gel polish removal:
Gather Your Materials: Take 10 cotton balls and 10 pieces of aluminium foil that are cut into large rectangles to enclose each fingertip. Also, have your skin lotion and nail file close by.
File Your Nails: Filing your nails helps remove the top coat of your nail polish. You need to file until the shine is gone.
Apply Lotion Around Your Nails: This step keeps your skin from drying out. Do not skip it!
Place The Cotton Balls On Your Nails: Soak a cotton ball in some nail polish remover and place it over your finger nail, making sure the cotton covers the entire nail surface.
Wrap With Aluminum Foil: Encase your fingertips and cotton ball inside the aluminium foil. This makes sure the remover stays in place. Repeat on all your fingertips.
Wait For 20 Minutes: Let your fingernails soak for about 20 minutes. If the polish has been on your nails for a long time, give it a few more minutes.
Remove The Cotton Balls And Foils: Press down the foil and jiggle the cotton ball back and forth gently. Slide off the foil along with the cotton ball and your gel polish should come right off.
Why Trust StyleCraze?
Baishali Bhattacharya, the author of this article, is certified in makeup artistry. She likes experimenting with nail art and colors. This well-researched list of the best gel nail polish removers available on the market is curated after extensive research. These gel nail polish removers do not dry out the nails and cuticles. They are easy to use and lightweight.
Frequently Asked Questions
Is it OK to peel off gel nail polish?
No, do not peel off gel nail polish while removing it.
Does gel polish ruin your nails?
No, gel polishes are not bad for your nails. They are easy to remove with the right, damage-free gel nail polish remover.
Does 80% acetone remove gel nails?
Yes, any gel nail polish remover with at least 50% acetone can easily remove gel nails.
Can I remove gel nail polish with hot water?
No, it is difficult to remove gel nail polish with hot water. Before using acetone, soak your nails in lukewarm water to loosen your nails.
How long does gel nail polish remover last?
A gel nail polish remover can last you a couple of uses. However, it all depends on the type of the product. For instance, the Makartt Nail Polish Remover Kit can last you up to 20 uses for all nails.
Recommended Articles