10 Best Gel Top Coats For Nails In 2022 – Buying Guide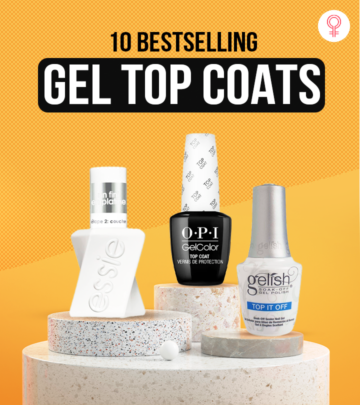 The best gel top coat protects your gel nail polish from cracking or fading away. It forms a protective layer and adds a lasting shine to your manicured nails. Well-set nails look lovely till your paint chips away a little or fades to a lighter shade. You can now enhance the longevity of nail paint for up to three weeks with the help of a good-quality gel top coat. Go ahead and check out the 10 best gel top coats to make your manicure last longer than usual.
10 Best Selling Gel Top Coats of 2022
The Sally Hansen Miracle Gel Nail Polish Shiny Top Coat gives your nails a salon-like finish while sitting at your home. This gel nail polish top coat can last up to 8 long days to prevent chipping and fading of your nail art. You don't need any UV or LED light to set it, and it comes in more than 80 shades. Featured with a high shine, this topcoat is easy to wear and can also be removed like your regular nail polish.
Pros
 High shine
 Lasting stay
 Easy to wear
 Easy to remove
 Available in more than 80 shades
Cons
Essie's Gel Couture Platinum Grade Finish Top Coat is a quick-drying topcoat that seals and protects the gel nail polish while revealing intense shine. This chip-resistant and flawless finish top coat prevents your nail paint from fading and increases longevity. You don't need to use any base coat if you are topping up your nail paint with this top coat. It comes with swirl steam and a curve-hugging brush to let it apply with ease.
Pros
 Quick-drying
 Long-lasting
 Chip-resistant
 Non-fading
 Easy application brush
 Toluene-free
 Formaldehyde-free
 DBP-free
 Dibutyl phthalate-free
 Triphenyl-free
 Tosylamide-free
 Camphor-free
 Phosphate-free
  Xylene-free
Cons
This gel effect top coat from Seche Vive is fade-free and offers a lasting finish. Its non-chip capability prevents the nail paint from becoming dull over time – it keeps them fresh and shiny for a long time. The quick-drying formula of this topcoat provides plumping effects without any need to pass it through UV or LED light. This durable nail topcoat protects the nails from yellowing while offering them strength and durability.
Pros
 Long-lasting
 High shine
 Protective
 Non-yellowing
 No staining
 Strengthening
 Paraben-free
 Sulfate-free
 Triclosan-free
 Vegan
 Cruelty-free
Cons
Get salon-quality nails with Revlon ColorStay Gel Envy Diamond Top Coat! This high shine topcoat is exceptionally crafted to use with ColorStay Gel Envy nail polish and uses diamond flex technology to prevent chipping. In addition, it features a wide-angle brush for smooth and bubble-free application.
Pros
 Professional quality
 Glossy finish
 Chip-resistant
 Easy applicator brush
 Available in 46 shades
Cons
Suitable for chrome, mermaid, aurora, holographic unicorn, and chameleon nail powder, this natural resin-made PrettyDiva UV Gel Top Coat offers long-lasting shine while being non-shrinkable. Compatible with LED or UV light, this topcoat is quick-drying and is non-wipe. It lasts up to 21 days or more to keep your gel nail paint alive while being non-toxic and healthy at the same time.
Pros
 Long-lasting
 Eco-friendly
 Non-toxic
 Low smell
 Non-shrinkable
 Quick-drying
Cons
The OneDor No Wipe Top Coat is a UV or LED light-equipped gel topcoat that works with all sorts of nail polishes. It doesn't contain harsh additives that can damage the nails and prevents nails from drying or aging. It is solvent-free and does not produce any toxic odor or fumes.
Pros
 Solvent-free
 Acetone-free
 No foul odor
 Formaldehyde-free
 Easy to wear and remove
Cons
 It takes too long to dry.
Offer your nails a long-lasting and intense shine with the Kiara Sky Soak-Off Gel Polish NON-WIPE Top Coat that cures under an LED or UV lamp in a couple of minutes. This color-resistant topcoat gives a professional touch to the nails from the comfort of your home.
Pros
 High shine
 Easy application
 Color-resistant
 Non-wipe
Cons
The Gelish Soak Off Gel Polish offers long-lasting and intense shine to reveal salon-finish nails. Its non-dull and chip-resistant formula is easy to wear and remove, which also gets cured under an LED or UV lamp in just a couple of seconds to minutes.
Pros
 Long-lasting formula
 High shine
 Easy to wear
 Easy to remove
 Chip-resistant
 No dullness
Cons
The OPI GelColor Gel Clear Base and Top Coat has a high shine and long-staying formula that offers intense color for up to 3 long weeks. Available in multiple shades, it is required to be cured for just 30 seconds under an LED light to get the desired outcome. It also promotes healthy nails while locking the nail color perfectly.
Pros
 Long-lasting
 Strengthens nails
 Stay true color
 Intense shine
Cons
The Mineral Fusion Gel Top Coat adds plump and shine to your nails. Its long-staying formula requires no UV light and is chip-resistant. Plus, this nail top coat comes with an extra thick brush to let you apply it on your nails with ease, flawlessly.
Pros
 Long-lasting
 Chip-resistant
 Carbon-free
 Paraben-free
 Xylene-free
 Formaldehyde-free
 Toluene-free
 DBP-free
 Camphor-free
 No triphenyl phosphate
 No ethyl tosylamide
 Vegan
 Cruelty-free
Cons
What To Look For In A Gel Top Coat
While getting yourself a gel top coat for your nail art, consider the foloowing factors:
Look for a quick-drying formula that doesn't take hours to dry. A topcoat that dries quickly won't get spoilt easily.
Always invest in a long-staying topcoat to prevent the hassle of reapplying nail paint again and again.
A top coat that is prone to chipping or fading won't be able to serve the purpose well, so go for a chip-resistant and non-fading top coat to keep your gel nail paint intact.
How To Apply Gel Top Coat
Follow the below steps to apply gel topcoat:
Step 1: After applying and drying your nail paint, apply a layer of gel top coat over the same.
Step 2: If there is a need to apply another coat, do that, followed by letting it cure under UV or LED lamps. Some nail top coats do not require to be cured.
Step 3: Now, just wait for the topcoat to get completely dry.
The benefit of using a topcoat is to seal and protect your nail polish to give it a lasting stay without fading and chipping. Our list of 10 bestselling gel top coats does exactly that. Pick one from the list and you won't ever have to worry about your nail paint chipping away!
Why Trust StyleCraze?
Baishali Bhattacharya, the author of this article, is certified in makeup artistry. In this article, she lists the best gel top coats to use on your nails. She researched and investigated many nail polish brands and their reviews before settling on the above-mentioned list. She recommends these products based on their shine, finish, shade variety, chip-resistance, and more.
Frequently Asked Questions
What is the difference between gel top coat and no-wipe gel top coat?
A gel topcoat is required to be cured under a UV or LED lamp. But, you don't need to wipe or cure a no-wipe gel top coat under a UV lamp; it works like your regular top coat.
Can we use regular nail polish with a gel top coat?
Yes, a gel topcoat can be used with regular nail polish.
Can we use gel top coat on dip powder?
Yes, you can use a gel topcoat with a dip powder.
Recommended Articles