30 Best Gift Ideas For Your Grandpa That Will Make Him Smile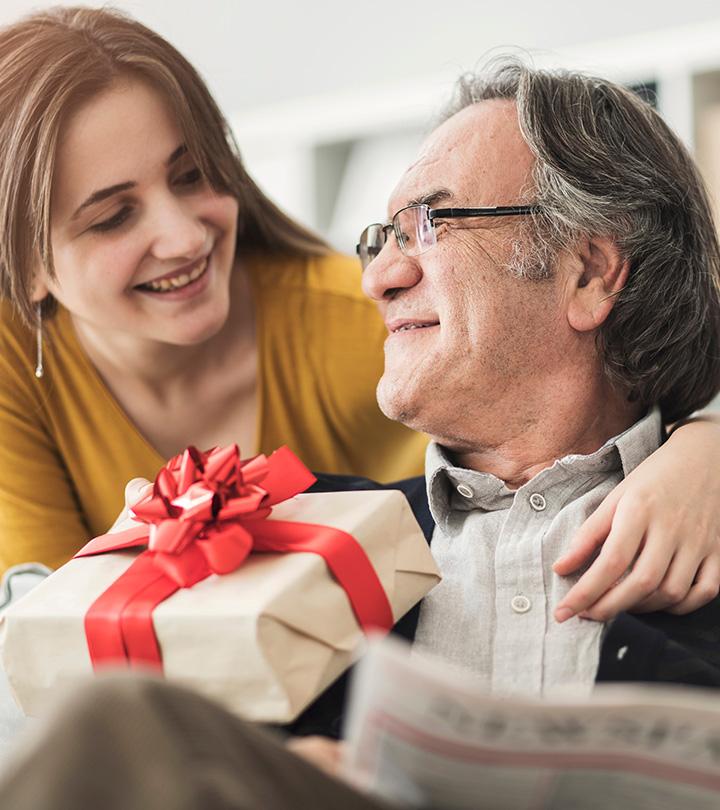 What can you gift your grandpa, someone who never wants anything more than you being around them? Well, as tough a question as it might be, why not take things up a notch and show your grandpops how much you love and care for him? In this post, we have listed the top gift ideas that could be ideal for your grandpa – ranging from personalized gifts to products he may find useful in his everyday life. Scroll down to find a list of 30 meaningful and thoughtful gifts for your grandpa.
30 Best Gift Ideas For Grandpa
Do you want to give your grandpa a surprise Father's Day gift that will make him instantly happy? Why not give him the Timex Weekender Chronograph Watch?
The Timex Weekender has a quartz analog display with three underlying chronographs. The blue dial has a date window at 4 o'clock. The luminous hands make it easy to view the time at night or in areas with poor lighting.
It has a double-layered leather slip-through strap. The interchangeable quick-release straps make it easy for your grandpa to match the watch to his outfit and occasion.
Features
 

Scratch-resistant

Indiglo light-up watch dial
Luminous hands
Water-resistant up to 30 m
Your little joy of bundle just arrived, and you want to share the good news with your grandpa. But he's miles away! Are you thinking of how to go about this? Why not get him a Skylight WiFi digital picture frame? This the best sentimental gifts for grandpa.
With this, you can send beautiful pictures to him through email with ease. Your grandpa will get to live through the moments with you. Each Skylight Frame has its own email address, so you can send the photos directly to the Skylight Frame from any corner of the world. This is perfect for the bedroom or living room and is extremely easy to use.
Features
10" color touch screen
Can store over 8000 photos
High resolution
Effortless to use
Are you thinking of a gift for grandpa that is unique? How about giving him this decorative family tree chart at the family reunion? It is a beautiful work of art that will be awesome for grandpa's living room.
You only need to get in a comprehensive list of your grandpa's bloodline. You can source it online (or maybe just ask around). You can preorder your family tree, and your grandpa would be wowed, for sure.
Features
 

Anti-decay frame

The paper is easy to write on.
It's your grandpa's birthday, and if you are still wondering what to pick for him, here you go.
ThisEDT spray for men has a strong aura with its distinct scent.
It has bergamot, cardamom, and black pepper in the top notes. Ambroxan, tiramisu, and orange blossom constitute the middle notes, while sandalwood, tonka bean, and cashmere wood constitute the base. It is suitable for all kinds of outings and formal gatherings.
Features 
Classy, woody scent
Organic ingredients
This pair of UGG Men's Scuff Slippers is made from suede and has sheepskin lining that keeps the feet cushioned. The leather outsole ensures a perfect grip.
These slippers are super comfortable and do not cause soreness to the feet. Your grandpa can wear these both inside the house and outside it. He can also wear it during non-formal family gatherings or even while making barbecues in the backyard.
 Features
 

Made of suede

Rubber sole
Sheepskin lining
Does your grandpa complain of sore feet? Then, this pair of men's comfy house shoes from LongBay can be the perfect gift for him this Christmas.
These loafers are lined with soft plush fleece that keeps his feet comfortable. They perfectly combine the comfort of slippers with the safety and fit of outdoor shoes. The shoes contain memory foam that cushions every step. The insole helps in relaxing the arch and soothing foot pain that arises due to walking or standing for long periods. The non-slip rubber sole prevents skidding.
They come in three colors, and your grandpa can wear them to run small errands.
Features 
Adjustable elastic component enhances flexibility and durability
Machine-washable
Soothes foot pains
Does your grandpa keep walking around the living room in search of the TV remote when it's time for his favorite show? Don't worry, here's a solution. Gift your grandpa this sofa arm tray table.
The sofa tray has been brilliantly designed to fit square and rounded chair arms. This arm tray can also be used to organize snacks, drinks, and even place mobile phones. Your grandpa would be able to enjoy his favorite drink while watching his favorite TV show.
 Features 
Available in different sizes
Weighted sides keep it in place
Foldable
The bedside caddy is used for organizing TV remotes, reading glasses, car keys, books, magazines, and/or tablets. If your grandpa is the type that reads magazines every morning while in bed, then a bedside caddy is the best gift for him.
Imagine the smile on his face when he wakes to see his favorite magazine beside him, along with his reading glasses. He sure would fondly remember you for your kind gesture.
 Features 
Multipurpose
Has a self-adhesive
Durable
Resilient design
Can accommodate large items
Are you looking for a simple gift for your grandpa? Consider giving him this wallet that has anti-theft features.
This compact card holder is made of high-grade aluminum and will fit comfortably in any pant, trouser, or shirt pocket. It can carry up to 12 cards. It also comes with RFID blocking protection, which means it blocks signals used by skimming devices. The unique push and pinch technique makes it easy for him to access cards. The beveled top edge makes re-inserting cards easy and prevents scratching.
Features 
Can carry 12 cards
Lightweight and easy to fit into pockets.
Scratch-resistant
Resilient
Has your grandpa been having issues with broken reading glasses? Why not get him a pair of foldable reading glasses? This is one of the best innovations of modern-day technology.
The glasses have plastic lenses that are custom-made to enhance reading. They are also durable. The frames are a pivotal component of the reading glasses. They are the foldable parts.
The folding feature allows for the glasses to be easily stored. The glasses also have a belt loop to help keep them around your grandpa. These glasses come along with a nylon zipper case.
Features 
Foldable frames
Slim
Can be customized
This is an ideal winter gift for your grandpa. The socks are made of 80% cotton, 17% polyester, and 3% spandex. The mesh design on the top ensures proper ventilation and moisture-wicking, keeping the feet feeling fresh all day. The special higher heel design protects the ankle and makes it easy to pull up the socks while wearing shoes.
Features 
Machine-washable
Durable
Soft, skin-friendly
These leather gloves not only look classy but can also keep your grandpa's hands warm while driving. The wooly inner of the gloves keeps the hands warm at all times. The outer material has been designed to encourage normal finger movement. Primarily, the gloves can be used to swipe the screens of touch devices without having to pull them off.
Features 
Made of polyester, wool, nylon, and cashmere
Give a firm grip while operating touch devices
Comfortable and soft inner layer
One of the best gifts for grandpa to help him sleep like a baby at night! The adult weighted blanket from Quility is a therapeutic product. It is made from natural materials, like cotton and polyester, that are gentle on the skin. The blanket does not readily absorb dirt and can be used for a long time. It is one of the best gifts for grandpa from granddaughter.
It has been tested and approved by many users. It claims to provide relief to insomnia patients. Give grandpa the comforting rest he needs by getting him this unique gift. Make sure to check his weight and arrive at the blanket he should use before placing an order.
Features 
Very comfortable.
Feels soft on the skin
100% cotton outer layer
Has detachable parts to help adjust the weight
The Adidas quarter-zip pullover jacket one-of-a-kind. It can serve as a pullover as well as a jacket. It is made of polyester. It has front zip pockets, where you can store your phone and keys, and a half zip with a stand-up collar and a droptail hem for extra coverage.
Features 
Machine-washable
Adjustable zips
Collapsible collar
This is something for the grandfather who is a sports lover. He would absolutely love to add this polo shirt to his array of sports clothing. This would make for a great birthday gift.
The shirt is comfortable and is best worn to polo games, golfing, or a football game. The material is breathable and has anti-odor technology that prevents the growth of odor-causing microbes.
Features 
Made of polyester
Adjustable zipper
Available in various colors
Can be easily washed
This game set is a unique gift for grandpa. The set includes tactical games like chess and poker. It also includes backgammon, checkers, dominoes, playing cards, and cribbage. This set can keep grandpa busy with his grandkids through the holidays. Here's the perfect gift if your grandpa is all about solving problems and putting the brain to work.
Features 
Contains 7 games
Durable
Easy to use
Has your grandpa been confined to his house for a long time? Allow him to have a change of scenery by getting him this foldable chair.
The chair can be used for all outdoor occasions. No more excuses for cramps and pains from standing too long! You can take grandpa along to family camps, fishing, family barbecues, and other family gatherings he has been missing out on. The chair comes with an armrest and a table. 
Features 
Lightweight
Portable
Easily collapsible
This tumbler comes with a stainless steel coat and vacuum insulation to help grandpa keep his favorite drinks at the required temperature. This piece is best suited for outdoor use. The next time grandpa goes on an outing, he can take his liquid supplement alongside his go-to drink. It is one among the good gifts for grandpa.
This cup is custom-made to shelter both hot and cold drinks at the temperature desired. This is definitely one of the best gifts for grandpa that is suitable for external use.
Features 
Can be used for storing beverages
Keeps drinks at a regulated temperature for a long time.
This customized beer mug has a fairly large capacity. It is sturdy and easy to hold. It is great for drinking chilled drinks as the thick glass preserves the temperature of the drink. It has a chip-resistant rim for safe drinking. You can get this for him as a Christmas gift. It is the best among the personalized gifts for grandpa.
Features 
Made from premium-quality glass
Dishwasher-safe
What better way to put a smile on your grandpa's face! Use this mug that speaks volumes about how much you adore him. This is one of the best Father's Day gifts for grandpa.
This ceramic mug is large and suitable for drinking tea, coffee, and every other beverage. This mug is easy-to-handle and not so heavy. The print is vibrant and long-lasting.
Features
Microwave-friendly
Dishwasher-safe
Let your grandpa think of you when he brews his morning coffee. Get him this coffee maker as a gift this Christmas.
The machine comes with Auto-IQ One-Touch Intelligence Technology that brews hot coffee or tea, depending on your choice. It is easy to operate and can brew multiple brew sizes. The built-in frother helps turn hot or cold milk into froth within seconds.
Features 
Comes with a thermal carafe
Brew multiple brew sizes
Auto-iQ One-Touch Intelligence Technology
Built-in frother
This waffle maker has a brushed stainless steel exterior. The non-stick interior is easy to wipe. It makes Belgian waffles that are cross-sectioned into easily divided segments. It has a dual function base that facilitates convenient rotation for baking. It can also be stored vertically, which saves space. The portable kitchen gadget is made from plastic and stainless steel. This assures the equipment is not easily stained. The maintenance of the waffle maker is stress-free.
Features 
Countdown timer
Flips 180 degrees to spread batter evenly
Comes with a user manual
Steve and Andy's cookies are made from organic ingredients and are allergy-free. They do not contain gluten, peanuts, tree nuts, or any junk ingredients that could be hazardous to grandpa's health. These vegan chocolate chip cookies come in three variants – Vegan Oatmeal Coconut, Oatmeal Raisin, and Vanilla White Chocolate – to please all palates.
Features 
Airtight packaging
Made with all-purpose organic and gluten-free flour
Here's a set of whiskey glasses that would make a perfect gift to help grandpa cool off after the day. The tumbler set contains four crystal glasses. It is one of the cool gifts for grandpa.
These large and versatile glasses are made from the best quality lead-free crystal. The thick base and sides help insulate the drink and retain its temperature for a long time. The elegant twisted design of these glasses makes them a must-have for parties.
Features 
Virtually unbreakable
Value for money
Revolutionize your grandpa's evening shots of chilled brandy with these chilling stones. These are made from soapstone. The soapstone can be stored in a cold environment (usually in a freezer). It has the ability to retain the temperature for a long period.
All you need to do is place them in a freezer before and after use. They should be rinsed after use, however. The stones give a crisp taste, unlike ice cubes that water down the taste of drinks.
Features 
9 stones per pack
Certified safe for use
Suitable for all types of drinks, beverages, whiskey, and beer
This beard grooming care kit contains a comb, brush, scissors, styling brush, and beard keeping ointments. The kit also comes with an e-book on beard maintenance and a free phone ring holder. All of these products work well together to groom and style the bear by aiding healthy beard growth and soothing itching and irritation. The bib makes it easy to catch facial hair clippings and prevents clogging of drains. It is one of the unique gifts for grandpa.
Features 
The beard wash, oil, and wax are made from natural ingredients that help keep the hair shiny.
Convenient to use
Portable
This set contains four pairs of cufflinks and four pieces of tie clips. They are made of healthy brass and have a smooth appearance. You should choose your grandpa's favorite color set. He can use these to complement his 3-piece suit.
Features 
Easy to bend
Durable
Convenient to wear
Is your grandpa still using his old CD player with its ragged speakers? Does he turn them to the loudest volume while going for a shower? If yes, it's time for a change!
Here is a unique gift for grandpa. A showerhead that doubles as a Bluetooth speaker. This product connects to grandpa's device and plays his favorite tunes even when he's taking his bath. What can be more relaxing than taking a warm bath and listening to those old-time blues?
Not only this, he could decide to continue with his podcast or audiobook. He doesn't have to stop his flow of thought again because he wants to shower. The speaker is durable, well perforated, and of high quality. It's a gift grandpops would love to have.
Features
Built with a surround sound system
Waterproof
Long-lasting battery
Can also be charged using a USB connection
The Kindle Paperwhite is a device that gives the feel of flipping through newspaper pages, just like old times. Only, this time, grandpa would be doing it digitally. This device comes with a large storage capacity of up to 32GB.
Fill the device with grandpa's favorite books, magazines, audiobooks, and podcasts from his favorite writers. Whenever he reads a book or listens to an audiobook, he is bound to think fondly of you.
Features 
Waterproof
Compatible with Bluetooth speakers
This is one of the best Christmas gifts for grandpa. The Samsung hub home speaker has Alexa on standby. All you need to do is connect the speaker to other smart devices in the house, and grandpa can switch off the lights right from his bed. The voice control of SmartThings is top-notch. Set up the hub to the home WiFi and get things running for grandpa with ease while he enjoys his time watching TV and sipping his favorite drink.
Features 
Works perfectly with most smartphones
Compatible with other SmartThings gadgets around the house
You are just a click away from purchasing the best gift for your grandpa. Do let us know which gift you have picked. Leave a comment in the box below. While at it, also remember to keep in touch with him. Appreciate the experience and insight he offers on various important matters and cherishes his presence in your life. Happy gifting!
Recommended Articles