30 Best Gift Ideas For Swimmers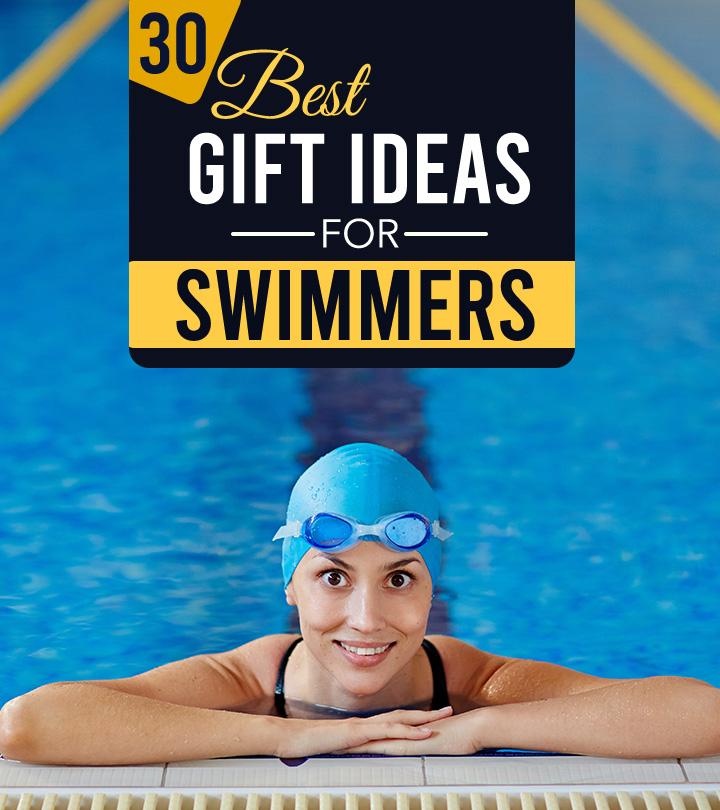 Swimming is a great sport, a fun pastime, and a hobby for a lot of people. The sport requires several swimming gear and tools. If you have a friend who loves swimming, this could be the right season to gift them something.
It is okay if you are not aware of the right swimming equipment. In this post, we have listed the top 30 gift ideas for swimmers. From kids to adults and from beginners to swimming professionals, you can find a suitable gift for everyone!
30 Best Gift Ideas For Swimmers
These goggles are anti-fog, leakproof, and offer UV protection. The flexible silicone frame and improved nose piece provide extreme comfort. These ensure the goggles never leave a mark on your face. They come with a protective case.
Key Features
Inner surfaces of the lenses are anti-fog
Outer surface of the goggles has a UV-protection coating
Polycarbonate lenses stay strong even in the toughest conditions
The Vifuur Water Sport Shoes work great for swimming as well as other adventure sports like kayaking or aqua yoga. The pair of shoes is available in various sizes and designs. They have a smooth neck design that prevents chafing. Their high-quality rubber sole protects the feet from getting hurt. The surface of the shoes is made of breathable fabric that offers great comfort.
Key Features
Breathable and smooth fabric with a fine stretch
Great for yoga training, beach sports, swimming, weight training, wake-boarding, sailing, boating, kayaking, windsurfing, cycling, jogging, walking, fishing, gardening, etc.
Anti-slip sole
Quick-dry material that also is flexible
The Stearns Original Puddle Jumper Kids Life Jacket can be a great gift for the little ones in your home, especially if they love diving into the pool often. With this life vest, you can teach swimming to your kids and let them play safely in water. The jacket is available in interesting designs, and the nylon shell makes it highly durable.
Key Features
Designed to fit snugly for added safety
Meets the requirements for use on boats, in public pools, and at water parks
Nylon shell for durability
Safety buckle snaps in the back
This Speedo Silicone Solid Swim Cap works well for swimmers with long hair. It also prevents water from entering the ears. The cap is made using premium quality silicone and is gentle on your hair. It hugs the head perfectly and reduces drag.
Key Features
1" high and 4.8" wide
Breathable and comfortable fit
Latex-free
Fits comfortably without any snagging or pulling
Can be stretched to double its original size
The Timex Mid-Size Ironman Watch is ideal for those who always track and record their performance while swimming. This watch is waterproof. It is lightweight and has a 50 lap memory. It is also equipped with an interval training timer and a countdown timer. The watch comes with an alarm too.
Key Features
Breathable, co-molded resin strap with buckle closure
Water-resistant up to 100m
Suitable for swimming and snorkeling (not diving)
Includes a large number display and a quick 5-button access to alarm
Has a 30-lap stopwatch memory
This bracelet can be the ideal gift for motivating wannabe swimmers. This personalized gift has an engraved mantra 'Just Keep Swimming' on its inner side. The bracelet is adjustable and fits most wrist sizes. The rounded edges of the bracelet keep it from scratching over the skin.
Key Features
Adjustable bracelet that fits most wrist sizes
Highly polished and exquisite
Round edges for smoother handling
Take your swimming practice to the next level with the FINIS Long Floating Fins. These fins are available in 10 vibrant colors. They are made of soft, natural rubber that enhances comfort. They offer ideal buoyancy, lifting one's legs to the surface of the water. This also enables the swimmer to find the optimum body position. These fins are suitable for women of all ages.
Key Features
Long blades are designed to increase leg strength and speed
Lift your legs to the surface of the water, reducing drag and improving body alignment
Soft, natural rubber for increased comfort
The Beautyin Women's One Piece Swimsuit offers comfort and enables one to control their swimming movements like a pro. It is made of 82% polyester and 18% spandex. It has a pull-on closure and a Boyleg design. The swimsuit is made of chlorine-resistant material.
Key Features
Available in Racerback and U-back versions
Boyleg design
Double lined and built-in bras
Chlorine-resistant
Offers modest tummy control
The Greatever G2 Full Face Snorkel Mask adopts a transparent flat lens made of high definition premium PU resin. It prevents vision distortion and eliminates underwater dizziness. It has a motion camera mount that helps you explore the underwater world. The mask also offers comfortable and smooth breathing.
Key Features
Made with high-quality silicone for a leak-proof effect
Comes with a removable motion camera
Silicone layer inside the mask isolates air from the nose and mouth
Offers comfortable and smooth breathing
The Holipick Women Two Piece Tankini Swimsuit could make a thoughtful gift for professional swimmers. This floral printed swimsuit is available in several colors and has a high-halter neck pattern. It is fashionable and striking to the eyes. The material is soft and has good elasticity. It suits the best for swimming, beach vacations, pool parties, etc.
Key Features
Fashionable, bold, and colorful beach/swimwear for girls
High-neck design with neck hook closure
Padded push-up bra for support and shape
Good elasticity
The Scodi Women's Surfing Leggings are best suited for recreational swimmers looking for something stylish and appealing. The swimming tights are uniquely designed with a contrast of black. They are super flexible, athletic, and fashionable. The seamless knit construction is good for a free-flowing movement and helps minimize irritation caused by chafing.
Key Features
Perfect multi-use leggings for fitness activities like surfing, swimming, diving, and yoga
Nylon with high elasticity and smooth fiber
Can be stretched to fit your body well
Offers perfect shape recovery
Dries quickly and is breathable
The BALEAFWomen'sAthleticTraining Swimsuit is well-fitted and flexible. It is a perfect fit for professional swimmers and adventurers. The swimsuit is made of 90% polyester and 10% spandex that offer proper stretch and flexibility. The durable polyester fabric lasts longer than the traditional nylon fabric. The swimsuit is also chlorine-resistant.
Key Features
Fully-lined product prevents fabric transparency and gives support
Built-in shelf bra with soft removable cups and adjustable shoulder straps
Chlorine-resistant
The AqtivAqua Wide View Swim Goggles are the perfect gift for outdoor swimmers. The glasses have wide polycarbonate lenses with anti-fog coating. They also offer 100% UV-protection and an undistorted 180° field of view above water and underwater. The ultra-soft double seals expand and contract to hug the unique contours of a swimmer's face. They achieve the right level of suction without applying excessive pressure around the eyes.
Key Features
100% UV-protection
Split strap design ensures fixed position during rigorous swimming
Easy adjusting of the size of the strap; can be done even while swimming
The Mgaolo Fitness Tracker works as an activity health tracker and monitors blood pressure and heart rate. It tracks calories and helps you record the impact of your all-day activities on your health. It also comes with a sleep monitor, pedometer, phone call reminder, sedentary reminder, etc. The tracker takes just an hour for a complete charge and lasts for 5 to 7 days.
Key Features
Offers all-day activity tracking
Single charge lasts for 5 to 7 days
Compatible with both iOS and Android smartphones
Multiple band color selections with adjustable anti-lost straps
The ZIONOR Snorkel Lap Swimming Mouthpiece allows for a healthy airflow and an adequate amount of oxygen. It also maximizes speed by 30%. The mouthpiece has a sleek hydrodynamic design that allows swimmers to swim effortlessly with minimal water resistance. Its front mount ensures smooth arm rotation and helps maintain body alignment and stroke efficiency.
Key Features
Thickened head-pad on the head delivers comfort
Durable food-grade and odorless material
Front mount ensures smooth arm rotation and improved body alignment
Improves speed by 30%
With the VIAHART Swimming Kickboard, you can practice strokes with much ease. This kickboard is made of EVA foam that is free of phthalates and formaldehyde. It is lightweight and highly durable. The kickboard is perfect for kick drills and general swimming training.
Key Features
7 x 11.8 x 1.2 inches kickboard
Phthalate-free
Formaldehyde-free
EVA foam improves support and flexibility
The Speed Hound Swim Buoy helps you keep your belongings safe while swimming on the beaches. This flotation device comes with a dry bag and a waterproof cell phone case for swimmers. The color of the buoy is bright and visible from a distance. It is noticeable against water for boats, kayaks, canoes, surfers, and paddle boarders.
Key Features
Large dry bag compartment can hold personal items like keys, credit cards, money, phone, etc.
Bonus cell phone-specific dry bag
Comes with a secure strap
Portable
This TOYSHARING Back Float Safety Swim Bubble Belt can help kids learn swimming quickly. The belt offers better support and increased buoyancy, allowing the kids to be confident. The back float feature snap buckle is easy to adjust and stays tight. The buckles on the back free the arms for proper positioning and movement while swimming. The bubble belt is made of superior durable waterproof foam material.
Key Features
Durable and waterproof foam material
Colorful, vibrant, and safe floating bubble belt
Portable
The correct hand paddles can make swim training easier. These Synergy Hand Paddlescome in three different sizes. They are available with a broad-blade design for optimal water contact. The design also builds upper body strength. It also has holes that allow the water to channel through the paddles to ensure the fluidity of each stroke.
Key Features
Wide-area wrist and finger straps are adjustable for a secure fit
Works well for all age groups
Broad-blade design for optimal water contact
If you are looking for an encouraging gift for your friend who loves swimming,   consider giving her the Infinity Collection Swim Bracelet. This bracelet in silver and blue comes with metal charms. It is of adjustable length and can suit most wrist sizes.
Key Features
Blue and silver-tone infinity bracelet with metal charms
Easily suits for wrist sizes between 5″ to 7″
This Newton Bay Swimmer's Soap helps eliminate chlorine from the skin after swimming. Swimming in chlorinated water may have certain harmful effects. But you can remove the associated smell with this soap. One set comes with two 4-ounce soap bars that are made using olive oil, water, coconut oil, sodium hydroxide, organic palm oil, shea butter, organic aloe concentrate, and calendula flowers.
Key Features
Moisturizing and nourishing
Aloe vera soap feels incredible after a pool session on your skin and body
Wash away chlorine and other chemicals to revitalize your body with our sensitive skin formula
The 4Monster Microfiber Beach Towel is highly absorbent. You can pat your body dry after a rigorous swimming session. It is a sand-free, super-absorbent and premium quality towel designed for beach holidays, camping, swimming etc. The production of the towel does not use chemical dyes. The towel can dry in a short time.
Key Features
Absorbs moisture from the body quickly
Can be dried in a short time
Can be reused without waiting to dry
No chemical dyes
Comes with a mini drawstring bag for storage
The Sinus Saver Water Sports Nose Plug can keep water from getting into your nose while swimming. It may also prevent a sinus infection that can otherwise occur in susceptible individuals. This nose plug is a premium-quality product that can help reduce discomfort while swimming. The plug fits snugly into the nasal cavity and does not slip. It is made of high-grade medical-grade silicone.
Key Features
Nose plug perfectly fits into the nostrils
Available in different sizes
Prevents you from sinus infection and pool chemicals
Does not shrink, dissolve, or break with regular use
Soft and odorless
Comfortable to wear
This Athletico Swim Backpackcomes with wet and dry compartments to store your wet clothes and other important belongings separately. The bag has an elevated, padded laptop sleeve that cushions your laptop and keeps it safe. It has a waterproof tarpaulin bottom. It can hold your kickboard, towels, fins, goggles, and other extra clothes.
Key Features
Waterproof tarpaulin bottom
Large enough to hold your kickboard, towels, etc.
Available in vibrant shades
The CAPAS Snorkel Finsare travel-size and adjustable. They work perfect for snorkeling and diving. These are certified fins with filter pads that help them stay in shape when stored. They have soft heel straps with large thumb loops, making them easy to wear or remove.
Key Features
Comes with soft foot pocket
Flexible enough for barefoot use
Can also be worn with fin socks or dive booties
Lightweight and compact
This 2 in 1 Chlorine Body Wash And Chlorine Shampoo helps cleanse and nourish the skin soon after a swimming session. Swimming water usually contains chlorine and other harmful chemicals that may degrade skin health. This body wash and shampoo also helps remove chlorine odor, thanks to its citrus fragrance. It is a sulfate-free product that prevents skin irritation.
Key Features
Reduces chlorine odor
Citrus fragrance
Sulfate-free
The Swimbuds 100% Waterproof Headphones are designed for the flips and turns that happen while swimming. They come with a gold plated stereo jack that prevents corrosion. They are flanged and create a tight seal. There also is a waterproof audio extension cord. The headphones are available in four different earbud tip options.
Key Features
Flanged earbuds create a tight seal
Waterproof audio extension cord
4 earbud tip options
2nd generation Hydrobeat technology audio
The Hearprotek Swimming Ear Plugs can keep the water from entering the ears. These waterproof, reusable silicone earplugs work best for swimmers and others who love water sports. The earplugs are shaped to fit snugly inside the ears and lay flat against the outer ears. This proper fit helps prevent swimmer's ear (an infection). The plugs come with a reusable handy storage case.
Key Features
Made of silicone that is extremely soft and comfortable
Fits snugly in the ears
Helps prevent swimmer's ear
Reusable
Washable
Comes in bright colors
This YYST Swim Bungee Training Belt can be a great gift for people who want to learn to swim. The kit includes a waist belt, one stretch cord, one storage bag, and one loop. The waist belt is made of neoprene for added comfort. The belt extends to 40 inches. The bungee cord is 2 meters long and works perfect for adults and children.
Key Features
Made of neoprene, for added comfort
One installation loop that can be hung around any pole around the swim pool
Comes with a breathable and premium YYST storage mesh bag
The Speedo Men's Endurance+ Polyester Jammer Swimsuitmade using 50% polyester and 50% PBT. It has a drawstring closure for perfect fit and flexible movements. The Endurance+ fabric lasts 20x longer than ordinary swimwear. The swimsuit can absorb moisture and dries out as soon as you move out of water. The 4-way stretch technology allows one to move comfortably.
Key Features
4-way stretch technology
Lightweight fabric
Quick-drying
Long-lasting
Front gusset for breathable room around the crotch area
Swimming is a great sport. If you want your loved one to continue pursuing it, encouraging them with the right gift helps. Go through the list and check what suits your budget. Pick one or more, and see how your friend would love to use it!