30 Best Gifts For Car Lovers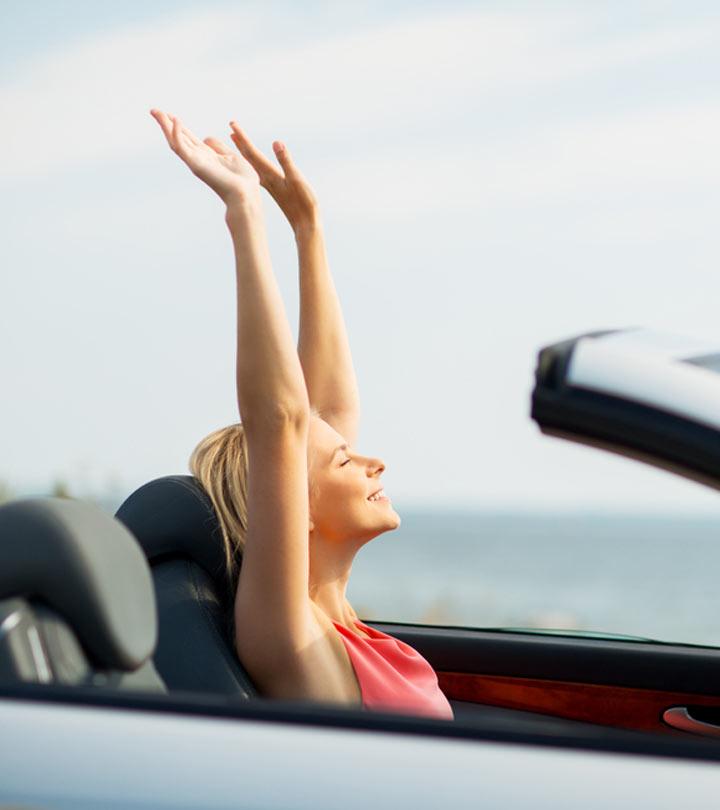 Shopping for a car enthusiast can be tricky if you are not into cars or a gearhead yourself. Buying the right gifts for car lovers can be stressful as they are very particular about the things that go on and into their cars. If you are looking for a thoughtful and useful gift for the car lover in your life, you are in luck. We have compiled a list of 30 best gifts you can choose from. From customized cleaning kits to the luxurious auto care items, this list has something for every auto aficionado.  Take a look!
30 Best Gifts For Car Lovers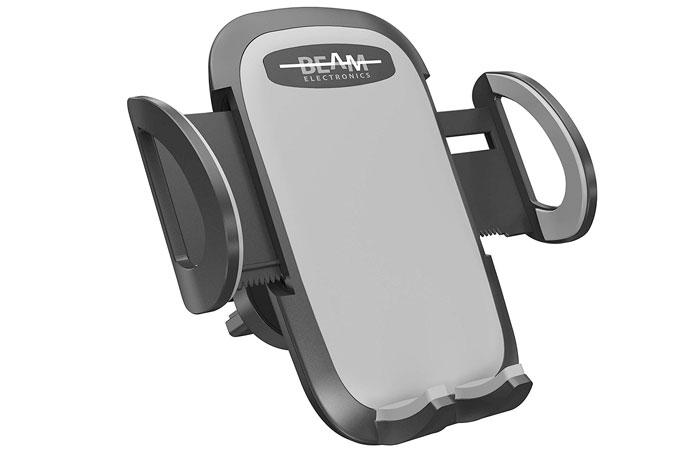 This is a functional and classy gift that can help prevent any distraction while driving. The cradle has a quick-release button to remove and clamp the phone in seconds. The 360-degree rotation allows distraction-free driving, navigation, and playing of music. It is compatible with most mobile phones and is an easy-to-install safety tool.
Key Features
Fits most cell phones and is easy to install.
Offers 360-degree rotation to provide you with the best viewing angle.
Easy-to-clamp mobile phone holder.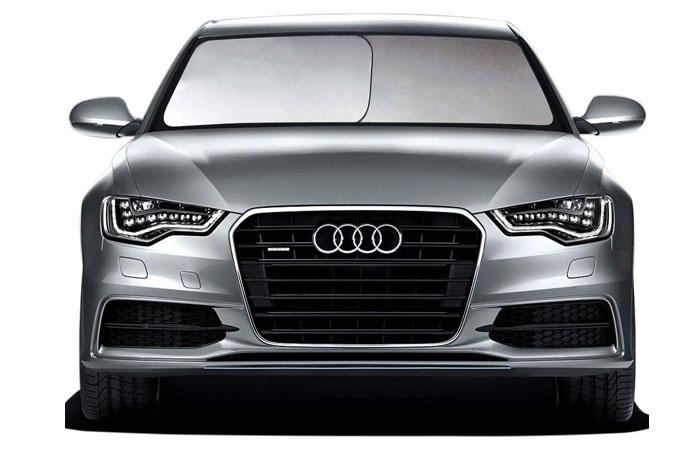 A windshield sunshade will protect you from the sun while driving. It comes in regular sizes and offers just the right fit for your car. You can install this windshield sunshade vertically or horizontally. The overlapping of two shades ensures a better fit. This sun shade provides superior UV block-out and heat reduction.
Key Features
Double shade design offers maximum coverage, efficient UV blockage, and 99% sun protection.
Includes a bonus non-slippery, sticky, dashboard mat.
Rectangular shape allows for maximum adaptability to your car's windshield.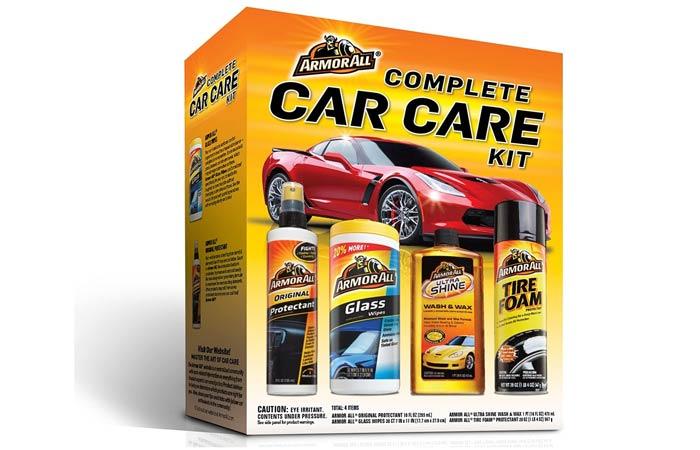 The Armor All's Complete Car Care Kit is perfect gift for a car enthusiast. The set includes Armor All Original Protectant, Armor All Ultra Shine Wash and Wax, Armor All Tire Foam Protectant, and Armor All Glass Wipes.
The Armor All Original Protectant cleans dirt and debris and fights fading, aging, and cracking while protecting against the effects of harmful elements like UV and oxidation. The Armor All Ultra Shine Wash and Wax contains cleaning agents that gently lift away dirt and offer a mirror-like finish. The Armor All Tire Foam Protectant helps in cleaning your tires and restoring their natural, deep black appearance. The Armor All Glass Wipes help in removing filmy residue, grime, fingerprints, and more easily.
Key Features
Complete car protection and cleaning gift kit for car lovers.
Includes Armor All Original Protectant, Armor All Ultra Shine Wash and Wax, Armor All Tire Foam Protectant, and Armor All Glass Wipes.
Ammonia-free glass wipes.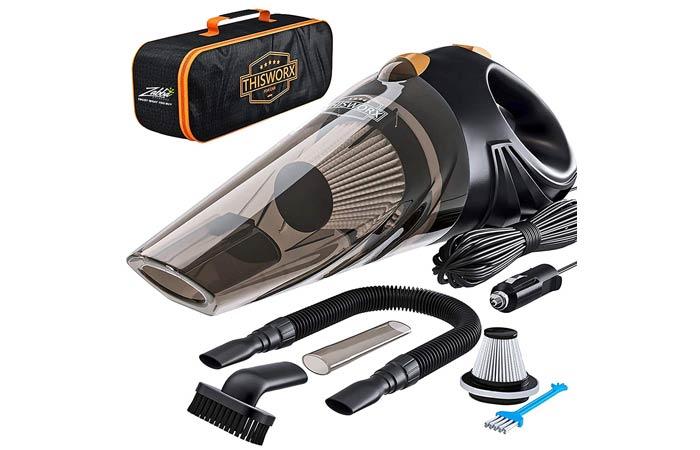 ThisWorx for Car Vacuum cleans the car within minutes and is ideal for both dry and wet dirt. The car vacuum's powerful 106W motor offers strong suction and leaves nothing behind to keep your car sparkling clean.
It also features a trash container with a lid that shuts off. This prevents your trash from falling out. The HEPA filter in this in-car vacuum cleaner helps you get rid of bacteria, germs, and other microbes and allergens on the car seats and backrests.
Key Features
16ft long power cord, elastic hose and nozzle set.
Equipped with 3 different nozzles to meet a gamut of cleaning needs.
Washable HEPA filter.
Comes with cleaning brush for HEPA filter.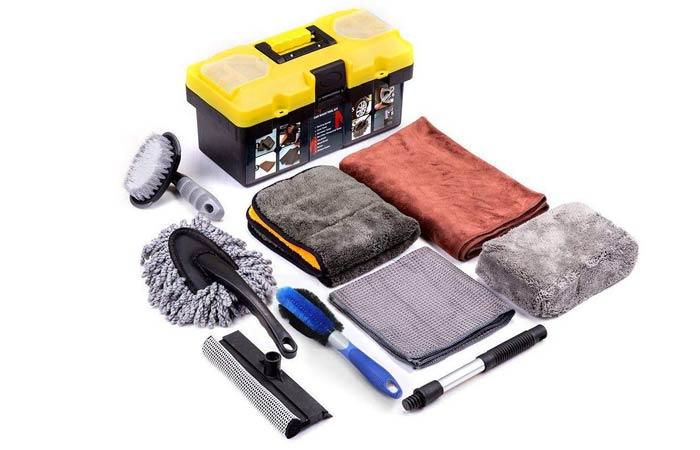 Give your car a makeover with Mofeez's Car Cleaning Tool Kit. This awesome cleaning kit comes with all the necessary tools you will need to make your car shine. The set comes with a car duster, a microfiber car wash sponge, three car wash microfiber cloths, a car tire brush, a car wheel brush with handle, and a window water scraper – all inside a plastic blow storage box.
Key Features
Made using high quality material to prevent scratches and marks.
Soft, sturdy and durable cleaning tools.
Microfiber material does not leave links or fragments after cleaning.
We all have faced the struggle to keep the car clean, especially when there's a lot of gap between the seats. We often find food items, keys, change, and a lot of stuff in the car that falls off the seat into the gaps. The set includes two Drop Stops – one for the driver side and one for the passenger side. This is a great gift for those who are obsessed with car cleaning and need a full coverage gap filler.
Key Features
The gap filler attaches to the seat belt catch via a built-in slot and moves with the seat.
No need to readjust or reinstall.
Package includes 2 Drop Stops, a slide-free pad, and an LED credit card light.
One-size-fits-all gap filler that fits most vehicles.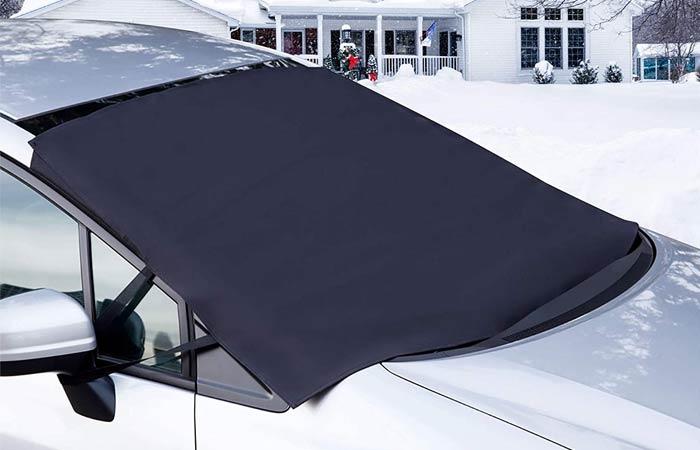 The OxGord Windshield Snow Cover also acts as a great sun shade for cars. Stop scraping your cars with brushes and use this ice removal wiper visor protector to keep them free from scratches. The all-weather windshield guard provides full coverage and fits most cars, trucks, vans, and SUVs.
Key Features
Made using thick, durable, heavy-duty 600D polyester.
Protects from snow, ice, rain, sleet, slush, water, hail, and snowstorms.
Thermal shield traps heat and ensures ice- and snow-free windshield.
Anti-theft side panels close inside the front car doors .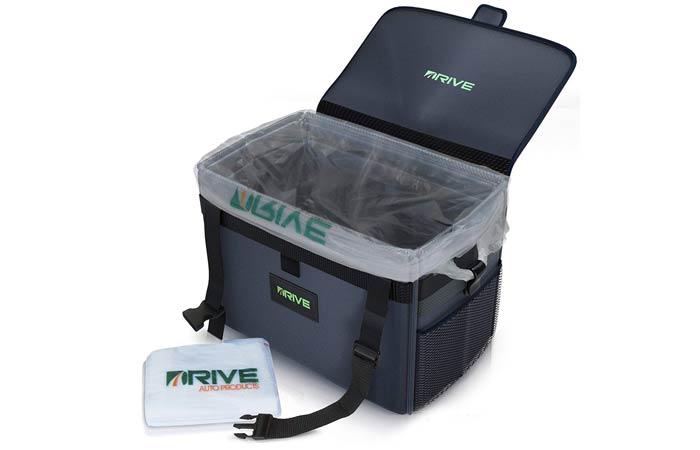 If you have a friend who is obsessed with hygiene, surprise them with the Drive Auto Products Car Garbage Bag. This garbage bag will keep the car clean and mess-free, especially if you have children or pets. This is a sturdy and classy looking automotive wastebasket that easily fits in any car. It helps keep the car spic and span. The kit includes 10 packs of disposable liners and has a capacity of 3 gallons. It also has large mesh pockets on both sides for convenient storage.
Key Features
Has patent pending side clasps.
Rigid cover stays steady by magnets.
10-pack of custom disposable liners.
Lid closes without interfering with the liner.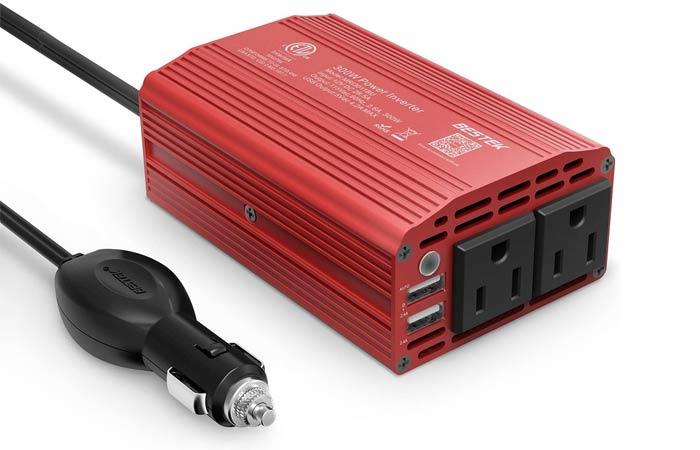 The BESTEK 300W Power Car Inverter provides 300W continuous DC to AC power and 700W instantaneous power. It features 2 AC outlets and 2 USB ports. It is made using durable metal and thus provides extra protection from drops and bumps. The smart cooling fan system keeps the inverter silent and smooth.
Key Features
Offers fast charging.
Two 110V AC outlets for charging larger devices such as laptops and tablets.
2 USB charging ports (0-2.4A) for powering USB compatible devices.
iPhone-sized design.
Ideal for use on vacations, work trips, and camping.
24-inch cigarette lighter plug makes it compatible with almost any vehicle.
10.
Best For Alexa Lovers:
Echo Auto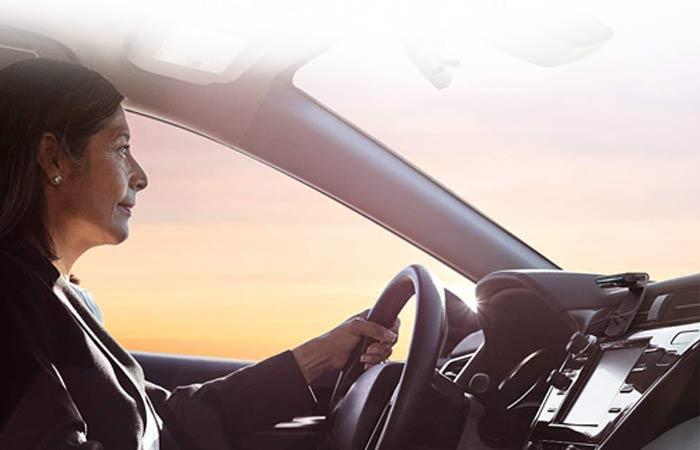 This is the best gift for Alexa lovers. The Echo Auto connects to the Alexa app on your phone. You can play it through the car's speakers by connecting it via the auxiliary input or a Bluetooth connection. With 8 microphones and a far-field technology, the Echo Auto can hear you over music, A/C, and road noise.
Key Features
Has a voice control feature.
Stream from Audible, Amazon Music, Apple Music, Spotify, SiriusXM, and radio stations with TuneIn and iHeartRadio.
Play music, check News, make calls, add to your to do-list, manage your calendar, etc.
Comes with 8 microphones.
Far-field technology for clear music.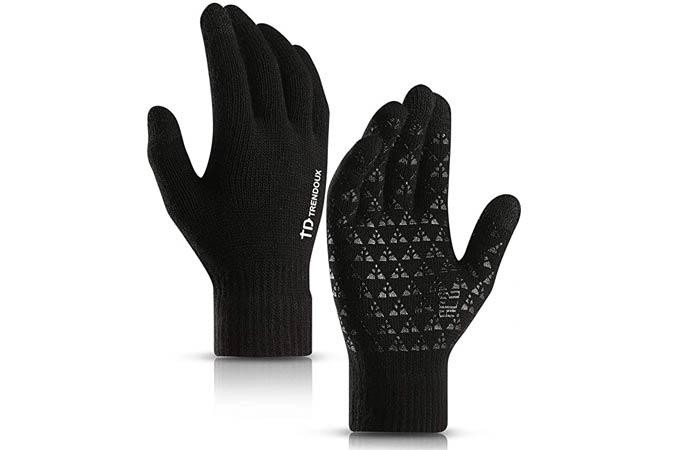 The TRENDOUX Winter Gloves will help you stay warm and cozy while driving. These gloves are made of napping wool and consist of anti-slip silicone gel material on the palms. The gloves also feature highly sensitive conductive material on the thumbs, forefingers, and middle fingers. You can wear the gloves to even touch your smartphone screen, tablet, iPhone or other touchscreen devices.
Key Features
Silicone on palms prevents slipping.
Soft napping wool to keep you warm.
Thickened elastic wrist keeps the glove closed around your skin.
Can be used to touch smartphone screens.
The Anker Car Charger enables you to charge your phones and iPad. This car charger is compatible with iPhone 11/XS/MAX/XR/X/8/7/6/Plus, iPad Pro/Air 2/Mini, Note 5/4, LG, Nexus, HTC and offers 4.8 amps or 2.4 amps per port. This is a certified and safe charger that also has an LED light.
Key Features
Industry's smallest ever USB car charger.
Features two USB ports.
Has an LED light.
PowerIQ and VoltageBoost combination for fastest possible charging.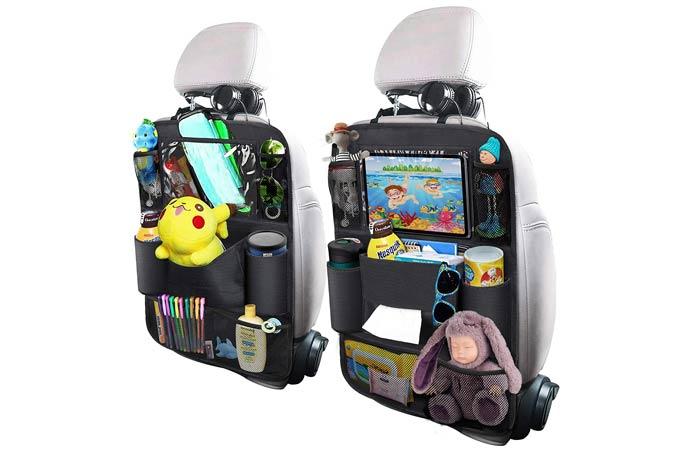 A backseat car organizer is a treat for travelers and your friends who have kids. This OYRGCIK Backseat Car Organizer comes with a protector and a touchscreen tablet holder tissue box. The product helps keep your car organized and neat. There are plenty of storage compartments and a few mesh compartments to accommodate your iPad or tablet, books, magazines, CD, phone, bottle, drink, tissue box, wipes, snacks, fruit, umbrella, pen, etc.
Key Features
Clear iPad holder that can be easily cleaned.
Comes with a tissue box pocket.
24 x 16 inches carrier suitable for most cars and SUVs.
Made of eco-friendly materials.
600D Polyester protects seats from scratches, spills, stains, scuff marks, mud, dirt, etc.
Easy to clean and maintain.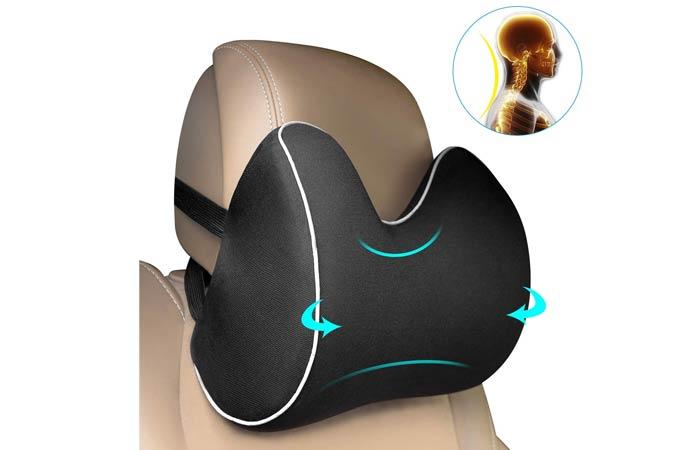 The Feagar Car Seat Neck Pillow is a great gift for those who travel long distances in their cars. This head-rest cushion prevents neck sprain. It offers relief and cervical support. The pillow comes with two adjustable straps and a washable cover. The cushion is made using breathable material to offer support and relaxation during long journeys.
Key Features
2 adjustable straps that hold the cushion properly.
Made using breathable and soft cloth for better air circulation.
High-density memory foam that can keep its shape.
Ergonomic design.
Removable and machine-washable pillow cover.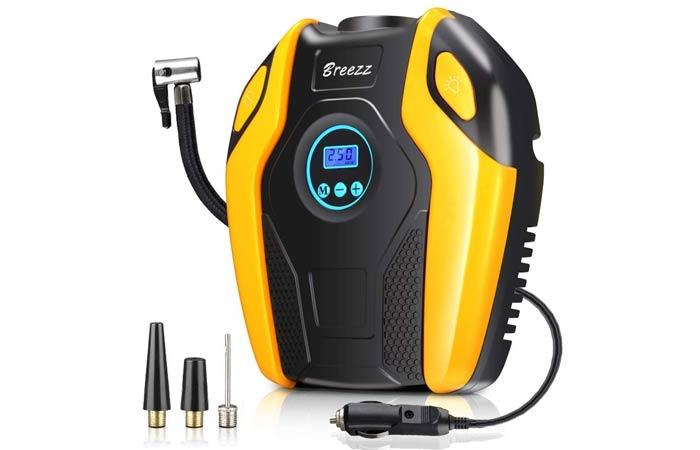 Inflate your car tires with the Breezz Air Compressor. It can inflate the tires within minutes. Durable plastic and stainless steel is used in the portable air compressor pump, allowing the compressor to last long. You can preset your desired pressure value, and when the tire inflator reaches the desired pressure, the air compressor will automatically turn off.
Key Features
High-precision bright display
Auto shut-off feature
LED lighting
10ft long power cord allows to reach all tires of the vehicle.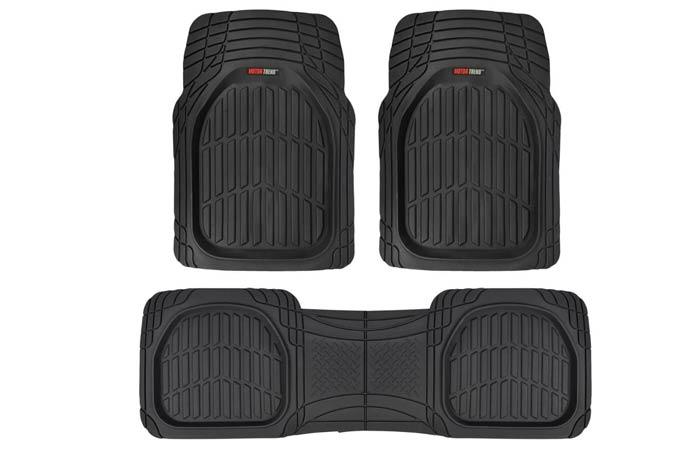 These Motor Trend Heavy Duty Rubber Floor Mats are useful if you don't like your car getting messy during bad weather. They are made using high-quality rubber polymers and are tested for extreme conditions to prevent cracking or deformation. The mats have rubberized nibs on the bottom to ensure they do not move. It also has ergonomic grooves on top to give your foot traction and comfort.
Key Features
Guard against spills or debris.
Built to last through rain, snow, mud, etc.
No-slip grip
Made using odorless Eva rubber.
Approved by SGS European Standard.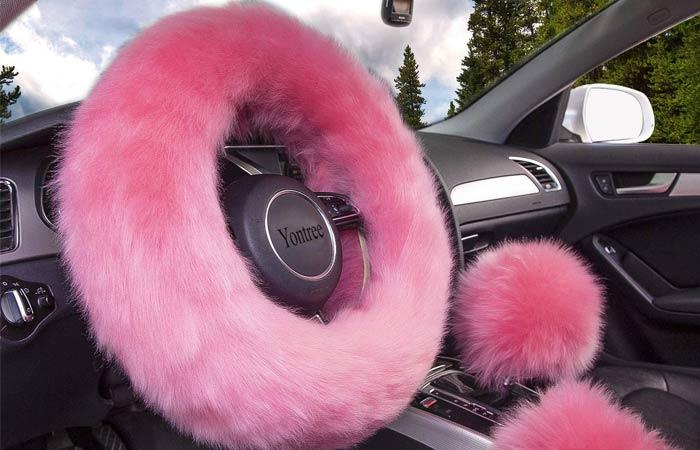 The Yontree Steering Wheel Cover is a set of three woolen covers. They cover the steering wheel, handbrake, and gear with ease. The covers are super soft, luxurious, and will keep your hands warm during a ride in the winters. The covers are available in different colors.
Key Features
Furry faux wool covers for warmth.
Covers for steering wheel, handbrake, and gear.
Soft and luxurious cover to protect your hands while driving.
Available in different colors.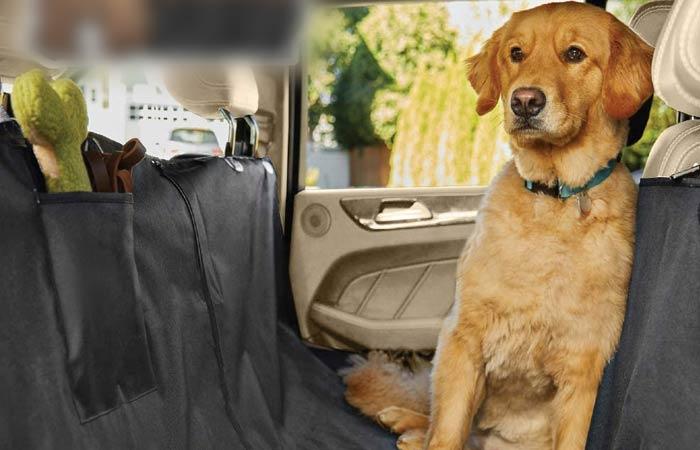 The Gorilla Grip Car Seat Protector is the right gift for those with a car and a pet as well. This cover has an anti-slip material and keeps the dog safe and mess-free.The textured underside grip dots on the rear seat. The four headrest adjustable straps, two seat anchors, and two elastic straps reduce movement of the protector. It also comes with storage pockets for storing personal items while traveling.
Key Features
100% waterproof
Double-layer design
Has a seatbelt with Velcro closure.
Provides maximum rear protection from dirt, spills, scratches, hair, and fur.
Slip-resistant
Protects seats from scratches, drool, and messy pet hair.
Fits most cars and SUVs.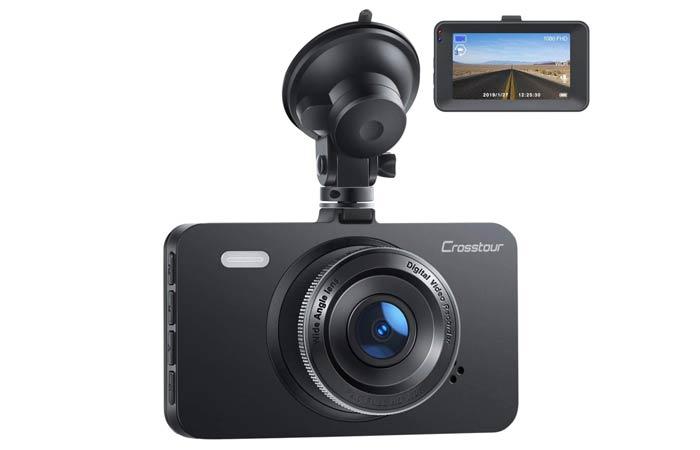 Equip your car with the Crosstour Dashboard Camera. The 3-inch large, LCD car recorder offers 1080P Full HD and 12MP resolution. You can not only record clear footage at night but also see the car license plates in low-light conditions. The built-in G sensor can detect a sudden shake or a collision.
Key Features
Built-in G-sensor for detecting collisions.
1080P Full HD recording
12MP resolution
Wide Dynamic Range Technology for clearer footage at night.
170° wide angle lens allow a larger viewing angle to be recorded.
Offers loop recording, motion detection, on/off audio, license plate stamp, time stamp, auto power off, screen saver, and burst photo features.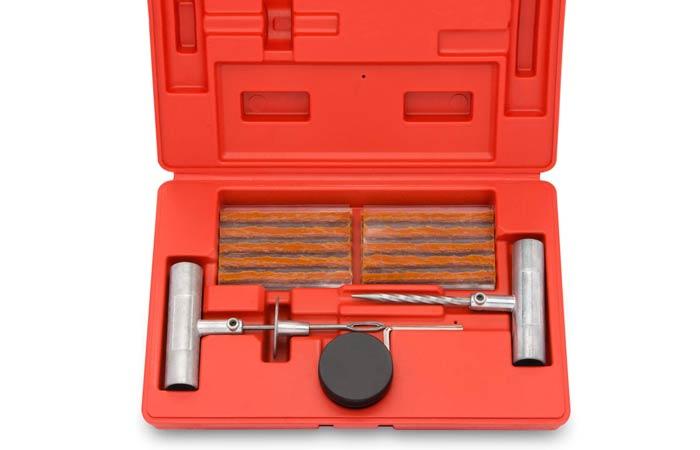 With the Tooluxe Universal Tire Repair Kit, you can fix flat tires quickly and carry on with the journey. This kit comes with a 35-piece value pack and is great for repairing punctures and plug flats. It has a hardened steel spiral rasp and an insert needle with sandblasted finish for durability.
Key Features
Compact storage case
T-handle design for turning power and comfort.
Easy and quick puncture repair for all tires.
Comes with 30-piece 4" string plugs for multiple repairs, 1-pc rasp tool, 1-pc insert tool, 2-pc hex keys and 1 sealing lubricant.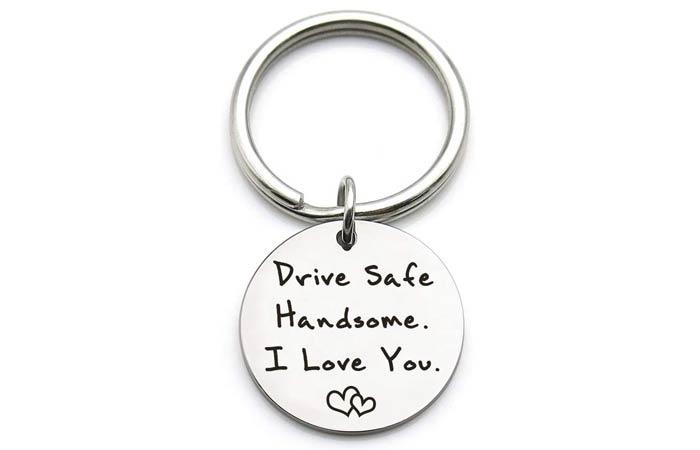 If your beloved loves driving, and you want them to stay safe, remind them the same with this Drive Safe Keychain. The keychain has a cute engraving 'Drive Safe Handsome. I Love You.' It is made of stainless steel and is durable, lightweight, and rust-free. You get a free jewelry bag with the item.
Key Features
Beautiful hand-stamped keychain for father, brother, husband, boyfriend, etc.
Rust-free, high-quality, stainless steel keychain.
Comes with a touching engraving.
Free jewelry bag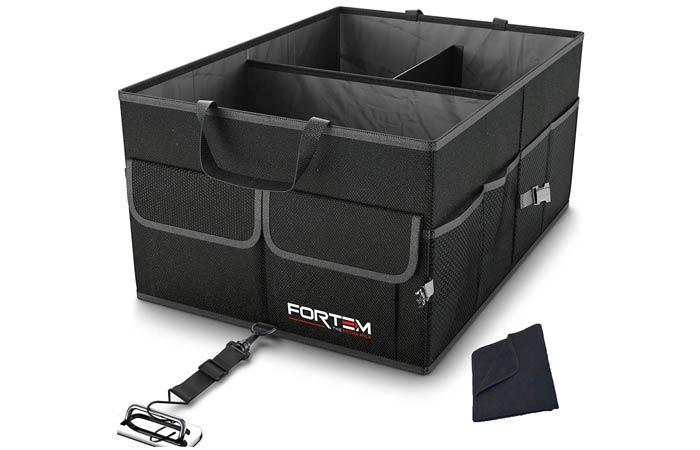 The FORTEM Car Trunk Organizer comes with a non-slip bottom, securing straps, and plenty of compartments for storing essential tools. It has reinforced base plates, sturdy side walls, and dividers for convenient storage and access.
Key Features
Reinforced base plates and sturdy side walls make it durable.
Comes with dividers for storage and collapses when not in use.
Easy-to-carry and multi-use organizer.
Organize a variety of items from groceries to emergency tools or cleaning supplies while saving room in your trunk.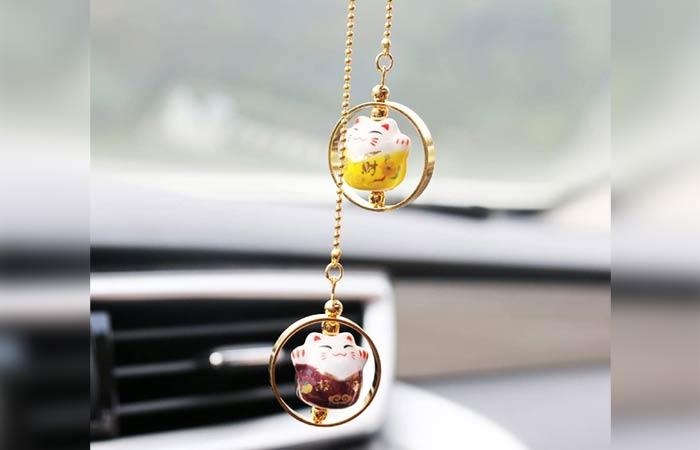 Cat charms are the best, especially if you are looking to offer an exciting gift to someone who's just got a new car. The YGMONER Lucky Cat Car Charm Pendant has two cats made of ceramic and metal. The paint doesn't fade and gives a very pleasant vibe to your car. It is a great charm for the car's interiors.
Key Features
Paint does not peel or fade off easily.
Cats' raised paws are symbols of good luck and wealth.
Made of ceramic and metal.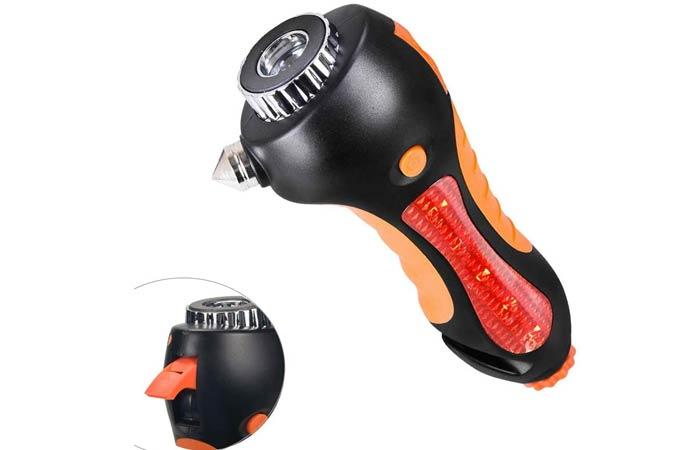 The Siivton Car Safety Hammer works as a window breaker, seatbelt cutter, LED flashlight, a whistle, and an alarm life-saving tool. Its pointed steel head can shatter any car glass immediately. Its anti-skid rubber handle allows for a comfortable and firm hold.
Key Features
Pointed steel head shatters car glasses instantly.
Comes with a razor-sharp seatbelt cutter.
Portable, easy-to-use with AAA batteries.
Also features a LED flashlight, whistle, alarm, lamp, and a magnet.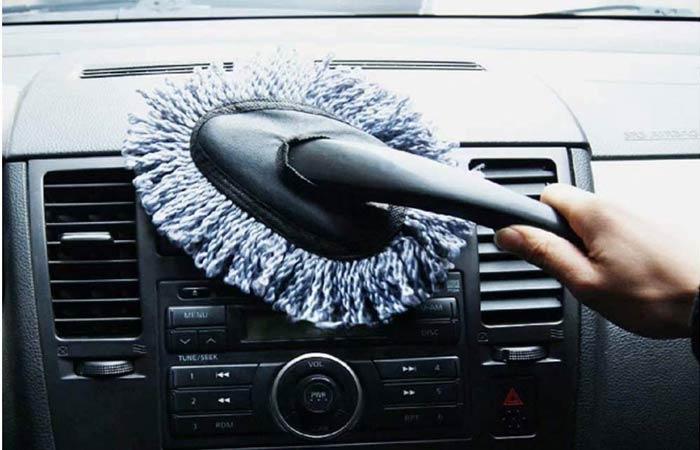 The Shopping GD Multi-functional Car Duster will make car cleaning much easier. This tiny tool is designed to reach and clean every corner of your car and keep your car mess-free. This dirt and dust cleaning brush is made of cotton-plastic and has a strong water absorption capacity.
Key Features
Can be used for washing, waxing, and cleaning dust.
Mops and absorbs excess water.
Made of cotton-plastic.
Has strong water absorption capacity.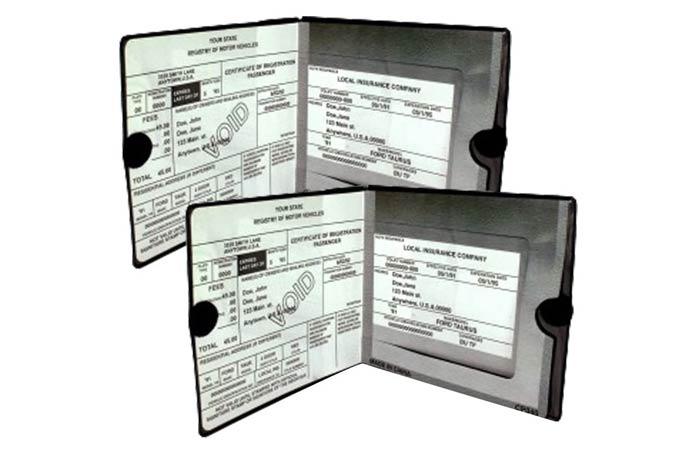 Carrying all the necessary insurance and registration documents in your car is very important. The Sterling Pack Of Wallet Holders helps keep your essential documents handy and safe. This pack of two holders is made of vinyl and has visor storage with strong closure.
Key Features
Car insurance and document wallet holder
Keeps your documents safe and handy.
Easy and strong closure
Made of vinyl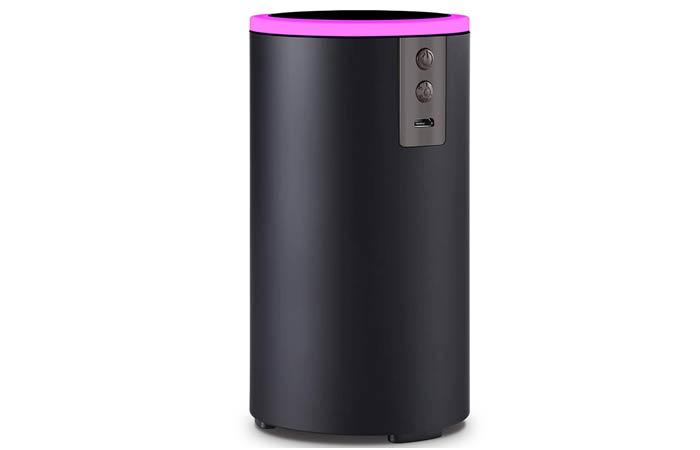 Keep your car's atmosphere light and aromatic with the YJY Car Diffuser And Humidifier. This device works as an essential oil diffuser, humidifier, and air purifier. It is studded with LED lights. This ultrasonic diffuser doesn't need sponge wicks, and the oil doesn't get clogged.
Key Features
Can absorb dust and unhealthy particles in the air.
Auto-shut off feature
Low voltage and leak preventive design
Offers 7 color lights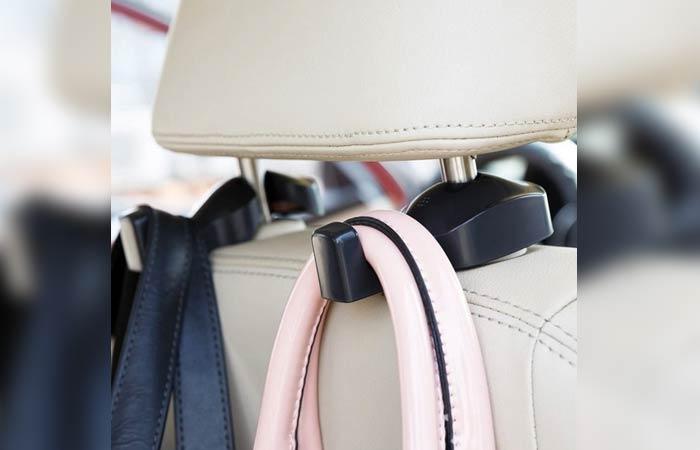 The IPELY Universal Car Holder Hooks are the right product to buy for shopaholics. This product converts your car's headrest into a convenient storage for hanging groceries, shopping bags, bottles, umbrellas, baby supplies, etc. The hooks are rotatable; they can be hidden when not in use. Each hook can hold up to 18 lbs of weight.
Key Features
Organizes back seat clutter.
Opens up seat, floor, and leg room.
Keeps shopping bags from rolling around the floor.
Holds up to 18 lbs per hook.
Rotatable
Easy to hide when not in use.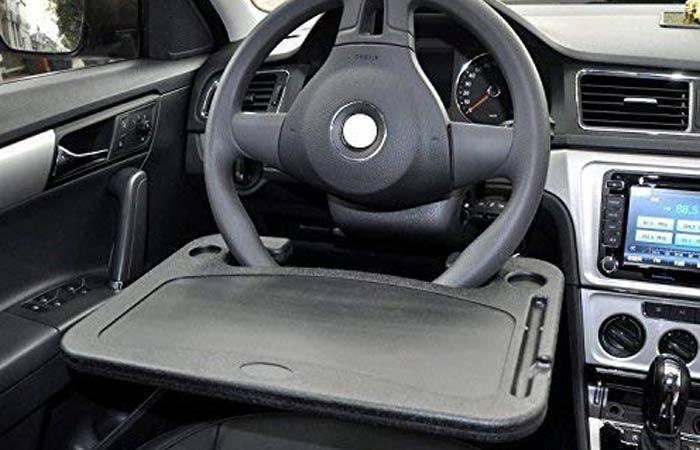 For your friend who spends a lot of their time in the car while driving to work, the Cutequeen Steering Wheel Desk can work wonders. This desk is great for placing the laptop and working and for eating as well. The product is lightweight. It can be stored easily when not in use.
Key Features
Very light to carry.
Sturdy enough to support a laptop, lunch, and notepad.
Hooks perfectly on the steering wheel.
Easy to store in the backseat pocket.
Ergonomically designed.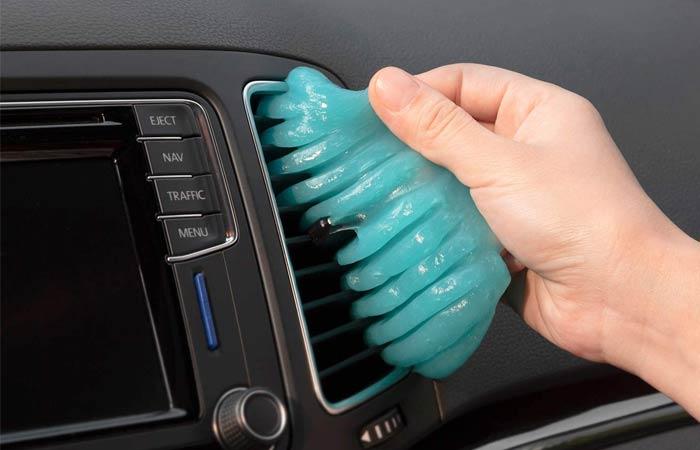 The TICARVE Car Cleaning Gel works when the dry cleaners don't wipe off the dust and dirt properly. This gel cleaner cleans the nooks and crannies in your car. It easily gets into the air vents, steering wheel, console panels, and other tiny places for effective cleaning. The gel is reusable.
Key Features
Easily slides into car air vents, steering wheels, and other tiny spaces.
Made of biodegradable material.
Smells sweet with lavender fragrance.
Reusable gel
Can also be used for cleaning PC keyboards and other rugged surfaces.
*The prices provided in this article are based on the latest available information. However, they may vary due to changes in pricing by the seller and/or promotional offers.
We are sure these gifts will make your car enthusiast friend happy! Most auto enthusiasts are quite particular about their gifts, and we hope this list has been of help. All you have to do is click and add to cart; the car people in your life will thank you like never.