30 Gifts For People Who Love Dogs More Than People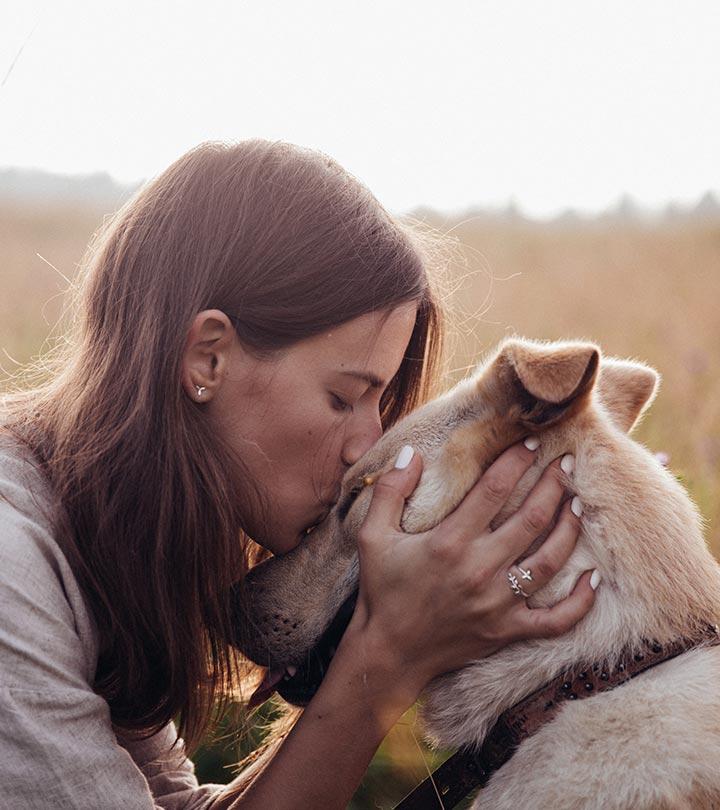 No love in the world can overrule those sparkling puppy eyes that wait to greet you at the end of the day. It is so pure, unconditional, and full of love that you'd happily take a bullet to your heart. And whether you are a dog parent or know someone who is, you know how taxing it can be to choose a gift for them because one thing is certain that they don't compromise for their four-legged critters!
If you are in a dilemma and want to pick the 'paw-fect' gift for the dog or his hooman, we've made the task a tad bit easier for you! We've collated the 30 best gifts for dog owners that they'll love! Read on to know more.
It is practically impossible to slow a dog down while eating. Considering how excited they get about almost everything, eating too tops the list. And the side effects – bloating and indigestion. But not anymore with this Dog Bowl Slow Feeder by Outward Hound, which is designed to make your dog eat up to 10 times slower than the regular speed. Available in unique shapes, it's made of premium quality material and is anti-slip. Safe and free from BPA, PVC, and phthalates, this bowl is recommended by vets all over.
Key Features:
It is made of ABS plastic and is BPA, PVC, and phthalate-free
Made of premium quality, anti-slip material
Promotes healthy eating
Recommended by vets
Like we need our furry friend for company, they need a furry friend too for playtime. KONG Cozies Dog Squeaky Toys are so soft, adorable, and cute that your pupper will love it. A perfect toy for fetch, they squeak to entice play and also keep the puppy distracted from chasing other small creatures. But will it last? Absolutely! They look cute, but are tough and made of minimal filling and an extra layer that assures long-lasting durability and less mess.
Key Features:
Designed for comfort
The squeaky sound entices play
Made of minimal filling for minimal mess
It has an extra layer that guarantees long-lasting durability
There's no love more genuine than the love between a man and his dog. And this sculpture of an angel embracing a dog truly symbolizes what heaven might look like to a dog owner. A figure of love, purity, joy, and friendship, there's no better or thoughtful way to make a dog owner happy than by gifting them the Angel of Friendship by Willow Tree. Sculpted and hand-painted by Susan Lordi, this figure celebrates togetherness and pure bonding.
Key Features:
Handcrafted and hand-painted
Exquisitely crafted
It symbolizes friendship and bonding
Do you know what comfort is to a dog owner? It is either their pup or something with a puppy on it! The sight of a dog can make their heart melt, so we are certain that they'll love these comfy3 puppy-printed socks. Made of 80% cotton, they are stretchy, skin-friendly, and 'paw-fect' for all seasons. Ideal gifts for mothers, sisters, or friends who adore their furry friend, these pair of socks are an absolute must-have!
Key Features:
Funky, comfortable, and highly durable
Made of 80% cotton
The fabric is stretchy and soft
For all the pet toys you've been gifting your friend's dog, here's something that both the pet and owner will love. A storage bin is a necessity that the pet owners don't even realize they need! This Bone Dry DII Pet Toy and Accessory Storage Bin helps store and keep all the pet stuff handy. The basket can be collapsed when not in use, and the handles make it portable. The subtle and cute paw designs also make it a perfect piece of décor for the house. Easy to clean, it is undoubtedly the most convenient and thoughtful present for a dog lover.
Key Features:
Made from 100% polyester
Highly durable and collapses when not in use
Ideal for storing treats, toys, blankets, etc.
Dog Mom Mug by Our Name is Mud comes with a message that every dog lover would want to say out loud – "My child has four legs and fur!" Featuring paw print accents inside the mug, it's a perfect gift to make them and their love for their furry friend all the more special.
Key Features:
Dishwasher and microwave-safe
Made from non-toxic, lead-free materials
Some gifts can be everlasting, just like this Picture Frame and Paw Print Kit by Pearhead Pet, that lets you imprint your pup's love forever. The kit includes a no-mess, no baking impression material, a rolling pin, and a clay shaping ruler. All you have to do is flatten out the clay on a wooden board, imprint your pet's paw on the clay, and then frame it alongside the pet's picture. A unique way to make fond memories with your beloved pet!
Key Features:
100% pet-safe clay
No-mess, no baking or no mixing required
The frame fits the 4X6 inch photo
The clay air dries in 24-48 hours
The frame has hinges so you can place it on a table
Dog owners are always looking for ideas to express their love for their furry friends. Gifting them a kit to capture this love for their pet is the sweetest thing you can do. They not only get to imprint their pet's paw on the non-toxic clay, but the kit comes with stencils to personalize it to their needs. It also includes a rolling pin, an assortment of ribbons, two display stands, and a circle and hole-puncher. The clay takes up to 24-48 hours to dry and guarantees to be lightweight, durable, and crack-resistant for a long time. There is no better way to celebrate the pristine bond between a dog and its 'hooman'!
Key Features:
Non-toxic clay that dries within 48 hours
Lightweight and flexible material ensures durability
Lifetime replacement guarantee
Shout out your love for your dog with this trendy bracelet! This smart, chunky bracelet made from synthetic leather with the label 'Dog Mom' is a perfect gift for the 'Mother of Dogs' to flaunt her love for her pup. With velvet wrapping giving it a smooth finish and a paw charm adding to the cuteness quotient, it makes for a great gift for dog lovers.
Key Features:
Durable and fancy
Made from synthetic leather
Velvet wrapping with a paw charm
Losing a pet is an experience that cannot be expressed in words. Nothing can replace this loss, but here is something that could help dog owners find solace. This Paw Print Pet Memorial Stone honoring their 'good boy' will definitely put a smile on their face. The product is made of waterproof resin and is suitable for display, indoors as well as outdoors.
Key Features:
Durable and waterproof material
30-Days money-back guarantee
Stay in touch with your pet while you are away from home! You know how much those critters miss you while you are at work or on a trip. So why make them wait, when you can communicate with this Full HD Furbo Dog Camera that comes with a 2-way audio installation. It also has a video feature with a 160-degree angle view. And that's not all; you can also pop their favorite treat for them! This device is a must for those who travel a lot and miss their pets dearly.
Key Features
Video monitoring with a barking sensor
Control from your mobile phone
2-way audio feature
The device can also pop a treat for the pup
1080p Full HD Camera with 160-degree day and night vision
If you have a pet, the floor is bound to get dirty when they come rushing in from outside. Not that you can do anything about it, but this Indoor Chenille Doormat by Gorilla Gap promotes cleanliness. Keeping unwanted debris off the floor and the top absorbent layer trapping all the moisture, it's a must for those with pets at home. Available in several shapes and colors, it's so comfortable and soft that your dog will love it while keeping the floor clean. Strong and sturdy, its long-lasting underside is made from durable TP rubber packing that makes it anti-slip and keeps it dry.
Key Features:
It promotes cleanliness
10-year guarantee
Made with durable TP rubber backing that makes it anti-slip
High-quality and durable
A must for adventure-loving dog parents! Make the trip memorable for them and their dog by gifting a portable dog water bottle by MalsiPree. Though the pupper might miss his favorite bowl, this leak-proof, BPA free, and FDA approved bottle promotes hygiene and is easy to use. It is ideal for outdoor walking, hiking, and traveling.
Key Features:
Leak-proof with silica gel seal ring with lock key
Available in 19oz capacity
Made with high-quality food-grade plastic
BPA-free and FDA approved
Easy to use – one hand operational with a key to release and fill water
Did you know dogs are highly sensitive to environmental triggers? They tend to panic easily, especially during fireworks, vet visits, thunderstorms, separation, etc. Recommended by vets and trainers, the ThunderShirt Dog Anxiety Jacket helps calm them and eliminates anxiety and fear. This jacket is highly recommended for rescue dogs as well. And the plus point, it reduces anxiety in dogs without any training or medication.
Key Features:
100% money-back guarantee
Over 80% success rate in calming anxiety in dogs
Available in different sizes
Recommended for rescue dogs
Bathing time is the one thing that owners and pets absolutely detest! The owners have to endure the pet's mood swings; meanwhile, for the pets – water is enemy, period. Hence, bathing time looks nothing short of a war scene. However, Aquapaw Pet Bathing Tool assures to make it easier with its ergonomic one-size-fits-all design flexible sprayer. It not only allows you to control your dog but also reduces the force of spraying water, and speeds up bathing time. The device comes with adaptors that can connect the sprayer to the bathtub as well as the outdoor garden hose.
Key Features:
Flexible for outdoor garden and bathroom use
Ergonomic one-size-fits-all design
Controls water speed and comforts anxious pets
Lifetime warranty
A pet-friendly house does not need to smell like one. Drive away the pet odor with a soothing citrus fragrance! The Pet Odor Exterminator Candles Jar Orange Lemon Splash is a savior when it comes to dousing the house with natural aromas and making it a place where you can happily coexist with your furry friend.
Key Features:
70 hours of estimated burning time
Appealing aroma that removes pet odor
Non-toxic and pet-friendly
Who doesn't like tote bags? They are spacious and funky at the same time. And what makes this one special is the quote and the puppy-print that'll make any dog parent instantly fall in love with it. Made from unbleached canvas and with room enough for all your belongings, the bag's precise heavyweight stitching throughout makes it long-lasting and durable.
Key Features:
Elegant and durable
180-day money-back guarantee
Strong handles/straps, spacious for all your belongings
Give your dog his very own travel bag! You won't miss any of its essentials like toys, treats, or bowls if you have everything sorted in this bag. This travel bag consists of a magnetic sleeve pocket, a zippered side pocket, a water bottle holder, two collapsible dishwasher-safe bowls, an internal zippered mesh pocket, and a removable internal divider to hold everything in place. The insulated food storage containers can store up to 13 cups of dog food and keep it fresh. To top it all, it is air travel-safe, so one can fly with their pets, carefree.
Key Features:
Comes with a magnetic sleeve pocket and a zippered side pocket
nsulated food storage containers that can store up to 13 cups of dog food and keep it fresh
Ideal for traveling and hiking
It can store a week's worth of food and treats
We all have a favorite corner in the house, so how about you give your puppy one too! Cozy, comfortable, and homely, your pet will love to snooze and wake up in this unique Native American designed teepee bed. Designed to go well with your home décor, the bed is made from 100% durable cotton canvas, thus ensuring absolute comfort. The tent kit includes sturdy pine wooden poles that guarantee long-lasting construction. It's not just a bed; it's a little home for your li'l bud.
Key Features:
Durable, homely, and comfortable
100% durable cotton canvas bed
Unique and elegant design that fits with home décor
Long-lasting construction design with sturdy wooden poles
To all the brand-conscious dog parents out there, these brand-parody pet toys are an ideal gift. It is bound to get some chuckles, and encourage some photo-ops too! But these pet toys are not just cute and squeaky; they are also the best training tools for puppies to keep them from chewing the furniture and other valuable items in your house.
Key Features:
Training tool
Strong and durable material
Ideal for playing fetch
Commemorating all those years that the pupper stayed beside his human friend, deserves the highest honor and love. This customizable pet urn can hold the ashes and be a perfect tribute to cherish. High-quality and handcrafted by old-world artisans from India, this premium pet urn is a thoughtful present to help a dog owner deal with the loss as well as express the everlasting love, one last time.
Key Features:
The urn can be personalized
Handcrafted from high-quality material
Durable and easy to maintain
100% money-back guarantee
Sometimes, when words fail to describe a loss, a thoughtful gift can make up for it. This Memorial Dog in Basket Urns captures the innocence, warmth, and joy that a pet brings and is undoubtedly a memorable present to honor fond memories of the furry friend. One of Amazon's top choice gifts, this sculpture is a work of art and stands out for its striking handcrafted design and bronze finish.
Key Features:
Handcrafted and durable
Smooth bronze finish
Conventional pet gifts can be so dull and boring at times! If you are looking for something out-of-the-box for your dog lover friend, then these Funny Animal Paw Socks will undoubtedly break them into a fit of laughter. The design is so realistic that one is bound to have a second look, and they make an ideal pair for animal cosplay parties too. Made from 80% polyester, 10% cotton, and 10% spandex, it assures great comfort and elasticity.
Key Features:
Made from polyester and cotton for high durability
1 year money-back guarantee
Ideal for animal cosplay parties
Who wouldn't want to install these 3 Dog Tail Key Holder in their house? Whether a dog lover or not, this beautifully handcrafted key holder is a perfect way to add a unique touch to your room. It comes with 2 D-rings that can carry stuff like pet leashes, apparel, hats, etc.
Key Features:
Durable and dust resistant
Multi-functional
2D rings can carry leashes, towels, keys, etc.
Are you looking for a creative and unconventional gift for a dog lover? These quirky slat wood box signs have pet-friendly punch lines, and pet paws engraving, taking the gifting experience to a whole new level. Making them a perfect gift for housewarming parties or for those who have a newly-adopted pet, there's no better way to impress dog parents than this. With rounded edges and distressed look, the punch lines are sassy, making them heart-warming yet punny at the same time.
Key Features:
Creative and quirky punch lines
Durable and sturdy
Designed to freely stand on the wall or hang on the wall
Gone are the days of boring calendars! Here's the 'goodest boy' on the Internet making every day of your life special with his perfect anecdotes and how much he loves his hooman. This 2020 Day-To-Day Calendar is an instant mood-booster and a great present for all your dog-loving friends.
Key Features:
Includes all major dates and holidays
Full-color tear-off pages
It has a plastic easel backer for support on the desk
The entire experience of adopting a dog is extremely special to a pet owner. It's as good as becoming a parent, hence the title – Dog Parent. So go ahead and make it all the more memorable by gifting her, this premium denim baseball cap. With Dog Mom written in bold, this cap is 100% cotton ensuring comfort, has an adjustable strap on the back, and is incredibly lightweight.
Key Features:
100% premium cotton
Comfortable with air ventilation holes
Lightweight with an adjustable strap on the back
One size fits all
These cute ceramic measuring spoons are exactly what one needs to add a pinch of fun to their kitchen style and décor. For a dog owner who is also a cooking enthusiast, these funky yet state-of-the-art kitchen cutleries are not only a useful gift but make for a great display piece too. Made from authentic ceramic, glazed, and easy to use, stack your kitchen shelves with these quirky and adorable measuring spoons.
Key Features:
Enables precise measurements
Made from durable ceramic
Ideal for display
This pendant makes for a wonderful gift for a pet owner. This combination of a pendant and an essential oil diffuser is unique and heartwarming. Available in different patterns, colors, and quotes, this pendant touches the heart and heals like no other. So if you are looking for something meaningful and comforting, the WPF Design Aromatherapy Essential Oil Diffuser Pendant is the one for you!
Key Features:
Unique gift for dog owners and aromatherapy lovers
Comes with 10pcs washable felt pads
Stainless steel chain
Easy to use and wear
Do you love to pamper your furry friends? These super-absorbent, ultra-soft, tightly-woven microfiber chenille fabric towels will make them love you more. It absorbs ten times more water than regular towels and dries your dog eight times faster too. Yes, it's easy to use, and the noodle fabric acts as a massager on your pet's belly. Bacteria-resistant and fur-friendly, no towel truly cares about your pupper like this one here!
Key Features:
Super absorbent and durable
Easy to use with a better grip
Bacteria-resistant and fur-friendly
It quickly dries the fur and gently massages too
Buy Now From Amazon
This list could go on but we have a furry friend waiting at home too. We know it's not easy to pick a gift for a dog owner but we hope this roundup of 30 best-selling gifts for dog lovers makes the whole shopping experience simpler for you. Do you have gift ideas too? We'd love to hear them. Write to us or share your feedback in the comments below. Happy shopping!