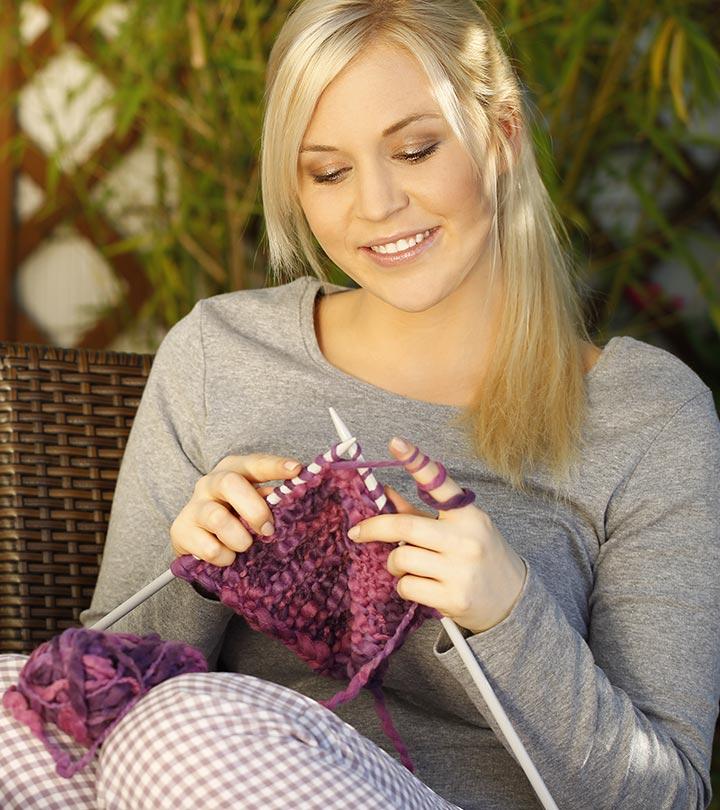 Knitting and crocheting is a fun hobby. These days, knitting is not limited to grandmoms and mothers. It is gaining popularity among teenagers and kids too. Finding the right gift for a knitter is not too tricky as there are many knitting tools and accessories that you can gift them.
To help you out, we have come up with these 30 awesome gift ideas for knitters. From yarn and needles to knitting machines and ball winders, here are all the fun things you can give them.
30 Best Gifts For Knitters
1. Addi Express King Size Knitting Machine
If your friend wants to move away from old-school knitting techniques, give them the Addi Express King Size Knitting Machine that makes knitting super fast and easy. This set comes with 46 needles and an electronic row counter. It also contains five replacement pins, a threading tool, and four feel 2 clampers. It is designed in Germany using the best available materials and lasts long.
Key Features:
Makes circular knitted items measuring approximately 35cms and plain knitted items up to 45 cms wide
Recommended yarn thickness 3. 5 mm to 8 mm
2. Nicees Super Soft Fur Yarn Skeins
Your friend will have a blast knitting with this furry yarn. This super soft yarn is made of 100% polyester and perfect for knitting a hat, scarf, or sweater. It comes in a pack of two skeins and requires 6-8 needle hooks for knitting.
Key Features:
Made of 100% polyester
32 m/35 yards
3. Knit Picks Yarn Ball Winder
The Knit Picks Yarn Ball Winder is a great gift for knitters. This product makes knitting easier and helps you knit while sitting in one place. It transforms yarn hanks and skeins into compact center-pull cakes that stay put while you knit and crochet. It winds 3.5 ounces of yarn easily. It can be adjusted and fitted to the edge of any table that is 1-1.5" thick. The removable spindle makes it easy to store.
Key Features:
Easily winds any type of yarn, from lace and fingering weights to worsted and bulky weights
Removable spindle and folding yarn guide arm
Compact storage and quick and easy assembly
4. Miles Kimball Knitting Tote Bag
This amazing Miles Kimball Knitting Tote Bag will work wonders for the ladies (and men) out there who love knitting. This adorable little tote is made of plastic and offers transparent storage. It has holes on each compartment, so you can choose your thread and use it directly from the bag. This also means that you don't need to hold the yarn ball while knitting.
Key Features:
Clear plastic bag
Reinforced with polyester
12″ high x 15″ wide x 9 1/2″ deep
Holds up to 6 skeins
Includes a carrying strap
5. Athena's Elements Crochet Hooks And Yarn Needles
This set of crochet hooks and yarn needles is an amazing gift for knitters. This set comes with 12 crochet hooks and 3 yarn needles of different sizes. Their ergonomic soft handles help you crochet comfortably for hours without straining or cramping your hands. They are also great for arthritic hands. They allow yarns to glide effortlessly and prevent splitting, making crocheting a lot faster and producing a clean finish.
Key Features:
Perfect for amigurumi crocheting
Non-slip handles
6. Teamoy Knitting Organizer Bag
The Teamoy Knitting Organizer Bag is a thoughtful gift to offer to your mother, granny, or friend who loves knitting. This yarn tote organizer has dividers on the inside. The six compartments with holes on top help keep the skeins of yarn separate and prevent tearing, tangling, and fraying. The flexible and clear PVC cover allows you to easily see what is inside without opening the bag.
Key Features:
6 small holes for different colors of yarn to feed through
3 sets of magic tapes that keep yarn in place when not knitting
Made of nylon with a clear PVC top
Lightweight and durable
7. Knit Picks Options Wood Interchangeable Knitting Needles Set
The Knits Picks Options Wood Interchangeable Knitting Needles Set comes with 9 pairs of long needle tips. The Sunstruck needles are a sun-kissed version of the original Knit Picks Options needles and have a natural golden finish. These needles are made of strong and smooth laminated birch, making it perfect for working with dark or variegated yarns. The memory-free cables move along with stitches and offer snag-free knitting.
Key Features:
9 pairs of 4¾ " long needle tips in US sizes 4-11
Comes with 4 purple cables (2 each in 24″ and 32″ lengths), 8 purple end caps, and 2 metal tightening keys
9″ x 5.5″ vinyl case with snap shut closure to store all the needles, cables, and accessories
8. Melissa & Doug Wooden Multi-Craft Weaving Loom
A weaving loom makes weaving super easy. This Melissa & Doug Wooden Weaving Loom has everything you need for knitting such as an adjustable wooden loom, an oversized wooden needle, craft materials, an illustrated design booklet, and 91 yards of rainbow yarn. It makes weaving exciting for kids and improves their concentration and hand-eye coordination.
Key Features:
Promotes fine motor skills
Features easy-grasp knobs that make it easy to change the frame
9. Hagestad Yarn Bowl
This yarn bowl that comes with a travel bag and crochet hooks will become every knitter's favorite tool. The bowl has a high-gloss finish applied all over it, including the swirls and holes, to prevent yarn from catching and snagging. It also features a curled slot that holds the yarn and prevents it from getting tangled as you knit.
Key Features:
Rosewood has an odor that dissipates with time
The bowl has 2 holes for holding the knitting needles
7″ diameter x 4″ height
Compact and easy to carry around
10. Teamoy Knitting Canvas Tote Bag
Your friend can carry their knitting project anywhere they want in this awesome Teamoy Knitting Canvas Tote Bag. You can carry your crochet hooks, knitting needles, and yarn in this lightweight tote bag. The zipper compartment is ideal for small tools like scissors, retractable measuring tape, stitch markers, etc. It has four reinforced grommets for different yarns to be pulled through.
Key Features:
Made using heavy-duty and durable canvas material
Lightweight and portable
One zipper compartment
11. CuteDIY Yarn Swift Yarn Winder
Winding yarn balls is super easy with this swift yarn ball winder. This yarn swifter is made of thick and sturdy metal parts. It can be set vertically and horizontally and mounted on the table easily along with the yarn ball. The metal construction means this knitting yarn swift folds up more compact than the wooden ones and is easy to work with.
Key Features:
21″ x 19″ x 17″
1.75″ table clamp
Can be adjusted to any angle
12. Stitch Happy Knitting Bag
The stylish Stitch Happy Knitting Bag can help your friend carry all their knitting tools easily. It has 7 pockets that can be used to store 9 skeins. Its lid-slits offer easy yarn access. The large zip-up top and pocket guard your knitting gear from spills and snags.
Key Features:
4-way divider keeps yarn flowing tangle-free
7 pockets and a tool case for easy access
2-position easy-carry strap
Golden zippers
13. KnitIQ Strong Stainless Steel T-Pins
The KnitIQ Strong Steel T-pins are ideal for blocking, knitting, and sewing. These T-pins are made from stainless steel, so they can hold your project in place with ease and can be used over and over again. The pins come in an artisan tin with a hinged lid that opens smoothly.
Key Features:
150 T-pins in the box
1.5" long with a sharp point
Sufficient for very large pieces
Rust-free for wet blocking your projects for a professional finish
14. ArtBin Needle Arts Caddy
This sturdy ArtBin Needle Arts Caddy will make knitting breezy for your friend. This caddy is made of polycanvas and metal tubing. It comes with a needle roll and a zippered pouch that can be snapped onto the frame. This is the perfect tool to store all your knitting accessories in a cozy corner.
Key Features:
The accessory pouches can be detached and stored inside the caddy for safe transportation
Foldable and stylish design
15. Yarn Boss Yarn Bag
Get your boss of a friend this compact and cute Yarn Boss Yarn Bag, which is travel-friendly and extremely sturdy. It is made of durable canvas that lasts long and keeps the yarn dry and clean. It is equipped with over-sized grommets that prevent snags. It also comes with a detachable strap.
Key Features:
It has 3 large pockets, pencil pockets, and a double zipper top
Velcro-free dividers
Large front pockets
16. Handy Laundry Reusable Canvas Bag
This is the perfect tote bag for a knitter. This reusable canvas bag has durable double-stitched straps, so you can carry heavy items in it. The cute print featuring yarn and knitting needles in the front make it the perfect gift for a knitter.
Key Features:
Double-stitched seams
20" x 15" x 5"
17. Queenberry Sterling Silver Knitting Wool And Needle Bead Charm
If you know someone who loves knitting and it's their birthday, this sterling silver knitting wool bead charm is a great gift option for them. It is a slide-on bead charm that is compatible with the standard-sized European charm bracelets. It fits all Pandora bracelets and looks super cute.
Key Features:
Made of high-quality sterling silver
Slide-on charm with 4.3 mm hole
18. Nagina International Hand Operated Knitting And Crochet Ball Winder
This hand-operated knitting and crochet ball winder will make your friend's life so much easier. This cool ball winder has a waxed surface with deep wood grains. It also has centered weight for perfect alignment. Assembling and using this product is super easy, and it makes a very thoughtful gift for knitters.
Key Features:
36 cms x 12 cms x 25cms
Equipped with a head holding tower
Non-slippery base
Belt-operated mechanism
19. Little Grey Rabbit Knitting Storage Caddy Bin And Organizer Basket
Craft caddies are wonderful for storing knitting supplies. This knitting storage bin-cum-organizer basket is roomy enough to accommodate tons of knitting tools. It is made of cotton canvas, and its deluxe padded structure adds flexibility and firmness. Due to its strong base, it holds its shape without the help of dividers.
Key Features:
Reinforced seams
Can hold up to 40 pounds
13.5″ x 10″ x 7″
The easy-to-use adjustable velcro dividers
20. The Laundress Wool & Cashmere Shampoo
This wool and cashmere shampoo is the right gift for someone who knits clothes for everyone in their family. Keep knitwear durable and fresh with this cedar-scented and allergen-free shampoo. It has a non-toxic and antibacterial formula. Its fragrance is a blend of cedar, sandalwood, orange, and rose.
Key Features:
Preserves the natural lanolin oils to keeping yarn soft
Highly concentrated formula
Lasts up to 32 washes
21. Exquiss Knitting Needles And Bamboo Circular Knitting Needles Set
The Exquiss Knitting Needles Set is a great gift for your friend who loves organic products. This set comes with 18 single-pointed bamboo knitting needles and 18 circular bamboo knitting needles with colored tubes in different sizes. The sizes range from 2 mm to 10 mm. The set also comes with other knitting and weaving tools such as a measuring tape, a yarn cutter, etc.
Key Features:
Made of bamboo
Smooth, lightweight, and luxurious knitting needles
Comes with a box full of knitting and weaving accessories
22. A Aifamy Knitting Needles Holder Case
This knitting needles holder case-cum-rolling organizer is the perfect Mother's Day gift for the mom who loves knitting. This large knitting needles holder has 24 slots and one zippered side pocket. It can hold needles that measure up to 14 inches. It is better than the ordinary box cases as the drawstring closure helps you select and close the organizer easily.
Key Features:
16.5″ x 18.9″
Slots of different depths and widths
Made of premium canvas
Easy to clean
The flap prevents the needles from falling
23. Of Earth and Ocean Kitty Cat Yarn Bowl
If your granny or mom does not have a yarn bowl, surprise them with this kitty cat yarn bowl. It is designed by the award-winning artist Judith Stiles. It is a functional bowl that keeps the yarn ball from falling out. Since it is made of ceramic, it is durable and long-lasting.
Key Features:
Original piece of art
Made of ceramic
24. Knit Vibe: A Knitter's Guide to Creativity, Community, and Well-Being for Mind – Vickie Howell
Knit Vibe by Vickie Howell is the ultimate guide for knitting. This hardcover book contains essential information about knitting, projects, patterns, rituals, etc. It helps boost creativity and mindfulness in knitters and motivates them to try something new. This is a great guide, especially for women who are into DIY.
Key Features:
Educational learning material
Written by a well-known knitting expert
25. Marrywindix 56-In-One Basic Sewing, Knitting, And Crochet Tools Accessories Set
This is a cool sewing, knitting, and crocheting kit for beginners as well as advance knitters. This set includes almost all the items you need for these activities. You can also sew buttons, hooks, and clothes with its help. It is compact and travel-friendly.
Key Features:
Plastic box
Brightly-colored tools
Compact, lightweight, and portable
26. Yarniss Lighted Crochet Hooks Set
How about giving a stunning set of lighted crochet hooks to your friend who loves knitting? This rechargeable crochet hook is packed in a soft case. It is easy to carry around and has 2 adjustable brightness levels. It works in multiple lighting conditions and is perfect for knitting dark-colored yarn.
Key Features:
Rechargeable
5-minute quick charging
7-9 hour battery life
This led crochet hooks set contains 9 interchangeable heads marked with hook sizes
Sizes range from 2.5 mm to 6.5 mm
Lightweight and portable
27. 4M Easy-to-Do Crochet Kit For Kids
This is a cool DIY crocheting and knitting set for kids and teenagers. It is a great set to teach the fundamentals of crocheting. The kit consists of all the required material for making 3 out of the following items: a coaster, a handbag, a placemat, and a belt.
Key Features:
Consists of 2 crochet hooks, 1 plastic needle and 7 colors of yarn
Includes a 14-page instruction book
28. Mira Handcrafts 24 Acrylic Yarn Bonbons
This set of 24 acrylic yarn bonbons is a treat for a pro knitter. This awesome set consists of 525 yards of craft yarn for knitting and crochet. It also comes with 2 crochet hooks, 2 weaving needles, 7 e-books, and everything else a beginner might need to start knitting.
Key Features:
100% acrylic
Includes 2 crochet hooks(size H and J), 2 weaving needles (6.0 cms and 7.0 cms in length, 16 mm hole size), and 7 e-books
Comes with a reusable storage bag
29. Feeke 750 Pieces Assorted Knitting Stitch Markers Bulb Safety Pins
Knitting stitch markers are helpful in many ways. This set comes with 750 pieces of clothing tag pins in 15 colors that are organized in different compartments. Colors include black, golden, burgundy, white, bronze, red, green, dark red, royal blue, purple, rose gold, yellow, orange, and dark purple.
Key Features:
Come in a handy 15 compartment storage box
30. Kilofly Small Crochet Cotton Lace Coasters Doilies
If you are looking a cool knitting inspired gift for someone who loves knitting, these Kilofy Small Crochet Cotton Lace Coasters are a great option. The coasters are made using washable cotton. These doilies have a small round cute knitted lace pattern and are great for cups, glasses, and other tabletop items.
Key Features:
4 x 4 inch
Dimensions may vary slightly within 8 % due to the nature of hand crocheting process
Recommended Articles
The following two tabs change content below.

Latest posts by Harini Natarajan (see all)

Harini Natarajan
As Chief Editor, Harini sets the tone and editorial direction for StyleCraze to deliver engaging, interesting, and authentic content revolving around women's health, wellness, and beauty. She has over 14 years of experience in content writing and editing for online media. She specializes in the areas of Beauty, Lifestyle, and Health & Wellness and is proficient in Medical Sciences (Biology, Human Anatomy and Physiology, and Biochemistry). Her background in Biomedical Engineering helps her decode and interpret the finer nuances of scientific research for her team. Harini is a certified bibliophile and a closet poet. She also loves dancing and traveling to offbeat destinations.