30 Best Gifts For The Music Lovers In Your Life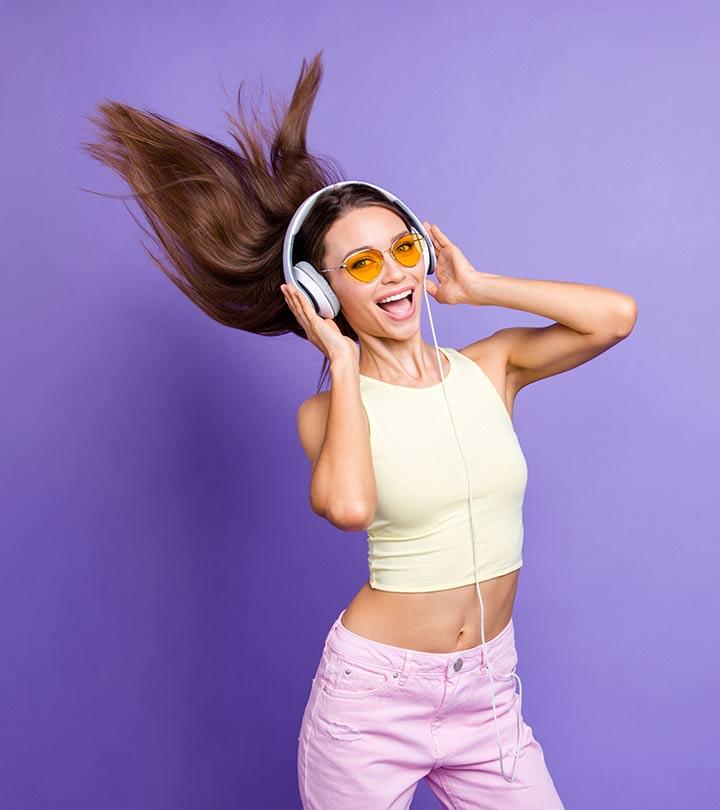 Victor Hugo, one of the world's greatest playwrights and novelists, said, "Music expresses that which cannot be said and on which it is impossible to be silent." He was right!
When you know someone who loves music, gifting them the right present could mean the world to them. The right gift for the (budding) musician in your circle can speak as eloquently as music itself.
Gifts that resonate with their personalities or items useful in their music career always tend to be the best. Scroll through this list that we have put together, and see if you can find something you think that the music lover in your life will love.
30 Best Gifts For Music Lovers
This portable Bluetooth speaker from Oontz is an excellent gift for music lovers. It delivers crisp sounds with enhanced bass and is suitable for outdoor use.
Oontz Angle 3 Bluetooth speaker is fortified with a 10+ Watt power amp. You can connect this device to your smartphone via Bluetooth, with over a 100-feet radius. You can receive phone calls with the speaker while connected. It is also compatible with other Bluetooth devices like Echo. You can also connect your device using an AUX cable.
Key Features
The battery can last up to 14 hours at medium volume.
Lightweight
Resistant to water splashes (can be used at the beach, pool, or in a shower)
There is no better gift for music lovers than a crystal-clear audio device. The MPOW 059 Bluetooth headphone delivers excellent sound quality. The speakers are made of neodymium drivers, and the Bluetooth is a CSR chip supported by a protein earmuff cushion design.
The battery powers the wireless connection for up to 20 hours, after which you can switch to the audio jack mode. This headphone can be used with a phone, PC, or TV.
Key Features
Foldable design
Adjustable headband to accommodate varying head sizes
Comes with a packaging bag
The Sonos Play Wireless Smart Speaker works using a cord input and a Wi-Fi connection. It is compact and works perfectly with other Alexa devices, giving you a seamless sound experience.
Key Features 
Compact and portable
It has a pair-two-play-one feature that allows you to create a surround sound system.
Eargasm earplugs protect the ear from harm, despite prolonged exposure to noise. This is a fabulous gift for musicians or people with noise sensitivity.
This product reduces the admission of noise into the ears while preserving the quality of voice and music. It is made for people who frequent high noise areas. The anti-stick design ensures comfort for prolonged use, and the case is waterproof.
Key Features 
Comes with two different-sized earplugs
Made from non-toxic material
Hypoallergenic
The Victrola Vintage Bluetooth Turntable is a great device for vinyl purists to play their favorite vinyl albums.
It can be used with retro vinyl records and also connected via Bluetooth to any device. You can also connect to it with the aux input cord. The turntable has three speeds – 78 rpm, 45 rpm, and 33 ⅓ rpm – a great feature for party mixing.
Key Features 
Portable
Built-in stereo speakers
Different control knobs, including a volume knob for easy control
This professional turntable from Audio Technica is the ideal gift for someone who wants to start out as a professional disc jockey. It uses a USB port to connect directly to a PC.
The ATLP120 turntable has three-speed levels powered by its direct-drive motor. It can be operated at 33 rpm, 45 rpm, and 78 rpm. This device is constructed on an aluminum cast platter that provides good rigidity.
Key Features 
Compatible software for PC connection
Detachable plastic dust cover
Audio jacks
This is the ideal gift for musicians. It comes with the Zingyou BM-800 condenser mic with accompanying accessories. The BM-800 mic is a large-diaphragm mic with a wide frequency response that delivers crisp sound, which is ideal for vocalists.
This mic has a high signal-to-noise ratio, which is bolstered by the accompanying shock mounter. The pack also contains a pop filter and a sound filter for optimum recording experience. Other contents of the pack include an adjustable arm stand and suspension scissor, an anti-wind foam cap, and a power cable.
Key Features 
Three-layer protection to ensure durability
TRS quarter-inch plug
This Dosmix retro-themed wireless speaker connects via Bluetooth to nearby devices, including speakers. It is portable and comes with a lasting battery, having up to 3 hours of optimal use.
Key Features 
Comes in a fancy pink design
Can be used to charge other devices using the USB port
Only the 90s kids will remember! Pretty much anyone born before the advent of CDs and iPods will get a kick of nostalgia from this cassette tape-shaped 8 GB flash drive. Just like a cassette tape, this flash drive can store your files. Unlike a cassette tape, the flash drive can store documents, videos, books, music, the boring-but-important spreadsheets, and whatever else you choose. This is the perfect gift for those who want to distribute their demos and mixtapes to media companies.
Key Features 
Easily opened and closed after use
High-quality design
This fun pinata is a great gift for a birthday or an outdoor party. It is sturdy and shaped like an acoustic guitar and can hold up to 2 pounds of candy. Get the pinata and give the "guitar smash" a whole new meaning!
Key Features 
Lightweight
Can take a lot of hits
This baby grand piano is perfect for helping to teach your ward the basics of music.
This mini grand toy piano is custom-made and comes with a tiny bench. The strong sounding keys have unique chime-like tones to make piano lessons more fun for your 4-year-old.
Key Features 
Lightweight
Comes with a fancy music notepad
This mug is shaped like an amplifier and is well coated to keep your beverage hot or cold for about an hour. Get this fun little mug for yourself or for someone who likes whimsical gifts.
Key feature 
Approximate capacity of 24 ounces
Made of food-safe ceramic material
This mug from Spoontiques is a double-walled ceramic mug and holds up to 14 fluid oz. It is perfect for people on the go. It has a locking lid and a skid plated bottom, which make this mug the perfect travel companion.
Key features 
Comes with a lid
Dishwasher- and microwave-safe
For those who remember what a tape-recorder looked like, here is a healthy dose of nostalgia from QZUnique. The bag is crafted in the shape of a tape recorder radio. It is made from synthetic material and is durable.
This spacious bag can be used in three different styles. It can be used as a handbag, as a crossbody bag, and as a shoulder bag.
Key Features 
Adjustable arm to change the usage
Metal straps hold it in shape
This is a shopping bag printed with a music note and is spacious enough to carry yourhttps://www.amazon.com/ICOLOR-Reusable-Eco-friendly-Convenient-YGWB-36/dp/B01LASTB00/ref=sr_1_15 groceries. It can be carried as a shoulder bag or as a large handbag. It is made of soft polyester, and the inside of the bag has a small inner pocket to keep your phone or keys.
Key Features 
Foldable and can be easily carried around
Machine-washable
Combine your love for music and barbeque with this fun barbecue toolset. It is fashioned in the shape of a rock guitar. The spatula and tongs are made from stainless steel and have grips fashioned from wood. The handles are long enough to enable safe usage.
Key Features 
Does not rust
Lightweight and durable tools
This 6-piece cookie cutter set is made to tickle the fancy of music lovers. The cookie cutters are crafted in the shape of six different instruments and musical notes.
This cookie cutter set has three different sized music notes: a g-clef, a violin, and a piano.
Key Features 
Made from tin-plated steel
Can be washed for reuse
While a Fender guitar may be something you can only dream of for now, here are some Fender guitar-themed throw pillow covers you can use to soothe the ache. They are made of high-quality soft cotton, are comfortable, and can fit any room to add a touch of whimsy to the décor.
Key Features 
Hidden zip protects the pillow from exposure
Can be personalized
This musical journal's binding is tough, pretty, and built to last. The staff paper is thick enough for pencil or rollerball use, with no bleed-through on the other side. It has a pocket at the back of the journal. The elastic band keeps the journal firmly closed even with loose papers stuffed in between.
Key Features 
Hardcover
Sturdy pages
Can be used in rough conditions
This pretty beaded bookmark is a great gift idea. Musicians who need to mark their notebooks will certainly appreciate this as a present.
Key Features
Has a clean finish that slides on book pages
Has a rope tassel on the end for better handling
This notecard set is music-themed, so you can add some harmony to the notes you send out. This flat note set from Graphique comes with matching envelopes and is sure to draw attention.
Key Features 
Contains 50 note cards
Comes in a matching music-themed decorative box
This rollerball pen from Josh Bach is unique, with its black and chrome finish and the clef note pen clip.  The penis of high quality and has an easy refill rollerball.
Key Features 
The g-clef clip is made from nickel silver.
Is a black ink pen
These clef cufflinks and tie-clip set from Zunon are fun and quirky. They are designed in silver over a black background and are sure to stand out. Wear them over any suit and add a hint of musical charm to any occasion you grace.
Key Features 
High-quality and durable
Sturdy
The clef pendant and necklace are crafted from sterling silver. The material is tarnish-resistant and nickel-free. The pendant is platinum-plated and rose gold-plated to keep it shiny for a long time. Polish the pendant and necklace regularly with a soft cloth.
Key Features
The pendant also carries a fancy music-themed saying.
Nickel-free and tarnish-resistant
The infinity charm and musical notation charms are made from silver toned metal. The charms contrast beautifully with the teal cords and leather strands that form the bulk of the cuff.
Key Features 
Adjustable clasp to fit varying wrist sizes
Teal and black clasp
This night lamp is shaped like a guitar and has 3D LED lights. The night light is environment-friendly, non-volatilizing, and non-toxic. This device is easy-to-use and can be switched on or off with a soft touch.
Key Features 
Comes with seven different colors
Powered using a 5V USB cable
This wall art from Firstwallart is of a mic with a headphone hanging over it. This eye-catching design would look good on the walls or door of the living room or bedroom. The black background makes the design stand out.
Key Features 
Has a length of 32 inches and a breadth of 16 inches
Comes with a polished wooden frame
This board game from Spontuneous is an innovative game for a music-loving family.
Each player picks a word. They need to come up with any song of their choice, with the only rule being that the song must start with or contain that word. To play this game, it helps to have extensive knowledge of songs through the ages.
Key Features 
Can be played by individual players or teams
Suitable for all ages
This is a great idea for musicians who have just become parents. The set includes a baby bodysuit and a bib.
They are made of comfortable soft cotton and come in bright, happy colors. The bodysuit is inscribed with the saying "Music runs in my DNA," next to the print of a DNA strand.
Key Features 
Snap closure
Unisex
Comes with two matching bibs
This is a gift idea that is specific to guitarists. The gift set contains twelve specially designed guitar picks. The flexibility of the pick helps the strumming of your guitar sound like heaven.
This product comes in a metal box that fits into the guitar case for easy portability. It can be used for any type of guitar. The design is sturdy and does not peel off easily.
Key Features 
71mm thick
Comes with a free keychain
That was our round-up of the 30 best gifts for music lovers. While giving a gift is a warm gesture, appreciating the interests of the people around you speaks volumes about how much you value your relationship with them. Getting a music-themed gift for your music-mad friend takes that warm gesture up a couple of notches and ensures that the memories they associate with that gift will always be happy ones.