30 Best Gifts For New Dads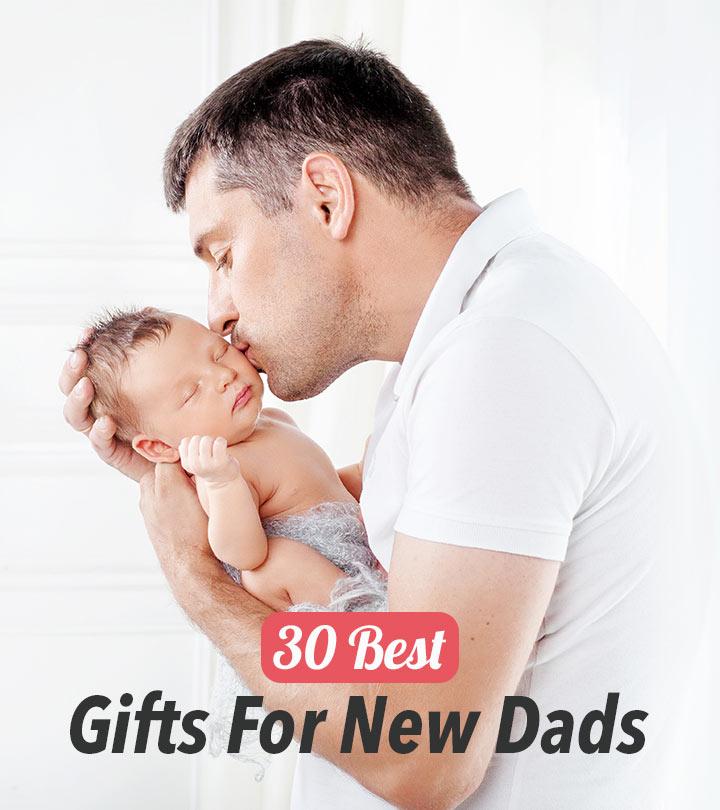 Fatherhood is as beautiful, if not more, as motherhood. It may appear very demanding and nerve-racking in the beginning. But with the right tools and support, the process can get simpler.
If you know a new dad and want to congratulate him with the most helpful and touching gift, this list has you covered. From funny daddy duty diaper bags to baby care books, we have compiled the most exciting and worthy gifts you can offer a new dad. Take a look.
30 Best Gifts For New Dads
The Baby Shusher Soother SoundMachineoffers a calming and soothing sound (a real human voice) that lulls your baby to sleep. The device is portable, easy to use, and has a removable wrist wrap. It offers 15 to 30-minute long shushing sessions to make even the most resistant babies sleep.
Key Features
Portable and easy-to-use design
Operated by 2AA batteries included in the package
BPA-free material
Durable
Adjustable volume control
The Willow Tree Sculpted Hand-Painted Figure is made of resin. It celebrates the sentiment of the miracle of a new life. It can be displayed on a shelf or a mantel. The figure is carved and painted entirely by hand.
Key Features
Beautiful décor item for living room, bedroom, etc.
Carved and painted entirely by hand
5" resin figure cast
The Mokaloo Diaper Bag Backpack can contain all the essentials needed for a new dad to take care of his newborn. This works as a multi-functional bag. It has insulated pockets, stroller straps, and is water-resistant. Other compartments allow you to separate wet items from the dry ones. It is made of waterproof fabric and is large enough to hold all the baby's essentials.
Key Features
13 internal and external pockets for organization
USB charging port and power cable
Tear-resistant
Waterproof
Insulated
Lightweight
The Lalabu Dad Shirt is an easy-to-use pouch that makes it easy for dads to carry their little munchkins. The shirt doesn't require any wrapping or belts; one can simply slip their baby in the pouch and keep moving. It is made of 66% polyester, 32% rayon, and 2% spandex. This V-neck casual shirt can help dads carry their baby effortlessly.
Key Features
Breathable mesh panel
Support/pouch extender grows with baby
66% polyester / 32% rayon / 2% spandex
This Whiskware Pancake Batter Mixer can be the right gift for the dad who has to multitask. The batter mixer allows you to make smooth batter for pancakes, waffles, crepes, and more. Add the ingredients and slide in the blender ball and keep shaking. This device will help you make breakfast quickly and get back to your newborn in minutes. It cleans up in about 30 seconds. The batter mixer's spout is made of silicone and is heat-resistant.
Key Features
Cleans up in less than 30 seconds
Wide opening for adding ingredients easily
Dishwasher-safe
Draw shapes and patterns
Heat-resistant silicone spout
The father of a newborn doesn't have access to sleep. For such fathers, the FosPower Emergency Solar Hand Crank Portable Radio could be a wonderful gift. The radio also offers emergency power to any small phone or tablet and works as an entertainer. The radio's crank lever and solar panel are capable of regenerating enough power to keep the radio, lights, and SOS alarm ready to go whenever you need them.
Key Features
4 LED lights and 1W flashlight
Emergency weather forecasts and emergency news broadcasts from AM/FM stations
2000mAh power bank
The Threadrock Infant Bodysuit & Men's T-Shirt Matching Set is meant for the new baby and daddy when they are out on adventures. This set of outfits will make them look cute together. While the dad's shirt contains the image of a pizza pie, the baby's shirt has the image of a slice. This exclusive set is made of 100% preshrunk cotton and is skin-friendly.
Key Features
Unisex infant bodysuit
100% preshrunk cotton
Seamless rib knit collar
Taped neck and shoulders
Double-needle hemmed bottom and sleeves
No products found.
The Experimenting With Babies Science Guide helps dads conduct studies on the cognitive, motor, behavioral, and language development of their kids. This book offers some creative and engaging projects for babies and fathers that contributes to the growth and development of the baby.
Key features
Great way to bond with toddlers
Engaging science projects
The New Parents Pregnancy Announcement Coffee Mug Set will remind the parents of their new celebration. These mugs for couples can hold 11 ounces of their favorite beverage. The mugs read 'Mom' and 'Dad.' They are dishwasher- and microwave-safe. The words are printed with superior ceramic inks that are heated at high temperatures.
Key Features
Permanent imprint that doesn't lose glow
High-quality ceramic mugs for hot beverages
Can hold 11 ounces of a beverage
The Amazon Echo Dot (3rd Gen) Smart speaker With Alexa is among the most popular gift in this category. This speaker is available at an affordable price. It is a compact speaker with fabric design and can stream songs from Amazon Music, Apple Music, Spotify, Sirius XM, etc.  It also has a voice control feature that turns on lights, adjusts thermostats, and locks doors. It is compatible with connected devices. The device has multiple layers of privacy protection.
Key Features
Call almost anyone hands-free
Make an announcement to every room
Ask Alexa to play music, answer questions, read the news, check the weather, set alarms, etc.
Compatible with smart home devices
Stay hydrated with this insulated, leakproof, and stylish travel mug. It is a stainless steel mug that keeps the drinks cold or hot for hours and fits in most cup holders in cars. The auto seal feature keeps liquids from spilling or leaking. The lid is easy to clean.
Key Features
THERMALOCK vacuum insulation
Drinks stay hot for 5 hours and cold for 12 hours
One-handed drinking with the push of a button
Spill-proof and leakproof design
The Ring Alarm 5 Piece Kit is a must-have product that offers 24×7 professional monitoring. It puts home security at your finger tips. This is especially useful if you have a baby and want to stay alert about the movements in your home.
Key Features
Manage the alarm with the Ring app
Easily setup the alarm in minutes
Includes base station, contact sensor, motion detector, keypad, and range extender
The VOBAGA Wooden Coffee Cup Warmer comes with temperature settings for warming tea, water, milk, cocoa, coffee, and other such beverages. One can use a flat bottom steel mug to keep their drinks warm. The warmer has three temperature settings. It has an automatic shut-off system after staying on for 4 hours.
Key Features
Metal waterproof heating plate
3 temperature settings and auto-shut off feature
High Tech Polyimide Film keeps the mug heat-resistant and fire-resistant
When you are a new dad, taking some time off to get a shave may get difficult.  For such daddies out there, the Maison Lambert Ultimate Shaving Kit will do the job. This grooming kit comes with an organic shaving soap, aftershave oil, and wood-shaving bowl, 100% pure black badger shaving brush, and a safety razor with 10 blades. It consists of all the items a dad needs for that perfectly shaved look. The materials used to make the kit are hypoallergenic.
Key Features
Made using luxurious ingredients: organic argan oil, jojoba oil, cocoa butter, bentonite clay, and aloe vera
Handmade
Hypoallergenic
Chemical-free
Sulfate-free
Paraben-free
This Baby Keepsake Box is a hearty gift that will help you store your baby's belongings and create memories. This set includes 50 plus labels, 9 drawers, 8 vertical files, initials for customization, envelopes, and a birthday survey. This hearty box will store everything from your kid's first lost tooth to their adorable pictures.
Key Features
Handcrafted and customized
Acid-free paper protects items
Drawers for booties, hospital keepsakes, etc.
The Daddy's Diaper Duty Apron is a fun and sassy gift for dads when on diaper duty. This apron will make changing diapers far easier for new dads. The apron and face mask are soil-resistant. The kit comes with rubber gloves, colorful clothespins, and two bottle nipples.
Key Features
Soil-resistant apron and face mask
Comes with 2 emergency nipples
This 4×6 picture frame is made of natural wood and has a beautiful engraving. The frame has a touching quote 'I may outgrow your lap, but I will never outgrow your heart.' It is a perfect gift for a loving father. The frame has a back stand easel for table display. It is handcrafted by Californian artisans.
Key Features
Frame measures 6 1/2″ x 8 1/2″ and holds a 4″ x 6″ photo
Comes with curved beveled edges
Great for table display or wall art
This cool Daddy's Diaper Duty Device will come to the rescue when the daddies are not so good at their diaper duty. This duty bag consists of diapers and wipes, plastic tongs, safety glasses, and travel-sized baby products, all tucked into a fun apron tool belt. It comfortably holds all the baby changing necessities and makes diaper duty effortless.
Key Features
6 diapers (size 3), baby wipes (10)
Travel size baby lotion, baby powder, baby shampoo, baby head-to-toe wash, and diaper cream, plastic tongs, and safety glasses.
A spill-proof travel mug becomes a necessity for new dads. The New Dad Stainless Steel Travel Coffee Mug is wrapped with bamboo. It is eco-friendly. The tight lid makes it spill-proof and leakproof.
Features
16 oz double-walled stainless steel coffee mug
Wrapped in 100% bamboo
BPA-free
Spill-proof and leakproof
The Honest Company Calming Lavender Hypoallergenic Bubble Bath is made from lavender essential oil, chamomile, calendula, and other botanicals. It cleans and gently soothes the skin. It is gentle, mild, and tear-free. It can be a much soothing gift for the new dad. Lavender also calms the mind and relaxes the body.
Key features
Made using lavender oil and botanicals for soothing sensation
Sulfate-free
Paraben-free
No synthetic fragrances or formaldehyde
A dad can be baby-ready with the Ergobaby Baby Carrier. This fun and comfy baby carrier is made using cotton. It perfectly adapts to the size of the growing baby. No added inserts are required for this carrier. It offers sun and wind protection. The carrier also offers exceptional lower back comfort with padded lumbar support waist belt. The extra padded shoulder straps offer the option to wear the carrier in two ways – crossed or backpack style.
Key Features
Adjustable waist belt for comfort
One-handed slider adjustment for turning baby around
UPF 50+ tuckaway baby hood for sun and wind protection
Feeding the baby the right way is very important, and this monitor helps in this regard. It helps track the temperature of the food, the amount and duration of feeding, etc. It ensures optimal feeding and notifies you for the next feeding session.
Key Features
Automatically sync feeding data to app via Wi-Fi (duration, temperature, angle)
Pairs with a free companion BlueSmart mia smartphone app
Busy new dads can avoid the wires and hassles of charging the phone with this wireless charger. This certified charger charges your phone safely and prevents the heated plastic smell. It has a user-friendly, low-key noiseless LED light indicator that warns against overcharging or overheating.
Key Features
Fast charging
5W maximum output for iPhone 11/11Pro/XSMax/XS/XR/X/8/8Plus
Supports standard wireless charging at speeds of 5W with other Qi-enabled devices (New Airpods/LGG7/V30/V35)
Built-in protection against overheating, overcharging, and short circuits
New dads are most often clueless about handling the newborn. The Baby Owner's Manual is the perfect book to help them out. This book has operating instructions and several troubleshooting tips to keep the newborn happy. The book consists of step-by-step actions, images, and hundreds of answers to questions related to raising a newborn.
Key Features
Consists answers to all your problems related to newborns
Appropriate imagery and explanations
The AuKing Mini Portable Video Projector is compatible with laptops and smartphones. It will play the new dad's favorite videos and movies on a huge wall. This projector is a great gift for him to relax and unwind after a long day. It offers high-quality visual experience along with great sound.
Key Features
32~170 inches projection display size
1 m to 5 m projection distance
Powerful cooling system extends bulb life to 55,000 hours
Can be easily connected with laptops, smartphones, tablets, USB drives, and X-Box ONE to enjoy big games
When babies are around, it is important to keep everything sanitized and hygienic. This is where the PhoneSoap 3 UV Smartphone Sanitizer & Universal Charger comes in handy. The unit houses two scientifically proven germicidal UV-C bulbs that completely sanitize your entire phone. They kill 99.99% of all bacteria and germs. This unit fits and charges any phone.
Key Features
One USB port and one USB-C port for charging
Accommodates all smartphones, including larger models, like the iPhone 8+ and the Galaxy S10+
Can sanitize whatever that fits
KiddosArt's The Amazing Baby Memory Book helps dads collect pictures and memories of the newborn. The book comes with a decorated box, set of 12 monthly stickers, and a keep-safe envelope. Each book has 72 pages with animal characters to fill with joyous stories.
Key Features
Easy way to mark baby's early years of growth and development
Monthly stickers to add stories about baby's first 5 years
72 colorfully printed pages
When a new dad is on duty, he surely would need this Hamilton Beach Programmable Coffee Maker to refuel after hours of caretaking. This is a portable coffee maker with three brewing options that is super easy to clean. You can simply set your brew time and strength in advance. The 2-hour automatic shutoff feature will allow you to relax in peace.
Key Features
Easier to fill and easy to clean
Automatic pause and serve with no messy pouring
Programmable clock with 2-hour auto shutoff
1-4 cup brewing options
Can make 12 cups
A new dad is a busy dad. The Zyllion Shiatsu Back And Neck Massager can help him relax and calm down. The massager relives sore muscles and calms overused and tight muscles. Its adjustable multipurpose handle straps allow the adjustment of the pillow during a massage. They can also be used to secure the massager to a chair. It is a powerful three-dimension massager that automatically changes directions every minute. It offers balanced heat and relaxation to the target areas.
Key Features
Advanced heating function soothes aching muscles
Ergonomic and compact pillow massager
UL approved power adapter works with both 110-120V & 220-240V electrical outlet
Auto shutoff feature
The Betron B25 Noise Isolating Earphones will make a gift for the new dad who loves music. While off-duty, the dad can relax while listening to his favorite tunes with these powerful earphones. The earphones deliver clear sound and have a powerful bass. They are optimized for MP3, iPad, iPod, iPhone, and other portable media players. The ear adapters are available in different sizes. They enable excellent ear canal fit and ambient noise attenuation.
Key Features
3 noise isolating earbuds: small/medium/large
Pure sound and powerful bass
2-meter cable length
Beat Response Control Technology for a deep bass response
9 mm high definition speaker drivers
Being a dad can be a challenge. But it is a worthwhile journey that all dads cherish. These gifts will be able to make fatherhood more pleasurable. Do you know someone who has just become a dad? Gift them something and see how they would light up!