39 Best Gift Ideas For A 1-Year-Old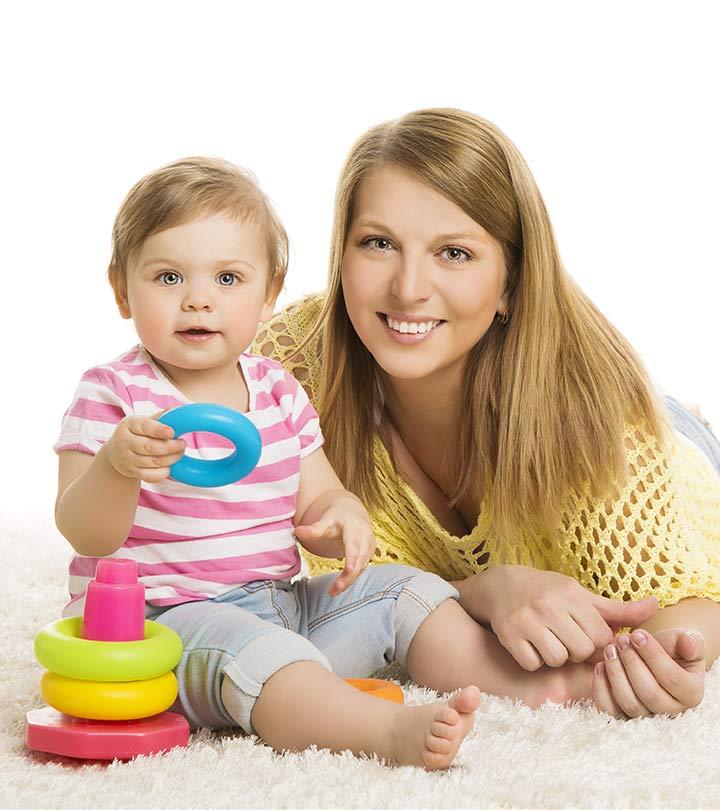 Selecting the best gift for a 1-year-old is not easy. A 1-year-old baby's brain is in the developing phase – it is the most active stage of life. They are learning speech, recognizing voices, and exploring how to walk. Hence, the best gift for a 1-year-old should be something that drives mental development and growth.
We have collated a list of 39 such gift ideas. These would not only add fun to the little one's life but also help in their growth and development.
39 Best Gifts For One Year Old
Wouldn't it be fun to have your child's beloved Disney friends in the bathtub? This Disney Baby Bath set contains colorful toys that fit into your baby's hands perfectly. The baby can enjoy their bath time with the visually appealing Finding Nemo fishes.
The squirting action and the compact size make them ideal for making bath time a fun experience. This toy set comes in a pack of three.
The pull and sing puppy is an interactive toy that follows your 1-year-old around. Pulling or pushing the puppy activates the sounds and music and engages the little one in the playtime sessions. This enhances gross motor skills in children. It is the best gift for 1 year old kid.
The three colorful buttons help in developing fine motor skills. The puppy has a light-up nose that flashes with the sound or music responses to keep your little one engaged. It comes with 2 AAA batteries and 60+ installed sounds, including puppy sounds, phrases, and songs.
This toy delivers a classical and musical learning environment for artistic babies. Every key on the xylophone is carefully designed to match the assigned note, which means it gives a great musical experience. It comes with two plastic mallets.
The heads and handles of these mallets are completely attached to prevent the risk of detachment and breaking and provide better sound. The xylophone is developed with non-toxic substances for children-friendly use. This classic musical toy comes with two musical harmonicas and is BPA-, lead-, and phthalate-free.
These friction powered cars are the perfect gifts for 1 year old boy, and they easily go a long distance when pushed slightly forward. These toys do not need the constant supervision of an adult. They are further designed to improve hand-eye coordination and sensory perception. They also help in developing their imagination. The toddler learns to identify different colors and shapes, which helps stimulate their visual development.
The set comes with one friction powered tractor, one mixer truck, one bulldozer, and one dumper. The toys are manufactured using non-toxic plastic of standard EN71. They are BPA-, lead-, and phthalate-free.
Pretend play is one of the best games to enhance a child's motor skills and overall learning. The picnic basket set enables sort, stack, clean, fill, and empty play functions. Whenever you lift the basket lid, you can hear a sweet musical sound.
It helps in teaching the kid colors, manners, shapes, and motor skills. This toy is a 14-piece set with two plates, six foods, two cups, two forks, one basket, and one blanket.
The dancing alligator is a fun push-and-pull toy that couples learning with enjoyable playing experience. When pulled through the string, the alligator moves its tail and head up and down in a chasing motion.
The toy is made with superior quality material that is also eco-friendly. It encourages intellectual and physical development in the baby.
These toys for 1 year old boys deliver a discovery-oriented, hands-on playing experience. The baby just has to push, pull, or press the button to experience the pop-up activities of the different animals in the game. This helps your baby identify and recognize different animals and shapes.
It also has a built-in handle that makes it easy to carry. The push, press, and pull actions promote fine motor skills in the child.
This bright and colorful wooden cube offers fun activities on all five sides. There are several activities, such as bead mazes, open and close doors, animal matching, ABC tiles, and racing car rollers, which can keep the baby entertained for hours. Colorful wooden cubes are the best toys for 1 year olds.
This cube is 16x12x12 inches in dimensions and suits the height of the baby perfectly. It also delivers a learning environment through tactile stimulation and visual learning.
This gift stimulates a curious working environment. The little artisan set has tools like a hammer, a wrench, a screwdriver, and screws. The set allows for an engaging musical time whenever the child drops the right tool in the right mold.
The interactive features help your little one develop fine motor skills and help them learn ABCs, colors, numbers, and shapes through music and sounds. The kid-friendly features, such as the bright colors, catchy tunes, and smooth edges, ensure your little one is entertained for hours.
Purchase this Mozart magic cube to introduce your little one to interactive music and play. The cube teaches how different sounds combine in order to make eight classical pieces. With a simple press, your child can activate any of the five instruments – French horn, harp, piano, violin, and flute.
The sides of the cube light up according to the tempo of the music being played. Your child can control the volume button, activate different sounds, and even create eight Mozart masterpieces.
This is the best gift for the baby who is ready to learn to walk. The child can learn to walk as well as play with the detachable panel shapes. As the baby grows, the panel can be removed and placed accordingly. It helps your baby develop motor skills.
It contains five musical notes, three shape sorters, a pretend telephone, turning gears, two spinning rollers, and three light-up buttons. It has more than 70 sing-along songs and sound effects.
The Choo Choo Express is a plush elephant soft toy. You can wash it easily for a clean playing experience for your child. This also makes for a great bedtime toy.
This 100% polyester toy measures 9×8.5 inches and is perfectly designed for easy and safe playing activities.
This is not a traditional xylophone as it can be played in several ways. The child can pound the balls to send them tinkling over the keyboard or pull the keyboard and play on it separately.
The xylophone promotes musical exploration, eye-hand coordination, dexterity, and healthy arm movement. It also encourages audio recognition and plays. This toy is child-safe and durable and uses water-based, non-toxic paint.
The sensory press and stay blocks encourage an early engineering experience. These blocks can be pulled apart and pushed together from any possible angle. You can also stack them up or build sideways. The toy promotes imagination and creativity. It contains 24 blocks in engaging and appealing colors.
This is a sturdy four-piece wooden puzzle game that includes four textured animal pieces: a kitten, a puppy, a bird, and a bunny. There is a mirror in the center of the puzzle board and matching pictures under the pieces.
This game will help your toddler discover colors and patterns, develop fine motor, emotional, and social skills, and improve your child's sensory development. It is 10×10 inches with bright colors and bold patterns that spark imagination and wonder.
This is an 18-piece puzzle set that allows the child to match the animal with the appropriate food. This gift enhances eye-hand coordination and color recognition.
It contains three animals – a cat, a dog, and a bird – in attractive and eye-catching colors. The food bricks include bone, seed food, and fish food. The child can create hybrid animals, which encourages creativity and imagination.
This tree game offers hours of enjoyable time spent while exploring the tree. It contains various shapes, figures, and activities. The child can play while moving objects around on the guiding tracks.
The toy contains four quadrants, including six bead runs, a spring flower, and six tracks. The bead runs and gliders help in enhancing grasping skills. The height of the toy is perfect for a toddler.
The zookeeper wooden shape sorting box provides an enjoyable zoo time for your child with an enhanced learning experience. When the slot is down, the zoo animals can only have half a meal; and when the slot is up, the zoo animals can have full meals. There are shapes for both half and full meals.
The cube's size is 6.5×6.5×6.5 inches. It has eight wooden shapes and one sorting box. It contains four slots and four extensions, each for half meals and full meals.
No products found.
The petting zoo is an all-round zoo experience with a sheep, a goat, and a bunny. It has colorful pieces of animals and other zoo essentials for an exploratory experience. The animals can even be made to sit and bend for different pretend plays. This unique birthday gifts for 1 year old boy encourages him to learn and explore and have fun too!
Dear Zoo is a flipbook that offers an interactive learning experience for children. The book has simple-to-read phrases with visual pictures that enhance the learning in a 1-year-old. Your kid will love lifting the gflaps to discover the animals – an elephant, a lion, a monkey, etc. Touch-and-feel animals further improve the learning experience for children.
The roll and play game is a cube that contains various cards with specific activities (like roar like a lion, make a happy face, etc.). This also contains numbers and colors for all-round skill development in children. It contains 48 cards with different activities, which help promote creativity and gross motor skills in your child.
This bendable toy ball can quickly become your toddler's best friend. It is eye-catching with vibrant colors and has an easy grip. It is 4x4x4 inches in dimensions. It is also dishwasher-safe.
This camping playmat is suitable for children of different ages. You can create a full camping experience with a soft wood-like grid. It contains a peek-a-boo mat and a soft bedtime toy. The playmat has fun textures, and a peek-a-boo felt flap. It also includes a plush sleeping bear pillow.
There are four ways to play – playmat, overhead play, seated play, and tummy time mat. It contains over 17 developmental activities, including a light-up firefly, a turtle mirror, a bear rattle, and a musical raccoon that has a wooden teether and plays Twinkle Twinkle Little Star.
The WaterWheel is a perfect playtime buddy for a child who loves playing with water. It comes with boats, a water wheel tower, and cups. It contains canals, moats, lakes, and harbors along with a spinning wheel.
The child needs to pour water into the wide funnel, which activates the water wheel and spills the water into the inner and outer harbors. This toy is one good way to keep the child away from mud and dirt. Multiple children can play this game at a time.
Hide & Squeak contains two games in one set. The child can play with colorful, different faced eggs and reveal the chicks inside as the eggs crack open. When the child presses the top of the eggs, the squeaks of the chicks can be heard.
This toy contains six colored eggs, each containing a chick. It promotes dexterity and color recognition.
The floor mirror helps enhance curiosity and encourages the baby to focus on human faces. It also improves your child's vision and related skills. It has an attached symmetrical butterfly that facilitates tactile exploration.
The ladybug and tracker ball encourages the development of visual perception in the baby while the textured leaves encourage peek-a-boo play. The mirror is 11.5×11.5×4.2 inches in size. It comes with an easel back that enables the mirror to stand on flat surfaces.
The Oombee Cube is known for its innovative shapes. The various shapes are tied to a thread so that your child doesn't lose them. They can easily slide the rubbery and squishy shapes in and out without facing any difficulty.
The toy contains six shapes – circle, double circle, oval, pentagon, square, and triangle. This cube enhances the child's fine motor skills, visual-spatial skills, and shape recognition abilities. The toy is made from BPA-free silicone and is durable and safe for use.
No products found.
This rocker has a stationary seat and toys attached to the top. The bar is removable, enabling your child to take an undisturbed nap.
The rocker has two positions: one that reclines, and one that folds out. It also generates calming vibrations for comforting the baby. It has a removable toy bar that has two bat-at toys. The seat pad is lightweight and machine washable.
This book promotes learning, understanding, and fine motor skills in your child. It contains rhymes and six colorful pages with peek-a-boo flaps that are easy to open and close and promote hand-eye coordination.
It provides a means for you to bond with your baby through stories. It is made with cloth to ensure safe learning, and the colors enhance visual development.
This musical toy is a unique gifts for one year old, as it has various melodies and dancing lights for your child's visual engagement. It has a small and easy grip and also a volume control that enables parents to control the volume during odd hours.
It promotes grasping and teething. This gift comes with seven melodies and a switch button for changing the melodies.
31. Dimpl Baby Toy
This toy consists of a tray with push and pop bubbles. It enhances your child's hand-eye coordination, sensory exploration, and fine motor skills while he/she tries to play with the bubbles.
The toy contains five different-sized bubbles made of BPA-free, good quality silicone. The frame is made of high-quality ABS plastic. This product is fully safety tested.
The balance bike is designed to allow the child to learn balance without falling off from the bike. It has fully enclosed wheels that prevent clamping the baby's delicate feet. It gives a 135-degree movement to ensure that the baby does not fall off on the side. The handlebars and wheels are made of eco-friendly material.
This gift is certified by CPC, ASTM F963, and EN71 for safe use. It is available in different colors, including blue, orange, pink, and black.
This plush toy comes in rings that can be stacked one above the other to make a duck-like structure. The rings are made from soft, high-quality cotton to keep your child's skin from getting irritated. This is a great gift to develop fine finger skills in babies.
The toy has six soft rings: a teether, a beeping duck, a windmill, a crinkle, a soft toy, and a sunflower. The crinkle noise ring produces a sound that is similar to the white noise babies hear in their mother's womb. This sound can help calm fussy babies. This toy helps babies develop counting skills, color recognition, fine motor skills, and spatial reasoning.
Wouldn't a child enjoy a mat that radiates piano sounds while he/she dances on it? This mat offers just that with eight sounds: horn, violin, piano, accordion, oboe, xylophone, guitar, and flute. The child can have a fun time even without the supervision of an adult.
It contains five modes for selection, including play, playback, one-click annotation, demo, and record. This toy measures 100×36 cm and can comfortably fit a small baby.
A pit is full of colorful play balls! This toy improves your child's color recognition and coordination. You can leave the child in the pit for both indoor and outdoor playing. It can easily accommodate two 1-year-old kids.
It contains one pit and one storage bag. The pit is made with a high-quality polyester fabric and high-strength memory steel holder for safe playing. The pop-up design makes it easy to set up and fold.
This toy contains layered racing tracks with small, durable cars. It helps the child improve natural observation and hand-eye coordination and promotes the development of thinking skills, focus, and recognition as he/she follows the mini-cars around the track. These racing cars are perfect toys for one year old boy.
The set contains four cars, four ramps, and one parking lot. The race track is made with high-quality wood. The other elements are made with EN71, and ASTM F963 certified BPA-free material. All units are stained with non-toxic, water-based paint.
This is a funny hammer that changes faces when it hits a hard surface. The hammer also makes a sound that engages the child in a fun-loving, curious experience. The funny character and bright colors help keep the child engrossed in the game.
It has two learning modes – the entertaining mode, in which it will make funny sounds, and the learning mode, in which the baby can learn counting and numbers. The toy has a head button for playing music. The hammer is made with BPA-free, non-toxic material and is safe for the child.
This toy provides a dual experience with shapes and music. The bus has soft edges and cavities to accommodate the animal shapes. It plays music while flashing lights, thereby engaging your child in the experience. The universal wheels at the bottom of the bus are flexible, which helps it turn automatically turn while hitting obstacles.
This toy has eight nursery rhymes and a volume adjustment button. It enhances thinking skills, hand-eye coordination, fine finger skills, and shape recognition. It is made of durable and shatterproof ABS plastic.
This cube is fully accessorized for a comprehensive recreational experience for a 1-year-old. The 5-in-1 activity set contains a play cube with a wooden bead maze, a book, and stacking cups in vibrant colors.
This set can help in promoting counting and developing color, pattern, and shape recognition in toddlers. The top and bottom of the cube can be detached and played with separately. You can also flip the top over to fit it in a box. The toy is developed using ASTM standards with smooth edges, non-toxic paint, and safe design.
For a 1-year-old, always remember to buy intellectual, learning-based, and fun-inclined toys and games. All the above toys promote visual learning, musical learning, curiosity, fine motor skills, gross motor skills, and strength development. Check the options and price range and go for the ideal gift!
Which of these gifts you think suits your 1-year-old best? Let us know by leaving a comment in the box below!
Recommended Articles