30 Best Gifts For Professional Chefs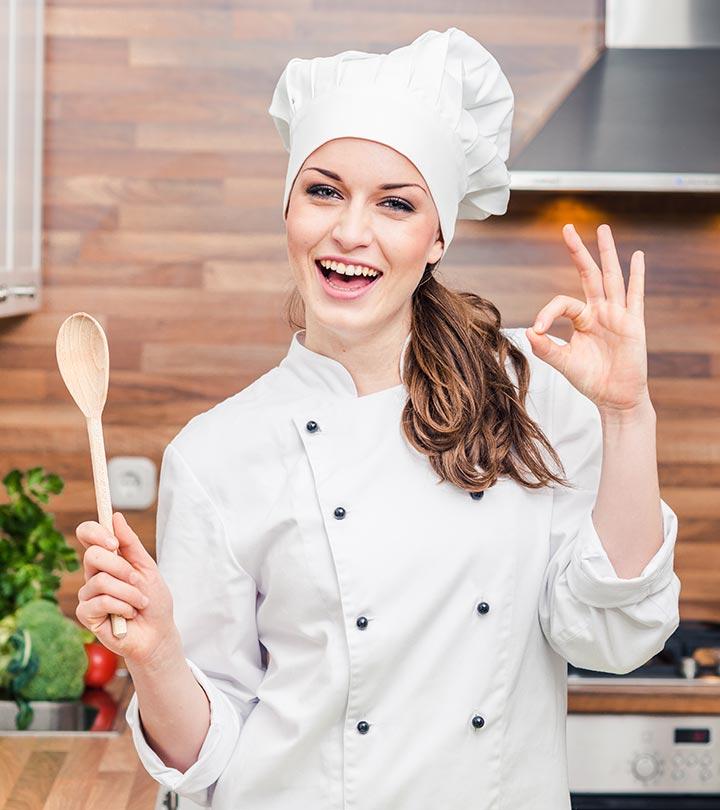 Finding the perfect gift can be difficult, especially if it is for a cooking pro. Professional chefs are so particular about their culinary tools, cooking instruments, and everything else they use while making food. If you know any such person obsessed with a kitchen gadget and related tools, you may have to find a multifunctional gift for them.
In this post, we have some inspiring suggestions to help you out. From personalized aprons to multi-use slow cookers, here are the best gifts any chef could ask for. Have a look at our favorite gifts for professional chefs and choose the one that fits your budget and interest.
30 Best Gifts For Chefs Who Have Everything
A chef hat is a chef's pride. The HIC Adult Chef's Hat is made using 100% cotton linen and is 8 inches tall and 6 inches wide. It is an adjustable adult-sized hat designed for professional chefs and lasts long under the toughest work conditions. It also has a long Velcro to adjust to the chef's head size.
Key Features
100% cotton professional chef hat
Made for professional chefs and fits all sizes
Has a long Velcro for adjustments
Machine washable
We all know that chefs are so particular about their knives and kitchen tools. They would never use the basic crummy knives. This cool Mercer Culinary 7-Pocket Knife Roll Storage Bag can let your chef friend carry their chef knives everywhere they go. The bag has 7 elastic pockets and can hold 12-inch knives easily.
Key Features
Heavy-duty nylon knife roll storage bag
Has 7 elastic pockets to hold the knives securely
Comes with a hook and loop closure
Make your loved one feel special with the Silver Square Charm. This charm comes with a sterling silver polish and has a simple beaded design that slides right onto any bracelet. It is a studded sparkling charm with cubic zirconia diamonds and makes a great gift for chefs.
Key Features
Diamond-studded sparkling bracelet charm
Pendant has a sterling silver polish
1/2″ thick x 1/2″ wide pendant that easily slides onto the bracelet
This 3D removable modern spoon and fork wall clock is perfect for decorating the kitchen. The clock comes with a spoon or fork beside each number. The hour pointer is designed like a mini fork, and the minute pointer is shaped like a mini knife. It is a modern kitchen cutlery wall clock made using stainless steel.
Key Features
Multifunctional and creative analog wall clock
Blends well with the home interior and looks perfect in the living room or kitchen
Great gift for chefs working at a café, bistro, or restaurant
Chopping consumes a lot of time, especially while making salads. If you want to help your chef friend chop salads quickly, surprise them with the Checkered Chef Mezzaluna Chopper. This double-bladed steel salad chopper comes with blade covers and helps you make any salad in minutes.
Key Features
Has sharp blades
Wide blades ensure the food doesn't stick
Comes with blade protectors to prevent injuries
Made of premium stainless steel
Dishwasher-safe
Great for chopping onions, vegetables, chocolate, nuts, herbs, etc.
The Zelite Infinity Cleaver Knife can be a helpful gift for your chef friend. This razor sharp and visually stunning knife is a premier meat cleaver that is designed for professional chefs. The Chinese style multipurpose chef knife is perfect for chopping vegetables, slicing, deboning, and cleaving meats, light bones, coconut, whole chicken, etc. It is made using heavy-duty German steel and is corrosion-, rust-, and stain-resistant.
Key Features
Full tang, ergonomic, big forged rounded black handle, tapered bolster
Corrosion-, rust-, and stain-resistant German steel
Long-lasting
Perfect meat cleaver, chopper, and slicer
A kitchen knife is one of the most important kitchen tools a chef requires every day. Professional chefs require sharp and edgy knives for efficient cooking, and the KitchenIQ Knife Sharpener can help them do that. This is a great product for dull or damaged knives and gives them a fine polishing. The patented edge grip feature allows sharpening on the edge of the table or counter top.
Key Features
Carbide blades offer quick edge settings
Prevents the tips of huge knives from dragging over the surface counter
Non-slip base for stability and control
An instant thermometer is a primary requirement for chefs, and this ThermoPro Instant Read Meat Thermometer will help them in many ways. This is an instant thermometer with backlight features that has a food-grade stainless steel probe. The high precision sensor gives an accurate readout within 3-5 seconds. The thermometer works perfect for cooking, grilling, BBQ, etc.
Key Features
Foldable probe for easy storage
Auto shut-off if readout stays on for 10 minutes
Easy to use
Celsius/Fahrenheit switchable
Chopping onions is such a hectic task. Not only is it time consuming, but it also can get quite tearful. Help your loved chef with vegetable and onion chopping by gifting them with the Mueller Onion Chopper. This pro chopper reduces onion vapor to minimize tears. It can hold up to 4 cups of onions and is made from professional grade ABS to prevent breakage.
Key Features
Comes with 2 ultra-sharp German 420-grade hardened stainless steel discs for chopping/dicing onions with 1 easy motion
BPA-free heavy-duty material
FDA-certified
Dishwasher-safe
Also works great for chopping other vegetables, cheeses, and other food items
The Willow & Everett Stainless Steel Salt And Pepper Grinder Set comes with a minimalistic stand and is elegantly designed. The salt and pepper shakers will make the kitchen look more functional. The grinding mechanism is on top of the grinder, which ensures that the salt and pepper end up on your food and not the table. The ceramic grinder is non-corrosive and will not absorb flavors. This modern salt and pepper shaker works well in restaurants, bistros, and the regular kitchen tables.
Key Features
The plastic knob on the top of each mill allows adjusting from fine to coarse grind.
Easy to refill with wide openings
Brushed stainless steel encasing, glass body, and ceramic grinder make an elegant design
This heavy-duty vegetable spiralizer slicer promotes healthier cooking. It gives you gorgeous-looking vegetable spiral strands, chips, shreds, and slices. It is strong and works perfect for the hardest vegetables – from zucchini and carrot to cabbage, it can handle it all.
Key Features
Comes with 5 interchangeable blades for different uses
Blades are made of Japanese 420-grade hardened stainless steel
100% BPA-free
Reinforced ABS, strong enough to withstand the hardest veggies like beetroot, potatoes, etc.
The Spring Chef Dough Blender/Pastry Cutter is made using sturdy metal blades and will help you prepare flakier and fluffier biscuits, pie crusts, pizza dough, scones, pastries, and more. The heavy-duty blades cut cold butter easily and also help you mash potatoes and bananas easily. Grip the soft handle and make the perfect desserts without getting sore hands and fatigue.
Key Features
Sturdy metal blades for easy kneading
Mashes potatoes, fruits, and other ingredients quickly
Prevents sore hands and wrists
Chefs have to work all day long, chopping and mashing onions, fish, garlic, and other ingredients with a strong smell. The smell usually gets stuck on the hands. The Amco Stainless Steel Odor Absorber can be the ideal savior.  This stainless steel bar removes odor from the hands with or without water. It is a great stocking stuffer for cooks who don't want their hands to smell like food all the day long.
Key Features
Removes odor of fish, garlic, onion, and other spices from the hands
Made using high­quality stainless steel to remove odor quickly
Can be used with or without water
Chefs do need some smart kitchen equipment to make cooking easier and efficient. The OXO Cherry And Olive Pitter pits cherries and olives easily. It is made from die cast zinc and works smoothly and protects the working area from juices and mess.
Key Features
Soft, comfortable non-slip handles that absorb pressure
Generous holder accommodates large cherries like Bing and Rainier
The pitter can also be recessed to secure smaller varieties of cherries and olives.
Locks closed for better storage
Cutting boards are very important kitchen tools. The Gorilla Grip Cutting Board Set is perfectly designed for professional chefs. The cutting boards are oversized and thick enough to contain deep grooves to catch juices and keep the counter top free from mess. The boards are non-porous, made using BPA-free materials, and are great for chopping veggies, cheese, or meats.
Key Features
Dishwasher-safe
Won't splinter, crack, or peel
Set comes with a large 16" x 11.2", a medium 13.8" x 9.6" and a small 11.8" x 8" sized boards
Durable and non-porous
A mortar and pestle are used for crushing spices and herbs that give a natural and authentic flavor to some delicious recipes. The Bekith Mortar and Pestle/Spice Grinder Set could be the ideal gift for your chef friend. It is made using heavy-duty stainless steel and is a functional, elegant, and low-maintenance set that will help your friend make some uber-delicious food.
Key Features
BPA-free, mercury-free, and lead-free
Easy to clean and low-maintenance
Great for crushing, grinding, and mixing herbs and spices
The Emojoy Stainless Steel Knife Set comes with different multipurpose knives. These German steel knives have pakkawood handles and are constructed with style and elegance. The set includes an 8" chef knife, an 8" slicing knife, an 8" santoku knife, an 8" bread knife, a 5" utility knife, a 3.5" paring knife, kitchen scissors, a knife sharpener, and 6 pieces of 4.5" steak knives.
Key Features
Superior high-carbon stainless steel blades for precision and accuracy
Strong, durable bolster for perfect stability and control
Prevent stains, rust, or pitting
If your friend often hosts Sunday brunches and parties, this Bambusi Cheese Board And Knife Set is an ideal gift for them. The board is made using 100% bamboos and is bordered by grooves that hold crackers, nuts, or olives.  It has a hidden drawer with four utensils and a cheese knife. It is a non-porous cheese board that doesn't absorb odor and is great for cutting and serving cheese.
Key Features
Great to enjoy slices of Italian Ricotta, English Cheddar, or French Vacherin cheese with a glass of wine
Made using heavy-duty and natural bamboo
Complete and ideal cutlery set for slicing and serving
The Kaluns Kitchen Utensil Set is a treat for chefs and cooks. These 24 nylon stainless steel cooking supplies are elegantly designed and offer everything your chef friend needs to prepare the perfect dish. The set comes with a soup ladle, a solid spoon, a slotted spoon, a solid turner, a slotted turner, a potato pusher, a can opener, a whisker, a grater, a spatula, tongs, and a peeler.
Key Features
Polished with a special oil to prevent rusting
Lightweight, heat-resistant, and dishwasher-safe
Makes whisking, peeling, cutting, stirring, mixing, basting, baking, grilling, frying, and serving easy
Professional chefs not only prepare tasty dishes but are well known for their garnishing, chopping, and presentation skills. If your friend happens to be one of them, the Vktech Culinary Carving Tool Set is a perfect gift for them. This 46-piece set has all kinds of garnishing tools and can be used to garnish fruits and vegetables.
Key Features
Perfect gift for chefs, hobbyists, or caterers
Versatile cutting tool set that contains U- and V-shaped knives
Professional set of carving tools can help you improve your cooking skills
If your friend is a chef and has everything they needs in their kitchen, gift them this adorable GSC Chef "Welcome to My Kitchen" Figurine. This figurine has a chef holding a "Welcome to My Kitchen" tray that looks stunning and cute. This is a great Christmas gift for chefs and cooks who love kitchen décor items. It is also a great gift for someone who has opened a café or restaurant.
Key Features
Cute and sturdy figurine
Figurine holds a "Welcome to My Kitchen" tray
A great gift for chefs or cooks who love kitchen décor items
Personalized gifts are the best, and if your friend is a professional chef, the Personalized Paddle Shaped Bamboo Cutting Board would be the right gift. This cutting board comes with a cool tag and also allows you to add the name of the person. You can get the name of your friend carved in the coat. It is made using bamboo and is strong, light, and convenient to use.
Key Features
Personalized cutting board with stylish engraving
Made using 100% bamboo and is heavy-duty and lightweight
5-inch long and 7-inch wide paddle-shaped cutting board
Smoke your favorite cocktail, cheeseboard, or charcuterie with the Gramercy Kitchen Company Cocktail Smoker. This portable smoker comes with a cleaning brush, wood chips, and a replacement part. The smoke infuser is engineered to the perfect size for smoking your meals and drinks with a cool indoor smoke. It will also preserve the perfect edge-to-edge cooking of meats and adds an additional smoky aroma.
Key Features
Sturdy and easy to clean
Made using aluminum and rugged professional grade plastic for durability
Great for smoking the dishes with a cool indoor smoke
The TORCHSTAR Indoor Herb Garden With Timer Function And LED Lights makes for a great gift for the chefs who like to grow their herbs. This indoor herb garden can easily help you grow rosemary, mint leaves, lavender, seeds, sweetgrass, or leafy vegetables. It has 4000 K cool white glow, 850 lm brightness, and 95 ultra high CRI. The plants under this light will glow and look perfect in your living room, hallway, or kitchen.
Key Features
Timer for 16 hours on and 8 hours off
Easy to install
Made using durable plastic material
Multifunctional LED planter for herbs, vegetables, and small plants
Fine roasted garlic adds an unmatchable aroma and taste to the dishes. If you know a chef who loves to roast garlic in the traditional way, the Charcoal Companion Cast Iron Garlic Roaster And Squeezer Set is the perfect gift to offer. This cast iron roaster also comes with a garlic squeezer and holds one large or two medium garlic bulbs. It is a perfect tool for making BBQ dishes and meals for outdoor picnics.
Key Features
Set includes one cast-iron garlic roaster and one silicone garlic squeezer
Made of pre-seasoned cast iron, with a stainless ring for easy handling
The roaster measures 5.6" x 4.5" x 4.4"; and the squeezer measures 3.4" X 3.4" x 2.1"
A chef likes to keep all the spices and herbs nearby, and the Kamenstein 16-Jar Revolving Countertop Spice Rack makes it a lot easier. This spice rack organizer has 16 jars and is made using FDA-approved materials. The pre-filled racks that come with spice assortments can include basil, thyme, parsley, marjoram, garlic salt, coriander, rosemary, oregano, and many more.
Key Features
Stylish and elegant revolving organizer for the kitchen countertop
Eligible for 5 years of free spice refills
Each cap has a chrome finish and is clearly labeled for quick and easy identification of the contents inside.
The Instant Pot 7-in-1 Electric Pressure Cooker is a multifunctional cooker that works as a steamer, a slow cooker, a rice cooker, etc. It cooks 70% faster and combines almost 7 appliances in one. It has 11 one-touch Smart Programs that put cooking ribs, soups, beans, rice, poultry, yogurt, desserts, etc. on autopilot.  The lid preserves the flavors, aroma, and the nutrients inside.
Key Features
Comes with 10+ built-in safety features, including Overheat Protection and Safety Lock, to ensure safe pressure cooking
Comes with an extra sealing ring, steam rack with handles, and a recipe booklet
Cooks fast and saves time for busy chefs and cooks
As we all know, chefs and cooks give great preference to plating. The Mercer Culinary Professional Chef Plating Kit can help them. The set comes with 4-1/4-inch offset spatula and a saucier spoon with a spout. It consists of machined finger grips and grooved tips, 9-3/8-inch precision straight tongs, and a small roll with Velcro enclosure tabs.
Key Features
Also consists of precision offset tongs 6-1/2-inch and precision curved tip tongs 6-1/8-inch
Has a plating spoon with slotted bowl 9-inch and a plating spoon with solid bowl 7-7/8-inch
Perfect kit to compose a beautiful plate, especially for delicate foods
Surprise your friend with the iTrunk Olive Oil Sprayer that works as a 4-in-1 refillable oil and vinegar dispenser bottle. This oil sprayer can be used for filling olive oil, vinegar, vegetable oil, lemon and lime juice, sauce, sherry or wine, etc.
With this sprayer, making a mist is now simpler. Press the pump of the oil dispenser and the amount of oil can be controlled. It works great for cooking healthy meals, making salads, grilling, baking, roasting and frying barbecue, etc. The sprayer is easy to use and does not cause leaks and spills while filling. It is perfect for adding seasoning to your dishes as per your requirements.
Key Features
Package comes with with an oil sprayer, a basting brush, a bottle cleaning brush, and an oil funnel
Easy, leakage-free and convenient refills
Great for roasting, making salads, baking dishes, grilling, barbecue, etc.
Made of food-grade glass
If your friend is a chef and is opening their restaurant or café, and you want to gift them something awesome, choose the CHEFSKIN Personalized Apron. It is an adult fit apron with a center pocket, long ties, and durable fabric. It is made using 100% polyester in vibrant colors and comes with an elegant script box where you can enter their name.
Key Features
Apron with a center pocket, long ties, and elegant design
Made using 100% durable and long-lasting polyester fabric
Adjustable neck and vibrant colors
Finding the perfect gift for a cooking pro can be difficult, but we believe we have made your job easy. Pick the right gift for your chef friend and inspire them to give their best in the kitchen!
Recommended Articles