30 Best Gifts For Skiers and Snowboarder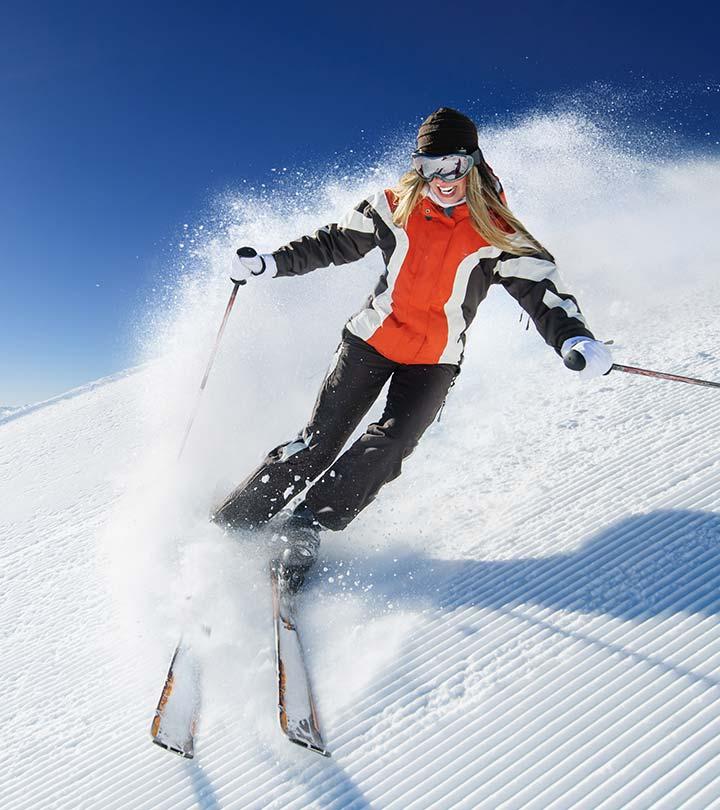 Skiing is a wonderful recreational activity as well as a competitive winter sport. In fact, many people love spending their holidays skiing around some stunning terrains. If you have a friend who loves skiing, here are some extraordinary and cool gift options for them. From skiing gloves to stylish skiing goggles, here are some of the most thoughtful and exciting gifts you can give them.
30 Best Gift Ideas for Skiers
These Arctix Women's Insulated Snow Pants are a great gift for the woman who wants to look gorgeous on her ski trips. These pants are made of ThermaTech Insulation that offers warmth in a lightweight, low bulk garment. These pants can keep you warm at temperatures in even -20°C. These pink pants have a tribal Aztec print and are adjustable at the waist.
Key Features:
600 Denier Ballistic used to reinforce the ankle and scuff
Hem guards to prevent daily wear and tear
Boot zippers to make it easy to put them on and pull them off
O ring for keys and gloves
Boot gaiters with grippers that form a seamless integration with boots to keep you warm
Available in unique prints and different colors
Surprise your friend with these TrailBuddy Trekking Poles. These adjustable hiking or walking skills will become the perfect companion to your friend on their adventure trip. The hiking poles are made of tough aluminum that can withstand pressure and impact better than carbon fiber. If you are hiking on rocky terrain, these sticks will help you keep going without stumbling or falling.
Key Features:
Excellent walking aid for creek crossings, wobbly ground, and steep terrain
Made of lightweight aluminum
Weigh up to 4 ounces less than common hiking sticks
Cork handles are comfortable to grip in both hot and cold temperatures, are moisture-wicking, and mold to the shape of your hand
If one of your friends or loved ones is going on a skiing adventure, give them this Wantdo Women's Ski Jacket. This windproof rain jacket is made of polyester fiber that guarantees the best heat retention. It is also coated with a water repellent, has a fuzzy lining, and is durable.
Key Features:
Water-repellent
Keeps you dry and comfy
Adjustable cuffs and stretchable glove with thumb hole seal in warmth
Windproof snap skirt, internal draw-cord hem, and adjustable storm hood help keep the wind out
Equipped with 2 zippered hand pockets, 1 zippered chest pocket, 1 internal pocket, 1 internal secure media pocket, and an earphone line fastening
Your friend will definitely need a hand warmer on their next skiing trip when they are exposed to very low temperatures. Gift them this Zippo Refillable Hand Warmer. This hand warmer offers gentle flameless warmth. It comes with an improved refill cup that helps reduce spills. It is perfect for all cold-weather activities and very helpful while skiing.
Key Features:
Provides safe, gentle warmth with the catalytic burner
Refillable warmer with easy-fill technology
While going on a skiing trip, it is important to carry a multipurpose and roomy backpack. This Teton Sports Hydration Pack is the ultimate gift you can offer to skiers. This lightweight and comfy bag offers 1100 cubic inches of liquid storage capacity. It also has a notched foam stabilizer and mesh covering for long-lasting use.
Key Features:
Comes with a 2-liter durable and kink-free hydration bladder with a push-lock cushioned bite valve
Large main pocket protects gear, clothes, and lunch
Equipped with the bungee cord system for cycling and climbing helmets
These insulated bib overalls can be your friend's ultimate companion during a skiing adventure. These awesome Arctix Insulated Bib overalls are made of 100% polyester. Its ThermaTech Insulation offers warmth and is lightweight, makes it a low bulk garment. It features adjustable comfort suspenders for the perfect fit with elasticized side gussets for maximum motion.
Key Features:
600 Denier Ballistic are used to reinforce the ankle
Features scuff and hem guards
Has boot zippers and a convenient O-ring for keys/gloves/lift tickets
Boot gaiters with grippers for warmth and moisture
Warming gloves can keep you warm in extremely low temperatures. These Ozero Winter Gloves are perfect for ski lovers. These are windproof, water-resistant, and heat-lock insulated gloves. They are made of genuine deerskin suede leather, soft polar fleece, and the high-tech patented Heatlok system of hollow fibers and microfiber that provides warmth without adding excess bulk or loss of dexterity.
Key Features:
Retains the warmth inside the gloves
Offers superior grip, abrasion resistance, breathability, and sweat resistance
Polar fleece back for thickness, warmth, and comfort
These ski/snowboard glasses make a perfect gift for skiers. These OTG ski goggles also fit over glasses and are suitable for adults as well as kids. The dual-layer lens technology with anti-fog coated inner lens gives a fog-free skiing experience. The soft TPU frame with lenses provides 100% UV400 protection.
Key Features:
Extra-long elastic strap ensures great helmet compatibility with all helmets
Comes with a carrying pouch and 1-year warranty
Stylish, affordable, and durable
Your skier friend may have a dream to ski at all the skiing resorts in the US. If yes, this is the best gift for them. They can scratch off the best skiing resorts in the USA after they ski there to reveal color-coded labels. It is also a great piece of art for them to hang on their living room wall.
Key Features:
170gsm silk art paper with gold scratch map coating
22 x 17 inches
It is important to stay safe and warm while skiing. This balaclava ski mask will protect you from the cold and wind. It provides protection from dust and UV rays. Its stretchy and breathable fabric wicks away moisture, while the fleece lining retains heat.
Key Features:
Stretchy, breathable fabric
Fleece lining
Features mesh breathing panels to increase airflow and minimize condensation on your goggles
Reflective logos on the front, sides, and back
If you want to gift travel gear to your adventure-freak friend, this Marchway Floating Waterproof Bag is a great option. This dry bag is available in different sizes and colors for skiing, boating, kayaking, camping, hiking, and other such adventure sports. Its roll-top closure keeps your gear dry. The bag holds all your necessary gears and is made of ripstop tarpaulin, which is lightweight, compact, and durable.
Key Features:
Sturdy welded seam designed for years of usage and to prevent tearing, ripping, and puncturing
Solid roll-top closure system provides a watertight seal
Floats on water after rolled and buckled, so you can track your gear easily
This portable hydration bladder by Cherainti is a BPA-free and leakproof reservoir that your friend  can carry along while skiing. This 2-liter bladder has a large opening that makes it easy to pour water. For cold water, simply add ice cubes through the opening.
Key Features:
BPA-free and leakproof
Can withstand temperatures from -20 to 50°C
The soft mouthpiece with on/off valve prevents leakage
The Athalon Everything Boot Backpack is available in a variety of colors and made using polyester for durability. This bag features zippered, ventilated side pockets for boots, a center section for a jacket, helmet, or clothing, an MP3 pocket on the front with a headphone port, and clips in each pocket for gloves, keys, and small accessories.
Key Features:
Hidden backpack straps
Padded lumbar back pads for comfort
Equipped with bottom drainage grommets, a waterproof PVC bottom, and a bungee cord on the front to hold a jacket
Reflective piping for increased visibility
Gift your skier friend the Dryguy Forced Airboot And Garment Dryer. This portable and travel-friendly garment dryer can dry 4 garments simultaneously. It includes two removable extension tubes for use with boots that are up to 16 inches tall. It also features a whisper-quiet rotary blower, a 3-hour timer, and a heat/no-heat switch.
Key Features:
Heats up to 105° and is safe for liners, clothes, and boots
Includes two removable extension tubes for use with boots up
Helps eliminate odors and reduce the growth of bacteria and mold
Since your friend goes to snowy places for their ski trips, it would be a good idea to gift them a hot water bottle to keep them warm in cold temperatures. The Attmu Classic Rubber Hot Water Bottle comes with a knit cover that makes it even more warm and cozy to hold. Its thermoplastic material is also recyclable.
Key Features:
Made of recyclable thermoplastic material
Knit cover
Not suitable for microwave oven heating
A durable and super strong helmet keeps you safe while skiing. And with the Wildhorn Drift Snowboard And Ski Helmet, safety is guaranteed. This is the most trusted helmet for snowboarding and freeskiing. It is 25% lightweight compared to other helmets and comes in a stylish design. It accommodates different ski goggles and head shapes for a custom fit that is free of the gaper gap.
Key Features:
Ultra-plush interior lining that provides maximum comfort and insulation
Features a patented adjustable temperature control ventilation system
13 fully adjustable vents that you can slide open to cool off and slide closed to stay warm
The Zumwax Rub On Ski Wax can be easily applied to skis and makes a great gift for ski lovers. Simply rub on and buff off this wax onto the base of the skis with the attached cork. Roll up the container for easy on-hill application. This 70 g roll-on wax lasts many days of skiing.
Key Features:
Can be used/stored in air temperature ranging from 10°C to -30°C (50°F to -22°F) and snow temperature ranging from 0°C to -30°C (32°F to -22°F)
To help your friend carry their ski boots easily and effortlessly vacationing, give them this Sukoa Ski Boots Carrier Strap. This 41" shoulder sling lets you carry your boots anywhere effortlessly. Its top-notch stitching and strong nylon prevents costly replacements.  With this strap, you can secure your boots in place so you always have dry and toasty boots.
Key Features:
5" wide strap that does not dig into your shoulders
Folds easily to put in your bag or pocket
Wide loops on the sling that fit any boot
This is the best gift you can give to your friend who loves skiing. This wall-mounted rack is great for storing your skis and poles indoors as well as outdoors. It securely holds 1 to 3 pairs of skis and ski poles. It keeps your sporting equipment secure with a durable metal frame made with anti-slip, anti-scratch padding that prevents your skis' surface from damage.
Key Features:
Made with a quality metal with padded components
Protects your sports gear from damage
Saves plenty of space
Lightweight
Perfect for the garage, cabin, den, gaming and utility room, or workshop
Now this is a fun gift that your skier friend will definitely appreciate. It is a great way to warm after a day on slopes! This ski accommodates four shot glasses that four people can take at the same time. It is made from rustic stained pine wood and can be mounted on the wall.
Key Features:
Made of stained pine wood
Comes with 50 plastic shot glasses
Collapses into two pieces for easy transportation and storage
Don't forget to give these Weierya Ski Socks to your friend before they go on their upcoming skiing adventure. These skiing socks are also great for snowboarding and cold weather in general. They are made of a premium cotton, chinlon, and spandex blend that fits your feet perfectly and keeps your feet warm. They also keep sweat at bay.
Key Features:
Midweight thickness
Do not affect the fit of your ski boot
Moisture-wicking fabric
Available in 5 different colors and different sizes for the perfect fit
If your friend loves skiing, surprise them with these Olarhike Ski Snow Goggles. These are unisex goggles that are perfect for skiing, snowboarding, skating, and any other outdoor adventure sport. These anti-fog and windproof glasses will keep your eyes safe and protected from the cold and winds. They are padded with a 3-layer face foam that takes the pressure off from around your eyes and prevents discomfort around the temples.
Key Features:
Ultra-wide silicone strap
Quick-fit adjustable buckle system
Anti-fog coated and UV-resistant lenses
Large spherical ski goggles
360° flexible TPU frame and shock-proof lenses
A good pair of gloves saves you from cold and keeps you warm during any outdoor adventure sport. These ski gloves by O'Brighton are great for the same reasons.  These gloves are designed using Full PU fabric instead of inferior PVC material or semi-PU material. The Full PU palms are equipped with rubber dots for maximum grip, durability, and movement.
Key Features:
Filled with 240g acrylic fiber cotton
Suitable for withstanding cold from -20℉ to -4℉
Great for skiing, snowboarding, snow shoveling, snowmobile, hiking, sledding, and other winter outdoor activities
Waterproof coating to keep your hands warm while skiing
If your friend finds it uncomfortable to carry their ski gear while traveling, gift them the Sklon Ski Strap And Pole Carrier. Its cushioned shoulder pad does not strain your shoulder and leaves your hands free for other important tasks and activities.
Key Features:
Cushioned shoulder pad
Traction Tech lining for a slip-free carrying experience
This Carrhatt Men's Acrylic Watch Hat  is made of 100% acrylic and is a warm and versatile hat. It is also available in a wide range of colors. Whenever the wind gets blustery and the temperatures drop, your friend can grab this hat to protect themselves from the extreme cold.
Key Features:
Made of 100 percent acrylic rib-knit fabric
Stretchable
One size fits all
Great gift for skiers and adventure sport lovers
This multipurpose handwarmer by Ocoopa is a perfect gift for your friend who loves spending their holidays skiing. It operates on a 5200 mAh battery and is portable. This warmer also works as a power bank and is great for people with arthritis.
Key Features:
Made of high-tech aircraft-grade aluminum and ABS material
Portable and compact
Anti-skid design
Three levels of temperatures 95-107°F, 104-118°F, and 118-131°F
5200 mAh lithium rechargeable battery with USB-C charging port
Available in three colors – blue, black, and pink
Your friend can carry this Corkcicle Canteen Water Bottle to sip hot and tasty beverages while skiing.  This ripple insulated stainless steel bottle keeps your drinks cold for 25 hours and hot for 12 hours. You can use it while skiing as well as at the beach or the office to keep your favorite drinks icy cold or piping hot for hours.
Key Features:
Easy-grip sides
Silicone bottom designed to prevent it from sliding
Screw-on cap
Available in multiple colors
It is important to stay warm on the inside while skiing. This Lapasa thermal underwear will keep your friend warm and cozy while they are enjoying their favorite outdoor sport.  This heavyweight underwear is made of 95% polyester and 5% spandex and is suitable for extreme cold and frigid temperatures to regulate the body temperature.
Key Features:
Inner fleece lining
Moisture-wicking material
Elastic fabric that is comfortable and flexible
Your ski-loving friend can carry this Zomake Ultra Lightweight Backpack to carry any important stuff while on a skiing trip. This nylon backpack is waterproof and very durable, making it an excellent bag to carry your skiing gear.
Key Features:
Made with high-quality water- and tear-resistant nylon material
Durable abrasion-resistant SBS metal zipper
20 l storage space
Folds and fits into an ultra-compact pouch
Does your friend love making their own coffee no matter where they are? Gift them this Black+Decker Single Serve Coffee Maker that they can carry along on their next skiing adventure and sip their favorite coffee anytime, anywhere. This compact personal coffee maker is perfect for small kitchens, apartments, and dorm rooms.  Its 16-oz travel mug fits snugly in most car cup holders.
Key Features:
Mesh metal filter works with grounds or soft pods
Turns off immediately after brewing
When you love your friend, you support them in their skiing adventures. And, the best way to do is by gifting them something that will enhance their ski trip. Which of these awesome gifts will you give your friend? Comment below to let us know!
Recommended Articles