32 Best Gifts For A Teenage Girl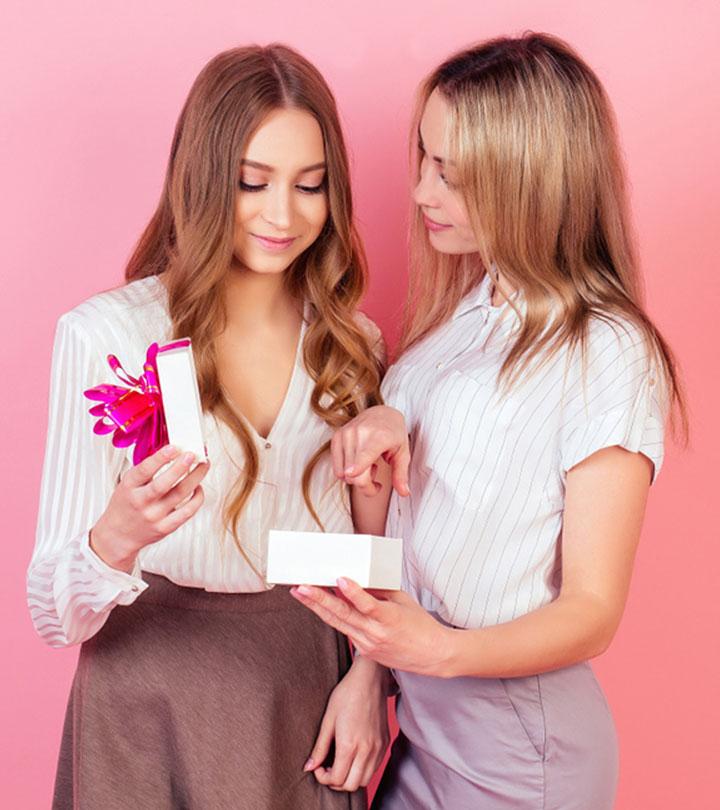 Gift shopping for teenage girls can be tricky. But luckily, we have done the hard work for you. In this article, we have listed the absolute best gifts for teenage girls.  From cosmetic bags, makeup sets, and jewelry boxes to survival kits, shoes, and desk lamps, there are plenty of options for you to choose from. No matter what her style or interests are, we have the perfect list of gift ideas for the teen girl in your life – whether it's your daughter, niece, friend, or sister. Take a look!
32 Best Gifts For A Teenage Girl
A bath bomb is one of the best gifts for any girl. A bath bomb is a dry mixture that adds essential oils, bubbles, color, and aroma to bathwater. This set consists of 12 bath bombs. The 12 scents include  Angel, Black Raspberry Vanilla, Fun in the Shower, Fun on the Beach, Kiwi & Strawberry, Lavender,  Lemongrass Green Tea, Love, Mango Papaya, Melon Ball, Shea & Coconut, and Victorian Rose. These are therapeutic and moisturizing bath bombs that contain natural and non-toxic ingredients.
Key Features
12 uniquely handcrafted bath bombs
Made of natural ingredients
Cruelty-free
Aromatherapy and healing properties
Moisturize the skin
Whether it is winters or summers, socks can be worn all-year-round. This cute pair of socks with a laughing quote will make any teenage girl squeal with delight. These socks are made of a premium cotton blend that does not fray or fade. They gently hug the legs and feet and do not slouch, bind, or bunch. The letters will stay intact even after multiple washes.
Key Features
Smart and cute color combinations
Funny quotes
Comfortable fabric with a grip
Does not fray or fade
Comfy socks with funny texts in a cute cupcake gift packaging are everything you need to cheer a teenage girl up on a gloomy day. These Clinch luxury socks are made of fuzzy polyester blend, making them incredibly soft and thick. They keep feet relaxed and warm. The comfortable over-ankle coverage is perfect for a long weekend lounging. The quirky "If you can read this" "Bring me coffee" text makes it an ideal gift choice for any occasion.
Key Features
Machine-washable
Slip-resistant bottom letters
Soft and thick
Cupcake gift packaging
This compact hot airbrush gives salon-like results in a jiffy. You can dry and style damp hair in a single step. It uses Advanced Ionic Technology that not only makes your hair shine but also controls frizz. The titanium ceramic barrel ensures even distribution of heat and offers luscious volume without damaging your hair. The ball-tipped nylon bristles detangle your hair gently while creating volume. It has two heat settings and a cool setting.
Key Features
Advanced technology offers twice the shine and thrice the frizz control
Even heating while causing less damage
Soft bristles help to gently untangle the hair
The Burt's Bees Lip Balm Easter Basket Stuffers are a collection of nourishing lip balms that make the perfect addition to any teenage girl's vanity. Each lip balm is made with 100% natural ingredients to moisturize and protect your little one's lips. They come in a convenient, travel-friendly tube that can easily fit in a pocket or purse, making it easy to keep the lips hydrated and protected throughout the day.
Key Features
Hydrating
Natural-finish
Refreshing
All-natural
Matte finish
Packed with vitamin E
Price at the time of publication: $9.79
Purr by Katy Perry Eau De Parfum Spray is the perfect gift for a teenage girl who loves all things girly and glam. This signature scent is designed to capture the playful, feminine spirit of its namesake pop star, and it's sure to delight any young girl who loves a touch of luxury. It has fruity and floral notes and is long-lasting and ideal for special occasions or everyday wear. The sleek, purple cat-shaped bottle is also sure to delight any teenage girl, making it a great gift idea for birthdays, holidays, or any other special occasion.
Key Features
Great fragrance
Long-lasting
Best for casual wear
Cute packaging
Looks luxurious
Price at the time of publication: $29.95
The BIC BODYMARK Temporary Tattoo Markers are an excellent gift for teenage girls. The markers will allow her to be as creative as she wants and create unique designs on the body without any hassle. These fun markers are skin-friendly and require absolutely no commitment. They can also be removed easily with soap and water.
Key Features
Painless
Smear-proof
Quick-drying
Water-resistant
Flexible brush tip
Pack of 8 markers
Price at the time of publication: $24.25
Kitsch Matte Scrunchies are the perfect accessory for any teenage girl who loves to keep her hair looking stylish and on-trend. These scrunchies are soft, silky, gentle on hair, and great for everyday wear. They are durable and designed to last as they are made from high-quality material. They are perfect for creating various cute hairstyles, making them a versatile addition to any teenage girl's hair accessory collection.
Key Features
Soft
Comfortable
High-quality fabric
Easy to use
Gentle for hair
No tugging or pulling
Long-lasting
This gold-plated necklace with a heart shaped pendant is a precious and thoughtful gift for a teenage girl. The golden-heart-shaped design houses a silver honeycomb with a golden honeybee attached to it. The pendant symbolizes the love and attachment of a honeybee to its home. This beautiful pendant is ideal for all occasions and especially for everyday wear.
Price at the time of publication: $11.99
 The Epielle Character Sheet Masks are ideal for the perfect at-home spa experience. The maks can make skin care seem like a sweet intoxication. They nourish the skin and contain invigorating notes and the promise of smooth and radiant skin.
Key Features
Moisturizing
Paraben-free
Sulfate-free
Phthalate-free
Cruelty-free
Suits all skin types
Price at the time of publication: $13.75
The Lip Smacker Lippy Pal Lip Balm is a lovely alternative to lipsticks with artificial ingredients. It can also help her master the art of lip care without much hassle. The balm will keep her lips moisturized all day. It comes in attractive packaging that resembles different adorable characters like unicorns, kittens, bunnies, and pandas, making these balms a wonderful gift for teenagers.
Key Features
Vegan
Cruelty-free
Paraben-free
Smooth satin finish
Comes in 8 flavors
Price at the time of publication: $4.5
The Good For You Girls Aluminum Free Deodorant is a safe and effective deodorant that is great to gift any teenage girl. It is an excellent plant-based deodorant that is free of aluminum, parabens, phthalates, PEGs, and synthetic dyes. It is made with skin-healthy vitamins and organic ingredients. The deodorant has a roll-on application, which is easy to use and quickly absorbing.
Key Features
Effective against odor
Safe for everyday use
Plant-based ingredients
Invisible roll-on
Paraben-free
Dye-free
Phthalate-free
Price at the time of publication: $12
Lay-n-Go Cosmo Drawstring Cosmetic & Makeup Bag Organizer is designed to keep the beauty essentials of a teenage girl organized and easily accessible. The drawstring closure allows her to open the bag and lay it flat, giving her a full view of all her makeup and cosmetics. The bag is durable, machine-washable, and easy to clean and maintain. The pink color and stylish design make this bag a great addition to any girl's vanity or makeup collection.
Key Features
Multi-functional
Machine-washable
Durable
Travel-friendly
Price at the time of publication: $29.95
This is a super cute sleeping bag blanket is made of warm, breathable, and soft wool material. It can be used as a sofa blanket or for camping or sleepovers. The back and bottom of this crochet mermaid blanket are open so that you can snuggle in and come out easily.
Key Features
Hand crocheted
Easy in and out design
Made of warm and soft wool
Comes with a mermaid pendant
The INGALA Premium Temporary Glitter Tattoos Kit is a unique and fashionable gift set for teenage girls. The kit includes a variety of designs and various glitter tattoo stencils and shades. The glitter shades have been tested for over 20 years to ensure they are of the highest quality. This glitter tattoo kit makes a great gift for girls who love to play with nail varnish and makeup or enjoy creating art. It's perfect for events like birthday parties, school projects, team building, or halloween.
Key Features
Has 74 premium glitter tattoo stencils and 16 shades
Includes two XL bottles of body glue
Easy to use
Fun experience
Price at the time of publication: $27.45
The Blue Squid Hair Chalk for Girls is a fun and creative gift for teenage girls. This hair color comb set includes vibrant temporary hair colors that add a pop of color to the hair. The set comes with seven colors that can be easily applied to the hair using the included combs. They are washable and temporary so that she can enjoy colorful hair for a special occasion or event without committing to a permanent dye.
Key Features
Easy to apply and remove
Non-toxic
Non-allergenic
Environmentally friendly
Water-soluble
Suitable for all hair types
Price at the time of publication: $9.49
These lightweight slip-on platform loafers are easy to put on and off. They are so comfortable that they feel just like socks. The wide round toe and mesh upper make these shoes extremely comfortable to wear.  The shoes have perforated arches that facilitate ventilation and breathability. The air cushion offers perfect support and protects the feet from injury. The outsole is made of high-quality rubber that offers the perfect grip and does not wear or tear. These shoes are ideal for daily use and can be worn for long walks, dancing, workout, shopping, etc.
Key Features
Breathable and flexible mesh fabric
Air cushion soles protect feet from impact and injury.
Perforated arch allows for ventilation.
The Unicorn Makeup Bag is a reversible sequin cosmetic bag, which can be the perfect addition to any girl's collection. The sparkly pink sequins add a fun and glamorous touch to any look, while the zippered closure can keep all her essentials safely stored inside. Moreover, it is compact and can fit in her purse or backpack, making it ideal to carry on the go.
Key Features
Compact size
Easy to clean
Sturdy
Durable
Versatile use
Price at the time of publication: $6.99
 The Cleverfy Shower Steamers work wonders as a gift. They can give any girl a rejuvenating experience of a spa at home. These aromatherapy shower bombs contain essential oils and pleasant natural fragrances. It can help boost her mood instantly and energize her thoroughly.
Key Features
Relaxing
Hypoallergenic
Cruelty-free
Vegan
Stainless
Easy to use
Comes in 6 sublime varieties
Price at the time of publication: $25.99
The Toysical Makeup Kit is an all-in-one makeup kit that includes 86 assorted colors and shades, making it a perfect gift for a teenage girl who loves makeup. The kit comes with everything she will need to put together a suitable look, including concealers, blushes, eyeshadows, eyeliner pencils, lipstick creams, brushes, and a mirror. The makeup included is hypoallergenic and formulated with mineral oil.
Key Features
Portable two-tier case design
Includes mirror inside
Trendy and stylish design
Formaldehyde-free
Sulfate-free
All-in-one makeup kit
Price at the time of publication: $17.99
The ZAAINA Mini Spa Gift Set is the perfect little box for your sunshine. It contains an aromatherapy bath bomb, a nourishing travel soap, and a moisturizing lip balm made with pure essential oils and rich premium ingredients. Perfect for pampering any teenage girl, this specially handcrafted mini spa set smells heavenly and boosts mood instantly.
Key Features
Natural
Soothing and nourishing
Suits all skin types
Petroleum-free
Chemical-free
Cruelty-free
Paraben-free
Price at the time of publication: $16.99
The I DEW CARE Sheet Mask Pack is the perfect gift for teenage girls who love to take care of their skin and enjoy a relaxing spa-like experience at home. This pack includes 14 different sheet masks, each with its unique benefits and ingredients to address different skin concerns. It is easy to use and provides instant results.
Key Features
Vegan
Cruelty-free
Gluten-free
Paraben-free
Sulfate-free
Nourishing
Easy-to-use
Suitable for all skin types
Price at the time of publication: $21.25
This vintage style messenger bag is made of stonewashed canvas and has leather tabs and antique metal fittings. This multi-functional bag has a fully adjustable strap and ample pockets for storage. It also has a fully lined interior, three pockets on the interior, and four pockets on the exterior. It can fit in a laptop, notebooks, and other essentials.
Key Features
Vintage style
Multiple pockets
Adjustable strap
The FASCINATE Lighted Makeup Mirror is a trifold vanity mirror that features high-definition lighting with 21 LED lights that provide natural lighting and make makeup application in dimly lit areas a breeze. It has two designs in which one shows the full view of the face while the other shows the magnified and close-ups. The mirror also comes with a premium set of 9 makeup brushes, making it the ideal gift for teenage girls.
Key Features
Non-flickering lit mirror
180 degree rotation
Detachable base for easy portability
One touch screen power switch
Price at the time of publication: $20.39
Looking for a perfect multipurpose gift item for your loved one? This Folding Lap Desk is exactly what you need. It is a collapsible table that has a large writing surface that doubles as a lid for the storage compartment under the desktop. It can be turned into a bed table to enjoy meals, a gaming table, a study table, or a bookstand.
Key Features
Space-saving and portable
Storage under the desktop
Holds up to 7 pounds
Durable
This floor lounger cover is perfect for a sleepover, watching TV, or reading a book. It is an excellent alternative to bean bags. It fits up to five pillows and is made of soft, plush fabric. It is machine-washable on delicate cycle. It comes in four colors with white polka dots – green, hot pink, light pink, and purple.
Key Features
Fits 5 pillows
Machine-washable
Comes in four colors
This is the perfect family game that is a kitty-powered version of Russian roulette. This game can be played by 2-5 players. The players keep on drawing cards until one of them draws an exploding kitten. At this point, they explode and die and are out of the game. But if the player has a Defuse card, they can use it to defuse the exploding kitten using belly rubs, catnip sandwiches, and laser pointers. The other cards in the deck help to avoid, move, or mitigate the exploding kittens.
Key Features
Strategy card game
Game of the Year award winner
For 2-5 players at a time
The Townley Girl Disney Frozen Gift Set is the perfect addition to any teenage girl's play spa day or slumber party. This set includes 12 non-toxic, water-based, peel-off nail polishes in all solid colors and nail separators. These nail polishes are easy and fun to apply, making them a great way for girls to bond over at parties.
Key Features
Easy peel off
Suitable for kids aged 3 and up
No nail polish remover needed
Safe and natural
Price at the time of publication: $9.99
A perfect gift for your teenage girl to celebrate any special day, the ChapStick Party Favor Lip Balm Packs make for an ideal gift. The set contains ten super-smooth and moisturizing lip balms in various delicious flavors to give the lips the attention they deserve. The lip balms have a one-swipe application and can help take care of her lips effortlessly.
Key Features
Moisturizing
Natural finish
Available in 10 party options and 3 unique flavors
Easy to use
One-swipe application
Price at the time of publication: $17.39
30. MISSLO Hanging Jewelry Organizer
This dual-sided hanging jewelry organizer 32 clear vinyl pockets in the front and 18 loops closure on the back. Now, your teenage girl will not run out of space to keep those earrings and chains organized. It makes searching for a particular piece of jewelry very easy for the girl on the go.
Key Features
18 loops and 32 pockets
Made of
environment-friendly non-woven fabric
Facilitates easy access
The Steam Rising Magical Unicorn Bath Toy Spa Kit includes everything any teenage girl needs to create a magical bath time experience. The bath bombs are made with natural ingredients that fizz and release a soothing aroma, creating a relaxing atmosphere in the tub. The loofah is perfect for leaving her feeling refreshed and rejuvenated. The set also comes with a surprise unicorn toy hidden inside. Lastly, the kit includes a soft and comfortable unicorn sleep mask to help her drift off into a peaceful sleep after her bath.
Key Features
Natural ingredients
Gentle on skin
Moisturizing
Great fragrance
Vegan
Cruelty-free
For all skin types
Price at the time of publication: $39.99
Delightful and revitalizing, these Bella & Bear Shower Jellies will leave any girl feeling refreshed and awakened every time. Let her enjoy a unique bathing experience with these shower jellies and help her kickstart the day with a zing. Available in 3 fruity flavors, these shower jellies deeply-cleanses and hydrate the skin from within.
Key Features
Vegan
Suits all skin types, including sensitive skin
Environment-friendly
Travel-friendly
Cruelty-free
Price at the time of publication: $14.99
These are some of the hottest bags, backpacks, tech gadgets, and games that teenage girls would surely love. So, what are you waiting for? Pick any from the above list and score brownie points from the teenage girl in your life.