30 Smart Gift Ideas Under $30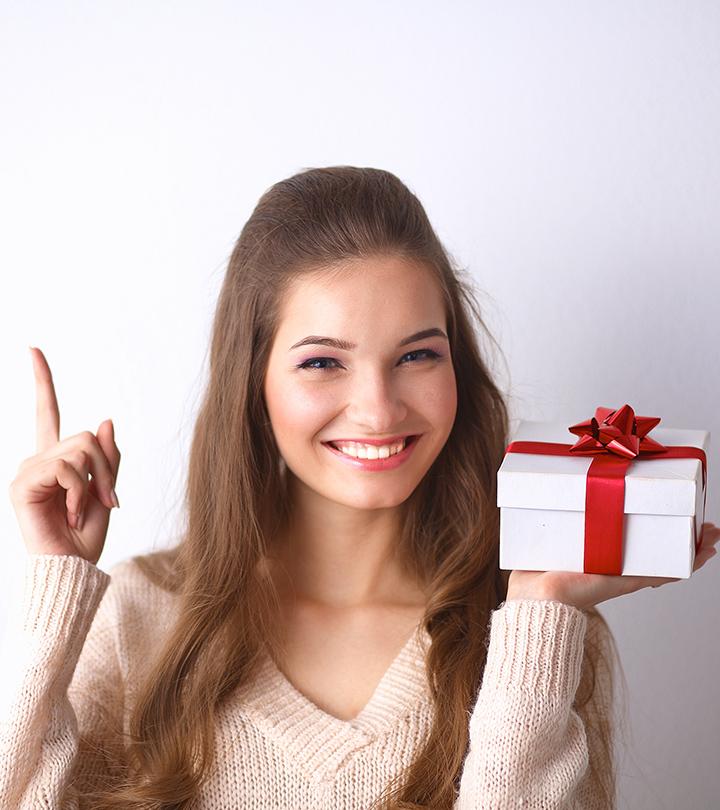 Along with joy, the holiday season brings the responsibility of finding your loved ones the perfect gifts that not only bring a smile to their lips but also don't empty your wallets. But not everyone can do so comfortably. You either end up buying a generic gift or overspend and become gloomy.
This is why we have some holiday charm for you – here is a list of 30 smart gifts that you can buy under $30. These gifts are classic, helpful, and very exciting. Take a peek.
Everyone has their favorite sandwich that they like to personalize to the tiniest detail, and to make that, they need a great sandwich maker. The Hamilton Beach Breakfast Sandwich Maker makes snacking easy.
It gets your breakfast ready within just 5 minutes – simply add cooked meat/cheese/egg on a piece of bread and top it with a second slice of bread, and your sandwich will be ready. To make things even easier, all the parts of this device are removable and dishwasher-safe. This is a great gift for birthdays, Christmas, or any special occasion. This sandwich maker can be carried to vacation and holiday destinations easily.
Key Features
Compact and electronic.
Bakes sandwiches within 5 minutes.
Comes with different compartments to add bread, cheese, egg, and precooked meat.
All the parts of the sandwich maker are removable, easy to clean, and dishwasher safe.
Nothing can give you better relief from your hectic schedule than a relaxing spa day. The LifeAround2Angels bath bombs gift set is a perfect solution for your loved one's stressful days. The bath bomb set comes with 12 uniquely crafted bath bombs made from fizzes, shea, and cocoa butter for healthy and hydrated skin.
These bath bombs hydrate the skin and act as therapeutic ingredients that nourish the skin. If you have a workaholic friend or a passion-frenzy cousin, or if you just want to pamper your girlfriend, this gift is your best bet. This set also is a great party favor or wedding gift.
Key Features
The bath bombs come in black raspberry vanilla, kiwi and strawberry, lemongrass green tea, mango papaya, and other interesting flavors.
Loaded with rejuvenating aroma and don't stain the bathtub.
Filled with hydrating and nourishing ingredients that moisturize the skin.
Bacteria-free and skin-friendly.
If you have a loved one who deals with constant muscle or body pain, this is a very thoughtful gift you can offer them. The Sunbeam Heating Pad is designed to provide fast pain relief. The express heating pad gets heated in just 30 seconds and provides instant soothing sensation.
The king-size pads are designed to offer complete coverage and healing. The pads come with 6 heat settings to customize the heating level for when you start feeling better.
Key Features
The microplush fabric provides comfort on the sensitive areas.
Extra-large size pad covers the entire area, including the spine, legs, and shoulders.
Comes with 6 different heat settings to set the pad at the exact level of heat desired.
Heats up in just 30 seconds and provides instant relief.
This 10 feet long double-braided nylon lighting to USB cable comes with a copper wire. The durable nylon fiber cloth offers protection and flexibility. It is an Apple MFI certified charger that syncs easily with your apple devices.
It easily connects to your iPhone, iPad, or iPod with a lightning connector and charges by connecting the USB connector to the power supply. It is compatible with various iPhone and iPad models from iPhone X to 5 and iPad pro to iPad 5th generation.
Key Features
10 feet long double braided wire.
Apple MFI certified product that syncs and charges Apple products.
Durable nylon fiber cloth and Kevlar.
Copper wires ensure durability, long-lasting performance, and better signal quality.
Compatible with most Apple iPhones, iPads, and iPods.
This is a helpful and inspiring gift for your friend who has recently started working out.  This BuildLife 1 gallon water bottle comes with motivational quotes and a time marker that reminds the user to drink water constantly and stay hydrated. Fitness trainers advise drinking at least 1 gallon of water every day, and this uniquely designed gallon will inspire the user to drink water at regular intervals.
The bottle is BPA-free and also free of chemicals and odor. It is leakproof, reusable, and easy to clean. Help your loved ones stay hydrated and achieving their fitness goals by gifting them this bottle.
Key Features
Comes with inspiring quotes, and time-markings.
Made from PETG plastic and is BPA-free.
Doesn't have any strong odor.
Here is a smart gift to impress your coffee lover friends. This YETI Rambler 14 oz Stainless Steel Vacuum Insulated Mug is a complete charmer. The mug comes with a cool lid and keeps hot beverages hot and cold beverages cold for a long time.
The mug is tough and is designed for convenient drinking. The color of the mug doesn't fade, peel, or scratch. The mug is easy to clean and dishwasher-safe. If your friend is always in a rush and forgets sipping their beverages on time, this mug will keep their beverages fresh and hot.
Key Features
Stainless steel vacuum insulated mug with lid.
Keeps your hot beverages hot and cold beverages cold .
Color of the mug doesn't fade or scratch.
Dishwasher-safe.
Is your friend an adventure enthusiast? Surprise them with this portable and compact water bottle to help  revive their energy by staying hydrated on their trips. The Cactaki water bottle comes with a time marker so that the user can drink the required amount of water throughout the day.
The bottle is made of leakproof Tritan co-polyester plastic, which is 100% BPA-free. It does not alter the taste or odor of water. It is appropriate for trips, weekend getaways, and gym or sports activities.
Key Features
Time marker reminds you to drink water and stay hydrated.
100% BPA-free.
No foul taste or smell.
Every woman needs a complete set of makeup brushes that can make makeup application easy and convenient. The Bestope makeup brushes set does exactly the same. The set consists of 16 brushes, of which 5 are basic big makeup brushes and 11 precision brushes.
From the eyebrows to the lips, from blush to liners, these brushes will allow you to do your makeup conveniently. The brushes are made using soft and dense synthetic fibers to offer high-quality finish with liquid, cream, or powder-based products.
Key Features
Includes all types of brushes in different sizes and shapes.
Brushes for contouring, highlighting, shading, and blending are also available.
High-quality ferrule and wood handles offer a tight grip.
Cruelty-free synthetic fibers work fine with cream, powder, or liquid makeup.
This awesome cocktail shaker bar set by Cresimo includes tools that will boost your cocktail night fun. It is also a great gift for a friend who loves cocktails and is a pro at making them. The set includes 1 martini shaker, a muddler, and a jigger, a bamboo wood stand, a bar spoon, a Hawthorne strainer, a corkscrew, a bottle opener, ice tongs, and an illustrated recipe book.
All the tools are dishwasher-safe and made using premium quality stainless steel that is designed to last. It is a great gift for both beginners and professional bartenders.
Key Features
Complete cocktail shaker kit.
Made from stainless steel.
Comes with an illustrated recipe book for lip-smacking cocktails.
Hand sculpted gifts are the most precious gifts you can offer to someone, and this cool willow tree friendship box is a perfect gift option to surprise your best friend. This hand-painted gift box is made of resin and has a bas-relief carving on the lid. "Forever True, forever friends" is carved inside the box and will reflect your feelings for your friend.
This box works great as a décor item for shelves or tables. It is perfect for storing small treasures and belongings. The figure on the lid represents memory and expresses love, closeness, courage, hope, and dozens of such emotions related to friendship.
Key Features
Designed to store small treasures.
Hand-painted and hand-sculpted by highly experienced artists.
The Levoit Cora Himalayan Salt Lamp is made from Himalayan sea salt crystals and creates a very soothing lighting atmosphere at night. This set comes with bulbs, UL listed cord, and a luxury gift box for your loved ones.
The lamp brightens up the room and creates a very romantic atmosphere with its dim and soothing light. It is hand-carved using original Himalayan pink salt from Pakistan. The lamp also comes with a touch button that allows you to adjust the brightness as per your mood for day and night.
Key Features
Made from all-natural Himalayan pink salt from Pakistan.
Comes with a touch button to adjust brightness.
The dim lights calm your body at night while sleeping.
Surprise your female friend with this smart, designer, and high-quality RFID blocking wallet. This is an exceptional multi card case wallet from Travelambo that comes with a stylish zipper pocket and multiple slots for cards. This wallet has a lot of room for your cards, cash, mobile phone, and other essentials.
The wallet is made using PU vegan leather and polybag packing. The checkered pattern with a classy zipper and buckle up pattern makes it even more interesting. Overall, it is a great wallet for everyday use that comes in a wide range of colors.
Key Features
Multi-functional wallet with amazing card slots.
Elegant design with zippers and buckle up pattern.
Made from vegan leather and polybag packing.
One of the best ways to enhance your home décor is to accommodate some interesting plants in different corners of your home. If your friend is shifting to a new place or redecorating, this is the ideal gift you can offer. The  Mkono Wooden Plant Pot Holder is a fine gift for any plant lover.
This elegant planter is inspired by the mid-century style with a minimalistic design that goes with most of the furniture items. The 10 inches long plant holder will beautifully lodge different planters in each corner of your home. It is made from handcrafted and heavy-duty beech wood and can hold ceramic, cement, and brass metal planters.
Key Features
Can hold ceramic, brass, and cement planters.
Design inspired by the mid-century style and complements most home furniture items.
Gives a minimalistic and elegant touch to your home.
This ceramic planter from Mkono can be a wonderful addition to home décor and furniture. It is a good fit for tiny plants like succulent herbs or faux plants. These wall hanging planters are designed to enhance vertical greenery in your home and to display some of your favorite tiny plants.
These plants can be hanged in your home beside windows or can be fixed outdoors in the front yard or backyard. The white ceramic planter comes with a leather strap and brass screws.  High fired porcelain creates a very polished and bright matte glaze look. The planters are hanging planters and, thus, will be out of your pets' and children's reach.
Key Features
Elegant design and matte white finish.
You can accommodate small plants in these elegant planters.
Offers vertical greenery and hanging plantation.
If your friend is redecorating their apartment, surprise them with this cheery and fun pillow cover set. Statement furniture items and unique decoration items can simply make a living room look amazing. These decorative throw pillow covers are very modern and playful options.
The set includes 4 pillow cover designs – compass, arrow, feather, and one beautifully quoted pillow cover – that will create pleasant vibes in your living room. The pillow covers are made from 100% durable cotton linen material and are skin-friendly. The pillow covers have hidden zip covers and are easy to fill. This can be an interesting gift for Christmas, Thanksgiving, birthdays, or for other special occasions as well.
Key Features
Four unique pillows covers with vibrant designs.
Comes with hidden zipper closure.
Made from 100% cotton linen fabric.
The Bysionics Wireless Charger charges an Apple watch and an iPhone simultaneously. This 2-in-1 wireless phone charger is compatible with most iPhones and Apple iWatch series. The stand has fast charging technology.
It is compatible with iPhone X/8/8 plus/XS MAX/XR/XS. It also offers 10W fast charging for Android phones. It has a 2W fast charging compatibility with Apple watch series /43/2/1. QC2. 0/3.  The safe and smart technology prevents the iPhone or watches from overcharging and battery damage.
Key Features
2-in1 wireless charger for Apple iPhone and iWatch.
5W fast charging compatible with iPhone X/8/8 plus/XS MAX/XR/XS.
10W fast charging compatible with Qi-enabled Android cell phones.
2W fast charging compatible with apple watch Series /43/2/1. QC2. 0/3. 0.
Secure charger that prevents overheating and subsequent battery damage.
This lunch bag comes with separate exclusive deck design to keep your food fresh and hot. It has 2 compartments – one for hot items, and one for cold. You can place all the hot items in the hot rack and cold drinks and food items in the cold rack.
It is a practical and compact product that you can carry to your office and also take along with you on trips, beach getaways, or while traveling. The bag is designed with high-quality material and has bronze buckles. The handle is strong enough to withstand up to 20kg weight.
Key Features
Hot and cold lunch boxes.
A front zipper pocket to store knives and forks.
12+cans for beverages, fruits, and vegetables.
Powerful and strong handles to hold up to 20kg weight.
Removable shoulder strap.
Much of our social life these days is inside our phones. Our screen time is increasing day by day. And for that, we need more charge in our phone battery. This can be made easy with the Lisen USB-A cable with charger. It replenishes a phone's battery at lightning speed. The reinforced iPhone charger cable with special SR joint design has passed 40000 plus times bending tests for extra protection and durability.
It is certified by Apple and charges safely at maximum speed. The charger prevents overheating and overcharging and ensures that your device is safe. The charger is fully compatible with iPhone XS / XS Max / XR / X / 8 / 8 Plus / 7 / 7 Plus / 6s / 6s Plus /6 Plus / 6 / SE / 5s / 5c / 5, iPad Air, iPad mini, iPad, iPad Pro, iPod nano, iPod touch, as well as, the latest iOS system.
Key Features
Super-fast charging cord.
Apple-certified cord with extra protection and durability.
Prevents overheating and subsequent battery damage.
This unique bamboo cheese board is just the thing you need for a wine-and-cheese night. The board comes with a charcuterie platter, serving tray, 4 stainless steel knives, and a thick wooden server. This versatile cheese board has a non-absorbent and odor-free surface.
The large cheese set also includes a knife set and a cutlery drawer, so you can serve your guests easily. With this cheeseboard, pair a variety of cheese with fruits, nuts, crackers, and wines to make a memorable meal. This can also serve as a brilliant gift idea for people who love to throw a lot of parties.
Key Features
Made with high-quality bamboo wood.
Comes with knives and cutlery drawer.
Has a charcuterie board for picnics and get-togethers.
Nothing shows love better than personalized jewelry. This beautiful jewelry design by Joelle is an 18k gold plated name necklace that can be personalized with your loved one's name. This is a sterling silver necklace with a gold-plated pendant.
The jewelry has a polished surface and gleams beautifully in the light. The flowing script alphabet creates an elegant daily look. Surprise your loved one with this ultra-glamorous piece of jewelry on her birthday, Christmas, or anniversary.
Key Features
Can be personalized.
Silver chain with a gold-plated necklace.
MLVOC's Travell Pillow is a frequent traveler's best friend. It is made from 100% memory foam and is super cushiony for the neck and shoulders. This breathable pillow comes with 3D contoured eye masks, earplugs, and a luxury bag.
This travel kit is a great resource to prevent neck sprain, back pain, or any discomfort during the journey. The pillow comes with an adjustable rope to adjust it as per your neck size. If the environment is too noisy for a comfortable nap, this kit is what you need for rescue.
Key Features
Made with memory foam.
Comes with a 3 D contoured eye mask, earplugs, and a luxury bag
Water-resistant.
Fruit and vegetable infused water is one of the healthiest ways to get your daily dose of micronutrients while keeping yourself hydrated. Mami Watar Fruit Infuser Water Bottle not only has a very unique and appealing design but also comes with recipe e-book.
This luxurious looking bottle has a transparent base and a tube design.  This can be the perfect gift for someone who is stylish but also understands the value of health and nutrition.
Key Features
Leakproof and spill-proof.
Made from Tristan plastic.
Durable, shatterproof, and BPA-free.
Working for hours on the desk can be stressful not only for the mind but also for the body. The Viktor Jurgen Handheld Back Massager is a great tool for instant relaxation. This double head electric full body massager offers great massage to the muscles, head, neck, shoulder, back, and legs.
It can be used by both men and women. It has three removable massage heads for targeting different body parts. The massager relieves muscle aches by improving blood flow to various body parts.
Key Features
Massager for the head, neck, back, legs, and foot.
Runs up to 3350 pulses a minute.
Speed settings and features can be customized to control motion.
Non-slip, easy-to-grip handle with 71-inch long cord.
Provides instant relaxation.
This Mason Jar by Homko is a wonderful wall décor that has aesthetically pleasing flowers and soothing LED lights. It gives the room a divine natural look. It can be a wonderful gift for a housewarming party or for interior remodeling.
This set of mason jars comes with a 6-hour timer. To save energy, the timer automatically switches off the LED and automatically lights it up the next day. The handpicked wood, elegant flowers, and brightening LED make it fantastic for the hallways, front yard, living room, or patio.
Key Features
Comes with energy-saving timer and shuts off and on automatically.
Entirely handmade.
Ideal for bridal showers, Christmas, weddings, etc.
The Aigostar Adam Electric Water Kettle comes with a blue LED and provides you with hot water instantly. The kettle is made using high-quality glass and is stain-resistant. When you need boiling water for ready to eat food items, tea or coffee, switch on this kettle and get hot water instantly.
The kettle also comes with an auto-shutoff feature that switches off power when the water boils. It is also very easy to clean and doesn't leave any foul smell in the drinks.
Key Features
Has an LED button.
Heats water instantly.
Auto-shutoff feature prevents energy wastage.
Doesn't leave any smell or a bad taste in the drinks.
The Simple Houseware Mesh Desk Organizer with a sliding drawer is a great way to arrange all office accessories in a neat and proper way. The organizer comes with a stylish drawer, two side load letter trays, and a tray with a 3-compartment drawer and upright section.
This is a great organizer to store letters, files and folders, and office accessories like staplers, scissors, pens and pencils, calculator, etc.
Key Features
Has multiple compartments to store different office supplies and an upright section to hold letters.
Has a sliding drawer.
If you are not sure what to get for an acquaintance, play the safe card and get them a gift card. But do it in style with Amazon's Snowflake gift card. This is a small Snowflake-shaped tin box in which you can place a gift card of your desired amount.
The gift amount may not be printed on the gift card. The enclosed gift card has no fees or expiration date. It can be redeemed millions of items in Amazon.com. It even offers free one-day shipping where available.
Key Features
Customize the amount you want to gift.
Adds an aesthetic edge to a bland gift card.
Saves you the trouble of guessing what a person might like, and lets them pick a gift for themselves.
This portable blender from Oberly comes with 6 blades, making it perfect for personal use. It is made using high-quality BPA-free material and is powered by 2000 mAh battery. This is a cordless travel blender that is ideal for weekend trips and long journeys.
This portable blender can blend ice, frozen fruits, fresh fruits, seeds, stem, and vegetables quickly. If you want to encourage a friend who is on a diet and need fruits and vegetables to replenish their system, this blender will help him a long way.
Key Features
Portable and compact.
Can blend tough ingredients like fruits, vegetables, and ice.
Is 100% BPA-free and runs on a 2000 mAh battery.
Cordless
Who wouldn't love a calming session after a long and tiring day? Gift the Asakuki Premium Essential Oil Diffuser to your loved one, and it will fill them with joy. This awesome 5-in-1 ultrasonic aromatherapy fragrant oil humidifier vaporizer comes with a timer and auto-off safety switch.
The diffuser has 7 different light settings and multiple diffuser modes to create a very relaxing and sound sleeping environment. It improves the entire home's atmosphere and eliminates pet smell, smoking smell, and any other fouls smells.
Key Features
Multipurpose essential oil humidifier that improves the air quality of the house.
Comes with 7 different light modes and fragrance settings.
Creates a very restful and pleasing environment at home.
Prevents foul smell and is made using natural and safe products.
The Tote-A-Ton bag from Samsonite is made with 100% nylon and can be hand-washed. This bag is 11 inches high and 17 inches wide. It is extremely lightweight and weighs only 1 pound when empty. This spacious bag is ideal for vacations.
The duffel has an interior zipper pocket and an exterior zipper pocket to store all small and essential accessories conveniently. It is quite strong and can carry very heavy weights. It is a great bag for air travel and also for short weekend trips.
Key Features
Lightweight but supports heavy weights.
Collapses as you empty it.
Has an interior and exterior zipper pocket.
Which ones are you buying as a gift? And which ones are you buying for yourself? Let us know in the comments below.