14 Best Gladiator Sandals In 2022
Return the style to your feet with these bold and unique footwear categories.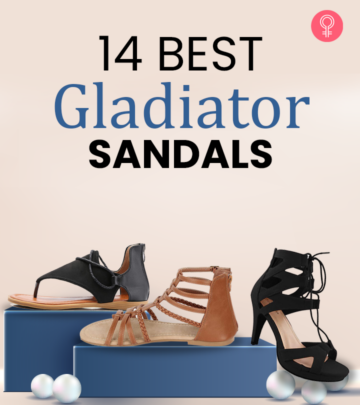 Gladiator sandals have been around for years as the Romans and Greeks wore them during battles. Nowadays, people often wear them with dressier outfits, social functions, and even at the beach. Over the years, the best gladiator sandals have improved designs. Nowadays, they have bold colors, braided straps, accessorized, and chunky soles. In addition, different brands have been trying to add new elements to make these sandals look even more stylish.
Choosing the right gladiator sandal that suits your requirements might be tricky as you need to consider the color, material, size, and cost. So, let's check out the 14 best gladiators listed in this post!
What Is A Gladiator Sandal?
Gladiator sandals are designed with multiple wide cross straps that hold the foot's sole (insole and outsole). Normally, you'll find a wide strap placed around the ankle to keep the foot steady. Manufacturers of gladiator sandals use braided thongs, straps, or leather cords to attach the foot to the stiff sole.
These sandals have a long history dating back to the times of the Roman and Greek gladiators who wore them during battle. However, the modern gladiator sandals have been modified to meet the demand of the ever-changing fashion trends.
There are a wide variety of gladiator sandals for women, but all narrow down to two main categories – the type of heel and the style of strapping. Hence, when shopping for the best gladiator sandals on the market, you can look out for slides, back strap sandals, ankle strap sandals, and laced-up sandals, among other types.
In the next section, we bring to you the 14 best gladiator sandals available on the market.
14 Best Gladiator Sandals
The Luffymomo Gladiator Sandals have a strappy upper that covers your foot comfortably. The bimetallic buckles enable you to adjust the tightness of these sandals. Their uppers and insoles are made of high-quality breathable material and have sweat-wicking properties. They will make your feet comfortable and fresh even during hot summers or while you take long walks. The neat stitching improves their sleekness and durability. Their anti-slip outsole equipped with anti-skid grain provides a firm grip on smooth surfaces. These sandals are flexible and don't deform easily.
Specifications
 Color: Black
 Material: TPR rubber outsole
 Size: 6 to 11
Pros
 Durable
 Anti-slip
 Soft toe thong
 Lightweight
 Adjustable buckle
 Breathable
 Sweat-wicking
Cons
 The upper material may rub off over time
The Mudan Gladiator Sandals for women are made from 100% synthetic material that's durable and strong. These sandals are lightweight and comfortable. Their rubber soles allow you to move steadily on any terrain. Their ankle strap helps you tighten the sandals for a comfortable wear. These gladiator sandals have a platform measuring 0.5 inch that allows you to walk easily. The buckle zip is ideal for strapping the sandals conveniently. The strap has a braided design that offers an elegant look and can be worn on any occasion and with any outfit. You may check this video for a better understanding of this product.
Specifications
 Color: Chestnut
 Material: Synthetic and rubber sole
 Size: 6 to 11
Pros
 Lightweight
 Durable
 Man-made material
 Sleek design
 Adjustable buckle zip
 Non-slip
 Handmade weave band
Cons
 No cushion support
 Not suitable for a wide fit
The Tilocow Gladiator Sandals reflect the design of traditional Roman sandals that cover the entire foot elegantly. Their sleek braided straps look classy and impressive. These sandals are made from soft material that provides a lightweight and comfortable feel. They feature a sole made of elastic and TPR material that has non-slip properties. The back zip saves you from strap buckling, allowing you to wear and remove these sandals easily.
Specifications
 Color: Black
 Material: TPR
 Size: 6 to 8.5
Pros
 Easy to wear and remove
 Soft material
 Lightweight
 Skin-friendly
Cons
 The rubber sole may tear with time
The Top Moda Gladiator Sandals use a lace-up design that stays firm on your feet. There is a zipper closure at the back for easy wearing and removal. Their heels measure about 4 inches to ensure you feel comfortable while walking on any terrain. Their rubber soles are comfortable, sturdy, and anti-skid, making them durable. These shoes have a perfect platform that distributes the weight uniformly to enable you to walk comfortably. This video review will help you learn more about the product.
Specifications
 Color: Black
 Material: Nubuck/rubber sole
 Size: 6 to 10
Pros
 Durable
 Sturdy
 Anti-slip
Cons
 Less width around toes may be uncomfortable for some
The Gracosy Gladiator Sandals have rubber soles that are comfortable and durable. Their straps are carefully handcrafted with glue sticking way and unique stitching that gives a perfect look. These sandals are made from high-quality PU leather that's soft and delicate and designed with peppy colors. Their cushion padded sole provides enough support to your feet. These gladiator sandals are lightweight and easy to slip on with a zipper at the back, securing your feet. They are perfect for the beach, travel, vacation, poolside, cruise, sightseeing, or lounging.
Specifications
 Color: Orange
 Material: High-quality PU leather
 Size: 6 to 11
Pros
 Lightweight
 Colorful design
 Durable
Cons
The Katliu Store Gladiator Sandals have a high-quality rubber outsole that offers excellent traction and flexibility. Their faux leather upper has a soft hand and perfect sewing, which refine the details of these gladiator sandals. Their backstrap has hidden elastic to ensure a flexible fit. These platform gladiator sandals have two strap buckle closures that are adjustable and equipped with five settings. These sandals support superior fit and daily wear. Their back zipper design allows you to remove and wear them easily. In addition, their non-slip soles ensure stability while on the road.
Specifications
 Color: Carrot Orange
 Material: Faux leather
 Size: 6 to 11
Pros
 Superior fit
 Durable
 Elastic back strap
 Anti-skid
 Two strap buckles
Cons
 The straps could stretch over time
The Rockport Briah Gladiator Sandals have a caged upper made of full-grain leather that's easy to maintain. Their textile sock liner is ideal for styling, flexibility, and breathability. These sandals have a durable and sturdy TPR outsole that offers support and stability. Their stretchable back strap has a Velcro closure with a back zipper for easy wear. The laser cut-accents and corked texture make these gladiator wedges a significant style statement. They also have 70mm heels accompanying a 0.75-inch flexible platform to allow you to step comfortably even on rough pathways or driveways.
Specifications
 Color: New Taupe Nubuck
 Material: Full-grain leather/synthetic sole
 Size: 5 to 11
Pros
 Breathable
 Long-lasting TPR outsole
 Affordable
 Sleek design
 Soft insole
 True to size
Cons
The Shibever Gladiator Sandals are made from artificial PU leather upper that is breathable and gives a look of authentic leather. Their non-slip rubber outsole increases traction and maximizes stability. Their comfortable insole makes your feet feel relaxed even after walking for a long distance. These gladiator sandals have a flat heel, ankle strap, and zipper closure to ensure they stay put on your feet. They are lightweight and won't bother you when you feel exhausted. The thong toe crisscrossed straps ensure the sandals don't slip off your feet.
Specifications
 Color: Black
 Material: Artificial PU leather
 Size: 4.5 to 10.5
Pros
 Durable
 Match almost all outfits
 Crisscross strap
 Lightweight
Cons
 Sole could be too thin for some
The Beneker Gladiator Sandals are made using man-made artificial leather that's breathable and easy to maintain. Their non-slip rubber sole increases your confidence while on the road. These brown gladiator sandals have a soft lining and a comfortable footbed that allow you to walk easily. They have a metal buckle and adjustable ankle strap that enable you to fit it around your ankles. Their TPR outsoles are durable and anti-skid.
Specifications
 Color: Brown
 Material: Artificial leather
 Size: 6 to 10
Pros
 Adjustable width
 Metal buckles
 Long-lasting
 Non-slip
 Durable
 True to size
Cons
 The ankle strap might widen over time
The Amazon Essentials Gladiator Sandals have an adjustable buckle closure design with five fit settings to suit everyone. Their backstraps are equipped with hidden elastic to ensure flexible fit and prevent blisters. Their faux-leather dip-dye uppers equipped with soft and natural burnishing keep them sleek and attractive. These gladiator sandals provide minimal coverage and optimal stability. These sandals are made with 100% polyurethane, which is durable, sturdy, and breathable. These brown leather gladiator sandals are casual, versatile, and detailed for a fashionable outfit and superior fit.
Specifications
 Color: Bronze
 Material: Polyurethane/synthetic sole
 Size: 5 to 13
Pros
 Superior fit
 Durable
 Enhanced stability
 Versatile
 Elastic back strap
Cons
None
The Skechers Gladiator Sandals are made of 100% faux leather that's soft, breathable, and durable. Their footbed is made using memory foam that provides unrivaled comfort even after long hours of walking. These heeled gladiator sandals have a removable heel strap for convenience. The strappy slingback (webbing fabric) upper display makes these sandals fashionable, classic, and strong. Their adjustable and convertible straps enable you to personalize the sandals to fit your feet width while ensuring a perfect fit.
Specifications
 Color: Black
 Material: Smooth faux leather
 Size: 6 to 10
Pros
 Soft and comfortable insole
 Custom-fit sandals
 Durable
 Lightweight
 Breathable
 Adjustable straps
 Fashionable webbing fabric uppers
Cons
The Dr. Martens Gladiator Sandals are made with EVA sole that's strong and long-lasting. They have platform wedges with unique bottoms and adjustable buckle straps around the ankles to for a proper fit. The visible welt stitching and grieved edges add a fine touch to these sandals, making them fashionable and appealing to the eye. The lightweight ripple soles enable you to use these gladiator sandals on almost any terrain. Their uppers feature PU-coated leather with a matte finish that you can clean using a damp cloth.
Specifications
 Color: Black
 Material: PU-coated leather
 Size: 5 to 11
Pros
 Easy to clean
 Lightweight
 Anti-skid
 Adjustable buckles
 Padded collars
 Light wedges
Cons
The knee-high Yolkomo Gladiator Wedge Sandals give the perfect fashion statement. They have heels measuring 3.5 inches with an open-toe. Their laser-cut design features a crisscrossing on the sides with a caged front style, making them perfect to wear with a chambray dress, a mini skirt, or cut-off jean shorts. In addition, the lace-up design with a back zipper makes these sandals easy to wear.
Specifications
 Color: Black
 Material: Polyurethane sole
 Size: 5 to 15
Pros
 Match any outfit
 Soft-cushioned
 Medium wedges
Cons
 Not sewn together but glued
The Tinstree Gladiator Sandals have an adjustable buckle closure design for easy wearing and removal. Their upper is made with faux leather that is dip-dyed with a soft hand and natural burnishing. They can be easily styled with your jeans, leggings, skirts, or yoga pants. Their rubber insole is warm and soft and will keep your feet warm when it's cold and fresh when it's hot. Their anti-skid rubber outsole is durable, and improves traction and stability. Both the open-toe and open-heel designs make them versatile and convenient.
Specifications
 Color: Black
 Material: PU leather
 Size: 5 to 11
Pros
 Easy to wear and remove
 Easy to maintain
 Affordable
 Long-lasting
 Lightweight
Cons
 Not fully water-resistant
Ready to invest in a pair of stylish gladiator sandals? Scroll down to learn the key pointers to keep in mind before making the purchase.
How To Choose The Best Gladiator Sandals?
Shopping has never been easy, especially if you aren't informed. Think of the thousands of different types of gladiator sandals on the market today. What is the probability that you'll choose the right one? There is no need for guesswork when you can use the following guiding factors.
 Insole: When shopping for the best gladiator sandals, look for those with cushioned or padded insoles. However, looking further at those lined with moisture-wicking or leather lining will improve your experience with these fascinating sandals.
 Heel: Some gladiator sandals have flat soles while others have medium or high heels. However, you'll also encounter gladiator sandals with stiletto heels ideal for formal gatherings.
 Closures: Originally gladiator sandals were used to strap around the ankles. There have been more inventions with time where you can find the best knee-high gladiator sandals with buckle or zip closure designs.
 Outsole: You need to make a better choice here as this part will be exposed to the ground. Will it be EVA, a synthetic material, or a rubber outsole? On top of that, does it have a smooth tread or a slip-resistant add-on? Again, don't sacrifice durability for comfort.
 Uppers: Gladiator sandal uppers are characterized by several cross straps. Not all straps stop at the ankles. Some may even go up to the knees and thighs. The style of the straps will differ depending on the gladiator sandal brand you choose. Normally, the straps are either made from suede leather, synthetic leather, textile, or leather.
Why Trust StyleCraze?
As a fashion aficionado, the author of this article, Shalini Roy, understands how much gladiator sandals are loved across the globe. Therefore, she conducted in-depth research and checked many product reviews to ensure that the ones she listed down for her readers can cater to their requirements. This list consists of some of the most stylish and comfortable gladiator sandals.
Frequently Asked Questions
Can you wear gladiator sandals with jeans?
Yes, a perfect set of gladiator sandals can match the favorite pair of jeans in your closet. Shop wisely.
Can guys wear gladiator sandals?
Yes, guys can wear gladiator sandals. But finding the right set of rhinestone gladiator sandals is vital to make the look more appealing.
Recommended Articles