8 Best GLAMGLOW Masks For All Skin Types Of 2023
It's time to restore your skin's youthful look and add a natural and vibrant glow to it!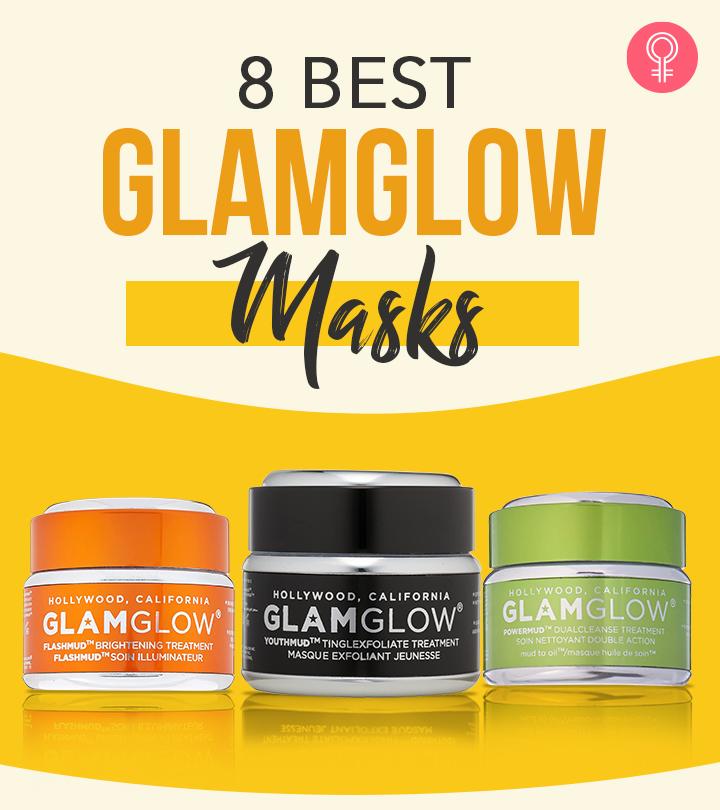 Every beauty enthusiast is now hooked to the best GlamGlow masks. GlamGlow's masks are famous for offering skin-restoring properties in just 10 minutes. So, if you have been looking for reliable masks, these are everything you need. GlamGlow's masks deliver scientific skincare. These masks are ingredients that will provide instant and long-term skincare solutions. Now, go ahead and slay this holiday season by opting for these face masks. Ahead, you'll come across the 8 best face masks from the brand that will enhance your beauty inside-out and give a glow-up to your beautiful soul too.
Top Picks
The Top 8 GLAMGLOW Masks Of 2023
Pros
Suits all skin types
Natural ingredients
Paraben-free
Vegan
Cons
Price at the time of publication: $40.38
The GLAMGLOW SUPERMUD Clearing Treatment is a clarifying charcoal mud mask. The product contains a blend of K-17 clay and six acids – glycolic, salicylic, lactic, mandelic, pyruvic, and tartaric acids. It gently exfoliates your skin and removes dead skin cells and impurities and excess sebum to brighten it and make it smoother.
This mask also contains activated charcoal that draws out all toxins and dirt from deep within your pores, and eucalyptus extract that keeps your skin healthy. It is suitable for oily, acne-prone, and dull skin.
Key Ingredients: Super six acid blend, Activated charcoal, and TEAOXI eucalyptus leaf extract
Pros
Refines skin pores
Reduces the appearance of dark spots
Paraben-free
Cons
Price at the time of publication: $34.97
The GLAMGLOW GRAVITYMUD Firming Treatment is an effective skin-firming treatment. It contains licorice and marshmallow extracts that help lift, firm, and brighten your skin. The product also contains witch hazel that has a calming effect on your skin and helps fight acne-causing bacteria.
This peel-off face mask tones your skin and improves its resilience. It comes with an applicator brush, and as you apply the product with upward strokes, you will see the white mask turning lustrous chrome color.
Key Ingredients: Licorice and Marshmallow extracts
Pros
Includes applicator brush
Paraben-free
Sulfate-free
Phthalate-free
Cons
Overpowering fragrance
May not be the best for sensitive skin
Price at the time of publication: $28
Pros
Refreshing citrus fragrance
Reduces acne and other distress scars
Brightens the skin
Cons
Price at the time of publication: $58.0
The GLAMGLOW POWERMUD DualCleanse Treatment is a hypoallergenic mud to oil cleansing mask. This product contains Claytox – a blend of four clays that detoxifies the skin, takes out all dirt and impurities from the skin pores, leaving it refreshed and bright.
It also contains Oxilier – a complex of four deep-cleaning oils that helps your skin absorb the formula minus any greasiness. The patented TEAOXI technology further nourishes the skin, giving it a clean and velvety-soft finish. This face mask suits all skin types.
Key Ingredients: Oxilier complex, Claytox, and TEAOXI
Pros
Non-oily
Non-drying
Gentle exfoliation
Paraben-free
Phthalate-free
Sulfate-free
Cons
May not suit sensitive skin or extremely dry skin
Price at the time of publication: $23.5
Pros
Suits all skin types
Deep cleansing
Paraben-free
Sulfate-free
Phthalate-free
Cons
Price at the time of publication: $2.3
Pros
Quick results
Reduces inflammation
Imparts glow
Reduce wrinkles and fine lines
Treats dry, flaky skin
Cons
Price at the time of publication: $9.99
The GLAMGLOW BERRYGLOW Probiotic Recovery Mask is a creamy moisturizing mask that helps repair the skin's natural moisture barrier. It is formulated with a Super Berry Blend of blueberry, cranberry, and goji berry that provides antioxidants and vitamins to nurture the skin. The Lactobacillus Ferment Probiotic in the mask maintains a healthy microbiome while hyaluronic acid, jojoba oil, and shea butter keep the skin plump and hydrated. This lightweight mask is like a superfood for the skin and is best suited for dry and distressed skin.
Key Ingredients: Super Berry Blend, Lactobacillus Ferment Probiotic, Jojoba oil, Hyaluronic acid, and Shea butter
Pros
Paraben-free
Sulfate-free
Phthalate-free
Hydrating
Gluten-free
Cons
May not suit sensitive skin
Price at the time of publication: $18.77
Why Trust Stylecraze
Shiboli Chakraborti is a certified skin care coach who loves using GLAMGLOW face masks to restore her skin. She prefers using these masks because it offers long term benefits to the skin. After going through multiple online reviews, she has shortlisted the best products for her readers. The list includes products that are formulated with natural ingredients, are non-greasy, and chemical-free.
Frequently Asked Questions
How long to leave GLAMGLOW YOUTHMUD on the face?
Let it dry for not more than 15 mins and then wash it.
How often do you use GLAMGLOW?
GLAMGLOW masks should not be used more than 2-3 times a week. Mud masks are usually exfoliating, and over-exfoliation irritates the skin.
Are GLAMGLOW masks worth it?
Yes. GLAMGLOW masks are worth the hype. They deliver instant results, and this brand takes skin care very seriously.
Which GLAMGLOW mask is the best?
Each mask has unique properties and addresses unique skin issues. However, their SUPERMUD Clearing Treatment is a cult-favorite and contains top-notch ingredients.
Which GLAMGLOW facial mask is right for you?
The GLAMGLOW THIRSTYMUD Hydrating Treatment is best for dry skin. If you have combination skin, try the GLAMGLOW SUPERMUD Clearing Treatment, and if you have dull and rough skin, try the GLAMGLOW FLASHMUD Brightening Treatment mask.