12 Best Glitter Eyeshadows For Glamorous Eye Makeup – 2022
These glitter eyeshadows are a must-have for that ultimate glam eye makeup.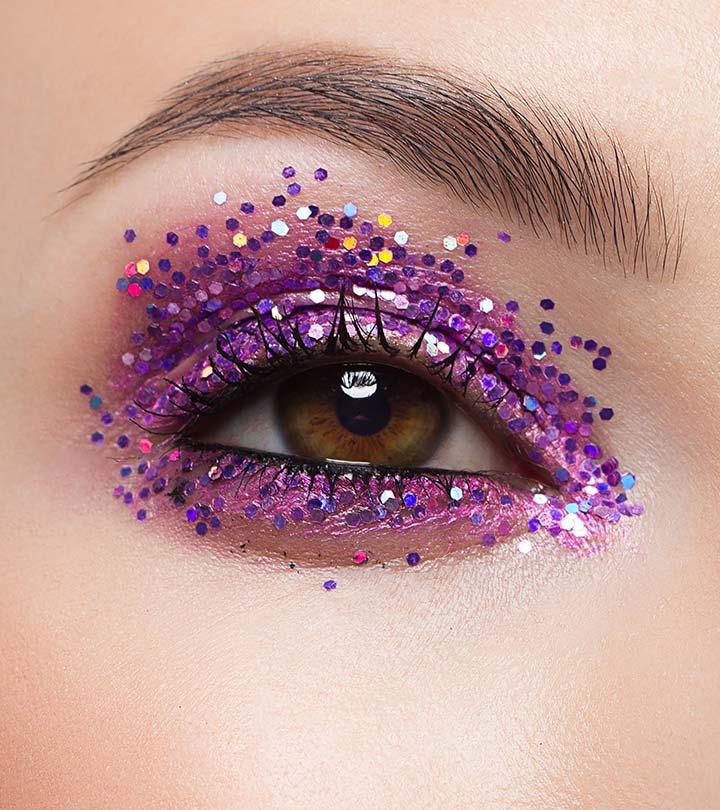 If you haven't used the best glitter eyeshadows yet, we will tell you why you need to get one right away. In a world where everyone strives to be unique, there is no scope for lowering your glam in public. Glitter is a profound fascination among makeup fans. The one makeup that compliments sparkles is your eye. The more it shines, the better it looks. So the next time you want your makeup to be on point, let the glitter do the talking! Here are 12 glitter eyeshadows to make you look absolutely gorgeous.
12 Best Glitter Eyeshadows
The UCANBE Twilight Dust palette has 18 shades, with 7 shimmer eyeshadows, 1 pure metallic glitter eyeshadow, and 10 smooth, highly-pigmented matte shades in vibrant purples, ochres, and soft sandy nude-tones. The shimmer shades are soft and can be easily layered and built up. The Aromas palette contains 10 highly-pigmented mattes, 4 reflective shades, 2 glitter eyeshadows,1 pressed pearl glimmer, and 1 concealer base shade. The formula is buttery soft, blendable, and buildable. These eyeshadows are waterproof and long-lasting. They do not fall out and have a stunning, reflective shine. You can use the whole palette to create a monochromatic glitter glam or use the other matte shades to create a smokey eye with a hint of glitter for a more day-time or wearable look. You may check more about this productin this video.
Pros
2 palettes
Smooth and buttery
Highly pigmented
Blendable
Buildable
No fallouts
Waterproof and long-lasting
Affordable
Cons
The Docolor Glitter Eyeshadow Palette contains 15 shades comprising of various warm-toned colors. These are richly pigmented and contain cosmetic-grade glitter. They are smooth and velvety soft to the touch. The sparkles stay all day long and are comfortable to be worn on the eyes. These can be blended easily and layered on top of other glitter, shimmer, or matte eyeshadows. The formula is made of safe ingredients. You do not need a primer or glitter glue. These colors are waterproof and long-lasting. The eyeshadow palette also comes with a mirror for convenience and easy application on the go. Check out this video to learn more.
Pros
Richly pigmented
Cosmetic-grade glitter
Smooth and velvety soft
Stay all day long
Comfortable
Blend easily
Made of safe ingredients
No primer or glitter glue needed
Waterproof
Long-lasting
Comes with a mirror
Affordable
Cons
The Stila Magnificent Metals Glitter & Glow Liquid Eye Shadow is a luxurious and brilliantly long-wearing liquid sparkle eye shadow. This liquid glitter eyeshadow is the perfect mix of pearl and glitter that decorates your eyes with superb luster and shimmer. It does not require any glitter glue, and has a smooth and soft texture. The doe-foot applicator is perfect for taking out enough product and placing it on top of the eyelid. You can use your fingertips or a clean brush to blend out the glitter. It is uniquely lightweight and glides effortlessly. It dries down smoothly, locking in maximum sparkle and minimum fallout. It is available in 12 elegant shades and is suitable for mature eyelids as well. Watch this video for more information about the product.
Pros
Long-wearing
Perfect mix of pearl and glitter
No glitter glue needed
Smooth, soft texture
Doe-foot applicator
Blendable
Pigmented
No fallouts
Lightweight
Glides effortlessly
Dries down smoothly
Seals maximum sparkle
Suitable for mature eyelids
Cons
The Original Mermaid Glitter Eyeshadow Palette by Cleof contains 32 shades with 21 glitter eye shadows, 6 shimmers, and 5 mattes. The beautiful combination of pressed glitter, mattes, and shimmers help create versatile, pretty, and bold looks. All the colors are blendable. They are soft and long-lasting. This palette is great for parties. The Cleof non-toxic glitter makeup is cosmetic-grade and does not scratch or irritate the skin. It is suitable for all skin types. The eyeshadow is not tested on animals.
Pros
Blendable
Soft
Long-lasting
Great for parties
Non-toxic
Waterproof
Cosmetic-grade glitter
No skin irritation
Suitable for all skin types
Not tested on animals
Cons
The DE'LANCI Pressed Glitter Eyeshadow Palette is a gorgeous-looking 24-color glitter and shimmer palette. These pressed powder glitter eyeshadows are richly pigmented and blendable. These do not move from the place when applied over an eyeshadow primer. They are long-lasting, do not fall out, and are waterproof. The glitter is cosmetic-grade and does not irritate the skin. You can also apply this glitter makeup to your lips and cheeks. The eyeshadow is vegan.
Pros
Richly pigmented
Blendable
Does not budge
Long-lasting
No fallouts
Waterproof
Cosmetic-grade
No skin irritation
Can be applied on lips and cheeks
Vegan
Affordable
Cons
The UCANBE Pro Glitter Eyeshadow Palette contains 16 professional fine-pressed and chunky glitter eyeshadows. These pressed fine glitter eyeshadows are soft and velvety. They can be used alone or mixed with a matte eyeshadow for a more pigmented hue and a 3D effect. The chunky glitter is available in fuschia, ocean blue, green, and pearl shades. These glitters have a hint of other shades for a duo-chrome and holographic effect. All the shades can be applied on the lid without a primer or glue. The formula is cruelty-free and is suitable for sensitive skin. These eyeshadows are highly pigmented, waterproof, and long-lasting. The chunky glitter can be removed easily with a makeup remover. These can also be applied to the lips and cheeks.
Pros
Soft and velvety
Duo-chrome and holographic effects
Cruelty-free
Suitable for sensitive skin
Highly pigmented
Waterproof
Long-lasting
Can be removed with a makeup remover
Can be applied on lips and cheeks
Has a mirror
Affordable
Cons
May crease if applied without eyeshadow primer
The Bernecy Glitter Eyeshadow Palette is a collection of gold, copper, rose gold, champagne, dark brown, metal grey, and pearl diamond pressed glitter eyeshadow shades. These elegant glitter shades help create the most charming eye looks. These colors are silky smooth, ultra long-lasting, and waterproof. These versatile colors are good for wearing in the day and the night. These are easy to layer and blend, do not require an eyeshadow primer or glue, and can be applied with your fingertips or a brush. There are no fallouts. This glitter eyeshadow palette is made of safe and non-toxic, high-quality mineral ingredients that suit sensitive skin. They cause no irritation, redness, or rashes. It can be used with other matte shades for a perfect smokey eye effect as well.
Pros
Silky smooth
Ultra long-lasting
Waterproof
Can be worn day and night
Easy to layer and blend
No primer or glue needed
No fallouts
Safe and non-toxic mineral ingredients
Suitable for sensitive skin
No irritation
No redness
No rashes
Has a mirror
Compact packaging
Affordable
Cons
The DiTO Venus Makeup Palette is a 12-shade glitter eyeshadow palette inspired by the planet system. The highly pigmented shades adhere gently to the skin, delivering a satin-soft finish. The palette offers a wide range of shades ranging from shining gold to warm neutral tones. These shades can be easily removed with makeup remover or wipes. It is suitable for oily, combination, dry, normal skin types.
Pros
Highly pigmented
Satin-soft finish
Blends easily
Suitable for oily, combination, dry, normal skin types
Easy to remove
Can be layered on top of a matte or shimmer eyeshadow
Cons
Might not be long-wearing
The Aolailiya Pressed Glitter Eyeshadow Palette is a 24-color diamond glitter powder palette. Each glitter eyeshadow is very sparkly, reflective, and looks gorgeous on the eyelids. These ultra-pigmented glitter eyeshadows are waterproof and long-lasting. These are blendable and buildable. They also layer on top of other glitter, shimmer, or matte eyeshadows effortlessly. Each of these shades is soft and glides smoothly on the eyelids. When applied with a primer or glitter glue, these do not fall out and stay on the eyelid for a longer duration. This versatile palette can be used daily or on special occasions.
Pros
Ultra-pigmented glitter eyeshadows
Waterproof
Long-lasting
Blendable and buildable
Soft and glide smoothly on eyelids
No fallouts
Stay on eyelids for long
Affordable
Cons
No mirror
Need primer or glitter glue
Covergirl Exhibitionist Liquid Glitter Eyeshadow is super-saturated with multidimensional shimmer and glitter. It is a lightweight and non-sticky drugstore liquid glitter eyeshadow that applies smoothly on the eyelids and does not crease. It can be applied without a primer or glue. A little goes a long way. The colors are blendable, buildable, and can be layered on top of other eyeshadows. They dry quickly and prevent fallouts. You can wear these eyeshadows comfortably. These come in 6 elegant shades and are suitable to be worn during the day and night. They are cruelty-free and affordable.
Pros
Super-saturated
Multidimensional shimmer and glitter
Lightweight
Non-sticky
Do not crease
No primer or glue needed
A little goes a long way
Blendable
Buildable
Can be layered on top of other eyeshadows
Quick-dry prevents fallouts
Comfortable
Suitable for wearing day and night
Cruelty-free
Affordable
Cons
None
The Norate Glitter Eyeshadow Palette consists of 9 sparkly glitter eyeshadows. Each of these powder glitter eyeshadows is ultra-smooth, long-lasting, comfortable to wear, lightweight, blendable, and buildable. The eyeshadows have no fallouts. All the colors are universal and suit all skin tones. The lustrous pearls provide an intense, exquisite, and smooth application and can be washed off easily. The formula is hypoallergenic. A little goes a long way, especially when worn during the day. The palette comes with a full palette-length mirror. It can be used with other matte eyeshadows for a smokey eye look.
Pros
Ultra-smooth
Longlasting
Comfortable to wear
Lightweight
Blendable
Buildable
No fallouts
Colors suit all skin tones
Can be washed off easily
Hypoallergenic
A little goes a long way
Has a full palette-length mirror
Smokey eye look with other matte eyeshadows
Compact palette packaging
Affordable
Cons
The Mallofusa Single Shade Baked Eye Shadow Powder is a baked shimmery glitter eyeshadow. The silky metallic texture and shimmering, lustrous pearls provide an exquisite eyeshadow look. It is lightweight, wears comfortably on the eyelids, and is buildable. This glittery eyeshadow blends like a dream, is highly pigmented, lasts for 8 hours, and does not crease. It can be applied without a primer or glitter glue. It is available in 15 beautiful shades, is travel-friendly, and has a good color payoff.
Pros
Lightweight
Wears comfortably on eyelids
Buildable
Blendable
Highly pigmented
Lasts for 8 hours
Does not crease
No primer or glitter glue needed
Travel-friendly
Good color payoff
Cons
Contains parabens
Contains talc
No mirror
These are the 12 best glitter eyeshadows you can buy online. You have to be extra careful when it comes to wearing these eyeshadows. Here are a few quick tips on how to wear a glitter eyeshadow like a pro.
How To Wear Glitter Eyeshadow Like A Pro
Pick up the eyeshadow with your fingertips or a flat brush.
Press it on your eyelid gently.
Layer a second coat if you want.
Types Of Glitter Eyeshadow
There are four types of glitter eyeshadow:
Pressed powder glitter eyeshadow – Powdery glitter pigments are pressed in the desired shape. These are velvety soft, blendable, buildable, and can be layered. These may require an eyeshadow primer.
Liquid glitter eyeshadow – These have a metallic base and glitter flecks to add a multidimensional reflection. Liquid glitter eyeshadow glide on smoothly, are long-lasting, and are blendable.
Cream glitter eyeshadow – These are cream eyeshadows with cosmetic-grade glitter in them. The glitter can be fine or chunky. These mostly do not require glitter glue.
Glitter loose powder – The glitter powders come in small containers and require a primer or an eyeshadow base and a glitter glue to stick on the eyelids and stay put.
The following buying tips can help you make a better purchase decision.
Buying Tips
Do not confuse metallic eyeshadows with glitter eyeshadows.
Chunky glitter eyeshadows can be dangerous for the eyes. You may keep them away.
Buy a palette that has a mix of glitter, matte, and shimmer eyeshadows.
Check the ingredients. Avoid eyeshadows that are not made of cosmetic-grade glitter or those that contain parabens.
Sheer glitter works best for wearing in the day.
Check if these eyeshadows swatch well and if they can be layered easily.
Check if the texture is smooth. Avoid eyeshadows with a gritty texture to avoid cuts.
Why Trust StyleCraze?
The author, Baishali Bhattacharya, is certified in makeup artistry, so you know you are in good hands with her. She conducted an extensive study, going through many reviews to bring you this curated list of the best glitter eyeshadows. These products have been recommended because of their color pigmentation, blendability, finish, and other benefits like water and sweat resistance.
Frequently Asked Questions
What is the difference between cosmetic glitter and craft glitter?
Cosmetic-grade glitter is made of plastic, and the edges are rounded. Craft glitter can be made of metal, glass, or poly-coated dyes and has sharp edges.
Is glitter bad for eyes?
Cosmetic-grade, fine glitter, when applied on top of the eyelids and away from the inner corners of the eyes, is not harmful. Applying the glitter anywhere near your eyes can be harmful.
What brush do you use for glitter eyeshadow?
You can use a flat brush for glitter eyeshadow. It works best for patting and pressing the glitter on the eyelids.
Is glitter eyeshadow tacky?
Some glitter eyeshadows have a cream base. These can be tacky. However, powder, baked, loose, and liquid glitter eyeshadows are not tacky.
What holds glitter eyeshadow in place?
The glitter glue holds glitter eyeshadow in place. Apply the glue wherever you want the glitter to stick, and sprinkle the eyeshadow.
What is glitter shadow?
Glitter eyeshadows add sheen and sparkle to your eyes. They offer smooth coverage and are ideal for party occasions.
Can you wear glitter eyeshadow during the day?
Yes. Glitter eyeshadows can be worn at any time of the day. They add the perfect shine and sparkle to your eyes and enhance your look.
Is pressed glitter eyeshadow safe?
Yes, pressed glitter eyeshadows are safe. Apply eye primer on the lids to create a barrier between the glitters and lids for added protection. Also, the market is filled with skin-friendly pressed glitter eyeshadows.
Recommended Articles