12 Best Glitter Eyeshadows
I usually go for an all-natural, simple makeup look that works for a number of occasions but there are times when I want to spice it up a notch. Just a tiny dash of glitter eyeshadow certainly helps – whether I'm heading out to a party or it's the holiday season, it instantly jazzes up my look. Glittery makeup has made a comeback and can be a quite tricky trend to pull off, but when done the right way, you can look like a movie star. I tried a bunch of glitter eyeshadows, and these look majorly flattering.
Top 12 Glitter Eyeshadows That You Absolutely Need To Try
1. NARS Hardwired Eyeshadow In Outer Limits
Pros
High-pigment formula
Long-wearing
Crease resistant
Blends and layers effortlessly
Buildable shine from sheer to dramatic
Cons
NARS Hardwired Eyeshadow In Outer Limits Review
I fell in love with this NARS eyeshadow in the shade 'Outerlimits.' It's a gorgeous rose gold color, and I wore it by layering it on my lid twice. This eyeshadow is so pigmented, and the color very buildable. It looks beautiful when dusted on top of a matte shade, and it adds killer dimension to your eyes. It's the perfect amount of shimmer, nothing too over the top. We need to take a moment to appreciate the utter beauty of this formula.
Since it's a gold shade, this will flatter any eye color so well.
2. Tarte Tarteist Metallic Shadow
Pros
Ultra-creamy formula
Smooth color payoff
No fallout
Comes in various shades
Long-wearing
Cons
Tarte Tarteist Metallic Shadow Review
These metallic eyeshadows by Tarte are so glittery, and they look exquisite on the eyes. These come in 22 glittery shades, and I tried the shade 'Flask'. I couldn't stop admiring how beautifully this holds up. Its formula went on smooth and evenly on my lid, and the color was so pigmented. 'Flask' is a bright silver with a metallic finish and has bits of sparkle to its finish. I paired it up with black eyeliner, and it transformed my makeup into a whole festive look. It's best to apply this over a matte shade of eyeshadow of your choice to add depth and dimension to your eyes.
This silver shade will look extremely flattering on blue eyes and will make the blue in your eyes pop even more.
3. Urban Decay Moondust Palette
Pros
Lots of glitter payoff
Long-wearing
Pigmented colors
Layers well
100% cruelty-free
Cons
Urban Decay Moondust Palette Review
I love Urban Decay, and I decided to buy this glitter eyeshadow palette as I only had matte ones and I wanted to try something different. Let me tell you, I was thrilled. This is a stunning palette – the formulas, it's packaging – it's all superb. The colors are so vivid even with all the glitter, and they are easy to work with. I recommend using glitter glue to avoid fallout and baking under the eyes – so in case of fallout, it can easily be brushed away. The sparkly gunmetal case it comes in is to die for, and the full-size mirror makes it easier to use.
This palette has something for everyone – it's got soft pink, a peach, a purple, vibrant green, granite, a blue, and even a brown – so it doesn't matter what color eyes you have, you can pick this up and find something that fits you.
4. Bobbi Brown Sparkle Eye Shadow
Pros
Very pigmented
Glitter is soft and smooth
Minimal fallout
Don't settle in creases
Extremely long-wearing
Cons
Bobbi Brown Sparkle Eye Shadow Review
I love Bobbi Brown for its quality and performance. These eyeshadows come in a range of incredible wearable bright to soft shades. I picked up the 'Lilac' shade, and I was so happy with the results. The glitter applies evenly and smoothly – it does not feel gritty upon application. I was so impressed with its incredible texture and how it went on – the color and shimmer looks beautiful when it catches the light! The fallout was rather minimal, nothing that bothered me but when I applied this over a primer and some matte eyeshadow, there was no fallout at all.
This gorgeous lilac shade will look extremely stunning on green, hazel or brown eyes and if you want a glitter eyeshadow that can realistically be worn even during the day, you will love this.
5. Stila Magnificent Metals Glitter & Glow Liquid Eye Shadow
Pros
Very pigmented
Comes in a wide array of shades
High-quality formula
Pretty packaging
Glides on smoothly
Cons
There is a certain amount of fallout
Stila Magnificent Metals Glitter & Glow Liquid Eye Shadow Review
These glitter eyeshadows by Stila are everything! It was love at first sight, and from their range of about 11 shades, I ended up picking this beautiful silver and copper sparkle shade in the name 'Kitten Karma.' It has a uniquely lightweight and water-infused texture, and it combines the perfect mix of pearl and glitter. However, there is some level of fallout, and now I'm very careful when I decide to wear this. I'll give you a heads up and strictly recommend wearing this for a night-out or for a maximum of 4-5 hours if you do not want your face to end up looking like a shiny disco ball.
The gorgeous champagne color will complement any eye color as it's a very versatile shade.

[ Read: 13 Best Neutral Eyeshadow Palettes ]
6. Anastasia Beverly Hills Eyeshadow In Rosette
Pros
Highly pigmented
Distinct but not overpowering glitter
Blends well
Long-wearing
No fallout
Cons
Anastasia Beverly Hills Eyeshadow Review
I love me some plum eyeshadow, and this one by Anastasia Beverly Hills in the shade 'Rosette' is the perfect warm plum with a pearl finish. It has a quite smooth and buttery texture with finely milled shimmer. I applied this over a primer and a matte base shade. It showed up true to its pan color and looked so vibrant! This gave me around 8-9 hours of wear time before showing signs of fading, which I was satisfied with. Also, it did not settle into my crease line.
This plum color will look incredible on green eyes, and if you were on the hunt for the perfect plum shade for your accent, this is it.
7. MAC Glitter Eyeshadow
Pros
Multi-purpose glitter
Intense shine and shimmer
Comes in a variety of shades
High-quality
Cons
MAC Glitter Eyeshadow Review
This MAC glitter can be combined with other products to create high-level glitter and sparkle effect. It comes in 26 different shades, and I picked up the pure silver color to try out. I must say, this is way too over the top for my taste, but for those of you who need some extra glitter for special occasions like festivals and on-stage performances, this will do wonders. You need to use an adhesive to get this to stay and prevent fallout but no matter what, there will a certain level of it.
Just a tiny dab of this silver glitter can be used as an accent shade for green and blue eyes when you're in the mood to go all-out.
8. L'Oreal Paris Color Riche Eyeshadow Quad In Skinny Jeans
Pros
Pigmented shades
Easy to use
Smooth and even application
4 in 1 palette
Cons
L'Oreal Paris Color Riche Eye Shadow Quad Review
I wanted to try out blue glitter eyeshadow, and I found this L'Oreal quad in the shade 'Skinny Jeans' – an apt name for this palette. It contains four shades – a dark shimmery blue, a second dark blue, a pearly white shade, and a glittery light blue shade. I created quite a few looks using these shades together as well as individually. I did enjoy using this palette as it was a low-maintenance, easy-to-use set of colors.
If you have blue or green eyes, I definitely recommend trying this quad as these shades will complement your eye color well, and the quad in itself is fun to play around with.

[ Read: How To Apply Blue Eye Shadow Perfectly ]
9. Sephora Collection: Colorful Eyeshadow
Pros
High-pigment shadows
Available in a range of shades
Applies smoothly and evenly
Affordable
Cons
Sephora Colorful Eyeshadow Review
If you're looking for an affordable, drugstore glitter eyeshadow, these by Sephora are a winner. They come in a large range of shades and finishes. The one I bought is called 'Brown Diamonds,' and it's a beautiful bronzey-gold shade that makes my eye color pop so well. Its thicker in consistency and goes on smoothly and evenly. I love the sparkly effect that it leaves and it stays on for a good 6-7 hours before it starts to fade. This is a perfect shade for a night out at the club. Use it over a primer and matte eyeshadow for the best effect.
I believe in the power of this color, and it will flatter any eye color with ease – especially brown and hazel eyes. This is a must-try!
10. Avon Cosmic Eyeshadow
Pros
Applies smoothly and evenly
Very pigmented
Buildable color
Long-wearing
Cons
Needs to be worn over a primer for best results
Avon Cosmic Eyeshadow Review
I was super excited to try this cosmic baked eyeshadow by Avon, and I bought it in the shade 'Pink Eclipse.' This is a multi-faceted eyeshadow with three different colors swirled together. The packaging itself looks dreamy, and the formula on the eyes looks amazing. I applied this with a wet brush to intensify the color, and I was so impressed with the payoff. It's the perfect balance of color and shimmer, and I highly recommend trying this if you're into pink hues.
This shade will look fabulous on green and brown eyes as it will create a striking contrast and make the color in your eyes pop.
11. Ulta Glitter Eye Top Coat
Pros
Highly pigmented
Long-wearing
Paraben-free
Blends well
Cons
Ulta Glitter Eye Top Coat Review
Want something extra special and glittery? Ulta's Glitter Eye Top Coat can be worn to create a glimmering plus glamorous color over your base eyeshadow. Its silky cream formulation creates a sparkly look that lasts. These come in 8 different shades, and I tried the purple shade because it looked so bold and fresh. It instantly brightened up my look with its vibrant color and sparkle. If you're looking for soft glitter that holds up well for long hours, this is something you should absolutely try.
This purple shade will flatter green, brown, and hazel eyes to the maximum.

[ Read: 2 Pretty Purple Eye Makeup Tutorials ]
12. Obsessive Compulsive Cosmetics Loose Glitter
Pros
100% vegan and cruelty-free
High-shine and supersaturated
Long-wearing
Comes in different shades
Cons
Slightly difficult to apply
Obsessive Compulsive Cosmetics Loose Glitter Review
This loose glitter by Obsessive Compulsive Cosmetics is sheer bliss. I bought this in the shade 'Beige,' and I fell in love with it! You need to use this with an adhesive for the glitter to stick and hold up well. It's so incredibly pigmented, and a little goes a long way. The fallout is quite minimal, and that's better than the case with most loose glitters. I highly recommend trying this if you want some high-quality, vegan stuff that's totally worth the money.
This beige shade is a stunning champagne color that will look pretty on any eye color. It brightens up your entire look like a dream!
*Subject to Availability
Quick Tips To Choose And Wear Glitter Eyeshadow Like A Pro
Now that you've decided to get yourself some glitter eyeshadow and you know which products are hot, let me give you a few simple tips on selecting one that would work for you and also some application tips for the most flattering effect.
The key to wearing glitter eyeshadow the right way is all about moderation. Too much glitter will only result in an animated effect and make you look like a teenager from the early 2000s.
If you have blue eyes, make them pop by choosing warmer tones like golds, peaches, and burnt orange browns as well as bronze.
Those of you with green eyes can try golds, plums rose, and mauve. Violet-based shades will look really pretty on green eyes.
For hazel or brown eyes, try colors that create contrast – like blues, greens, and even violet-based shades.
Golds, browns, and bronze are versatile and will look amazing on any eye color.
Wearing an eyeshadow primer is a must to prevent creasing, fading, and fallout.
Always wear a matte crease color. Applying shimmer all over the lid loses the dimension of shape and contour.
If you have mature eyelids, it's best to find a balance between matte and shimmer.
Look for high-quality products that are gentle on your eyes.
Those were some handy tips that I always keep in mind if I plan on wearing glitter makeup. Aaaand that was my pick of the 12 best glitter eyeshadows out there. Do you have a favorite shade or brand? Share with me in the comments section below.
Recommended Articles:
The following two tabs change content below.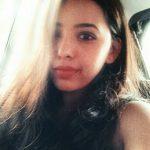 Latest posts by Esha Saxena (see all)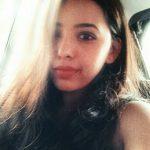 Esha Saxena
Esha Saxena is a writer, journalist, and a full-time wallflower. She holds a Master's degree in Media and Mass Communication and firmly believes that makeup is nothing less than art. Combining her love for writing with her passion for makeup, she brings to you reviews, techniques, and her ever-growing knowledge on this form of art. In her spare time, she loves reading, listening to obscure indie bands, and writing poetry – all of this while being a crazy dog lady.