Gorgeous Glitter Mehndi Designs – Our Top 10 Picks For 2019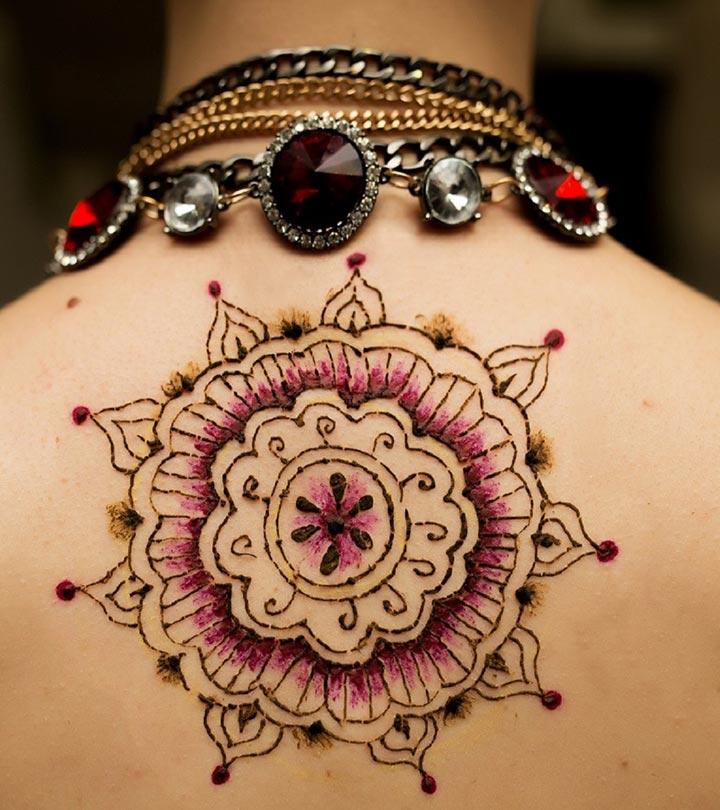 Glitter is something we girls are very fond of, right? In the case of Mehndi designs, a hint of glitter is always a quirky way to decorate our hands and feet. So, if you who love unique and latest mehndi designs, you will surely love to add some glitter to your mehndi design to make it apt for any special occasion like party or marriage, and even match it with your outfit. Don't get confused or hassled. We have some really unique designs for all of you to try.
Amazing Glitter Mehndi Designs To Try In 2019
1. This one is a simple mehndi design which is perfect for those who prefer simplicity. The design here is inspired by the peacock and the colorful glitter is used to highlight the beauty of the peacock. The golden, rust and silver glitter makes a good combination and the small designs on the fingers and fingertips also complete the look.
2. Why should only flowers and traditional motifs be a part of mehndi design? Well, here is a great attempt to portray the religious places of worship. The design is done neatly with golden and red glitter and black mehndi is used to make the outlines.
[Read:Best Shaded Mehndi Designs]
3. A full glitter mehndi design may be a bit too adventurous for some, but this design of glitter mehndi style is very sober and simple. The designs are done with black mehndi. The patterns are very prominent and finely done. Green glitter has been added to the leaves to highlight them. The other designs have been kept simple without adding any glitter.
4. This one is a beautiful mehndi design with pink glitter used to highlight certain areas of the design. The central pattern on the hands – the heart – has been filled in with glitter along with several other small designs which also have been highlighted using golden beads.
5. If you are bored with monotonous colors of the usual mehandi patterns on the hands, then try doing this design. The green and blue glitters look gorgeous together. The glitter highlights the otherwise simple design featuring floral patterns.
[Read:Mehndi Artists In Mumbai]
6. A feet mehndi is quite special on its own but this one looks even more unique. The leg mehndi uses red mehndi, and silver and blue glitter to highlight the designs. The mermaid design on the feet is also quite unique and definitely requires a special mention.
7. This one is a heavily done glitter mehndi. The design starts from the fingers. A variety of vibrant colors have been used like red, orange, blue, purple, green and more. The main design is done with black mehndi. The floral and paisley prints here look quite traditional, but the glitter completely changes the look.
8. Simple designs also look great when glitter is used to highlight them. Here we see a very simple floral and paisley design with minimal intricate details. The multicolored glitter has been used to fill in specific sections of the design. We love its simplicity. This design looks great on any occasion without looking over the top.
[Read:How to remove mehndi]
9. This is a blue, glittery feet mehndi design. The floral pattern is followed by a series of paisley patterns. The design is positioned diagonally and blue glitter is used to fill in parts of the design.
10. This is a contrasting colored mehndi design. The grey color is used to create a contrast with the mehndi. The design is highlighted with silver glitter and small rhinestones are added to the design. The designs here are mainly abstract and sometimes also geometric.
So these were the top glitter mehndi designs for hands and legs! We surely promise to be back with a lot more soon.
The following two tabs change content below.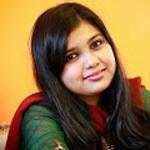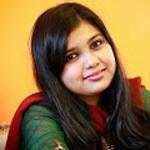 Shabby
A Blogger, a writer, Makeup hoarder and makeup fanatic- I love writing and love love trying new products and sharing my makeup ideas with the world. .