10 Best Glitter Tattoos That Sparkle On Your Skin
Glitter's not only for the eye; these top shimmery tats will tell you why!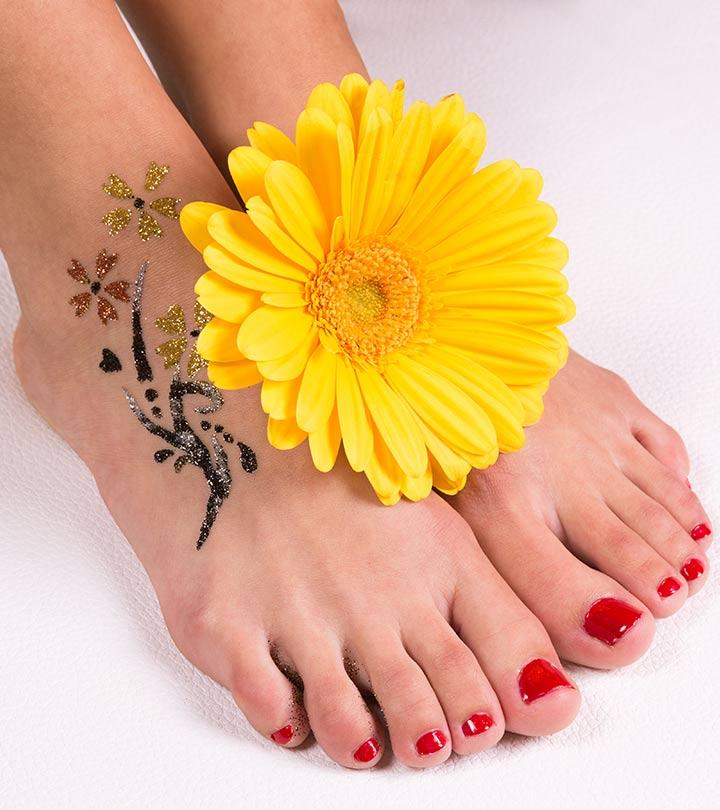 Like any other art, tattoo art is also evolving to incorporate modern concepts of style and design such as piercing, rhinestones and glitter. Glitter Tattoos are a fast growing trend, mainly popular with adolescents and children. As most glitter tattoos are painted on those which are appropriate for underage individuals who are not yet of the age to indulge in standard tattoos. However, glitter tattoos are also gaining a loyal adult fan following. There are both permanent glitter tattoos and temporary glitter tattoos and it all depends on what type you choose to inscribe on your skin. These amazing top ten glitter tattoos should help you see exactly why.
Top Ten Glitter Tattoos:
1. Glitter Ladybug Tattoo:
This trendy glitter tattoo with an apparent childish appeal is the perfect piece of art for a girl's night out. Stick to the same color as depicted here or experiment with color of your own choice. You could also have it done on other parts of your body to be able to flaunt it better.
2. Floral Motif Glitter Tattoo:
This silver glitter tattoo with a floral motif would suit pale or dark skin equally well. Make a note of how it creeps up from the cleavage and reaches out towards the shoulders. This will give this tattoo a definite sexual appeal.
3. Glitter Hibiscus Flower Tattoo:
Girls love flowers and this hibiscus glitter tattoo is bound to be a favorite with many. Look closely at the effective depiction of the hibiscus flower in this trendy piece of art. Have it painted on to your forearms, the nape of your neck, your ankles or your midriff, this tattoo will look good almost anywhere.
4. Glitter Star Tattoo:
This glitter tattoo depiction of stars in various sizes has a trendy appeal amongst teenage girls. Replicate this piece of art as it is depicted here or play with colors and different sizes to indulge in a little bit more starry fun.
Stylecraze Says
You can also get glitter star tattoos on your biceps, nape, back, or ankles.
5. Floral Forearm Glitter Tattoo:
Though most glitter tattoos are best kept as small trendy pieces of art, this floral glitter tattoo that covers the full forearm defies convention. This is only a better piece of art for it. Not easily replicated, you would have to employ the services of an experienced professional to have this done on your skin.
6. Glitter Hearts on Wings Tattoo:
If you are in love with love itself or truly madly deeply in love with a special someone, this hearts on wings glitter tattoo is the perfect way for you to express your emotions. Best replicated as it is depicted here, you can however have it painted on to strategic parts of your body that you won't have much trouble flaunting, such as your forearms, your ankles or the nape of your neck.
7. Glitter Butterfly Tattoo:
Girls love butterflies and when butterflies and glitter combines together in tattoo art it is potent combination. This butterfly tattoo is the perfect example of trendy butterfly glitter tattoos that are popular right now. You could experiment with colors and sizes or do altogether different glitter tattoos using the popular butterfly motif.
8. Glitter Fairy Tattoo:
This miniature fairy tattoo is bound to get a lot of admiring stares from the rest of your female buddies. Pink and purple are some of a girl's favorite colors and this tattoo has it in plenty. Take a close look at how the subtle pink is perfectly contrasted by the shimmering purple glitter.
Stylecraze Says
You can also experiment with other fairy tattoos like Tinkerbell, the blue fairy from Pinocchio, or bloom from the Winx club.
9. Glitter Fish Tattoo:
This tattoo could be a definite favorite at a kid's birthday party. Here's an idea for you, organize a pool party for the upcoming birthday party for your child. Then, have a professional create lots of glitter tattoos with an oceanic theme.
10. Glitter Pal Tree Tattoo:
Last but not the least on our list, this palm tree glitter tattoo is a definite hit with kids. For those who are unaware, tribal tattoos such as palm trees symbolize a cool and easy temperament.
Like every art form, tattoo art is evolving to incorporate trendy modern concepts. One of these happens to be glitter tattoos. Glitter tattoos have gained popularity in children and adolescents. They have also gained a loyal fan following among adults as well. You can try out different star, floral or fairy tattoos in different colors. The best part is that you can experiment with different temporary tattoos before you zone in on your favorite and get permanently inked. Go get your favorite glitter tattoo now!
Frequently Asked Questions
How long do glitter tattoos last?
If you treated them with care, glitter tattoos could last for 3-7 days.
Can you use normal glitter for glitter tattoos?
No. Normal glitter contains metal and is harmful for your skin. Hence, don't use normal glitter for glitter tattoos.
What is the best glue for glitter tattoos?
Go for any body-safe adhesives for glitter tattoos.
Do glitter tattoos come off in the shower?
Temporary glitter tattoos are mostly waterproof and can last up to 7 days, and they don't come off in the shower.
Image source: 1 , 2 , 3 , 4 , 5 , 6 , 7 , 8 , 9 , 10
The following two tabs change content below.