12 Best Glossier Products Of 2023 That Are Worth Buying
Address all skin concerns with the premium formulations of Glossier products.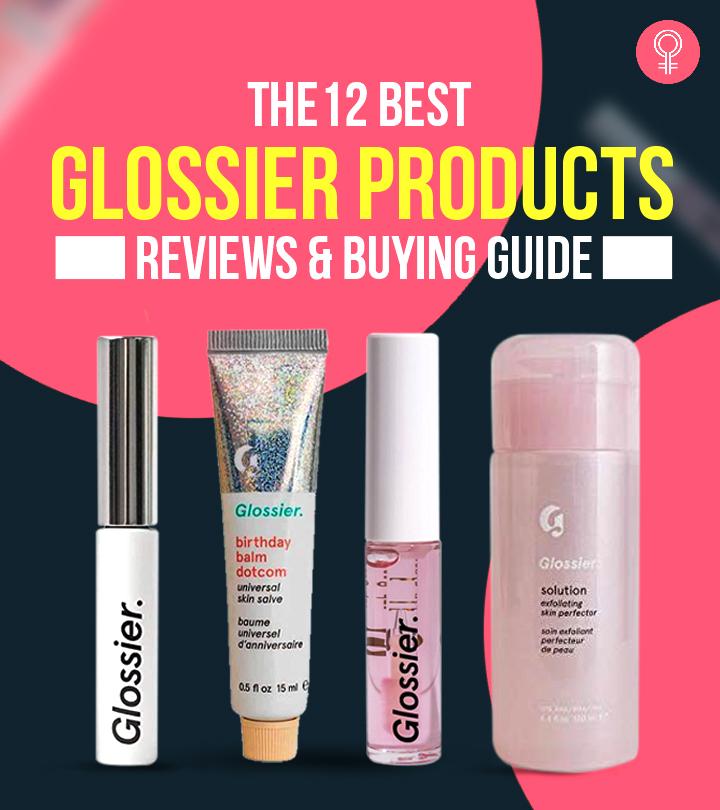 Glossier is a brand admired by many makeup artists and beauty bloggers. And why not? The wide range of the best Glossier products suits all skin types and tones. This brand was established in 2014 by Emily Weiss. It revolutionized the "no-makeup" makeup look which took the entire beauty community by storm. The pink bubble wrap packing also gained the attention of many and is a signature of the brand. The main goal of these products is to provide glowing and healthy skin with a natural look.
In the article, you will find the 12 best Glossier products you can include in your beauty regimen. Have a look at them and pick the ones that suit your needs. Scroll down to know more!
The Top 12 Glossier Products Of 2023
The Glossier Balm Dotcom is a cult favorite lip balm. This untinted lip balm has a subtle shimmer. It is hydrating and packed with antioxidants to nourish your lips and keep them soft and supple. This lip balm is formulated with heavy-duty moisturizers like lanolin, beeswax, and castor oil.
It has a smooth and dense texture that does not quickly fade away easily, even after drinking or eating. This product comes in six flavors (except Birthday and Original), out of which four are tinted. It is suitable for all skin types.
Pros
Cruelty-free
Soothing
Long-lasting
Dermatologist-tested
Cons
Price at the time of publication: $21.9
Get your eyebrows on point with Glossier Boy Brow! This product is a brushable, creamy wax that gives you fluffy and groomed brows. It is inspired by hair pomades and gives your brows a soft and flexible hold with one stroke, minus any residue or flakes.
This grooming pomade is infused with oleic acid, atelocollagen, and lecithin to condition your brows and make them visibly thick. It comes in five different shades – Clear, Brown, Black, Auburn, and Blond. This product is dermatologically tested and suitable for all skin types.
Pros
Cruelty-free
Thickens the eyebrows
Fragrance-free
Alcohol-free
Ophthalmologist-tested
Dermatologist-tested
Cons
Less product for the price
Price at the time of publication: $20.03
It is definitely the glossiest! This lip gloss by Glossier gives high shine minus the stickiness, thanks to its Gloss Lock Technology. It feels super comfortable on your lips and stays for long. The Glossiest Lip Gloss is infused with jojoba oil and vitamin E to keep your pout nourished and soft.
It comes with a doe-foot applicator brush that picks the right amount of product for your lips. This lip gloss is suitable for all skin types and is available in three different shades – Clear, Holographic, and Red.
Pros
Vegan
Cruelty-free
Lasting
Nourishing
Alcohol-free
Dermatologist-tested
Cons
Price at the time of publication: $25.43
An extension without any extension – is what the Glossier Lash Slick promises to deliver. This is a daily-wear black mascara that adds length to your lashes. This smudge-resistant formula curls, sculpts, and lengthens the lashes to create a baby extension effect without clumping.
The flexible film-forming polymers of the product lift and lock each lash into place. It is easy to remove without damaging your lashes. All you need is some warm water or milky oil, and you are done! This dermatologist-tested product is suitable for all skin types, including sensitive skin.
Pros
Water-resistant
Easy to clean
Ophthalmologist-tested
Dermatologist-tested
Cruelty-free
Safe for contact lens wearers
Cons
Price at the time of publication: $23.49
This product is a "solution" to dull and rough skin. The Glossier Solution Exfoliating Skin Perfector is a 10% blend of skin acids – AHAs (glycolic and lactic acids), BHA (salicylic acid), and PHA (Gluconolactone) that cleanse dead skin cells to reveal soft and smooth skin. You have to use it as a toner.
With daily use, this skin perfector improves your skin texture, unclogs skin pores and minimizes their appearance, and reduces blemishes and redness. This product is dermatologist tested and is suitable for all skin types.
Pros
Reduces dark spots
Evens out the skin tone
Vegan
Cruelty-free
Dermatologist-tested
Cons
Price at the time of publication: $39.86
The Brow Flick by Glossier is a microfine brow detailing pen that helps to fill and define your brows. This brush-tip pen creates featherlight strokes so that your brows look fuller, enhanced, and real. It can highlight the brow arch, fill in the patches, and extend the tail.
This pen has smudge-resistant copolymers to create long-lasting effects without irritating the skin. Its fine pigments give a natural hair-like finish, and the brush applicator adds precision to it. This product is available in three shades – Brown, Black, and Blonde.
Pros
Long-lasting
Sheer color
No smudging
Soy-free
Dairy-free
Gluten-free
Dermatologically tested
Ophthalmologist-tested
Cons
May leave a sticky residue
Price at the time of publication: $29.9
The Milky Jelly Cleanser by Glossier is a mild and conditioning face wash. This pH-balanced face wash contains rose water to nourish the skin, provitamin B5 for deep moisturization, comfrey root extract to heal distressed skin, and aquaxyl to boost hydration levels.
This product contains cleansing agents found in contact lens solutions, making it safe for your eyes. It has a creamy-gel consistency and does not make the skin feel tight and dry. This cleanser is suitable for all skin types.
Pros
Soothing
Non-comedogenic
Purifying
Ophthmolalogist-tested
Pleasant fragrance
Vegan
Cruelty-free
Dermatologist-tested
Ophthalmologist-tested
Safe for the eyes
Cons
None
Price at the time of publication: $33.59
The Bubblewrap Eye + Lip Cream is a special formula for the delicate areas of your face. This is a silky eye and lip cream that makes the eyes look brighter and the lips plumper. This product combines hydrating ingredients like hyaluronic acid, squalene, and avocado oil that keep the delicate areas smooth and supple.
The blueberry extracts provide an additional boost of antioxidants. This skin nourishing cream also contains a peptide complex, portulaca pilosa extract, and swertia chirata extract to improve skin softness.
Pros
Fast absorption
Suitable for sensitive skin
Safe for contact lens wearers
Vegan
Cruelty-free
Dermatologist-tested
Ophthalmologist-tested
Cons
Price at the time of publication: $48.97
The Glossier Super Glow Vitamin C Face Serum gives you smooth and even skin. This vitamin C serum works great for all skin types, including sensitive skin. It contains a 5% vitamin C derivative that reduces the appearance of dark spots, improves skin texture, keeps it hydrated and fresh.
This serum also contains nourishing ingredients like shea butter, jojoba oil, sunflower seed oil, and evodia rutaecarpa fruit extract for deep skin conditioning. It claims to show results within two weeks of regular use. It is lightweight and has a fragrance-free formula that leaves no residue.
Pros
Illuminating
Moisturizing
Refreshing
Vegan
Dermatologist tested
Cruelty-free
Cons
Price at the time of publication: $31.0
The Glossier Super Bounce Hyaluronic Acid + Vitamin B5 Serum is a hydrating and skin-soothing serum. The silky formula is non-greasy and gets absorbed quickly. You can easily wear it under your makeup. It is infused with pro-vitamin B5 that keeps the skin supple and soft and hyaluronic acid for lasting hydration. This dermatologically approved serum is fragrance-free and suitable for all types of skin.
Pros
Soothing
Hydrating
Softening
Gets absorbed quickly
Cruelty-free
Dermatologist-tested
Fragrance-free
Cons
None
Price at the time of publication: $38.99
The Glossier Generation G Sheer Matte Lipstick is the new generation lipstick. It gives the finish of a just-blotted lipstick without blotting. This poppy red lipstick adapts to your lips' natural color and blends perfectly. Therefore, the color looks different on different skin tones.
This lipstick formula contains blue agave extract, a wax matrix that combines sunflower wax and synthetic wax, and safflower oil. All these ingredients ensure comfortable wear and added hydration. It has a subtle lychee rose scent and a diffused-matte texture. This lipstick is available in six shades.
Pros
Moisturizes the lips
Easy to apply
Dermatologically approved
Buildable
Vegan
Cruelty-free
Cons
None
Price at the time of publication: $29.97
Want an instant dewy glow that lasts for long? Then, you need the Glossier Futuredew Oil Serum Hybrid. This long-wear oil-serum hybrid is your shortcut to get a dewy, glowing, and well-rested look – just the way the skin looks after a full skin care routine!
This product combines four nourishing oils – grape seed, rosehip, jojoba, and evening primrose oils that deeply hydrate and moisturize your skin. It also contains plant extracts to enhance the skin's brightness and lock in moisture. This serum has light-reflecting minerals for an immediate glowing effect that lasts for 12 hours. It does not interfere with makeup and is suitable for all skin types.
Pros
Moisturizes the skin
Non-comedogenic
Suits all skin types
Vegan
Cruelty-free
Dermatologist-tested
Cons
None
Price at the time of publication: $39.09
These are the best Glossier products that you can try. However, before you pick any of them, keep a few points in mind.
Things To Consider Before Buying Glossier Products
Glossier products may contain oils, waxes, and emollients, along with added fragrances. Check if you are allergic to any of the ingredients. Avoid using products that may not suit your skin type.
Pick products as per your skin type. Most Glossier products are suitable for all skin types, but if you have sensitive skin, ensure you do a patch test before using any of the products.
Why Trust StyleCraze?
Shiboli Chakraborti, the author of this article, is a certified skin care coach. Her passion lies in creating informative content for her readers. She conducted thorough research by browsing the product specifications and unbiased user reviews to curate this list of the best Glossier products. The products listed above are reliable, dermatologist-tested, cruelty-free, and long-lasting. They are also suitable for all skin types.
Frequently Asked Questions
What is the best Glossier product?
The Glossier Balm Dotcom is a cult favorite and the most popular product of the brand.
What ingredients are used in Glossier products?
Glossier products mainly have emulsifiers, natural oils, plant extracts, water, thickeners, flavors, fragrances, and preservatives. All products are vegan and do not contain any animal ingredients.
Is Glossier skin care good for sensitive skin?
Yes, it is suitable for sensitive skin. However, a patch test is recommended.
Is Glossier a good makeup brand?
Yes. Glossier is a popular skin care and beauty brand. Most of their products have a separate fan following as they emphasize mainly on promoting healthy skin.
Are Glossier products sold in stores?
Yes, Glossier products are sold at various stores in US states like Atlanta, Philadelphia, D.C., London, Los Angeles, Miami, and Seattle.
Is Glossier sold at Ulta or Sephora?
As of now, neither Ulta or Sephora sells Glossier products. However, it has been confirmed that Sephora will have Glossier products soon.
What do dermatologists think of Glossier?
All Glossier products are dermatologist-tested and approved. They are safe to use by all skin types.
What age group is Glossier for?
Although Glossier has become a cult favorite for millennials, it can be used by anyone over 18 years of age.
Who is Glossier owned by?
Glossier is owned by Emily Weiss. She was formerly a fashion assistant at Vogue where she started her blog 'Into The Gloss'.
Recommended Articles