10 Best Glow Recipe Products For Radiant Skin – 2023
Skin-friendly hydrating formulations to address every skin type and concern.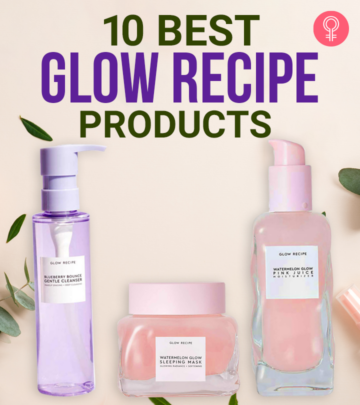 If you are a skin care fiend, you undoubtedly know the brand Glow Recipe. Hillary Clark, a celebrity makeup artist, says, "So pleased to see that Glow Recipe has inspired people to rethink their PM routine with sleep masks. PM is the time for the skin to recover and regenerate. We may be sleeping but our skin is working overtime." Inspired by Korean beauty regimens and products, this American company has beauty and skin care experts eating out of their palms! This brand aims to make versatile remedies for skin issues and needs. Their most famous products are moisturizers, sleeping masks, and toners.
Their products are made with special ingredients that make your skin healthy and radiant. They do not contain phthalates, SLES, SLS, mineral oils, and parabens. Additionally, all the products are never tested on animals. And all their products come in beautifully colored glass bottles that have sent the beauty world into a craze!
Scroll down and check out their best products for skin brightening on the market right now. These K-beauty favorites will satisfy your skin's needs and leave you coming back for more!
10 Best Glow Recipe Products That Are Worth Buying
Have you heard about overnight masks infused with the goodness of fruits? Sounds amazing, right? Glow Recipe Watermelon Glow Sleeping Mask is a sweet-smelling face mask enriched with watermelon extract, pumpkin extract, hyaluronic acid, and AHAs. Watermelons are rich in vitamins and amino acids that combat free radical damage and soothe and hydrate your skin. Hyaluronic acid gives your skin a dewy finish. This product is proven to deliver visible results only after 1 night of use. 93% of users experience soft, firm, and smooth skin. Hillary says, "Lightweight and hydrating all in one for all skin that needs extra over night love."
How To Use
If you are using it as an overnight mask, cleanse your skin well and gently pat a generous layer of this mask all over your face. Rinse it off thoroughly with water the next morning. If you are using it as a wash-off mask, apply a layer, keep it on for 15 minutes, and rinse it off.
Pros
Fights skin damage
Soothes and hydrates the skin
Imparts a dewy finish
Watery, gel-like consistency
Fresh, fruity fragrance
Paraben-free
Sulfate-free
Cons
The Glow Recipe Watermelon Glow Pink Juice Moisturizer is an oil-free moisturizer that is ideal for prepping your skin before makeup. Hillary says, "This one is a fan favorite and one that delivers nutrition and skin-strengthening ingredients." Its formula has the goodness of watermelon, which is rich in amino acids and vitamins that hydrate and soothe your skin. The other vital ingredients include hyaluronic acid, jasmine, and peony extracts. The goodness of antioxidants protects your gentle skin from environmental aggressors and reduces dark spots and visible lines.
How To Use
This moisturizer works equally well on all skin types and has multiple uses. You can use it twice a day as a daily moisturizer, as an after-treatment for dry and combination skin types, or after toning for dry skin.
Pros
Oil-free moisturizer
Soothes the skin
Protects skin from environmental pollutants
Suitable for all skin types
Multipurpose
Lightweight
Cons
Unleash the moisture-retaining power of the Glow Recipe Blueberry Bounce Gentle Cleanser. Its hydrating formula contains gentle exfoliating AHAs that efficiently remove the makeup build-up and dead skin cells from your pores. Blueberry is rich in antioxidants and vitamins that fight free radical damage to give you an even skin tone, soothe inflammation, and reveal glowing skin. This 3-in-1 non-stripping foaming formula not only works as a great cleanser but also visibly brightens up your skin. Hillary adds, "Lovely formula and so easy to use with a PUMP."
How To Use
Take the required amount of this product with the help of the dispenser. Rub it between your palms till it forms a foaming lather. Rub it gently on your face, making sure all traces of makeup are gone. Rinse it off with lukewarm water.
Pros
Gentle formula
Hydrates the skin
Removes makeup
Fights free radical damage
Soothes the skin
Removes dead skin cells
Cons
Not suitable for sensitive skin
Many of us think that face mists are not very important. If that's the case, you have to try out the Glow Recipe Watermelon Glow Ultra-Fine Mist. Its super-hydrating juicy formula is enriched with watermelon, hyaluronic acid, and hibiscus extract that soften and hydrate your skin and improve the skin texture. This mist has a delightful fragrance. It enhances your makeup and increases its longevity. Its intense hydration boost gives you refreshed and dewy skin with a radiant complexion. Hillary, adds, "I've heard rumors that people try to drink this. Purse-friendly hydrator with a soft finish."
How To Use
Shake the bottle well before use. Hold it a few inches away from your face and spray a generous amount. Having a long day at work? Use this mist every few hours to refresh your skin. If you have dry skin, place the bottle slightly closer to your face while spraying. Two spritzes every two hours will keep your skin hydrated.
Pros
Super hydrating formula
Softens the skin
Hydrates the skin
Improves skin texture
Imparts a dewy finish
Enhances the makeup look
Makes makeup last longer
Pleasant fragrance
Cons
None
Glow Recipe Avocado Melt Retinol Eye Sleeping Mask is great for anyone who has long days at work, insufficient sleep, and a hectic schedule. These are the main culprits of dark circles and puffy eyes. It is formulated with avocado, encapsulated retinol, niacinamide, and coffee berry extract that reduce dark circles, de-puff your under-eye area, and treat milia. They also keep fine lines and wrinkles at bay. The product was clinically tested on 33 persons over 4 weeks and 97% of users have experienced visible results in the form of reduced wrinkles and fine lines. Hillary says, "I love to pack this on thick overnight or before events. Try it on your lips – especially if you are starting to see lip lines." This dermatologist-tested hydrating formula protects your skin from daily exposure to environmental pollutants and makes your skin glow the minute you wake up in the morning. It is designed to give you a glass skin effect. Many reviewers on Amazon have also praised this product for its ability to leave the skin looking visibly firmer.
How To Use
Cleanse your face. Take a minimal amount of this mask and gently pat it on the delicate area under your eyes.
Pros
Reduces dark circles
De-puffs the under-eye area
Hydrates the skin
Reduces fine lines and wrinkles
Protects skin from external pollutants
Clinically tested
Opthamologist-tested
Cons
None

Glow Recipe Pineapple-C Bright Serum is an award-winning product that is enriched with three potent forms of antioxidant-rich vitamin C, 22% pineapple juice, and pure ascorbic acid. Hillary adds, "This one is great for acne and stubborn body hyperpigmentation." It brightens, hydrates, and smoothens your skin. It promotes a protective healthy skin barrier. After using this serum, you will see noticeable changes in your existing dark spots, hyperpigmentation, acne scars, and premature signs of aging.
How To Use
Use this serum twice daily, followed by a moisturizer. Apply it before stepping out of the house, followed by a sunscreen. If you have sensitive skin, only apply it 3-4 times a week.
Pros
Gives you pore less, illuminated skin
Reduces dark spots and hyperpigmentation
Reduces acne scars
Reduces signs of premature aging
Suitable for regular use
Cons
Glow Recipe Watermelon Glow PHA+BHA Pore-Tight Toner has a bouncy texture. Its formula consists of a blend of watermelon and cactus extracts. PHA acts as a gentle exfoliator, and BHA unclogs the pores. This gentle and hydrating formula contains vitamins and amino acids that soothe your skin. Hillary says, "You can't shrink pores but keeping them clean will keep them from getting bigger and the cactus + acid combo will do the trick, gently." Its pore-minimizing action helps you achieve smoother and more refined skin for a flawless complexion.
How To Use
After cleansing your face, gently pat this toner on your skin with your palms. You can also apply it with the help of a cotton pad. During the day, follow this toner with sunscreen before stepping out.
Pros
Lightweight
Works as a gentle exfoliator
Unclogs pores
Soothes the skin
Suitable for all skin types
Cons
Some people may not like the consistency
Do you love wearing matte lipsticks but have dry and chapped lips? Glow Recipe Watermelon Glow Lip Pop is here to save the day. It is a favorite among beauty editors and bloggers. It contains coconut flower sugar that exfoliates your lips, removes dead skin cells, provides moisturization, and prevents further dryness and flakiness. This skin smoothing product creates an even surface for flawless lipstick application. This lip balm is also enriched with flower extracts of hibiscus, wild pansy, and hawthorne that hydrate and soften your lips. The product received excellent reviews on Amazon, all claiming that it provides a lovely, pink flush to their lips.
How to Use
This lip balm is going to find a permanent place in your vanity. Keep applying it at regular intervals throughout the day for soft and supple lips. It can be used as a lip primer to prep your lips, or as a gloss.
Pros
Exfoliates the lips
Provides intense moisturization
Prevents further dryness and flakiness
Makes lips soft and supple
Can be used as a lip primer
Cons
How would you prefer a hydrating, water-like cream that smells like banana pudding? If you're looking for that perfectly textured moisturizer to apply during the winters, try out the Glow Recipe Banana Souffle Moisture. Its smell fades away in just a few minutes. This gel-like pale yellow moisturizer is rich in magnesium and potassium that are known for re-balancing inflamed or irritated skin. Turmeric is a trusted anti-inflammatory ingredient that is rich in antioxidants. It also evens out the skin tone, and calms redness with its soothing properties.
How To Use
Apply this cream twice a day. You can also use it as a makeup base to prevent unwanted dry patches from forming on your skin.
Pros
Soothes irritated skin
Hydrates the skin
Evens out the skin tone
Reduces redness
Mild banana fragrance
Cons
None
Bedtime is repair time for your skin, and wearing a sleeping mask is the best way to treat your skin overnight. Glow Recipe Avocado Melt Retinol Face Sleeping Mask is a combination of avocado, retinol, PHA, and matcha that diminish imperfections and blemishes. They also soothe your skin. Avocado protects your skin from external aggressors, promotes skin plumping, and treats fine lines and wrinkles while making your skin appear brighter and smoother.
How to Use
Take a pea-sized amount of this mask and apply it all over your face as a final step in your night-time skin care routine. Wash it off thoroughly the next morning.
Pros
Reduces blemishes
Treats fine lines and wrinkles
Protects skin from environmental pollutants
Brightens the skin
Smoothens the skin
Cons
Why Trust StyleCraze?
The author, Oyendrila Kanjilal, is a certified skin care coach who loves trying out different products, and her brand new obsession lies in glow recipes. She has researched the best glow recipe products available and browsed through online reviews to curate the perfect list for her readers. Oyendrila's well-researched article ensures high-quality masks, moisturizers and cleansers which soothe, soften, and hydrate your skin.
Frequently Asked Questions
Is Glow Recipe a Korean brand?
Glow Recipe is not a Korean brand. It is an American skin care brand inspired by K-beauty. It was founded by Sarah Lee and Christine Chang.
Which Glow Recipe product is best for making your skin glow?
Glow Recipe Banana Souffle Moisture Cream, Glow Recipe Pineapple-C Bright Serum, and Glow Recipe Watermelon Glow Pink Juice Moisturizer are some of the best products for making your skin glow.
Is Glow Recipe 100% natural?
Yes, Glow Recipe is 100% natural and made from organic ingredients.
Can you use Glow Recipe toner every day?
Yes, you can use Glow Recipe toner daily as they contain ultra-hydrating and nourishing ingredients.
Is Glow Recipe non-toxic?
Yes, Glow recipe is non-toxic and free of harsh substances like phthalates, SLES, SLS, mineral oils, or parabens.
Are Glow Recipe products good for mature skin?
Yes, Glow Recipe products are good for mature skin. They keep your skin moisturized and plump, reducing wrinkles and fine lines.
Recommended Articles