7 Best Glucometers Available In India – Reviews And Buying Guide
Stay ahead of diabetes with accurate, reliable, and affordable devices.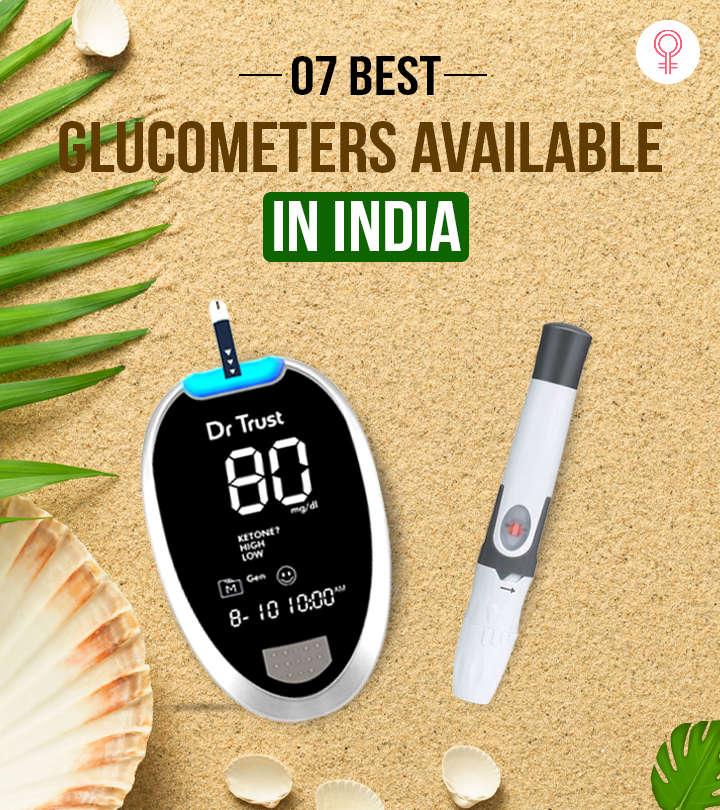 Our modern, fast-paced lifestyles and constant stress are hugely affecting our overall health. Our food habits are most often uncontrolled too, leading to several disorders, the most common one being diabetes. While you cannot keep all your body essentials in check, you can track and maintain your blood glucose levels using a glucometer.
Glucometers are at-home blood sugar monitoring devices that give you information on whether your blood sugar is too high, low, or in a good range for you. These portable devices are ideal for monitoring type 1 and type 2 diabetes, gestational diabetes during pregnancy, and latent autoimmune diabetes.
There are a wide range of glucometers on the Indian market and finding the perfect one can be a challenge. To help you out, we have curated a list of the 7 best glucometers in India. Scroll down and take your pick.
Note: Readings from glucometers are only for general information purposes and cannot be used as a substitute for medical examination.
7 Best Glucometers Available In India
This quality glucometer by Dr. Morepen has an extra-large LCD screen that allows you to track your blood sugar levels easily. The smart monitor has a large memory and can store up to 300 tests. The biosensor technology ensures accurate test results every single time. This glucometer comes along with a set of test strips for added convenience and offers a lifetime warranty.
Specifications
 Blood Sample Size: 0.5 microliter
 Number Of Test Strips: 50
 Number Of Lancets: 10
Pros
 Easy to store
 Easy to use
 Durable
 Large LCD
 Stores up to 300 results
Cons
 Heavy battery consumption
This value-added glucometer kit by Dr. Trust is designed to prevent interference from blood oxygen variations using the GDH-FAD Strip Enzyme technology. It also prevents interference from galactose and maltose in your blood samples. The glucometer provides an early warning in case your ketones are out of balance or rising. It also features an alarm function that reminds you to take the measurements on time.
Unlike standard glucose meters, this device requires only a tiny amount of blood, which makes it less painful. The GDH-FAD Strips allow you to eject blood from places other than your fingertips. The result is displayed along with face symbols for easy reading. This device also has a result storing capacity of up to 1000 tests along with the time and dates. The one-push strip injection button minimizes the risk of any contagion. The LCD screen comes with a backlight, which makes it easy to read at night.
Specifications
 Blood Sample Size: 0.5 microliter
 Number Of Test Strips: 10
 Number Of Lancets: 10
Pros
 Less painful
 Easy to carry
 Ketone warning feature
 Easy to use
 Alarm function
 High result storing capacity
 User-friendly
Cons
This ergonomically designed glucometer by One Touch is designed with ColorSure technology, which allows you to easily know if your blood sugar is in the high or low range. The OneTouch Delica Plus lancing device allows you to take pain-free testing. It has five years of proven accuracy and is recommended by diabetologists.
Specifications
 Blood Sample Size: 1.0 microliter
 Number Of Test Strips: 10
 Number Of Lancets: 10
Pros
 Easy to read
 Durable
 Diabetologist-recommended
 Value for money
Cons
None
This wireless glucometer by Accu-Chek automatically logs your blood glucose results and transfers them to your smartphone through the mySugr diabetes management app. It is designed with a visual target range indicator, which individually suits your personal goals.
The device instantly stores up to 720 blood glucose results and provides an average 90, 30 and seven days' rounded results on the meter. The instant easy edge test strip, which comes along with the glucometer, automatically absorbs the blood from the patient's finger. The large LCD screen ensures convenient use. This glucometer also features a backlight and easy to read big numbers and is ideal to use in low light conditions.
Specifications
 Blood Sample Size: 1.5 microliter
 Number Of Test Strips: 10
 Number Of Lancets: 10
Pros
 Easy to use
 Bluetooth connectivity
 Large storage capacity
 Large LCD display
 Comes with 2 batteries
Cons
None
Price at the time of publication: ₹1349
This CE certified smartphone glucometer by Beat O allows you to share readings with professionals and get free expert guidance for up to three months. The wide network of doctors and medical experts ensures that your glucose levels stay intact while prescribing the necessary changes that have to be added into your food habits and lifestyle. The compact and easy to carry glucometer easily connects to your smartphone through a 3.5 mm audio jack. It works effortlessly with both iPhones as well as android devices. This kit also includes a travel pouch, a lancing device, and a quick guide for added convenience.
Specifications
 Blood Sample Size: 0.6 microliter
 Number Of Test Strips: 50
 Number Of Lancets: 50
Pros
 Long battery life
 Compact
 Auto logging
 Easy to carry
 Regulated movement
 Waterproof pouch
Cons
None
This pocket-friendly blood glucose monitor by Control D takes just five seconds to check your blood sugar levels and is very easy to use. Both the lancing device and the blood sugar monitor come with slight touch ejection for the strips and lancets, keeping infections at bay. The lancing device has five depth settings to ensure pain-free testing. This glucometer uses Prometric biosensors to measure your blood glucose level accurately every single time and comes with 25 test strips.
Specifications
 Blood Sample Size: 0.5 microliter
 Number Of Test Strips: 25
 Number Of Lancets: 10
Pros
 Easy to use
 Value for money
 Durable
 Lifetime warranty
Cons
None
The My Life Pura X Blood Glucose Monitoring System by YPSOMED is super compact and easy to use. This kit includes a soft lancing device, 10 disposable lancets, and 10 test strips. The device provides instant results in just five seconds and only requires a minimum blood sample of 1.5 microliters. The glucometer can store up to 350 tests and has a USB data transfer feature for seamless use. The ergonomically designed side loading test strips provide comfort, while the backlight feature allows you to use the glucometer even in low light conditions.
Specifications
 Blood Sample Size: 1.5 microliter
 Number Of Test Strips: 10
 Number Of Lancets: 10
Pros
 Quick results
 Easy to use
 Ergonomic design
 Lightweight
 Easy to carry
 Value for money
Cons
None
Having a glucometer at home is essential if you have diabetes. These devices are easy to operate and have essential benefits. Check out some of those in the section below.
What Are The Benefits Of Using Glucometers?
 Easy to use and compact.
 Help keep your blood sugar in control.
 Help monitor the effects of diabetic therapies and medications.
 Track the patterns when you are likely to have a crash or spike in glucose levels.
 Let you know how your glucose level responds in times of stress or after workouts.
 Help assess how well you are meeting your treatment goals.
Glucometers are hand-held devices that are easy to operate. Read on to learn how to use them.
How To Use Glucometers
Step 1: Prepare your supplies and clean your hands thoroughly.
Step 2: Carefully turn on your glucometer, wait for it to start, and then insert the test strip.
Step 3: Prick your fingertip with a lancet and gently squeeze the required amount of blood.
Step 4: Place a tiny drop on the edge of the test strip and monitor the reading.
Step 5: Sanitize your hands, wipe away any remaining blood, and dispose of the test strip and lancet.
Glucometers are now widely used across India. But how accurate are these devices? Let's find out.
What Is The Accuracy Of Glucometers?
According to the 2018 FDA Draft, a glucometer is required to be 95% within + or – 15% and 99% within +/- 20% across the measuring range.
Another tip to ensure good accuracy is to understand how much blood is needed for testing.
These medical tools provide more or less accurate results that you can use to monitor your blood sugar levels regularly at home. However, it is advised to go to a clinical laboratory and get exact results for periodic check-ups.
There is a wide variety of glucometers available in India, with different features and specifications. How do you choose one for yourself? The next section will help you out!
How To Choose the Best Glucometer – A Buying Guide
When buying a glucometer, it is important to check out its features and specifications. Look for features like the number of strips, test time, lancets, and warranty period to choose the best glucometer among the lot.
 Compatibility Of The Strips
Always choose a premium quality, well-built test strip for your glucometer.
In case you are new to using a glucometer, you might find pricking your finger very painful. Regular 21-guage lancets may not be as comfortable as 30-gauge lancets. Hence, look for thicker lancets for convenient use.
To ensure your readings are accurate, it is important to choose the right testing strips and lancets for your glucometer. Always check the expiry date, as using expired test strips can result in inaccurate reading.
Make sure your device has good features at a price point that is comfortable for you. Also, choosing a glucometer that is cheap may seem right, but the device can wear out easily and cost you more in the long run.
Warranty plays a huge role in the durability and maintenance of the product. Hence, always look for glucometers that have a long warranty period, so you do not have to worry about spending on constant repairs.
A glucometer is an essential device that can be used to measure and monitor your blood sugar and glucose levels, especially if you have diabetes. The glucometers that have made it to our list are the best in the Indian market and sure to leave you satisfied. Take your pick from the list and get one step closer to a healthy lifestyle.
Frequently Asked Questions
What time is best to check blood sugar?
The ideal time to check your blood sugar is 1 to 2 hours after your meal. If you are someone who takes multiple injections, it is also recommended to check your blood sugar before bedtime and every meal.
For how long does a glucometer last?
Most glucometers can last for up to 10 years, but if the readings aren't as accurate as they used to be, you might consider replacing it.
Are there any disadvantages of using a glucometer?
Although there are a lot of benefits to using a glucometer, there are some disadvantages too. For instance, people often tend to rely on it completely and avoid their occasional hospital visits. As glucometers are not always 100% accurate, this can lead to complications in the long run.
Recommended Article