The 7 Best Skin Care Products With Gluconolactone In 2023
Enrich your skin with this magical ingredient to see a visible difference within no time.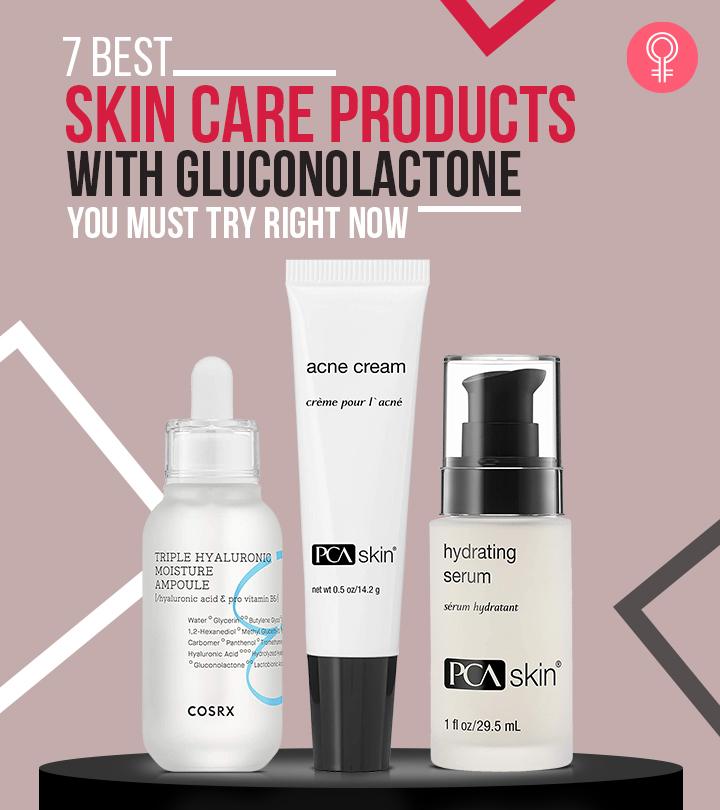 When it comes to skincare, while there are certain star acids that steal the show, there are a few more that do their work unnoticed! One such magic ingredient is gluconolactone in skin care products! It not only helps improve your skin texture but also helps tone down any irritaions or breakouts. A poly-hydroxy acid (PHA), gluconolactone works similar to alpha-hydroxy acids (AHA) and beta-hydroxy acids (BHA). It not only helps slough off dead skin buildup, excess oil, dirt, and debris from your skin but also helps keep it hydrated and well-nourished! To know more about the magical effects of this lesser known acid in skincare, scroll down! You can also take your pick from the 7 best skin care with gluconolactone listed below to see its effects for yourself!
What Is Gluconolactone?
Gluconolactone is a poly-hydroxy acid derived from gluconic acid that is found in corn and animals. It dissolves the dead skin cells and makes your skin soft and glowing. Gluconolactone is made of multiple hydrogen-oxygen pairs that attract water, offer hydration, and help retain the moisture balance of the skin.
Gluconolactone, often called the next-generation AHA, works well on acne-prone, sensitive, or matured skin without causing allergies and irritation. Although its main job is exfoliation, it comes with other benefits as well.
Benefits Of Gluconolactone
Gluconolactone is the unsung hero of the skin care industry. Here are some of its benefits.
 Exfoliation: Although it is not as strong as the AHAs and BHAs, gluconolactone gently exfoliates dead skin cells without any side effects.
 Hydration And Moisturization: Gluconolactone comprises hydroxyl groups, making it a humectant that attracts water and helps in hydration.
 Antiaging Property: As it peels off dead skin cells and smoothens the texture, it reduces the appearance of fine lines and wrinkles, making your skin supple and youthful.
 Antioxidant Property: It can fight free radicals and prevent the damage of skin cells.
In short, this multitasking skin care wonder revamps your skin tone and texture, making it smoother, softer, and supple. But are you wonder which skin care products contain gluconolactone? Our curated list of the 7 best products with gluconolactone is here for you.
Best Skin Care Products With Gluconolactone
COSRX hydrium triple hyaluronic moisture ampoule is a revitalizing serum that makes your skin supple and reduces irritation. Plus, it offers anti-aging benefits and helps with dryness, and improves skin elasticity. The mild serum is infused with hydrolyzed hyaluronic acid, sodium hyaluronate, and panthenol. Exfoliants like gluconolactone and lactobionic acid gently peel off dead skin cells to improve skin tone and texture. Panthenol helps soothe inflammation, while the combination of hyaluronic acid and sodium hyaluronate moisturizes the skin. The formula is dermatologically tested and free from harmful chemicals, making it suitable for sensitive skin. It is non-greasy and keeps your skin soft, smooth, and healthy all day.
Pros
 Unscented
 Lightweight
 Hypoallergenic
 Dermatologist-tested
 Cruelty-free
 Paraben-free
 Sulfate-free
 Phthalate-free
Cons
Price at the time of publication: $22.0
PCA skin acne cream infused with lactic acid that moisturizes the skin, tea tree oil that improves your complexion, and 5% benzoyl peroxide reduces acne scars and prevent breakouts. And gluconolactone in the formula moisturizes your skin, keeping it plump and soft.
P.S. If you are using it during the day, follow it with sunscreen and if you're using it at night, use a hydrator after applying the cream.
Pros
 Clears blemishes
 Quick results
 Non-greasy formula
 Moisturizing
Cons
Price at the time of publication: $36
Glossier solution exfoliating skin perfector helps peel off the dead cells, giving you a softer, smoother, and radiant skin tone. Apart from gluconolactone, it contains 0.5% salicylic acid, lactic acid, and glycolic acid that gently exfoliate the skin to clear blemishes, reduce redness, and shrink pores. Plus, niacinamide in the formula helps clear acne, while aloe vera juice moisturizes the skin. The product has not been tested on animals to determine its efficiency, which makes it an ideal cruelty-free option.
Pros
 Prevents breakouts
 Improves skin tone
 Prevents blackheads
 Reduces pore size
 Exfoliates
 Soothes inflammation
Dermatologist-tested
Cons
Price at the time of publication: $32.48
Apart from moisturizing the skin, the lightweight PCA Skin Hydrating Serum reduces inflammation, leaving your skin plump and youthful. This serum is infused with glycerin that locks in moisture, while sodium hyaluronate, panthenol, and sodium PCA hydrate the skin. Niacinamide helps tame acne flare and brightens the skin. Besides that, niacinamide helps fade wrinkles and fine lines.
Pros
 Lightweight
 Antiaging benefits
 Non-comedogenic
 Cruelty-free
 Non-greasy formula
 Fragrance-free
 Mineral oil-free
 Artificial color-free
 Lanolin-free
 Phthalates-free
 Paraben-free
Cons
None
Price at the time of publication: $98
This dermatologist-recommended mild facial cleanser is your shortcut to smooth and supple skin. Neostrata Restore PHA Facial Cleanser is a gentle, non-lathering formula that cleanses the skin without making it dry. This soap-free formula deep cleanses the skin to remove traces of makeup, dirt, and grime from deep within, giving you a clean and fresh appearance. The pore minimizing formula is infused with gluconolactone buffs out dead skin cells and gives you a rejuvenated skin tone.
Pros
 Dermatologist tested
 Brightens skin
 Maintains skin's pH balance
 Non-drying
 Soap-free
 Fragrance-free
Cons
Price at the time of publication: $27
Exuviance age reverse bioactiv wash provides mild exfoliation, smoothing and resurfacing your skin for an even texture. This soap-free cleanser lathers and removes makeup and residue, giving you a clean, fresh face. Cucumber, rosemary, aloe vera, and matricaria extracts in the formula soothe and rejuvenate your skin, while maltobionic acid improves its texture. Plus, antioxidants in the formula fight the free radical damage and aid in elastin and collagen production. The product shows visible results after 4 weeks of consistent usage.
Pros
 Non-greasy formula
 Lightens fine lines
 Fades age spots
 Smoothens skin
 Lightweight
 Easy to use
 Non-drying
Cons
Price at the time of publication: $41.5
The Cetaphil Healthy Radiance Exfoliating Cleanser reduces the appearance of dark spots, age spots, hyperpigmentation, and post-acne marks. It is enriched with 2% niacinamide and moisturizing antioxidants that improve your skin tone. The polyhydroxy acid (PHA) in the formula offers gentle exfoliation and stimulates cell turnover. This face wash is hypoallergenic, so it is completely safe for sensitive skin, allowing for a gentle renewing process. It has a fragrance-free gel texture that spreads easily on your skin.
Pros
Clinically proven formula
Safe for all skin types
Hypoallergenic
Dermatologist-tested
Ophthalmologist-tested
Fragrance-free
Oil-free
Paraben-free
Cons
Price at the time of publication: $9.99
The Bottom Line
Why Trust StyleCraze?
The author, Shiboli Chakraborti, is a certified skin care coach who carefully selected the best products with gluconolactone that you must try. The products on the list have been compiled after going through multiple reviews and feedback available on various online forums and brand websites. Gluconolactone is a star ingredient that is less known but works great to improve your overall skin texture.
Frequently Asked Questions
Is gluconolactone good for your skin?
Yes. Gluconolactone helps to remove the dead skin cells, making your skin soft, supple, and youthful. It also provides hydration and has anti-aging properties.
What percentage of gluconolactone is effective?
7 to 12% of gluconolactone is effective for exfoliation benefits.
Can I use gluconolactone every day?
Yes. You can use Gluconolactone every day.
Is gluconic acid and Gluconolactone same?
No. Gluconolactone is a poly-hydroxy acid derived from gluconic acid that is found in corn and animals.
Is Gluconolactone vegan?
If the glycolic acid from which the gluconolactone is derived, is from corn, then it is vegan; if it is from animals, then it is not.
Recommended Articles