13 Best Gluten-Free Moisturizers For Healthy Skin In 2023
Stay safe from gluten allergies and infections with these skin-friendly formulas.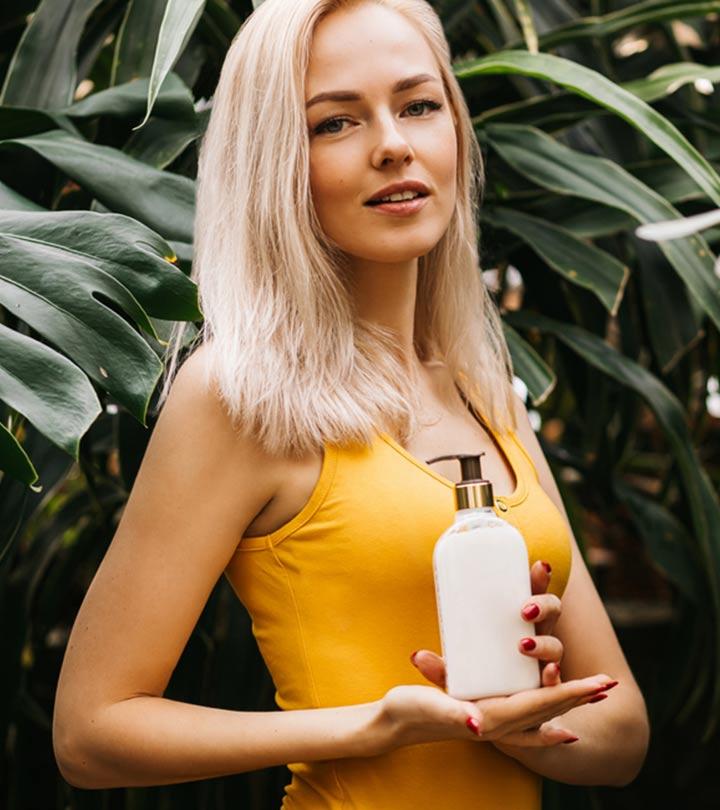 Finding the best gluten-free moisturizer for skin is not a luxury; it's a necessity. Gluten allergy does not just affect you with ingestion; it can cause allergies if the ingredients have gluten contents in them too. These can pose a threat to your sensitivity and cause severe rashes if you are gluten intolerant. Now you will wonder how using a shampoo, conditioner, or cream that contains gluten can affect you. These products don't just work at the surface but seep in layers too. It can make your skin turn red and inflamed and may even lead to celiac disease or an irritated gut. So to keep all such unprecedented problems at bay, you should look into your products and choose the ingredients wisely. Gluten-free commitment is severe, and thankfully more brands are pouring in to give you allergy-free products. These moisturizers are full of vitamins and essential oils that ensure your skin is pampered and supple without worrying about rashes and allergies. So, are we ready to give our skin the treatment it deserves? If you are unsure which brand will work for your skin and give it all the nourishment according to your skin type, we are here to help. Here are 13 gluten moistures from the choicest brands that will help you keep your skin soft and radiant always.
13 Best Gluten-Free Moisturizers For Skin That Glows From Within
Caring for your skin doesn't have to be complicated with Vanicream's Moisturizing Lotion. To help simplify your daily moisturizing routine, this gluten-free, oil-free moisturizer is a non-greasy formula that is quickly absorbed by the skin, leaving it feeling hydrated. The dermatologically-tested moisturizer won't clog your pores or cause breakouts, making it suitable for sensitive skin types. It amply nourishes your skin and allows it to breathe without feeling heavy. This non-comedogenic daily moisturizing lotion is free from parabens, fragrance, dyes, lanolin, and of course, gluten. Massaging a dollop into your skin after a shower will leave you with extra soft and silky smooth skin.
Pros
Suitable for sensitive skin
Face and body moisturizer
Non-comedogenic
Fragrance-free
Lightweight
Suitable for conditions like eczema
Cons
May not be best suited for very oily skin types
Price at the time of publication: $13.49
One of the better things in life is a multitasking skincare product. Like This 4-in-1 Tinted Moisturizer by PÜR, which is so versatile it combines the effects of a moisturizer, foundation, primer and SPF! This multifunctional product is available in 16 beautiful shades for you to choose from and is nothing if not a magic potion for your skin. Enriched with the goodness of sodium hyaluronate, which helps hydrate the skin and retain moisture, you can give your skin optimum hydration and a dewy finish. The ceretin complex is driven by retinol and helps push out new cells to the surface to let you embrace a fresh and natural glow. Ideal for those with dry skin, chamomile, shea butter, aloe, and vitamin E present in the formula will soothe and calm your irritable skin. We love when skincare meets makeup, just as this gluten-free tinted moisturizer does! Go through this video review for a detailed understanding of the product.
Pros
Lightens dark spots and uneven skin tone
Ocular-tested
Free of parabens and BPA
Cruelty-free and vegan
Lightweight formula
Cons
Price at the time of publication: $35
Ingredients like shea butter, jojoba oil infused in this Natural Face Moisturizer And Eye Cream by Oars + Alps help you achieve soft and supple skin that bounces back. Power-packed with moisturizing ingredients such as aloe leaf juice, jojoba seed oil, and safflower seed oil along with vitamin E, the moisturizer protects your skin from free radicals that speed up the process of skin aging. It's so lightweight that it disappears into your skin and the alpine caribou moss infused in this moisturizer acts as a shield against pollution and dust. Free from aluminum, sulfates, talc, and phthalates, it is a safe moisturizer that promotes healthy skin care. Maintain youthful skin with this gluten-free, paraben-free face moisturizer that is also easy on your delicate under-eye area.
Pros
Alcohol-free
Made with natural ingredients
Suitable for all skin types
Dermatologically-tested
Cruelty-free
Non-greasy and unscented
Cons
Some users felt that it felt slightly heavy for day wear
Price at the time of publication: $21.99
Do you find it challenging to find moisturizers that cater to sensitive skin that is susceptible to irritation? If yes, the Eau Thermale Avene's Skin Recovery Cream is the only moisturizer you need. With the power of an active parcerine, this soothing, sterile moisturizer protects and renews your skin's barrier from irritability. When it comes to taking care of sensitive skin, less is always more, and the Avene moisturizer utilizes minimal ingredients in its formulation to ensure maximum nourishment. Check out this video for a detailed review of the product.
Pros
Fragrance-free
Hypoallergenic
Paraben-free
Non-greasy
Hydrating formula
Cons
A baby's skin is 10 times more sensitive and requires extra precautionary care. Without the fear of any synthetic colors or fragrances, you can confidently use this gluten-free lotion by Shea Moisture to nourish your baby's skin. Enriched with natural butters like shea, cocoa, and mango, the SheaMoisture Baby Healing Lotion helps keep your baby's skin soft and supple. Ideal for cheeks that you can't resist but pinch, this moisturizer also contains aloe vera and vitamin E oil to soothe irritated skin and keep it protected from environmental aggressors. Although this lotion is specially formulated for babies, it's suitable for adults too. If you're looking for a gentle skincare product, add this gluten-free shea moisturizer to your cart now!
Pros
Fragrance-free
Hypoallergenic
Pediatrician-tested
Gentle on the skin
Thick consistency for intense moisture
Cons
Might take some time to absorb into the skin
Price at the time of publication: $30.99
We've all heard about how great of a soothing and calming ingredient aloe vera is. The star of the Aloe Life Face & Body Lotion, it is combined with lanolin, macadamia nut oil, jojoba oil, selenium, zinc, and vitamin A, C, and E to form a silky smooth, safe moisturizer for your face and body. This formula mimics the body's natural oils to supplement your skin with nourishment, keeping it soft and safe from irritants. Dry and inflamed skin tends to appear flaky, and the chamomile and whole leaf aloe vera extracts in the formula help renew your skin's cells and texture. Say hello to a fresh, natural glow with this gluten-free body moisturizer that contains a slight hint of grapefruit fragrance, which is easy on the senses and safe for babies too!
Pros
Natural fragrance
Paraben-free
Safe for all skin types
Organic ingredients
Cons
Some may find the consistency of this moisturizer to be relatively thin.
Price at the time of publication: $8.01
Nothing feels better than a luxurious body butter you can slather on after a hot shower! The Mango Papaya Body Cream With Shea Butter by Saavy Naturals fits right in this category. The creamy and thick lotion seeps right into your skin and keeps it moisturized for 24 hours! With a blend of high-quality, organic oils like jojoba seed, olive, bergamot fruit, argan, and skin soothers like glycerin and willow bark extract, this moisturizing cream will leave your skin feeling soft and pampered. You can slather it on without worrying about parabens, synthetic fragrances, petroleum, soy, sulfates, or artificial colors. This product also makes for a great addition in your skincare hampers for all your family and friends!
Pros
Made with natural, food-grade ingredients
Vegan and cruelty-free
Thick and non-greasy consistency
Absorbs quickly
Long-lasting
Cons
Some may find the scent intense
Price at the time of publication: $28.16
Formulated to suit all skin types, the Harmony Moisturizer by Zatik feels light on the skin. It contains a nourishing blend of organic herbal and floral extracts like jojoba and geranium oils, matcha green tea, rosemary leaf and rosehip extracts. Along with this, there's also hydrosols that dive deep into your skin to truly hydrate it from the inside. This pH-balanced, antioxidant, and vitamin C-rich formula offers skin repairing and rejuvenating benefits that your skin will love. Calm your senses with the rose and neroli (orange blossom) oils that produce a sweet, heavenly fragrance that also works as aromatherapy. The alcohol-free moisturizer is ideal if you wish to care for your overall skin health.
Pros
Organic and natural ingredients
Sweet fragrance with aromatherapeutic benefits
Doesn't clog pores
Suitable for sensitive skin
Free from alcohol and soy
Vegan
Cons
Price at the time of publication: $28
If you're constantly battling skin issues like dry, dehydrated, or acne-prone skin, we've got you covered! The Sonage's Lumenez Vitamin Rich Creme contains natural orange blossom, which soothes dry, irritated, itchy, and red skin. The scent is compelling and delicate, perfect to derive aromatherapeutic benefits from. Orchid extract present in this gluten-free face moisturizer improves your skin's luminosity, giving you a natural glow while covering up signs of aging. This cocktail of high-quality ingredients includes green tea extract that helps fight redness, avocado oil that increases collagen production, and sweet almond oil that heals and repairs dry and sensitive skin.
Pros
Suitable for mature, aging skin
Moisturizing natural ingredients
Absorbs easily
Non-greasy formula
Cruelty-free and non-toxic
Lightweight
Cons
Price at the time of publication: $58
We understand the pure and immense love you have for your baby, and while that may be hard to replicate, you can see a bit of it in this beautiful Organic Sensitive Skin Face & Body Lotion by Shoosha Baby. Specially crafted for your baby's sensitive skin, this moisturizer is made with colloidal oatmeal that helps calm and sooth itchy, red, sensitive, or eczema-prone skin. It also contains some soothing herbal and botanical extracts for an extra-loving rub. With star ingredients like calendula flower extract and soothing, anti-inflammatory oils like aloe vera, evening primrose, sunflower, and chamomile tea, this versatile moisturizer contains therapeutic properties, which makes it as good for you as for your baby. To ensure that your baby is cared for in the most nourishing fashion, Shoosha Baby's product doesn't have any nuts, dairy, chemicals, GMOs, and BPAs.
Pros
Hypoallergenic
Suitable for adult use
Non-sticky formula
Biodegradable
Vegan
Non-greasy
Cons
Thick consistency of this moisturizer may stain clothes
Price at the time of publication: $18.97
Harsh winters usually brings its annoying cousin dry skin along with it, and tackling it with traditional moisturizers can be quite the task. Investing in a heavy moisturizer like this one can work wonders to heal dry and red patches on your cheeks and other areas of your body. With luxurious oils like avocado and jojoba, the moisturizer absorbs quickly into the skin and deeply penetrates the skin for a rejuvenated look. If you have sensitive skin, you can safely use this cream as it is made without any dyes, perfumes, colorants, latex, or phthalates. This formula is free from corn, soy, peanut, fish, shellfish, aloe, coconut, dairy, or eggs, making this allergy-free moisturizer suitable for people sensitive to any of these products.
Pros
Cruelty-free and vegan
Fragrance-free
Hypoallergenic
97.1% natural
Non-greasy formula
Cons
Some may find the scent to be slightly chemical-like
Price at the time of publication: $14.29
Vita-Myr's Aloe Vera Cream is infused with aloe vera at the base to provide deeply nourishing benefits to the skin prone to drying, redness, chafing, sunburns, irritation, and inflammation. The cooling effects of aloe vera coupled with other skin-loving ingredients such as witch hazel, safflower, avocado, and jojoba oils will deeply moisturize your skin and help eliminate dead skin cells. This body and face moisturizer without chemicals also works like magic by increasing the skin's elasticity levels and making it look more plump, youthful, and radiant.
Pros
Soothes insect and bug bites as well
Moisturizing formula
Cooling effects
Organic ingredients
Non-greasy
Cons
Formula might be too heavy for oily skin types
Price at the time of publication: $16
Formulated with ingredients that offer a host of benefits, the Dr. Mercola Organic Moisturizing Daily Face Lotion feels like a luxurious treat for your skin. For ample skin moisturization throughout the day, this formula is infused with cupuacu butter and is non-greasy with ingredients like sweet almond oil to prevent clogging your pores. Increase the elasticity of your skin with nourishing ingredients like pomegranate seed oil to reduce redness and strengthen your skin's barrier. You can supply your skin with unending goodness and keep it safe from harsh chemicals with this cream that is free from soy, GMOs, artificial fragrances, dyes, phthalates, dyes, and genetically engineered ingredients.
Pros
Subtle vanilla almond fragrance
Cruelty-free
Non-greasy
Absorbs quickly
Non-comedogenic
Cons
Now that we've looked at the best gluten-free moisturizers on the market, let's dive right into how you can choose the right one for your skin type and concerns.
How To Choose The Right Gluten-Free Moisturizer
Even though gluten-free moisturizers are made with mostly natural ingredients, some might contain scents that provide aromatherapeutic benefits. However, some may find that fragrances can cause headaches and irritation. If you're someone that likes a slight scent in your product, look for moisturizers that contain subtle aromas.
Gluten-free moisturizers help those with skin sensitivities like dryness, flaking, and inflammation. With the inclusion of moisturizing and hydrating ingredients like essential oils, antioxidants and vitamins, you can reap the full benefits of these creams. Oily skin types should be on the lookout for elements like salicylic acid and niacinamide, whereas AHAs and BHAs are great exfoliating ingredients to help combination skin. While hyaluronic acid, oat ingredients, wheat germ oil and glycerin give dry skin a hydration boost, people with sensitive skin will benefit from ingredients like aloe vera, shea butter and chamomile extract. It's best to look for products with nourishing ingredients so that your skin is left feeling soft and plump round-the-clock.
Since the skin, in general, can be sensitive, you'll need to take care of it closely. Look for moisturizers free from parabens, sulfates, GMOs, petroleum, and alcohol, among other potentially harmful ingredients. If you find that a product is cruelty-free and vegan, that makes things even better for your skin.
Gluten-free moisturizers can either have an extremely thick consistency or a thin, water-like consistency, and there is no in-between. Choosing the right consistency depends mainly on your skin type and the weather conditions they are prone to. Thick, heavy lotions will take care of dry skin all year round, and especially in winters. Thin consistencies suit normal, combination, and oily skin types better as they absorb quickly and feel non-greasy.
Frequently Asked Questions
Do gluten-free moisturizers clear your skin?
If the moisturizer you're using is also non-comedogenic, there's a chance that your skin will clear up. Non-comedogenic products won't clog pores, so you can prevent blackheads and breakouts. The absence of gluten in your skin care routine doesn't guarantee clear skin unless the product also comes infused with other ingredients known to clear up the skin, like tea tree oil or witch hazel.
Does gluten make acne worse?
There's no clinical evidence to prove that gluten causes acne or makes it worse. Some people that are sensitive to it may find that they have skin reactions like inflammation or redness.
Can gluten be absorbed through the skin?
No, your skin cannot absorb gluten. It must be ingested to be able to cause an allergic reaction. That is the reason why lip products like lip balms and lipsticks that contain gluten must be steered clear of if you're gluten intolerant.
Is it safe to use gluten in skin care and cosmetics?
Gluten is an inflammatory substance that can cause skin allergies, worsen acne and breakouts, and cause skin inflammation. If you are prone to these conditions or are sensitive to gluten, it's best to avoid gluten-included products.
Can over-moisturizing cause wrinkles?
Yes, excessive moisturizing causes the skin to produce less moisture on its own, resulting in lines and wrinkles.
Recommended Articles