15 Best Glycerin Skincare Products In 2023
Hydrate your skin with glycerin and natural ingredients and revive dry and dull.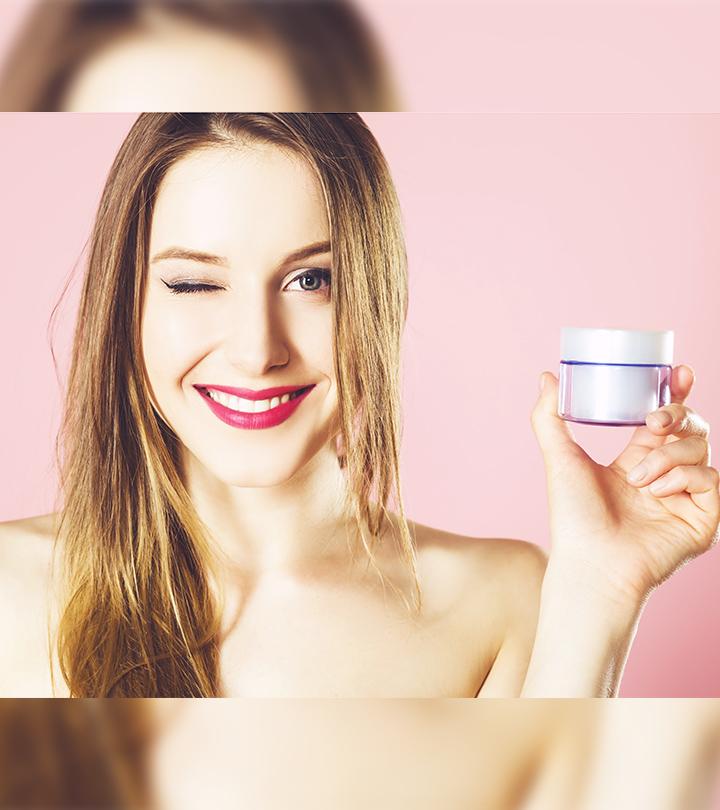 Glycerine is a skin care ingredient that can be your secret to having dewy and hydrated skin, especially during the winter when your skin tends to become dull and dry. The best glycerine skin care products are the ultimate remedy for many skin-related issues. If the drop in temperature and extreme humidity keeps your skin from looking radiant, then it is time to incorporate glycerine-infused products into your skin care routine. Though the name might sound a little scientific, it is a wonder ingredient found in almost every hydrating skin care product. If you are unsure about which products to pick, we have got you covered. In this post, you will learn about the uses and benefits of glycerine for your skin and some of the best glycerine skin care products available online. So keep reading and take your best pick!
What Does Glycerin Do For The Skin?
Glycerin is found in the human body but when used in topical treatments, it is derived from plant sources like soy. It contains occlusive agents that prevent water from leaving your skin's surface, and hence, causes dryness. It is gentle and safe in nature, allowing it to be enjoyed by all skin types, even those with sensitivities. Being a humectant, glycerin draws moisture into the skin and this coupled with its occlusive benefits gives you amply moisturized and healthy-looking skin. Additionally, it also strengthens and protects the skin's natural barrier, helps products absorb better, and wards off bacteria, owing to its antimicrobial properties.
15 Best Glycerin Skincare Products That Take Moisturization Up A Notch
Aquaphor's versatile healing ointment comes to the rescue when you're struggling with dry and cracked skin or feet, chapped lips, or cracked cuticles. Its formulation of 41% petrolatum increases oxygen flow that aids in skin healing. With the presence of panthenol and glycerin, skin is moisturized and protected. You can use this glycerin moisturizer to soothe any scrapes, burns, or cuts and also to safeguard flaky skin from the drying effects of harsh winters. Suitable for sensitive skin types, this skin-softening formula is one of the most effective glycerin products for the entire family to use. Go ahead and check out this YouTuber's video for more details about the product.
Pros
Preservative-free
Fragrance-free
Can be used on dry, cracked, and chapped skin
Safe for sensitive skin
Soothes cuts, burns, and scrapes
Can be used on the feet, hands, and lips
Cons
Some might not like the greasy consistency
Using glycerin for dry skin can help soften it and keep it moisturized, like with this rejuvenating formula by Wow Solutions. It is a 2-in-1 cleanser and effective moisturizer that is soluble in water. Made with 100% non-GMO palm, grapeseed, and coconut oil, this one-ingredient formula is versatile and can be used for skin hydration. You could use this vegetable glycerin on skin that is rough and avail a smoother texture and dewy skin. The product is not tested on animals.
Pros
Cruelty-free
Free of petroleum, mineral oil, and paraffin
Doesn't contain parabens and phthalates
Free of synthetic fragrances
No harsh cleansing agents or formaldehyde donors
Free of microbial pathogens
Cons
Some might not like the sticky consistency
If you're new to using glycerin for skin, try this cleanser by Neutrogena that is gentle and pure. Removing excess oil without any harsh detergents, this nourishing facial cleanser leaves no pore-clogging residue behind. Not only do you get refreshed skin sans any impurities, you can reap glycerin skin benefits like a softened and nourished barrier. The Transparent Facial Cleanser rinses thoroughly and enhances your skin's overall health.
Pros
Non-comedogenic
Hypoallergenic
Fragrance-free
Oil-free
Gentle formula
Ideal for sensitive skin
Dermatologist-recommended
Cons
Might leave behind a 'tight' feeling
Damask rose oil present in this refreshing formula softens and soothes the skin whereas glycerin seals in moisture. The unique Vor-Mag water helps lift your mood owing to the water's energy that is vortexed and magnetized. Glycerin in cosmetics like this mist locks in your makeup with a dewy finish and keeps it fresh all day long. Spritz some on dull and tired skin during the day for a much-needed pick-me-up and get glowing skin! The rose scent is a nice addition that wakes up the senses and instantly energizes you. The product has been clinically proven to deliver visible results.
Pros
Cruelty-free
Vegan
Alcohol-free
Dye-free
Ideal for dry-to-combination skin types
Doesn't contain phthalates, parabens, or sulfates
Dermatologist-tested
Clinically-tested
Cons
I Dew Care's mask gently exfoliates skin to improve texture. This hydrating mask is enriched with strawberry seeds which delivers radiance. The additional ingredients include raspberry extract, glycolic acid, and glacier water which eliminate dullness and boost moisture. One of the most effective products with glycerin, using this antioxidant-rich mask once a week will definitely improve the overall look of your skin. The buttery and whipped consistency feels luxurious, almost like a mini-spa at home! No animal testing has been done on this product.
Pros
Free of parabens, SLS, and phthalates
Vegan
Doesn't contain triclosan, formaldehyde, and coal tar
Brightens complexion
Exfoliates skin
Adds moisture
Cruelty-free
Cons
Might cause purging owing to the AHA
The MAKARI Naturalle Carotonic Extreme Body Glycerin is a hydrating skin treatment that contains herbs that nourish the skin. It assists in lessening the visibility of dark patches as well as hyperpigmentation. It is formulated with a mix of lemon, linden carrot seed oil, and licorice root extract that is used to pamper the skin. It gives the skin a bright, clear, and smooth complexion and helps eliminate dull cells. The formula levels out your tone while minimizing the appearance of scars and spots. After a shower or bath, using the body glycerin oil seals in the moisture that was removed from your skin, which helps keep your skin hydrated. The product shields your skin from the damaging effects of free radicals, resulting in skin that is more supple and young.
Pros
Natural ingredients
Moisturizes skin
Minimizes scars
Cruelty-free
Dermatologically-approved
Cons
None
Neutrogena makes adding glycerin to skin care easy with the help of this facial soap that is mild and non-comedogenic. You can use it to cleanse skin and eliminate excess oil, dirt, grime, and other impurities with no residue. When used on the regular, your skin will be on its way to becoming healthier and clearer with an improved complexion. The hypoallergenic formula is validated by leading dermatologists and can be used by people with sensitive skin or breakout-prone skin as well.
Pros
Non-comedogenic
Dermatologist-recommended
Hypoallergenic
Gentle formula
Improves skin health
Cons
Might take a while to rinse off
Breylee's powerhouse of a skin care serum contains 2 types of hyaluronic acid essences that are absorbed quickly to moisturize skin and slow down the aging process. To soothe and make the skin soft, hydrolyzed sodium hyaluronate comes into action by enhancing elasticity and blurring out wrinkles. Trehalose in the skin-repairing formula replenishes moisture loss and glycerin forms a protective layer to repair the skin barrier. All skin types will benefit from this glycerin serum that facilitates the absorption of other cosmetics while promoting a youthful look. The product offers visible results with regular usage.
Pros
Moisturizes skin
Prevents water loss
Enhances elasticity
Slows down aging
Protects skin barrier
Facilitates absorption of other products
Cons
Might leave behind residue
Glycerin in skincare products like Glysolid's cream can help soften cracked and dry skin on your elbows, heels, knees, and hands. Its smooth and thick formula contains a high amount of glycerin with allantoin that adds a protective film to lock in moisture and natural oils. One of the great glycerin uses for skin would be on dry skin types prone to psoriasis and eczema. This key ingredient prevents shedding and helps skin cells reach full maturation. Adding and sealing in moisture, you could also use the glycerin cream as a lip balm for plumper lips!
Pros
Free of parabens, petroleum, and mineral oils
Doesn't contain preservatives, color, or perfume
Softens dry and cracked skin
Locks in moisture
Can be used on the lips, knees, elbows, heels, and feet
Thick and smooth consistency
Cons
Might need frequent reapplication
Aura Cacia's allows you to enjoy the benefits of glycerin for soft skin in the form of a clear odorless liquid. It is obtained from non-GMO seeds like soy and has a fatty component that improves skin's elasticity and texture. With powerful moisture-attracting properties, this glycerin skin oil moisturizes skin, so that it is soft to the touch. You could incorporate the oil into DIY soaps, lotions, or mists with aromatherapy benefits. No animal testing has been done.
Pros
Organic
Attracts moisture
Softens skin
Odorless
Cruelty-free
Free of synthetic colors, fragrances, and preservatives
Cons
Some may not like the thick and sticky consistency
The Newish Glycerin hydrates, cleanses, and softens the skin. The formula is non-sticky and rapidly absorbed, making it the perfect moisturizing blend that offers the smoothest skin. It does not cause allergic reactions and dissolves quickly in water. This product has the ability to rejuvenate skin that has aged prematurely and maintains the skin's moisture barrier, allowing it to do so even when exposed to harsh weather conditions. It is helpful in treating acne and blackheads on oily skin and helps in maintaining the skin's texture. The product's formula is supported by clinical data and remains results-driven.
Pros
Improves moisture level
Diminish wrinkles
Evens the skin tone
Repairs skin structure
Paraben-free
Sulfate-free
Clinically-tested
Cons
None
BE PLAIN's toner is formulated with 80.6% chamomile flower extract that reduces skin irritation, prevents breakouts, and nourishes skin with the help of glycerin. It restores softer skin to its original pH levels and offers long-lasting hydration with a dewy radiance. While the French chamomile lends regenerative properties to soothe skin and eliminate discoloration, Centella Asiatica prevents scarring. The weightless texture of BE PLAIN's toner is refreshing and non-irritating and can be used day and night or soaked in pads as a DIY mask! The product has not been tested on animals.
Pros
Balances skin's pH levels
Offers long-lasting hydration
Cruelty-free
Soothes irritation
Prevents and fades scars
Prevents breakouts
Cons
Might have a greasy consistency
Dry to very dry skin will drink up the rich cream formula provided by Paula's Choice that contains plant oils and antioxidants. When used overnight, the Skin Recovery Hydrating Treatment Mask calms and replenishes skin, so you can wake up to a dewy complexion. Refining the barrier by reducing fine lines and improving texture, this mask is gentle enough for skin types prone to eczema or other conditions. To visibly calm redness and even out skin tone, vitamins A, C, and E, and the hydrating ingredient hyaluronic acid come to the rescue. The formula also contains evening primrose and borage, fruit, and seed oils. The product is based on clinically backed skincare and has not been tested on animals as well.
Pros
Cruelty-free
Paraben-free
Fragrance-free
Ideal for dry and sensitive skin
Helps tight, flaky, and rough skin
Can be used overnight or as a wash-off mask
Cons
Might not be ideal for acne-prone skin
This lotion with glycerin keeps your skin well-protected and hydrated with soothing properties. Obagi's CLENZIderm MD Therapeutic Moisturizer is non-comedogenic and boosts the water levels under your skin's deeper layers, resulting in healthier, plumper, and moisturized skin. With 5% benzoyl peroxide, this formula targets acne at the source by preventing breakouts. Normal-to-oily skin types undergoing an acne treatment will find that Obagi's glycerin-rich moisturizer calms flare-ups and breakouts while delivering essential hydration.
Pros
Non-comedogenic
Retains moisture
Ideal for normal-to-oily skin types
Soothes skin
Prevents breakouts
Protects skin
Cons
Paula's Choice uses glycerin in lotion form to provide lasting hydration and instantly plump the skin with a dewy finish. Powered by electrolytes of calcium, magnesium, and potassium that energize the skin, this airy moisturizer is suitable for all skin types, even mature skin. As the purpose of glycerin is to trap in moisture, you will find your skin's water content to be amply replenished overnight. Enhanced minerals like ceramides, peptides, and glycerin balance moisture, strengthen skin barrier, and promote an overall healthy appearance. For moisturizing benefits, B vitamins, prebiotic sugars, and antioxidants like kiwi and mangosteen take the lead. The product has not been tested on animals and is based on clinically backed skincare.
Pros
Restores moisture
Cruelty-free
Strengthens skin barrier
Provides a healthy complexion
Energized appearance
Fragrance-free
Paraben-free
Cons
Might not be ideal for acne-prone skin
*The prices provided in this article are based on the latest available information. However, they may vary due to changes in pricing by the seller and/or promotional offers.
Now that we've gone over some of the best glycerin skincare products out there, let's get into what you should look out for when purchasing some!
What To Look For In Glycerin Skincare Products
Glycerin is generally deemed to be safe for all skin types but you still need to steer clear of products with harsh chemicals and common ingredients that are of no use. Anything that uses synthetic colors and fragrances, dyes, parabens, sulfates, phthalates, mineral oils, or any other irritant is a no-no. These elements can potentially cause skin and health issues in the long run when used consistently. They are also extremely aggravating when used on sensitive skin and may cause an allergic reaction. Additionally, you should also check the expiry dates on products you are purchasing, so as to not use harsh products that are past their expiry date.
As we've already reiterated that glycerin works on almost all skin types, it wouldn't hurt to choose products that are formulated especially for yours. Dry skin can use moisturizers or essences that also contain hyaluronic acid or shea butter for an extra boost of hydration. If you have oily, combination, or acne-prone skin, ensure you're buying a 'non-comedogenic' formula. Benzoyl peroxide or salicylic acid can be supplemented with glycerin to help heal and prevent acne. These skin types require lightweight and airy formulas that don't weigh skin down or make it greasy.
In its most popular form, glycerin is mixed into moisturizers, toners, and cleansers but when using raw glycerin, you need to be careful. Undiluted glycerin is too harsh on the skin and can cause a flare-up, so always mix it with rose water or vitamin E oil. As glycerin is known to attract moisture, it could also draw in pollution and dust, causing the skin to react. Therefore, it is always better to use dermatologist-tested products for safety purposes.
You might be wondering what the big deal about the buzzword 'glycerin' is. Let's learn the advantages of this powerful ingredient when used in beauty products.
Benefits Of Glycerin In Skincare Products
We often hear the question 'is glycerin good for skin?', so let's round up some of its many benefits:
Glycerin draws moisture to the surface level of your skin, which can help reduce the appearance of wrinkles and give you a youthful look. By helping cells mature fully, glycerin also pushes young skin cells from the bottom to the top layer of the skin to strengthen its protective barrier. All of this firms up skin, improves elasticity, and slows down the signs of aging.
Glycerin is free of oils and is non-comedogenic. As it doesn't clog pores, it can help in the reduction of acne when combined with other active ingredients.
One of the other benefits of glycerin on skin is that it is safe to use and is gentle in nature. Glycerin exfoliates, cleanses, and moisturizes skin sans any irritation. This is why it is recommended to skin types with weak barriers as it won't aggravate the top layer.
Dry, damaged, and cracked skin is weak and can be prone to conditions like eczema, psoriasis, or wounds. Glycerin helps to speed up your skin's healing process and also contains antimicrobial, anti-irritant, and anti-inflammatory properties.
One of the biggest benefits of glycerin is perhaps its moisturization properties. It is somewhat like a sponge that absorbs moisture and prevents its loss from your skin. Additionally, glycerin keeps water in for long durations and this gives the appearance of healthy skin. Glycerin in skincare products can have anti-aging effects and prevent wrinkles and fine lines.
Winters can cause skin to dry out quicker leading to flakiness, redness, and itchiness. Glycerin forms a protective layer on your skin and traps water which also helps soothe skin sensitivities.
Glycerin is also known to preserve other products and can help your toners, serums, and essences work better.
After we're well-acquainted with the benefits, it's time for us to learn how we can incorporate it into our skin care routines!
How To Use Glycerin In Your Skin Care Routine
Glycerin-based moisturizers or creams can help with rough and dry skin on your feet, heels, elbows, knees, and hands. During the winters, you could mix vegetable glycerin oil with other carrier oils and use it to massage and soften skin. For dull and tired skin, an overnight mask or sleeping mask will bring it back to life with its restorative properties. Issues like flaky and dehydrated skin can be addressed with these topical lotions. Glycerin can also be used as an anti-aging night cream to prevent fine lines, wrinkles, and age spots.
Glycerin ointments, serums, or essences have multiple uses as they can be used to treat a dry scalp, add some volume and shine to hair, or strengthen and moisturize cuticles. Depending on your skin concerns, you can use these glycerin-based solutions accordingly.
You could also use glycerin-based setting sprays to refresh or set your makeup. DIY versions of these mists can also be made with some rose water and glycerin. They not only add a dewy glow but hydrate the skin for a healthier look.
Cleansers and facial bars are a great way to introduce this key ingredient into your regimen. Glycerin is a gentle cleanser that rinses away impurities, oil, and grime without leaving any residue or clogging pores. Even acne-prone skin types can benefit from this mild cleanser.
Toners that contain glycerin can help in balancing the skin's pH levels, adding a boost of hydration, and giving a radiant glow. Used as the first step after cleansing, toning the skin can strengthen the barrier and help in better absorption of the products that come afterward.
Wash-off masks formulated with glycerin can be used 1 to 2 times a week for deep conditioning your skin. They rejuvenate the skin, moisturize it, and can add a luminous glow. Some even have gentle exfoliating benefits.
The Bottom Line
Why Trust StyleCraze?
Krati Darak, the author, is a beauty and makeup enthusiast who likes keeping things simple. No doubt, if you ask her about healing dry patchy skin, she would ask you to go with the tried and trusted glycerin! Now since she knows that there are a ton of glycerin-based makeup and beauty products lining the aisles of your nearest supermarket, she has done all the needed research and reviewed valuable customer feedback to shortlist the best glycerin skincare products for you! Cleanser, mask, mist, or cream, all these glycerin-enriched products are meant to lock in moisture and help nourish and strengthen your skin barrier!
Frequently Asked Questions
Is glycerin bad in skin care products?
Glycerin is safe to use as it prevents dry, rough, and cracked skin without clogging pores. It traps moisture and improves skin appearance.
What are the side effects of glycerin?
Only if ingested, glycerin can lead to symptoms like dizziness, nausea, vomiting, or excessive thirst. When using glycerin for skin, side effects could be acne or excess oil production as undiluted glycerin is thick and not non-comedogenic. Always dilute glycerin with other oils or products to prevent this.
Should you use glycerin in your skincare routine?
Glycerin skincare products can provide moisturizing benefits along with protecting and strengthening the skin's barrier. You can use glycerin products to improve the appearance, hydration, and texture of your skin.
Can I use glycerin on my face everyday?
You could use glycerin-rich moisturizers, serums, and toners. However, dilute glycerin when using it on its own as it is thick and may clog pores.
Can I leave glycerin on my face overnight?
Yes, glycerin-based products or glycerin mixed with some vitamin E oil can be used overnight to keep skin hydrated without drying out.
How long does it take to see results from glycerin skin care products?
Glycerin skin care products take almost 28 days to three months to show visible results.
Recommended Articles:
Best Water-Based Skin Care Products For Every Skin Type
Best Glycerin Soaps For Supple Skin
Best Paraben-Free Skin Care Products For Women