8 Best Glycerin Soaps Available In India
Time to swap dry, synthetics-infused options with these moisturizing formulas!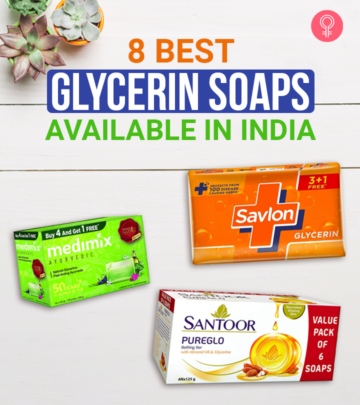 Are you using regular soaps with synthetic chemicals that are stripping your skin's natural oils? Well, this is where glycerin soaps come in. Glycerin is an excellent humectant that keeps the skin supple and hydrated by balancing its pH levels. Give your skin a healthy start with our recommended list of the 8 best glycerin soaps available in India. Scroll down to pick the product that suits you the most!
8 Best Glycerin Soaps Available in India
The Pears Pure and Gentle soap is enriched with 98% glycerin and natural oils. This soap bar provides gentle moisturization to the skin and makes it smooth and soft. The pure glycerin preserves the natural moisture content of the skin, keeping it youthful. It washes away germs and makes the skin glowing and supple.
Pros
Soap-free
Paraben-free
Dermatologist-tested
Gentle
Cons
None
Price at the time of publication: ₹338.09
KHADI NATURAL presents a handmade herbal glycerin soap for smoother and softer skin. It is enriched with the goodness of honey and vegetable oils. Its antibacterial and antioxidant properties aid acnecontrol and reduce wrinkles and fine lines. This soap maintains the skin's moisture content and soothes irritation. It ismild, skin-friendly, and suits all skin types.
Pros
All-natural ingredients
Gentle
Suitable for all skin types
Cons
The SANTOOR PUREGLO Bathing Bar is enriched with glycerin and almond oil for soft, glowing skin. The perfect combination of ingredients offers deep moisturization to the skin and imparts a youthful radiance. It provides gentle nourishment, softens the skin texture, and revitalizes your skin. This glycerin soap also keeps the skin from drying out with its healing properties.
Pros
Dermatologically tested
Gentle
Paraben-free
Cons
Price at the time of publication: ₹268
The Pears Soft & Fresh bathing soap contains 98% pure glycerin blended with soothing mint extracts. Mint calms the skin, while glycerin gently moisturizes it to make it soft and smooth. The gentle lather removes dirt and germs without being harsh on the skin. The refreshing fragrance of mint revitalizes the senses. This dermatologically-tested formula can be used as a facial cleanser and hand wash.
Pros
Gentle Dermatologist-tested
Environment-friendly
Paraben-free
Cons
Price at the time of publication: ₹315
The medimix glycerin soap turns an ordinary bath into a ritual for the mind, senses, and body. The Ayurvedic formula is enriched with lakshadi oil, which has curative and therapeutic benefits. This anti-aging soap exfoliates and detoxifies the skin. It locks in moisture and softens and nourishes the skin throughout the year to protect it from dehydration and flaking. This organic and chemical-free body cleanser helps to keep the skin healthy and supple.
Pros
Paraben-free
All-natural ingredients
Chemical-free
Animal fat-free
Cruelty-free
Vegan
Cons
Price at the time of publication: ₹241
The SavlonGlycerin Soap is formulated with in-vitro action targeting 100 disease-causing germs. It is ideal for all skin types and can kill99.99% of germs in just 10 seconds, relieving skin infections. The glycerin content gently moisturizes the skin and offers protection from dehydration, dryness, and environmental stressors.
Pros
Gentle
Dermatologically tested
Germ protection
Cons
TheCHANDRIKAAyurvedic Gel Bar is enriched with coconut oil, glycerin, and seven Ayurvedic extracts. Jojoba extract makes the skin supple and smooth. Basil prevents pimples and acne, while patchouli removes marks caused by these breakouts. Lemongrass tightens pores and increases elasticity, while glycerin provides intense moisturization. Eucalyptus prevents infections, petitgrain improves skin texture and tone, and orange refreshes the skin. Use this soap regularly for gentle cleansing, improved skin quality, and healthy-looking skin.
Pros
Gentle
All-natural ingredients
Animal fat-free
Cruelty-free
Cons
The SOLIMOBathing Baris a gentle formula made with 98% pure glycerin. It keeps the skin hydrated and moisturized, fighting dryness and leaving the skin soft, supple, healthy, and youthful-looking. This bathing soap gets rid of chapped, dull skin and brings out its natural radiance. A refreshing bath with this soap leaves your skin feeling revitalized and fresh.
Pros
Dermatologically tested
Cruelty-free
Vegan
Cons
Now that you have explored the best glycerin soaps available in India, here are some things to look out for when choosing a glycerin soap for your skin.
How To Choose The Best Glycerin Soap
Color And Fragrance: Glycerin is naturally colorless, fragrance-free, and water-soluble. Ensure there are no added colors or scents while buying a glycerin soap.
Other Ingredients: Glycerin soap is usually blended with other ingredients like essential oils, botanical extracts, synthetic materials, dyes, and chemicals. Check the ingredient list for minimum chemical and synthetic additives to avoid potentially harmful side effects like irritations and allergies in the long run.
Glycerin is a powerful natural moisturizing agent that hydrates the skin and makes it soft and supple, especially during winters. These soaps are gentle and can be used all year round. Take your pick from the 8 best glycerin soaps available in India listed above and give your skin the care it needs.

Recommended Articles
The following two tabs change content below.