15 Best Glycolic Acid Cleansers
Get rid of those dark spots with gentle, non-comedogenic cleansing formulas.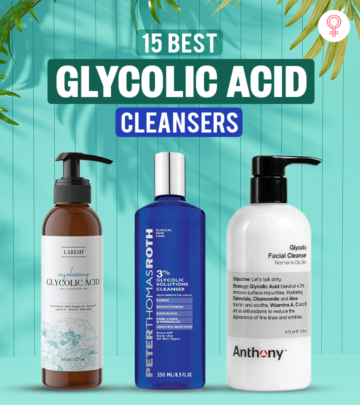 Hyperpigmentation and dark spots are not easy to get rid of. That is why you need to add the best glycolic acid cleansers to your skin care regimen. This magical ingredient is a natural form of alpha-hydroxy acid found in sugarcane extracts.
Glycolic acid cleansers offer a peeling effect on your skin. This tried and tested beauty potion effectively fights acne and exfoliates the dead skin cells to reveal brighter and smoother skin. Also, glycolic acid cleansers reduce dark spots and hyperpigmentation and leave you with even-toned skin. We have compiled a list of the 15 best cleansers with glycolic acid as their key ingredient. So, swipe up to grab them!
15 Best Glycolic Acid Cleansers
The glycolic acid exfoliating cleanser by Botanic Tree is specifically formulated for cystic acne-prone and oily skin types. This acne-fighting cleanser is infused with 10% glycolic acid, bamboo, shea butter, tea tree oil, seaweed, willow bark, and peppermint extracts. The blend helps eliminate excess sebum, oils, impurities, and makeup from your face without stripping off the natural oil.
Glycolic acid offers great chemical exfoliation that brightens the skin while lightening dark spots and hyperpigmentation. Tea tree oil and shea butter fight acne and reduce blemishes, while the bamboo extracts unclog your pores and calm irritation and redness. This formula reduces the appearance of marks caused by hormonal acne and improves your skin's texture. It also contains gentle microbeads that slough off dead skin cells and work on skin resurfacing and ultimately make your skin look radiant. Patch testing is essential for those with sensitive or dry skin to prevent adverse reactions. This video takes you through this product's details based on the reviewer's experience.
Pros
Gentle
Smells good
Non-comedogenic
Paraben-free
Sulfate-free
Cruelty-free
Value for money
Cons
Price at the time of publication: $22.9
The Body Merry Glycolic Acid Exfoliating Cleanser is gentle and formulated for acne-prone skin. This skin-clarifying cleanser contains 2.5% glycolic acid, which has anti-aging properties and aids in clearing clogged pores to give you a youthful glow. The combination of jojoba beads and willow bark not only sloughs away dead skin, dirt, and oil build up but also nourishes and rejuvenates the skin.
The formula also includes kojic acid that lightens scars, restores the original skin tone, and offers a radiant complexion. The blend of olive, rosehip, jojoba, and tea tree oils penetrates deep into the skin to hydrate it from within and offers supple and smooth skin. With regular use, the gentle cleanser effectively clears age spots, dark spots, sun spots, and discoloration. We recommend performing a patch test to determine if the product is suitable for your skin. For a more detailed review of this product, here's a video of the tester's experience.
Pros
Gentle formula
Oil control
Blemish control
Mild fragrance
100% vegan
Cruelty -free
Cons
Price at the time of publication: $19.75
The foaming cleanser from Mario Badescu Skin Care contains glycolic acid, which eliminates dullness and hyperpigmentation. The exfoliating treatment can unclog pores, and cleanse dirt, makeup, oil, and grime to provide you with radiant and clear skin. Other botanical ingredients like chamomile and St. John's wort have anti-inflammatory and antibacterial properties that prevent skin breakouts and infections. Yarrow extracts have healing benefits, which is ideal for sensitive skin, while marshmallow and sage rejuvenate and rebalance the skin. This expert-recommended cleanser can be used thrice a week as per your skin needs. Know more about this product in this video.
Pros
Mild
Non-drying
Pleasant fragrance
Cost-effective
Cons
Price at the time of publication: $16.0
This glycolic acid cleanser is suitable for acne-prone, oily, and sensitive skin types. It removes makeup and impurities, exfoliates and unclogs pores, and helps soothe redness and inflammation. It is formulated with 10% glycolic acid and stimulates collagen production to nourish your skin and impart a glow. The doctor-recommended formula is rich in antioxidants and diminishes dark spots, even tones the skin, and tightens pores. Reviewers have stated that this product reduces puffiness and works on hyperpigmentation and blemishes.
Pros
Gentle
Hydrating
pH-balancing
Paraben-free
Dye-free
Sulfate-free
Oil-free
Phthalate-free
Cons
Price at the time of publication: $10.96
The Naturium The Smoother Glycolic Acid Body Wash cleanses the skin and smooths rough, uneven skin, revealing softer, clearer skin. Glycolic acid, present in a concentration of 5%, penetrates deeply into the skin and aids in unclogging pores.
This body wash uses an AHA mix of glycolic, lactic, pyruvic, and tartaric acids to exfoliate dead skin while also moisturizing the skin with red algae, resulting in skin that is radiantly dazzling. This body wash has been formulated for all different kinds of skin, making it suitable for use on a regular basis. It can be used on the face to remove makeup and for intense cleaning.
Pros
Natural ingredients
pH-balanced formula
Cruelty-free
Paraben-free
Vegan
Gluten-free
Fragrance-free
Cons
None
Price at the time of publication: $15.99
The InstaNatural Glycolic Cleanser is enriched with botanical ingredients to give you a refreshing cleansing experience. It contains
glycolic acid for perfect exfoliation
and collagen production. It easily cleanses away dirt and excessive oil to minimize pores and prevent acne.
Other ingredients in this formula, such as chamomile, aloe vera, and green tea, are rich in antioxidants and have anti-inflammatory properties. They provide the right amount of nutrition to the skin and alleviate dryness. Regular use of the cleanser has proven to deliver visible results, restoring the health and glow of your skin. This is one of the best cleansers that is effective against fine lines, pigmentation, uneven skin tone, and blackheads.
Pros
Lightweight
Hydrating
Sulfate-free
Alcohol-free
Paraben-free
Formaldehyde-free
Talcum-free
SLS-free
Dye-free
Petroleum-free
Polyethylene glycol-free
Mineral oil-free
Cruelty-free
Cons
Price at the time of publication: $19.97
The Dermalogica Daily Glycolic Cleanser renews dull, uneven skin tone while also brightening and moisturizing the skin.The clinically-proven formula also helps eliminate the buildup that is produced by environmental causes. Glycolic acid works on complexion perfection by separating dead skin cells, which results in skin that appears vibrant and healthy.
The professional-grade formula boosts the pace at which cells turn over, which in turn speeds up the exfoliation process. Calendula extract, which is abundant in flavonoids and saponins, both of which have calming effects, and jojoba oil, which contains omega 9 esters and phytosterols calms, hydrates, and conditions the skin while also preserving the lipid barrier of the skin.
Pros
Hydrating formula
Cruelty-free
Paraben-free
Vegan
Gluten-free
Fragrance-free
Cons
None
Price at the time of publication: $37
This glycolic acid cleanser from Reviva Labs is specially formulated for sun-damaged, oily, and blemish-prone skin. It helps protect the skin against the signs of aging by diminishing the appearance of blemishes, fine lines, crow's feet, and wrinkles. This cleanser clears acne and pimples and prevents any major breakouts, especially since it works on skin texture improvement.
The dermatologically tested formula visibly reduces scarring and other marks on the skin. The glycolic acid seeps deep into the pores and works as an excellent exfoliator for cleansing the facial skin to give you an even skin tone. The aloe vera leaf juice and chamomile extracts in the formula soften, moisturize, and nourish the skin. This cleanser also contains allantoin that effectively gets rid of dead skin cells and firms the skin. It is suitable for normal to mature skin types.
Pros
Gentle
Suitable for mature skin
Wrinkle reduction
A little goes a long way
Paraben-free
Sulfate-free
Phthalate-free
Dermatologist-tested
Cons
None
Price at the time of publication: $13.5
The L'Oreal Paris Revitalift Glycolic Acid Cleansing Gel includes glycolic acid in a pure form with a concentration of 3.5%. It exfoliates the skin, removes excess oils and makeup, smoothes and brightens the complexion, and revitalizes the skin surface. Validated by leading dermatologists and supported by peer-reviewed studies, this cleanser removes dead skin cells from the surface of the skin, making it more radiant and smooth. The mild concoction of glycolic acid, salicylic acid, and aloe extract removes oil and other surface pollutants to reveal a smooth skin without pore clogging.
Pros
Hypoallergenic
Non-drying
Fragrance-free
Paraben-free
Mineral-oil free
Dermatologically tested
Dye-free
Cons
None
Price at the time of publication: $9.99
The cleanser from Luxiny contains glycolic acid that exfoliates and reduces the visibility of large pores, spots, blemishes, wrinkles, fine lines, and other signs of aging. It also contains tea tree oil known for its anti-inflammatory, antiseptic, and anti-acne properties, and jojoba oil and aloe vera leaf juice that nourish and moisturize the skin. The formula also offers antioxidant protection and eliminates free radicals with seaweed extract. It enhances the growth of new skin cells, boosting skin elasticity.
Pros
Gentle
Non-GMO
Paraben-free
Fragrance-free
Cruelty-free
Cons
Price at the time of publication: $25.99
The dermatologically formulated Replenix Acne Gly Sal 5-2 Deep Pore Cleanser is a water-soluble blend of 5% glycolic acid and 2% salicylic acid, which gently cleanses the skin of impurities and helps fight acne-causing bacteria. Endorsed by medical professionals, it is enriched with green tea antioxidants that protect the skin against UV rays, regulate the production of sebum, and heals eczema and acne. The dermatologist-recommended lightweight formula clears blackheads, blemishes, and clogged pores.
Pros
Dermatologically tested
Lightweight
Non-comedogenic
Paraben-free
Mineral oil-free
Sulfate-free
Cons
Price at the time of publication: $32
With 10% alpha hydroxy acid, the Misumi Skin Perfecting Cleanser firms the skin and fights the signs of aging. It contains glycolic acid derived from sugarcane and pineapple that prevent the pores from clogging up with dead skin cells and bacteria that cause blackheads, acne, and pimple breakouts.
The chamomile oil in this cleanser soothes and heals red and inflamed skin with its anti-inflammatory properties, while rosehip oil hydrates the skin throughout the day and prevents it from drying. It also reduces the visibility of scars and fine lines, making you look and feel young. The formula also contains seaweed, which is rich in fatty acids and polysaccharides that form a protective layer over the skin and lock in moisture.
Pros
Hydrating
Naturally derived ingredients
Non-comedogenic
Smells good
Cruelty-free
Safe for oily and sensitive skin
Cons
Price at the time of publication: $26.87
This cleanser from Luxe Joie is infused with jojoba beads to ensure an intense exfoliating experience. It is formulated with a blend of glycolic acid, salicylic acid, and lactic acid that helps dissolve dead skin cells and impurities and retexturize the skin.
This formula reduces the appearance of fine lines, blemishes, marks, and scars with regular use. Salicylic acid prevents future breakouts and repairs the skin. The orange peel oil in the cleanser promotes clarity, improves skin health, and overall radiance. It triggers better blood circulation and nourishes the skin.  The scent of grapefruit oil refreshes your senses.
Pros
Gentle
Pleasant fragrance
A little goes a long way
Cons
Price at the time of publication: $12.6
The Anthony Glycolic Facial Cleanser is formulated for normal to oily skin types and is effective in clearing the skin of painful acne and pimples. It contains 4.2% glycolic acid that cleanses out surface impurities. The calendula, chamomile, and aloe vera in the formula keep skin moisturized, nourished, and soothed. This prevents inflammation, redness, and irritation with proven efficacy. The dermatologist-tested formula is also infused with vitamins A, C, and E that reduce the appearance of aging, fine lines, blemishes, and wrinkles. Patch testing is highly recommended if you have sensitive skin for optimum safety.
Pros
Gentle
Creamy texture
Dermatologically tested
Sulfate-free
Paraben-free
Phthalate-free
Gluten-free
DEA-free
Cruelty-free
Cons
Not suitable for sensitive skin.
Hard to wash off.
Price at the time of publication: $12
The touch Glycolic Acid Cleanser contains 10% glycolic acid to exfoliate, brighten, and rejuvenate your face without leaving it dry. This gentle glycolic acid face wash has a pH of 3.5, making it low on the scale. This allows for more free acids, which help battle the effects of aging, minimize spots, and maintain healthy glowing skin without any harm. This cleanser is created with aloe vera, green tea, and chamomile, which combine to make your cleansing experience as soothing as possible. It is particularly efficient in decreasing the appearance of fine wrinkles, pores, uneven skin tone and texture, and blackheads.
Pros
pH-balanced formula
Non-comedogenic
Offers anti-aging benefits
Paraben-free
Dye-free
Phthalate-free
Alcohol-free
Cruelty-free
Cons
None
Price at the time of publication: $18.95
There are several things to look out for when buying a glycolic acid cleanser. Scroll down to know what they are
What To Look For In A Glycolic Acid Cleanser
Choose products that contain glycolic acid concentration in a range of 4% to 10%. This is the safest proportion and is gentle on the skin.
According to most skin care experts, it is best to pick products with a pH of 4 or lesser. This helps maintain the balance, preventing itchiness, rashes, or skin breakouts.
Avoid products containing multiple acids, especially if you have sensitive skin. However, glycolic acid blends well with salicylic acid, lactic, and citric acids to cater to all your skin's needs.
A glycolic acid cleanser offers multiple skin benefits, which are discussed in the next section.
Benefits Of Using A Glycolic Acid Cleanser
1. Exfoliation: The glycolic acid in the cleanser cleans dull skin that is caused by heat or age. It removes the dead skin cells, revives the skin, and gives you a fresh look.
2. Anti-aging: Collagen makes the skin appear firm and young. As we age, this collagen reduces, and the skin loses its elasticity and looks aged. A glycolic acid cleanser can enhance the collagen production, giving your skin the tautness it requires. This helps reduce the signs of aging like fine lines and wrinkles.
3. Unclogs The Pores: A glycolic acid cleanser is the best way to cleanse your clogged pores. Glycolic acid can penetrate the skin and unclog the pores, leaving your skin looking fresh and clean.
4. Acne Control: A glycolic acid cleanser helps unclog your pores and get rid of oil, buildup, and acne-causing bacteria, leaving your skin clean and acne-free.
These benefits will encourage you to buy a glycolic acid cleanser for your skin. But you should also be aware of the negative effects to make an informed choice.
Negative Effects of A Glycolic Acid Cleanser
The negative effects of glycolic acid cleansers are not many. Most commonly, your skin might become red, puffed up, or begin to tingle when the cleanser is applied. However, these effects will subside once your skin gets used to the glycolic acid in the formula.
Avoid using other exfoliating products along with these cleansers as glycolic acid is an exfoliating ingredient. Keep in mind that glycolic acid can make your skin more vulnerable to sun damage and tan. So, it is best to pair it with a sunscreen offering broad-spectrum SPF 30.
Why Trust StyleCraze?
Shiboli Chakraborti is a certified skin care coach. She has conducted hours of research to help you pick the best glycolic acid cleanser based on different skin types. She has considered all important parameters like concentration, pH level, and the presence of other acids to bring you the best products. These products reduce dark spots, fights acne, and offer brighter and smoother skin.
Frequently Asked Questions
How often should I use a glycolic acid cleanser?
Most glycolic acid cleansers provide a gentle exfoliation for your skin, making them safe to use once a day. In case your skin feels extra sensitive, irritated, or starts to itch, decrease the frequency of usage to twice a week.
What should I use after glycolic acid cleanser?
Apply a nourishing and hydrating moisturizer after using a glycolic acid cleanser.
Does glycolic acid lighten the skin?
Yes, glycolic acid lightens the skin by smoothing it out. It exfoliates the skin, eliminating the top layer of darker dead skin cells.
Can glycolic acid cause breakouts?
No, glycolic acid does not cause breakouts. Instead, it exfoliates dead skin cells and unclogs the pores, preventing acne and pimples.
Is glycolic cleanser good for acne?
Yes, glycolic acid exfoliates dead skin cells and eliminates dirt, oil, and impurities, resulting in less pore clogging. Therefore, it makes the skin clear and helps reduce acne.
Recommended Articles