15 Best Glycolic Acid Face Washes For Glowing Skin – 2022
Deep cleanse your skin to its natural glow while fighting off pigmentation, dullness, and acne.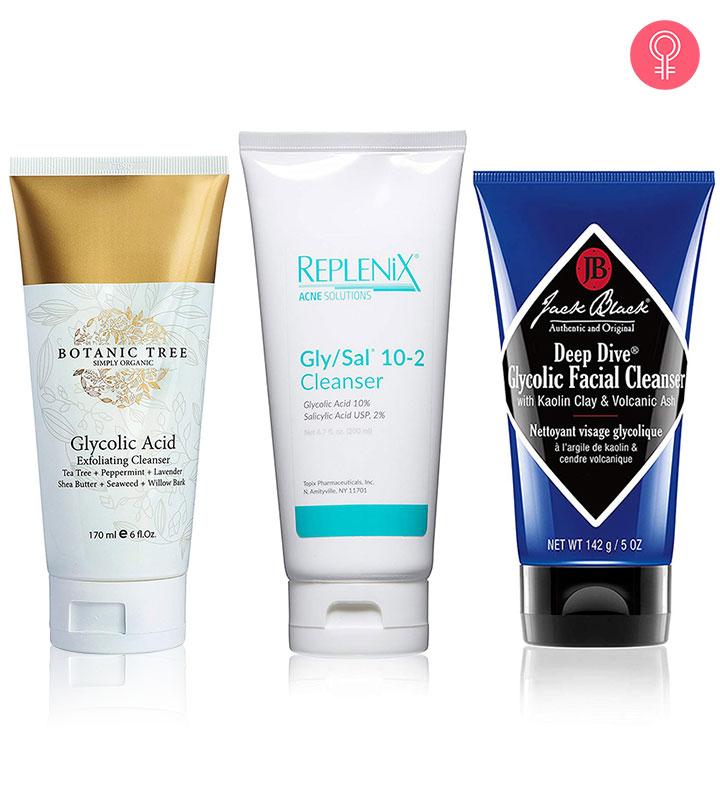 Skin problems don't just affect your looks; it affects your personality and confidence. With every emerging acne and spot, you look for products that can heal and reverse the problem and bring back growing soft skin. The best glycolic cleaners help you fight the issue by deep cleaning your pores and exfoliating the outer layer of your skin. It also keeps your skin free from dullness, dark spots, and hyperpigmentation. If you are unsure which ones to invest in, we are here to help. Here is our list of the 15 highest-rated face washes to choose from.
Best Glycolic Acid Face Washes And Cleansers
This glycolic acid cleanser has a clay base that clears oil from your face and washes away dirt and dead skin cells. It makes your skin firm and smooth. This product has a gentle formula that cleans your skin without drying it. It is formulated with PureScience formula and is suitable for all skin types.
Pros
Contains volcanic ash
Contains kaolin clay
Contains natural herbal extracts
Certified organic
Can be used as a mask
No synthetic fragrance
No artificial colors
Cruelty-free
Dermatologist tested
Cons
None
This cleanser works to reduce skin issues like blackheads, irritation, and clogged pores. It is oil-free and helps in controlling breakouts and keeping your skin hydrated. It also claims to heal chapped and flaky skin.
Pros
Naturally derived extracts
Contains lactic acid
No parabens
No SLS and SLES
No formaldehyde releasers
No synthetic dyes
No petroleum and PEGs
No mineral oils
Cons
The fragrance might be overpowering for some.
This is a purifying cleansing gel. It has a 3% optimized blend of key ingredients, which include glycerin, glycolic acid, and other ingredients. This unique combination brightens up your dull skin tone and improves skin texture. It conditions your skin, leaving it feeling refreshed and renewed.
Pros
Mild formula
No parabens
No sulfates
No artificial fragrance
No dyes
Alcohol-free
Suitable for all skin types
Cons
None
It contains 4.9% glycolic acid that removes dirt from your skin effectively. It cleanses your skin without stripping it of its natural oils. It is a non-drying formula that does not cause breakouts. It is non-foaming, and it gently exfoliates your face, leaving it smooth.
Pros
Contains vitamins A, C, and E
Hydrating formula
No parabens
Gluten-free
Hypoallergenic
Dermatologist tested
Cons
This product contains willow bark and sugar cane extracts. Both are the natural forms of salicylic and glycolic acid. These natural forms are mild and gentle and also help in controlling excess oil production.
Pros
Doubles as a toner
Can be used as a makeup remover
No parabens
Suitable for all skin types
Reduces blemishes
Best for sensitive skin
Cons
Cannot remove makeup as effectively as claimed.
Replenix Gly/Sly 10-2 cleanser is best for acne-prone skin. It contains glycolic (10%) and salicylic (2%) acids that encourage healing. It unclogs the skin pores and eliminates dead skin cells, whiteheads, and blackheads. It also helps in brightening your skin tone.
Pros
Contains green tea extracts
Suitable for normal and oily skin types
Contains witch hazel
Non-comedogenic
Contains anti-aging ingredients (peptides, hyaluronic acid, and retinol)
Cons
Not suitable for all skin types
This cleanser contains 5% glycolic acid. This advanced formula contains natural extracts and is extremely gentle. It helps in controlling acne breakouts and diminishing age lines. It claims to fade your blemishes and spots and improve your skin radiance.
Pros
 Contains honey and coconut milk extracts
 Contains vitamin E
 Moisturizing formula
 Improves skin tone
Cons
It is a gentle glycolic acid face wash that claims to even out your skin tone, fade age spots, exfoliate your skin gently, and also improve your acne scars. It promotes healthy skin by stimulating new cell development. It cleanses dirt, impurities, and traces of pollution and keeps your skin feeling refreshed throughout the day.
Pros
Medical grade ingredients
Developed by dermatologists
Contains yucca extracts for skin soothing effect
Natural glycolic acid (extracted from sugar cane)
No parabens
100% cruelty-free
Cons
Might be a bit harsh for sensitive skin
This product has a superior AHA exfoliating formula. It controls breakouts effectively. It uses the powerful antioxidant properties of vitamin C to protect your skin from the harmful effects of free radicals. It diminishes the signs of aging. It also comes with a 30-day no-questions-asked return policy.
Pros
Contains AHA (glycolic acid, lavender, and burdock)
Gluten-free
Paraben-free
Cruelty-free
Fragrance-free
Hypoallergenic
Cons
Might irritate sensitive skin
This is an anti-aging face wash that sloughs away the dead skin cells from your skin and unclogs the pores. It works well on age spots, dark spots, blemishes, discoloration, and signs of aging.
Pros
100% organic extracts
Contains seaweed, peppermint extracts
Contains 10% glycolic acid
100% cruelty-free
No parabens
Cons
May make dry skin drier
Might irritate the skin
This formula contains 2.5% glycolic acid and a combination of many ingredients that ensure deep cleansing. It claims to remove dark spots, sun spots, and discoloration. It also claims to prevent premature aging and brighten a dull complexion.
Pros
Contains kojic acid
Non-drying formula
Removes makeup
Does not cause breakouts
Contains AHA
Cons
Not suitable for all skin types
Might cause dryness
This facial cleanser can also double as a shaving cream (for sensitive areas, such as the face and underarms). It contains glycolic acid. This product belongs to the brand's advanced dry skin therapy products and is suitable for all skin types. It improves skin irritation and heals shaving bumps.
Pros
Hypoallergenic
Non-comedogenic
No added fragrances
Dermatologist recommended
Non-drying formula
Cons
No products found.
Its low pH balanced formula gently removes all the dead skin cell build-up from your face. It is completely oil-free and suitable for all skin types. It is extremely gentle and ensures deep-pore cleansing.
Pros
Low pH balanced
Contains chamomile extracts
No foaming formula
Cons
Contains parabens
Contains urea
Can be drying
This cleanser is suitable for all skin types. It lathers well and gives you a deep cleansing effect. The exfoliating effects of glycolic acid make your skin smooth and glowing. It removes all traces of makeup and dirt and reduces skin discoloration.
Pros
Contains natural herbal extracts, such as marshmallow and sage
Suitable for sensitive skin
Packaging ensures hygiene
No breakouts
Non-drying
Cons
Contains SLS
Contains parabens
Contains urea
This is an extremely mild and lightweight cleanser that exfoliates your skin gently and rejuvenates it. It contains glycolic acid and a hydrating formula that leaves your skin soft and smooth.
Pros
Enhances the effects of skin procedures (such as chemical peels)
Anti-aging effects
Brightening effect
Dermatologist recommended
Cons
Contains SLS
Might not work on all skin types
Recommended Articles